One Day in Seattle: Two Ways to Spend a Day in Seattle
Do you have just one day in Seattle to experience the Rainy City? Personally, I prefer the term "Emerald City" to that of the "Rainy City," to capture the essence of Washington State's biggest city and the heart of the Pacific Northwest. After the rain has ceased and the sun comes out, Seattle truly is dripping in shades of green and is a haven for outdoor lovers and foodies alike.
Although I was born in Seattle and went to high school not far outside the city, it wasn't until I was a student at the University of Washington that I really started to explore and fall in love with the city. Living in and experiencing the heart of Seattle as a college student exposed me to countless dive bars, vintage stores, cheap eats, abundant parks, a vibrant music scene, and some of my most formative experiences.
Despite the many years that I have spent living in and adventuring through Seattle, what I love is that there is always something new to experience. Neighborhoods that I came to appreciate as a slightly older adult versus a broke college student, the evolution of certain pockets of the city, less frequented parks and beaches, and the constant rise of new restaurants, cafes, breweries, and creative enclaves.
Seattle feels like home and yet continuously offers new experiences that satisfy my craving for travel and exploration right in my own hometown.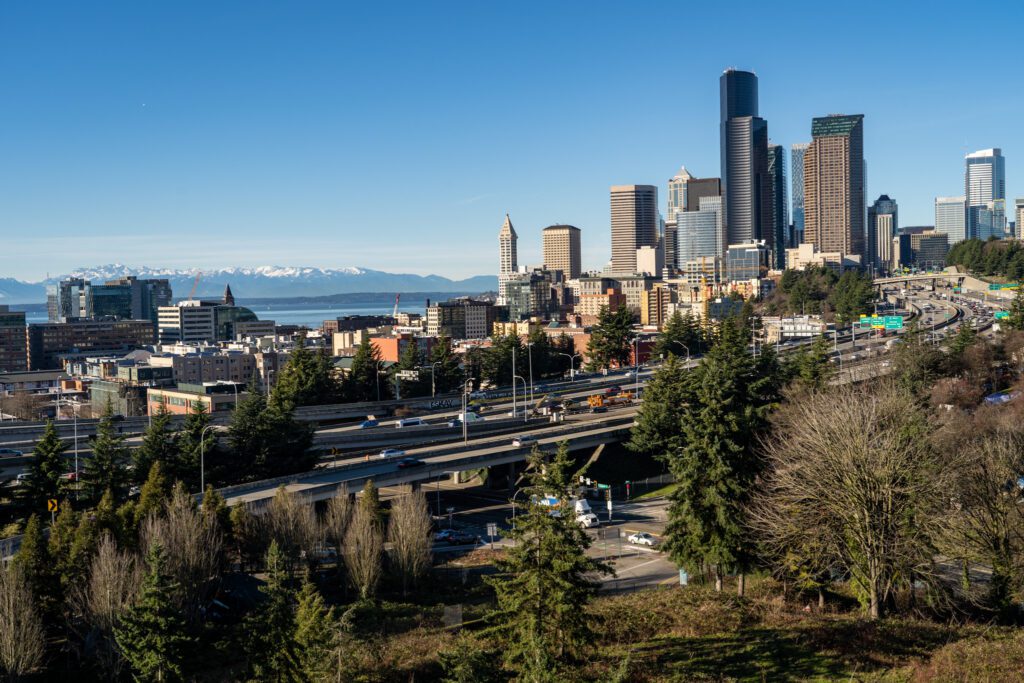 Disclaimer: Some of the links in this post, like hotel and vacation rental links, are affiliate links, meaning at no additional cost to you we make a little bit of money if you click through and book. That being said, we would absolutely never recommend something to you that we don't stand behind 100%.
Is a Day in Seattle Enough?
Can you see the "major sites" in Seattle in a day?
For the most part, yes, you can hit a lot of the main stops in the central part of the city. But Seattle has so much to offer and each neighborhood has a different vibe, that day will only scratch the surface of the eclectic energy, vibrant food and drink scene, and abundant outdoors of the Emerald City.
With a day in Seattle, you can visit two, maybe three neighborhoods if you start first thing in the morning and go through the evening. You'll be able to visit major spots like Seattle Center, Pike Place Market, one of the many great parks, and a couple of different restaurants, cafes, and bars.
You'll miss out on a lot of the outdoor experiences, such as hiking through Discovery Park or paddle boarding or kayaking on Lake Union.
With only a day, you'll also miss out on visiting some of Seattle's more "in-between neighborhoods" and further out neighborhoods – like the Central District, Madrona, Wallingford, and Georgetown – that don't necessarily have many tourist attractions but have a more local flavor and are filled with some of my favorite spots in the city.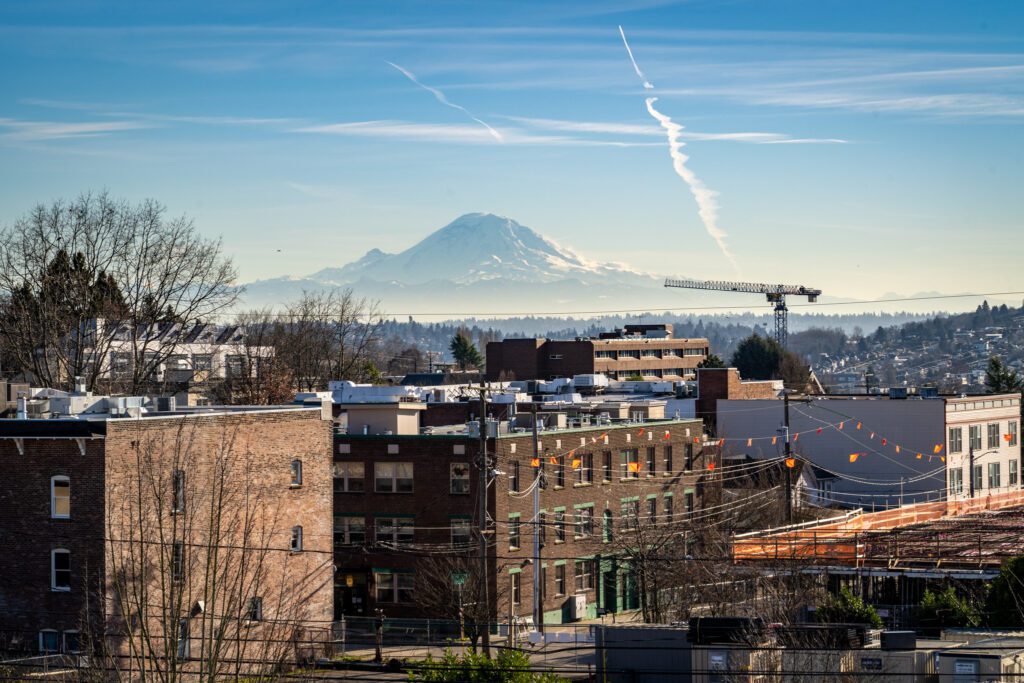 How to Spend One Day in Seattle: Two Different Versions of an Amazing Day in Seattle
Since there are so many ways to experience the city, I thought it would be helpful to offer two itineraries for one day in Seattle that capture different elements of the city's personality.
The first is a more traditional itinerary, while the second includes more alternative experiences that I, as a local, really enjoy.
These are loose guides for how to spend 24 hours in Seattle. I recommend keeping it open and following where the day takes you!
Traditional Seattle: Downtown, Belltown, and a Hint of Creative Capitol Hill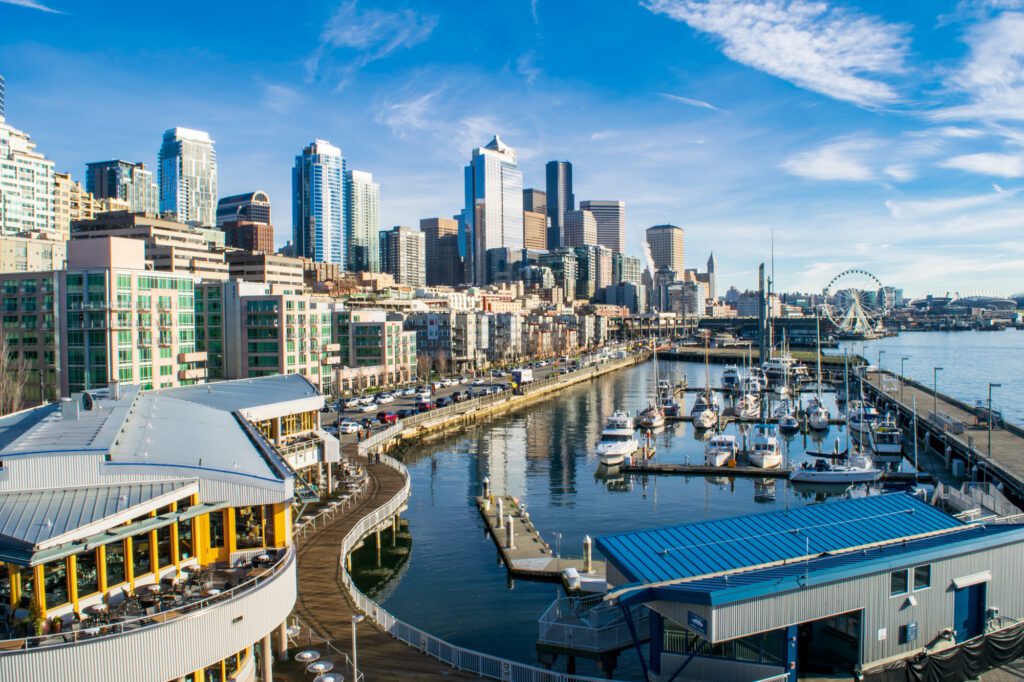 Start your day with sightseeing in downtown and Belltown, including museums and Pike Place Market. Make your way to the dynamic Capitol Hill neighborhood for food, drinks, and live music later.
Morning: Coffee, Breakfast, and the Seattle Center
Start your day with a morning fueled by coffee, a bite to eat, a walk downtown, and a visit to one of the museums in the city center.
But First, Coffee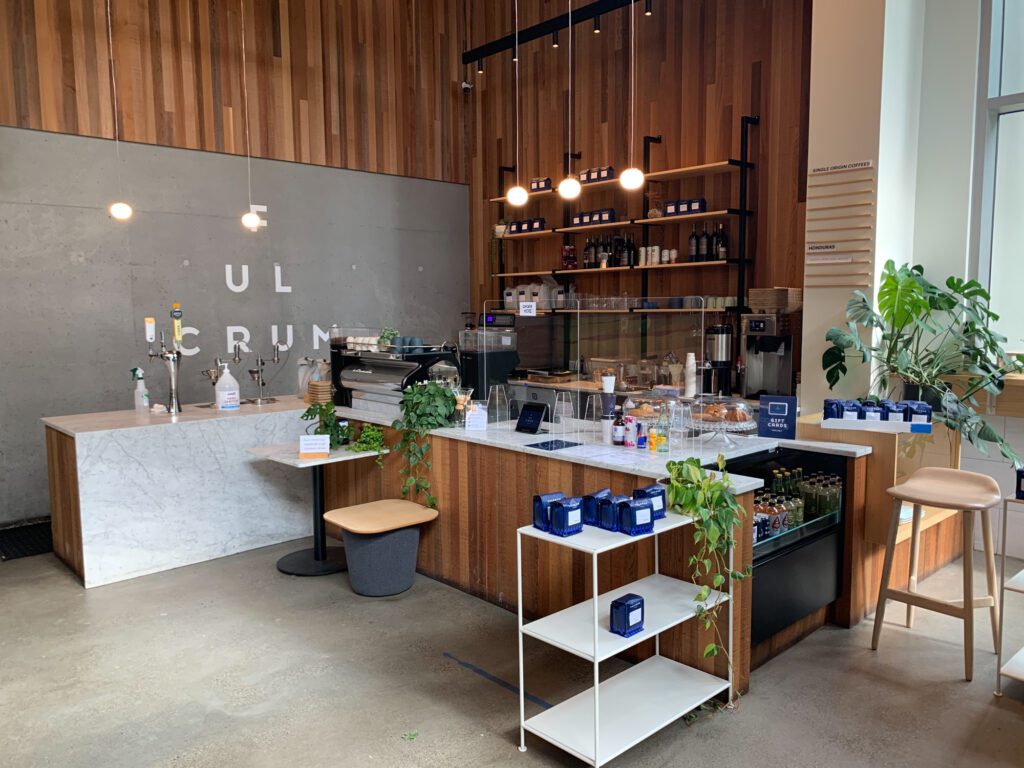 Start your morning with coffee, the pride and glory of Seattle. Skip out on Starbucks, though. While the famous chain is from Seattle, it's not representative of the city's coffee scene, which is full of small, independent coffee shops.
If you're staying in Belltown, stop by Fulcrum Coffee Roasters, a coffee shop that is deeply rooted in roasting high quality beans and bringing the stories of farms and families to life.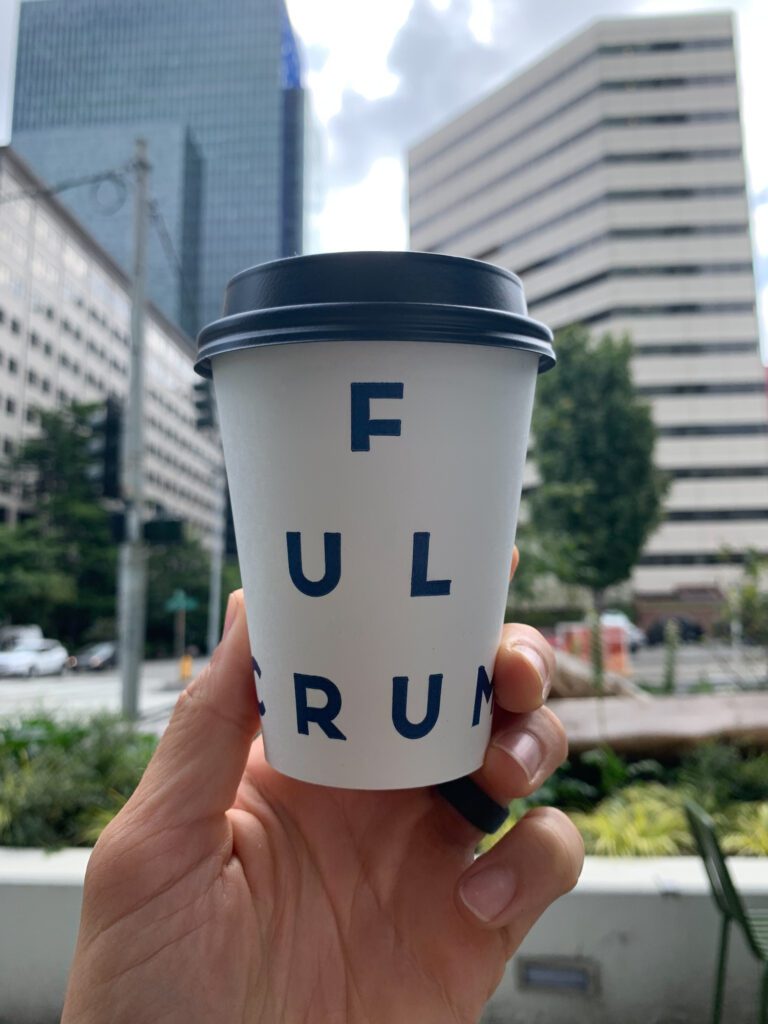 If you're downtown, grab a cup of coffee or chai from Storyville Coffee, a cozy spot on the top floor of Pike Place Market.
Breakfast
One of the best breakfast spots in the downtown/Belltown area is Dahlia Bakery. For the sweet tooth, Dahlia specializes in donuts and cookies. Or for a savory bite, choose between tasty egg sandwiches topped with truffle cheese, mushrooms, and arugula.
For a taste of the south, stop at Biscuit Bitch in Belltown, where you can indulge in a simple, buttery biscuit with butter and jam or an indulgent biscuit sandwich stuffed with cheddar, eggs, and bacon.
Maybe you're in the mood for a sit-down breakfast experience. The best brunch spots tend to be weekend-only places and are well worth the stop if you're in town over a weekend.
Tucked into the chic Kimpton Palladian Hotel in downtown Seattle, is Shaker and Spear, one of my favorite spots to grab a weekend brunch in this part of the city. Shaker and Spear specializes in coastal inspired food and locally sourced ingredients with dishes like Dungeness crab benedict and fresh oysters on the menu.
In Belltown, grab a table at Lola, a tasty choice for any meal of the day that offers a Mediterranean twist on classic breakfast dishes along with a delicious selection of Greek mezes.
A Walk in Olympic Sculpture Park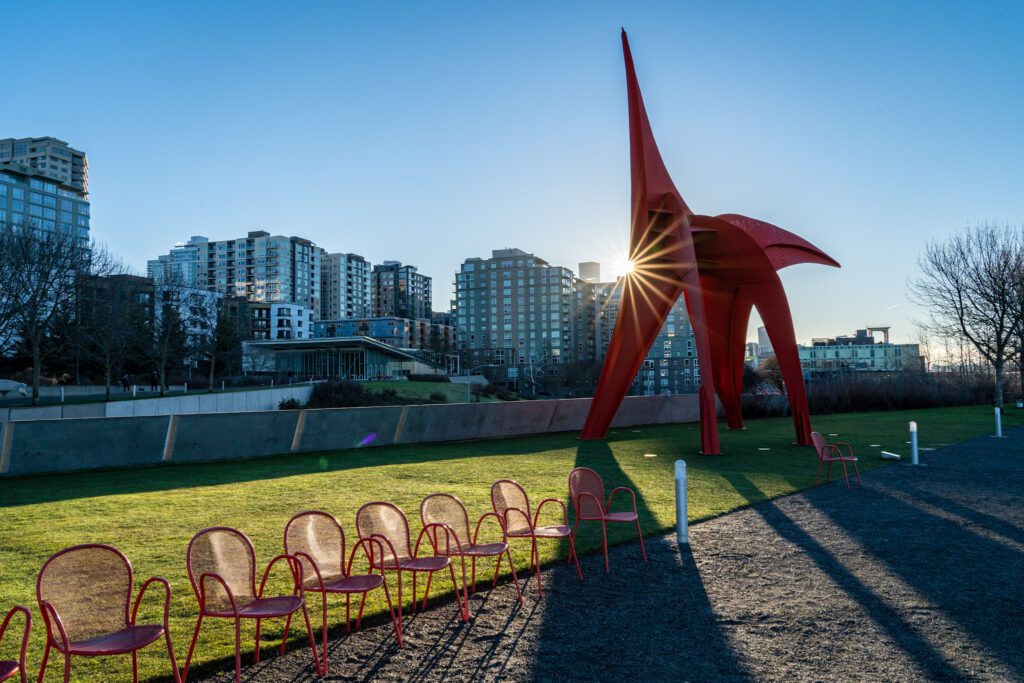 Take a stroll through Olympic Sculpture Park in Belltown, a blend of urban surroundings, modern art, and green spaces. Wander through abstract sculptures on grassy fields while admiring expansive views over the Puget Sound.
Art and Culture: The Seattle Art Museum and Seattle Center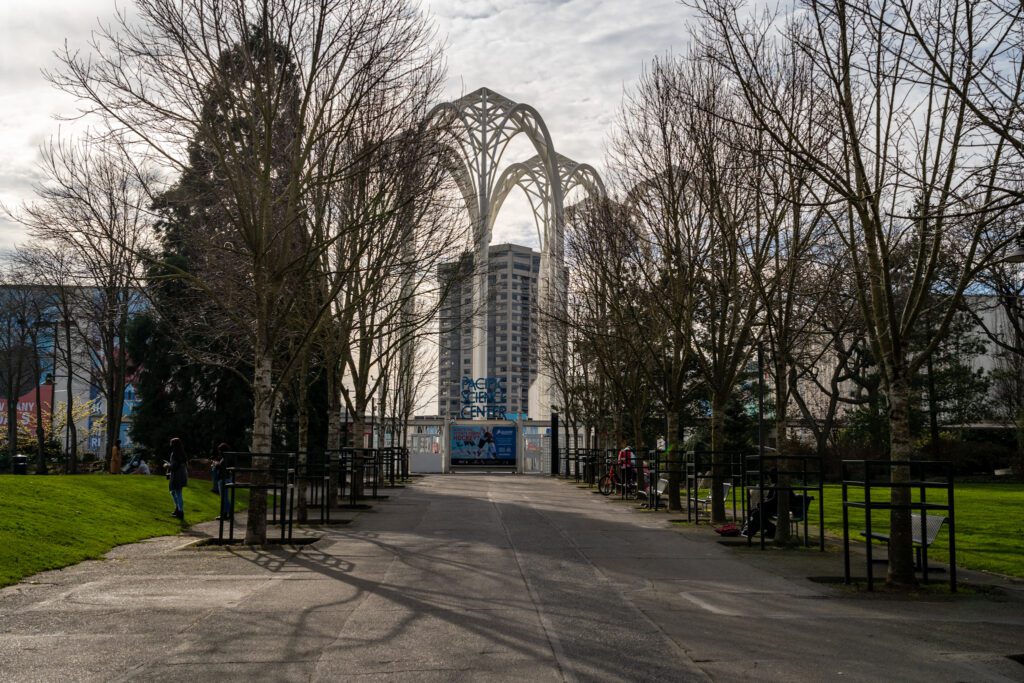 Next, explore Seattle's cultural side. The city isn't exactly known for its traditional art scene, but more of an eclectic and experimental vibe. Choose between the Seattle Art Museum (SAM), which is downtown, or adventuring slightly further to Seattle Center.
The SAM hosts rotating global art collections and innovative exhibits, including contemporary work, Asian art, and work by indigenous tribes of the Pacific Northwest. The museum is closed Mondays and Tuesdays and is free on the first Thursday of the month, otherwise costing $20 for adults, $18 for seniors, $13 for students and teens, and free for kids ages 14 and under.
Seattle Center is about a 20-minute walk from Olympic Sculpture Park. Here, you can admire the infamous Space Needle, though I wouldn't recommend paying the cost to go to the top.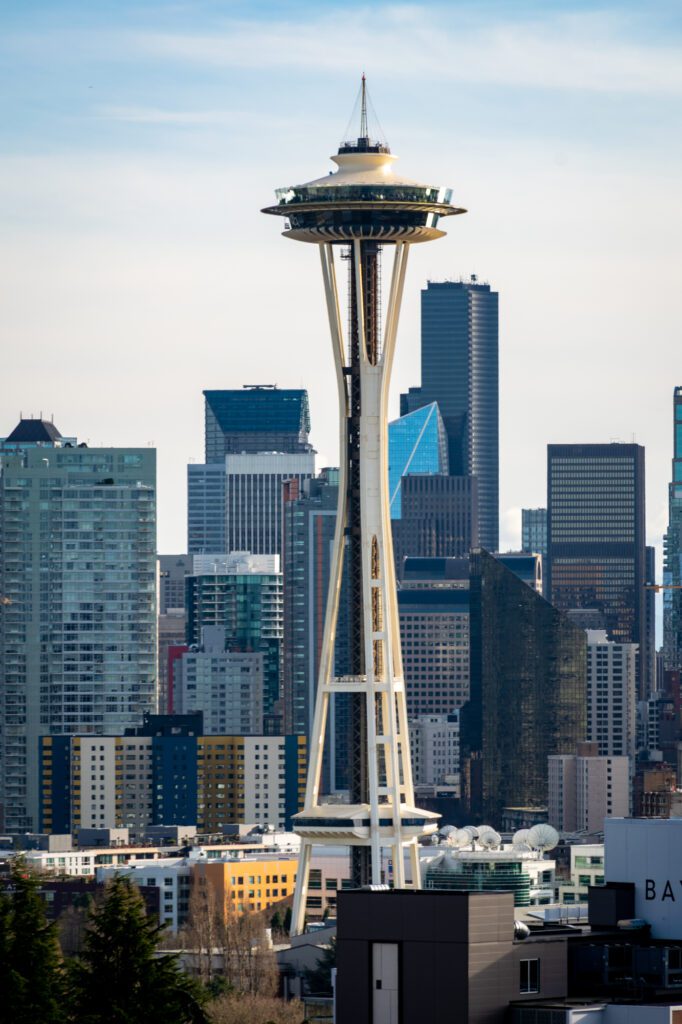 At Seattle Center, you can also visit the Science Center, walk through the fantastical Chihuly Glass Garden, or visit the Museum of Pop Culture (MoPOP).
Once dedicated entirely to music icons, MoPOP still hosts exhibits dedicated to iconic Seattle music figures like Jimi Hendrix and Nirvana, in addition to pop culture exhibits such as science fiction and Disney costumes.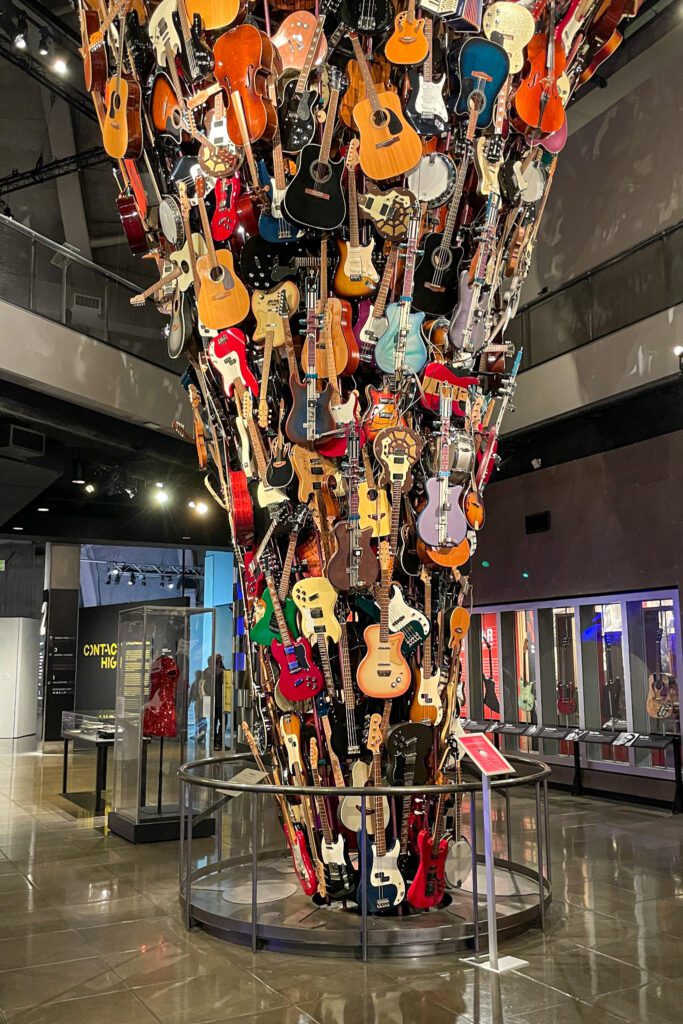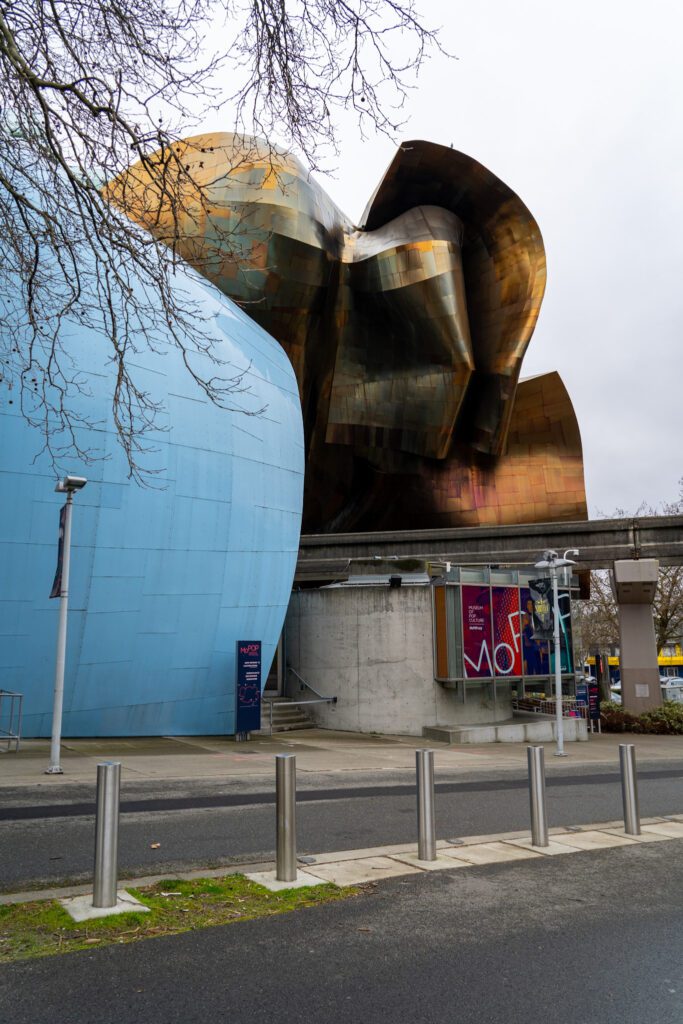 One of my favorite features of MoPOP is the music rooms where you can experiment with drums, guitars, and more, even recording tunes with friends!
Afternoon: Pike Place Market and Happy Hour
Next up, it's time to explore a few of my favorite spots in Seattle: the eclectic Pike Place Market and one or two of the city's infamous craft breweries.
Explore Pike Place Market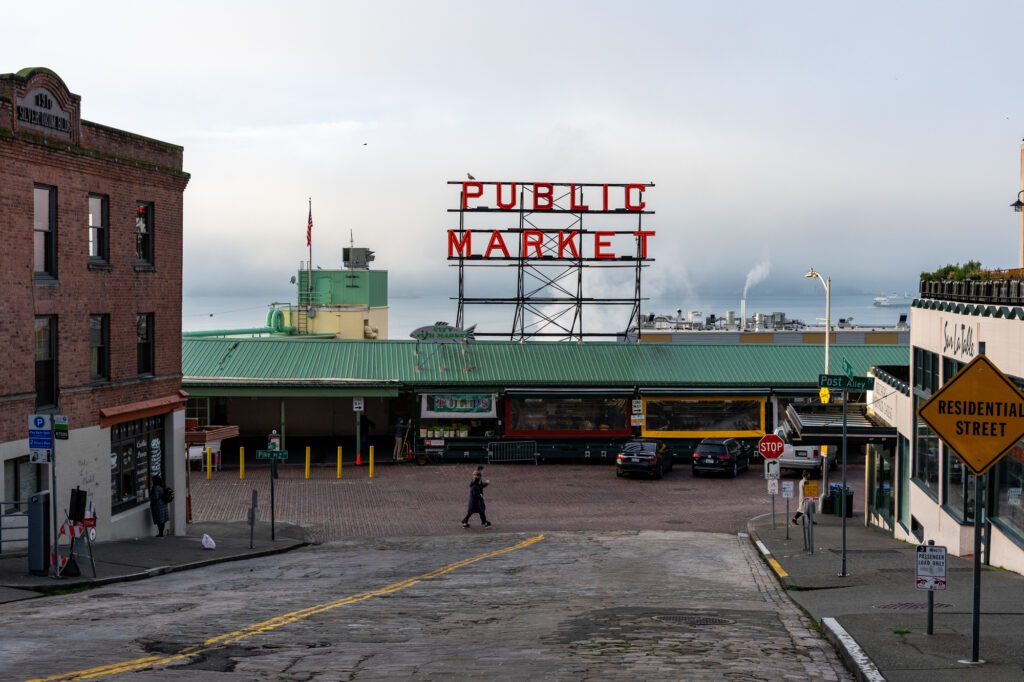 Hopefully you've worked up an appetite to taste more of Seattle's food. Walk to Pike Place Market, home of the famous flying fish and a favorite spot in Seattle. There is much more to the market than initially meets the eye.
Wander through the main strip of the market, lined with fresh produce stands, fish and seafood vendors, smoked salmon, seasonal flowers, chocolate covered cherries from Chukar Cherries, candles, woodworking, and so much more.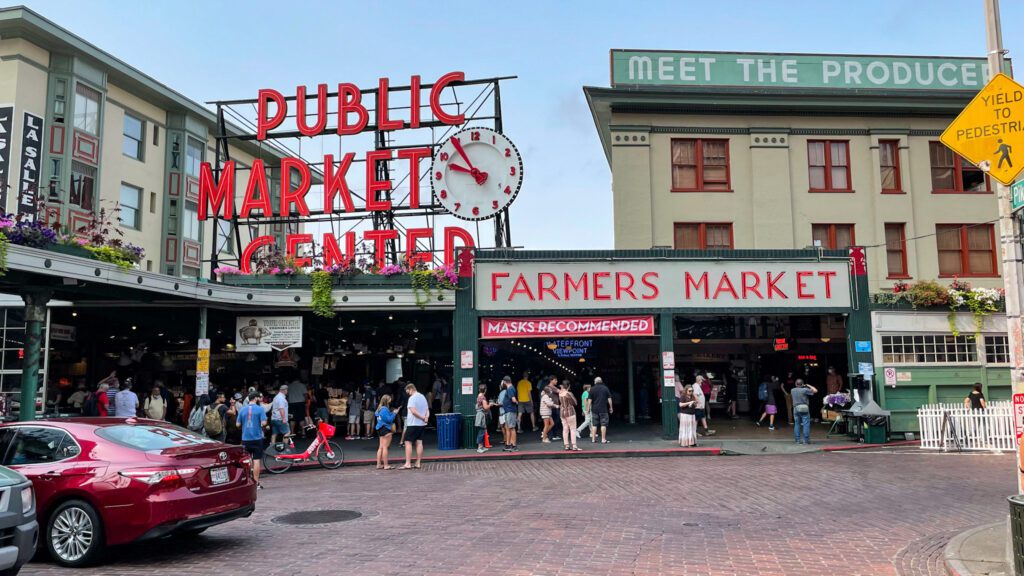 Taste your way through the many stands including fresh pasta from Pappardelle's, empanadas from The Latin Merchant, and Russian pastries from Piroshky Piroshky, and then scope out hidden corners of the market, where you'll find stores packed with vintage posters and National Geographic magazines, shelves stocked with incense, essential oils, and herbal supplements at Tenzing Momo, and spaces selling treasures from around the world.
Lunchtime!
You're spoiled for food choices when it comes to restaurants in Seattle. Whether you're craving seafood, sushi, ramen, Thai, seafood, Italian, French, or so much else, you're in luck because Seattle is sure to have it and it's all done well.
You can have lunch in the market, where your hardest choice is where to eat.
For something quick and casual, grab a cup of chowder from Pike Place Chowder, or a grilled cheese from Beecher's Cheese—also making some of the best local cheese around—and head to a table outside and eat while admiring views over Elliott Bay.
If you want to sit down somewhere a bit more formal, grab a seat at Place Pigalle, where you can choose between seasonal salads, French favorites like escargot, pate, and onion soup, or dig into Pacific Northwest specialties like Dungeness crab cakes and daily salmon selections.
Happy Hour
It's time to refresh with a beverage. Around the market, you'll find a number of great places for wine and craft beer.
Pull up a seat at Truffle Queen, located on the same strip as the market, and treat yourself to a wine tasting. Choose between a rotating selection of Washington and Italian wines.
If beer is more your thing, grab a pint (or two!) at Cloudburst Brewing, a grungy, hole-in-the wall space with some of the tastiest craft beers on tap.
Evening: The Best View in Seattle, Plus Dinner and Drinks
Seattle takes on a whole new life at night. Catch city views at sunset and then treat yourself to dinner, drinks, and live music in one of the city's most vibrant neighborhoods, Capitol Hill, which is at the center of much of the action.
City Views at Kerry Park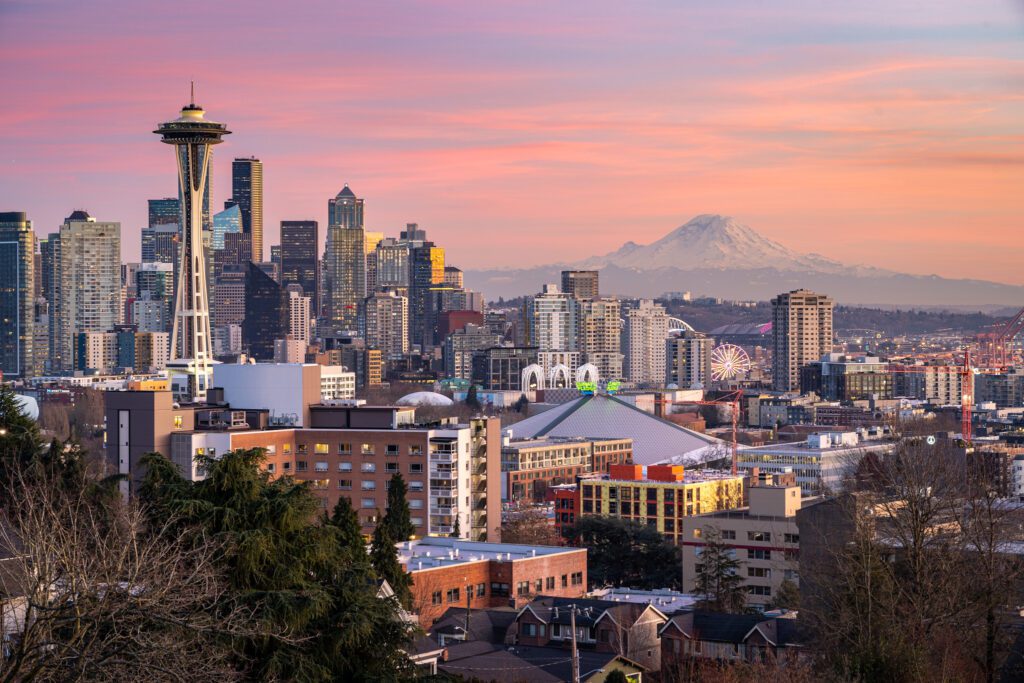 Situated on the south slope of Queen Anne hill, Kerry Park offers an unbeatable city view.
Although it's slightly outside of the downtown area, you can reach Kerry Park by a longer walk, bus, or a quick Uber. This popular spot opens up to views of central Seattle, the Space Needle, Elliott Bay, and majestic Mount Rainier.
It's hard to find a more iconic view in the city. Head to Kerry Park around sunset and admire the sun sinking behind the city and watch as the skyline transforms into a dazzling display of lights and ferries gliding across the water.
Where to Have Dinner in Seattle
In the central city, Capitol Hill is the spot to be for dinner. This neighborhood is home to many of the most memorable dining experiences, with a constant stream of new eateries.
Capitol Hill really comes to life at night and is an area where you'll find more locals eating than downtown.
Spinasse: Inspired by Northern Italian cuisine, Spinasse is an inviting spot that specializes in homemade pastas and seasonal dishes that combine techniques from Piedmont with products of the Pacific Northwest. To pair with your pasta, choose from an extensive and delicious selection of Northern Italian wines.


Stateside: The dreamy green hues and nature-inspired décor make Stateside an easy sell from the moment you step inside. This French-Vietnamese fusion menu is as mouth watering as it's décor. Choose between turmeric rockfish on vermicelli, butternut squash and yuba salad, and fresh rolls stuffed with your choice of mushroom or duck filling. Top off your meal with a cocktail using tropical ingredients like lemongrass, toasted coconut, and fresh ginger juice.


Taylor Shellfish Farms: This wouldn't be a Seattle guide without a seafood-centric restaurant on the list. It's hard to find fresher shellfish than at Taylor's in Melrose Market on Capitol Hill. Grab a seat in their small space and choose a selection of your favorite oysters, or from a range of other PNW delicacies including Dungeness crab, geoduck, and mussels. Pair your shellfish with a glass of Washington wine or beer and savor the flavors of the PNW.
Post-Dinner Drinks in Capitol Hill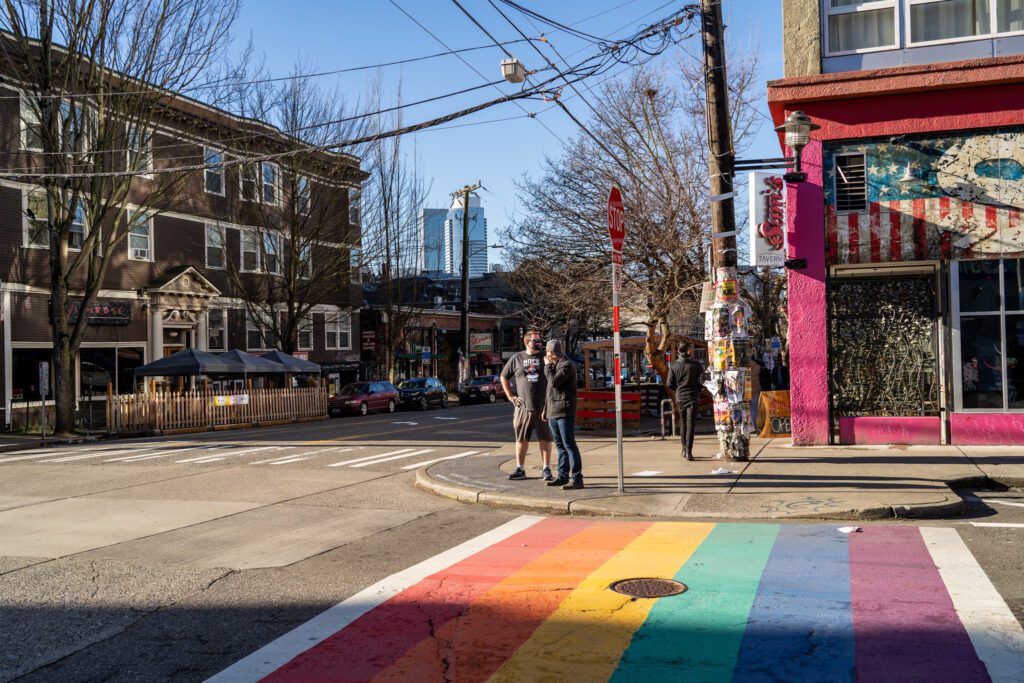 Capitol Hill's drink scene rivals its food scene. From craft breweries and natural wine bars, to hipster cocktail spots and grungy dive bars, the neighborhood has it all. Here's a few of my favorite stops for a beverage, with an option for everyone depending on your preference.
Foreign National: Right next door to Stateside, this dimly lit bar has innovative cocktails and whiskey flowing freely. Foreign National has a seriously cool vibe, disco ball and all, with tasty cocktails to match.


Optimism Brewery: If you'd rather have a more lowkey experience and want to sample more of Seattle's famous craft brews, head to Optimism Brewery for a couple of post-dinner pints. This spacious, industrial chic space specializes in high tech brewing that has resulted in refreshing, delicious sours and IPAs, among other creative beers.


La Dive: For wine lovers who are seeking a non-traditional wine experience, La Dive specializes in natural wines from around the world, along with frozen cocktails. The psychedelic wall mural and royal blue sparkly bar chairs add a fun twist to this funky wine bar.
Nightlife and Music in Seattle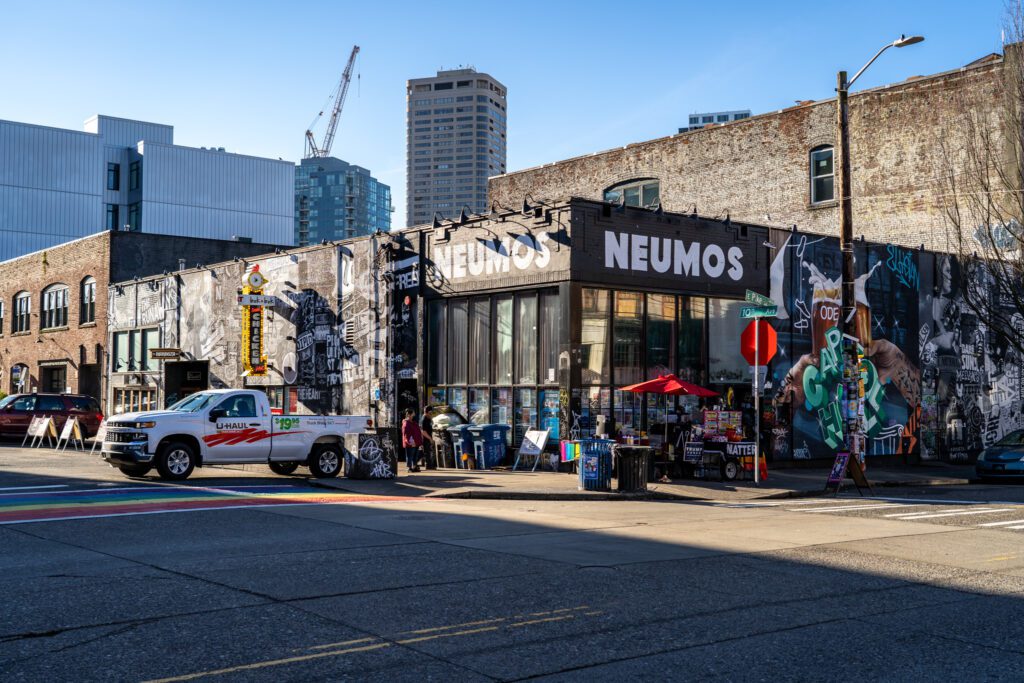 Not ready to say goodnight to Seattle quite yet? The city can be a serious vibe at night. While the weekends see the most action, you'll still stumble across shows and events most nights of the week, particularly in Capitol Hill and Belltown.
Live Music: Commonly associated with its music history, Seattle has a thriving music scene, including a lot of local acts. Hip hop, folk, indie, grunge, electro, funk… the city offers a genre for everyone. Check out Neumos, Chop Suey, and The Crocodile—a few of my favorite music spots— for their schedule of events and hit up a live show.


Late Night Drinks: Seattle is filled with more hole-in-the-wall grungy bars than you can count. Should you find yourself on Capitol Hill late at night and are looking for a lively spot for an inexpensive beverage and a local vibe, check out Revolver Bar, perhaps most famously known for its impressive vinyl wall.


Late Night Eats: If you worked up an appetite again after your night on the town, you're in luck. Satiate your late-night hunger with a street side Seattle dog stuffed with cream cheese and grilled onions, or grab a slice of New York style pizza from Big Mario's, as greasy as it is satisfying.
One Day in Alternative Seattle: Wallingford, Fremont, and Ballard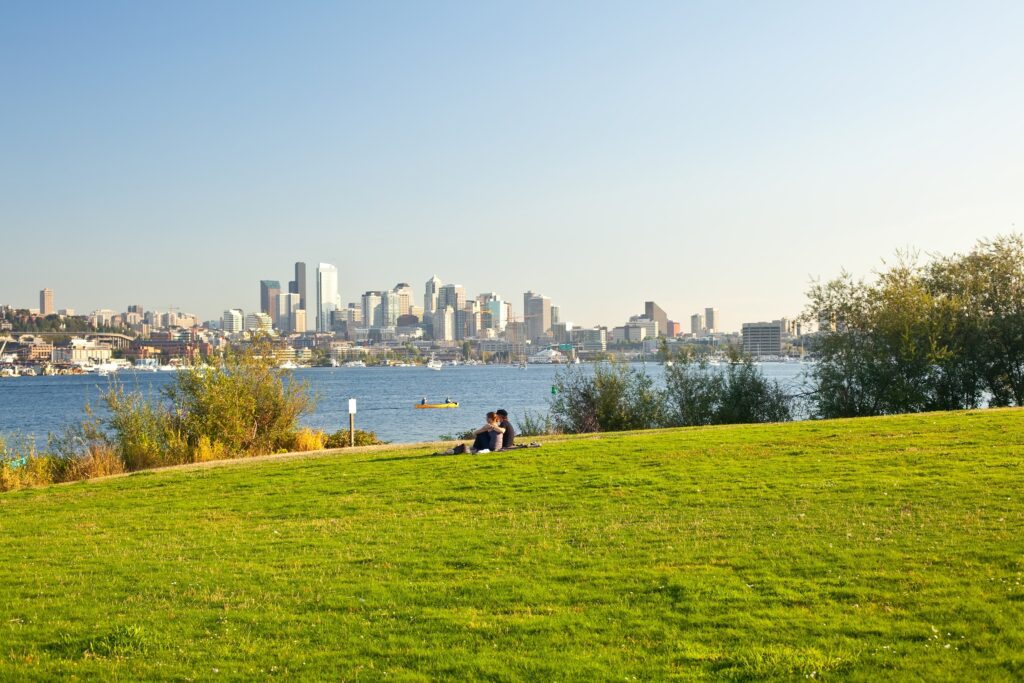 Aside from Capitol Hill, I prefer spending my time outside of the center of the city in more residential neighborhoods known for their eclectic energy and many parks and lakes. Wallingford, Fremont, and Ballard are a cluster of three neighborhoods that are north of central Seattle.
They wind their way around Lake Union and the Puget Sound and are hubs to some of the best dining and drinking holes, as well as much of the creative energy that I love so much about Seattle.
These neighborhoods are harder to explore by foot, however, and may require a car. The upside is that parking is easier and is even free in some parts of the neighborhoods.
Morning: Coffee, Breakfast, and a Wander
Start your day in the eclectic and energetic neighborhood of Fremont with a cup of brew, a tasty breakfast, and a bit of exploring of the neighborhood.
Coffee in Fremont
Start your day with a cup of coffee or tea at Miir on Stone Way in the Wallingford/Fremont area. I love the minimalistic design in Miir, the social mission, and the quality of products. Miir features rotating roasters and offers an impressive selection of beer and kombucha on tap.
They also sell their own line of stainless-steel coffee, wine, water, and beer vessels that give back to clean water projects.
Breakfast or Brunch
On the same street, stop by Sea Wolf Bakers, renowned for making some of the best baguettes in town. Here, you can pick up a sweet or savory croissant, biscuits, and scones for a morning snack. Walk down Stone Way, which has some fantastic murals painted on buildings, and head to the marina, where you can admire the rows of sailboats.
Alternatively, head into Café Con Todo for a nourishing smoothie packed with tasty ingredients like dragon fruit, goji berries, and blue spirulina and maybe a breakfast burrito if you're feeling hungry.
Or, if you're visiting over the weekend, book a table at Rock Creek for brunch. The woodsy chic interior is made from repurposed materials and local woods. Their menu is as innovative as the restaurant design and one of my absolute favorite brunch spots in the city, serving ethically sourced fish, oysters, and crab, among other seafood, in unique spins on classic dishes.
Fremont or Ballard Farmers Market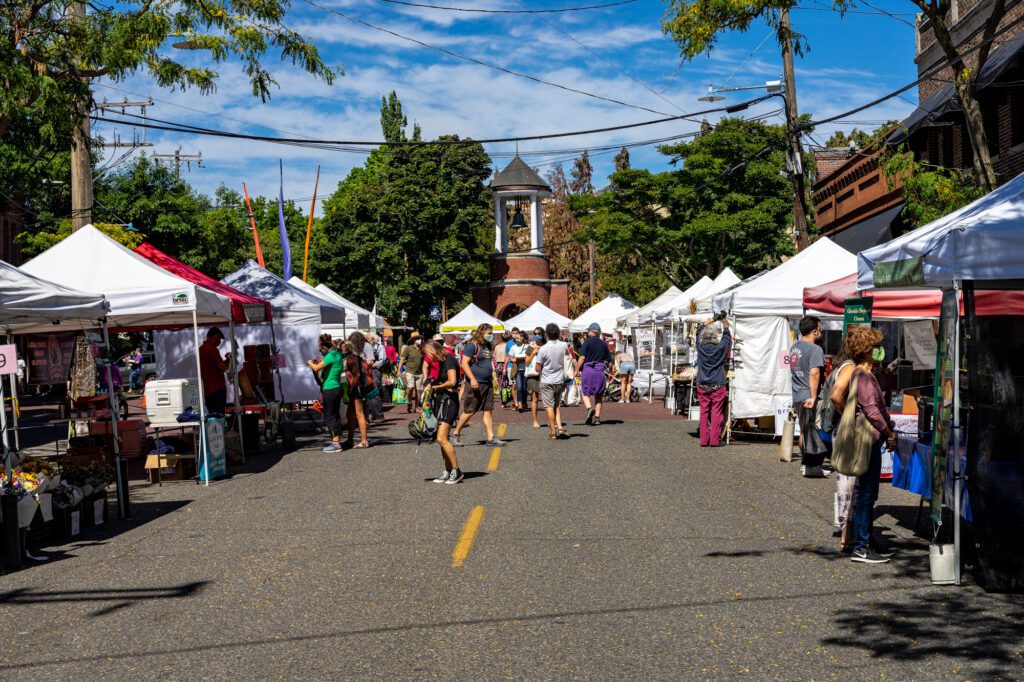 Should you find yourself visiting on a weekend, head to the farmers market.
The Ballard Farmers Market and Fremont Market both take place on Sundays. Wander through stalls of farm fresh produce, crafts, and vintage finds. Fremont's market is full of vintage clothes and antique goods. Sample food and drinks from local vendors as you work your way through the eclectic goods and fresh produce.
Neighborhood Wandering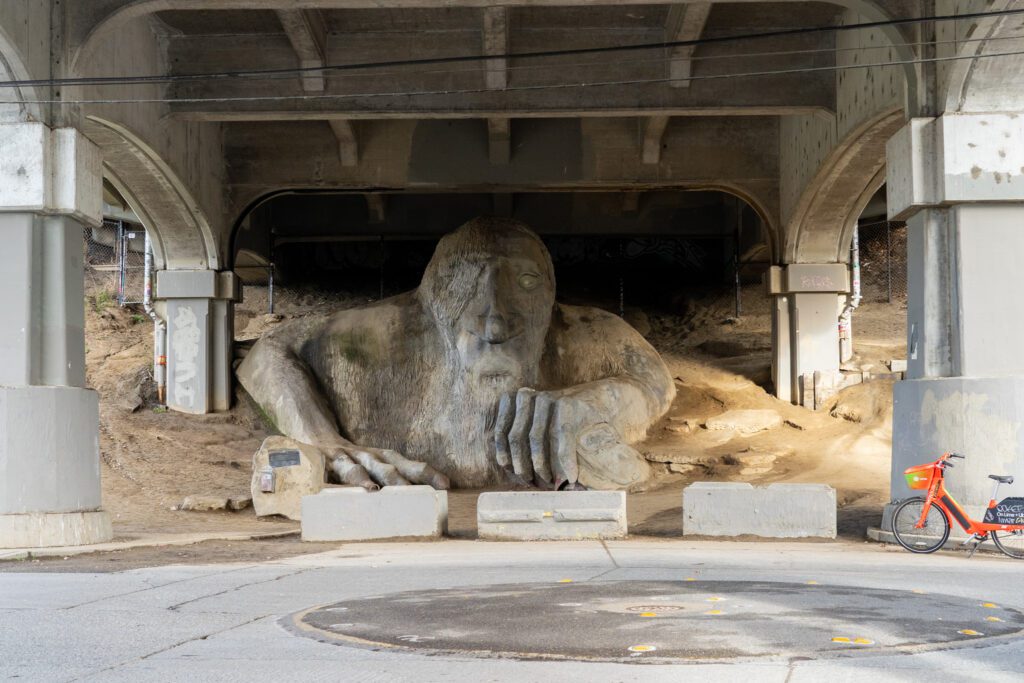 Once you've had your fill of food, take some time to simply explore Fremont. Wander under the bridge, to the famous troll, along the waterfront and marina, and in and out of concept, vinyl, and vintage shops.
Fremont Vintage Mall is a particularly fun stop any day of the week. I love walking through Fremont's quiet residential streets lined with colorful houses and blossoming trees and gardens.
Afternoon: Lunch, a Park, and a Beer Break
After you've thoroughly explored all Fremont has to offer, relax with a picnic lunch at a park and refresh with a beer in one of the most popular beer gardens in Seattle.
Lunch in Fremont
After you've worked up an appetite, make your way to Gas Works Park for a picnic lunch. Pick up food from Stone Way Café, which offers a fantastic selection of sandwiches, wraps, bowls, and salads, though I have a hard time saying no to the salmon tacos.
Alternatively, grab a bite from Paseo, a famous Caribbean sandwich shop featuring baguettes stuffed with jalapeños, cilantro, and your choice of protein from prawns to tofu to roasted pork.
Take your lunch to Gas Works Park, the site of the former Seattle Gas Light Company. The hilly park is filled with unique industrial structures and is also a popular spot for picnics, kite flying, exercise classes, and dog walking. Enjoy views over Lake Union and the Seattle skyline while you eat your lunch.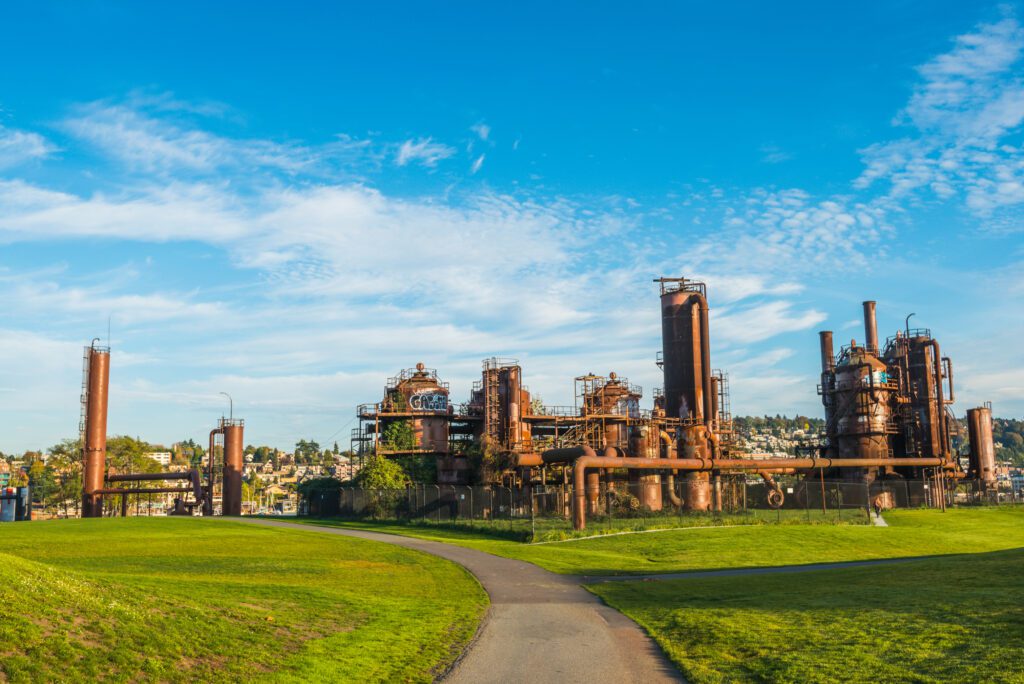 An Afternoon Beer Break
After lunch head to one of the many fantastic breweries in this part of the city. I love the atmosphere of Fremont Brewing, which has an extensive list of beers, ranging from sours and stouts to lagers and IPAs.
The outside beer garden is buzzing on a sunny day any time of the year and is a fun afternoon stop.
If you prefer to head to Ballard, the patio at Reuben's Brews is the place to go. Their selection is very heavy on IPAs, which are all invariably delicious and include a number of seasonal brews.
An Evening in Ballard
It's time to make your way to Ballard to catch sunset at the beach and experience the charming maritime neighborhood lined with trendy restaurants, bars, and shops.
Sunset at Golden Gardens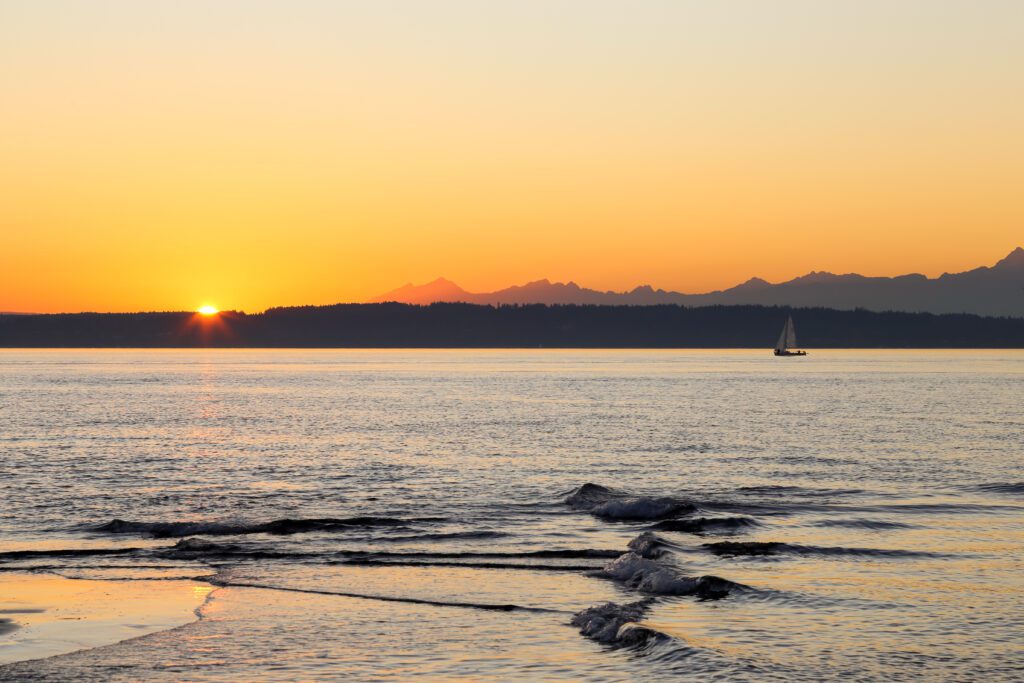 There's no better place to be than Golden Gardens for sunset in this part of the city.
This is one of Seattle's only sandy beaches and attracts crowds during the day for volleyball, slacklining, and picnics. Throw a blanket on the sand and watch the sun sink into the ocean.
If you're feeling brave, you may even consider taking a dip in the Pacific, which is frigid year-round.
Where to Have Dinner in Ballard
Sawyer: Located just off of Ballard Avenue, Sawyer is a casual yet chic space with a retro vibe and cozy booths. This neighborhood establishment elevates the casual dining experience with an innovative menu drawing inspiration from global flavors. From pork buns and sirloin tater tots, to citrus salads and grilled artichokes, there are dishes to satisfy both the cravings of vegetarians and meat-eaters. Pair with some seriously inspired cocktails featuring spirits like olive oil-washed tequila and poblano infused rye.


The Walrus and the Carpenter: Situated right in the heart of Old Ballard, the Walrus and the Carpenter is a neighborhood favorite in a bright, unpretentious space. The menu changes daily and draws inspiration from the land and the sea of the Pacific Northwest. Their specialty is oysters, which you can choose to pair with shellfish, innovative vegetable dishes, meats, or cheeses. Wash it down with a creative cocktail, a glass of wine, or a pint of local beer.


Rupee Bar: Part hipster, part Sri Lankan-Indian, this South Asian fusion restaurant is one of my favorite finds in Ballard. You can choose to sit street-side or slide into a table in the hopelessly chic space. Prepare to eat and drink your way through the rotating menu that features small plates and cocktails inspired by the flavors of South Asia. You really can't go wrong with anything you order. Come hungry and bring friends so you can work your way through the entire menu.
Post-Dinner Drinks
Once your appetite has been satiated, it's time to have a libation or two.
Baker's: A sweet spot in Ballard, Baker's rivals for the title of best cocktails in town. Whether you're in the mood for gin, bourbon, or tequila, they have something for everyone.


Little Tin Goods and Apothecary Cabinet: Whether you grab a seat in the artsy, brick-walled indoor space or enjoy your cocktail in the lush tiki garden bar, Little Tin on Ballard Avenue has a fun vibe. The Hawaiian-owned establishment has a creative menu full of delicious, Hawaiian-inspired cocktails drawing on warm spices, citrus juices, and tropical fruits like guava and papaya.


Stoup Brewing: Thirsty for more beer? Stop by Stoup Brewing in Ballard, a creative industrial space that also has a beer garden, firepits, and tents. From Citra and hazy IPAs, to porters and red ales, Stoup blends science and a love for beer to create an inspiring collection of beers on tap.
Live Music in North Seattle
Fremont, Ballard, and Wallingford all have their fair share of music venues.
Tractor Tavern is located in historic Ballard and has been a favorite music venue among Seattleites for two decades. Listen to folk, jazz, rock, reggae, and more in this spot highlighting local musicians.
Sunset Tavern is an unpretentious space in Ballard to catch live music.
In Wallingford, Seamonster Lounge is an old favorite of mine from my university days. Hosting funk, jazz, and soul bands several nights of the week, the Seamonster is low-key, understated, and a lot of fun if you're looking for an unpretentious local music venue with soul.
What Can You Do With More Than One Day?
Here are a few things to do and see with more time in Seattle. For more, read our guide to 2 days in Seattle.
Discovery Park: One of Seattle's most spectacular parks, Discovery Park, is a slice of natural heaven in an urban center. This expansive park sprawls across 534 acres of land in the Magnolia neighborhood. Trails wind through forest groves and along dramatic sea cliffs overlooking tidal beaches and sand dunes. You could spend all day in Discovery Park alone, wandering along its many trails and exploring the marine life on the beach.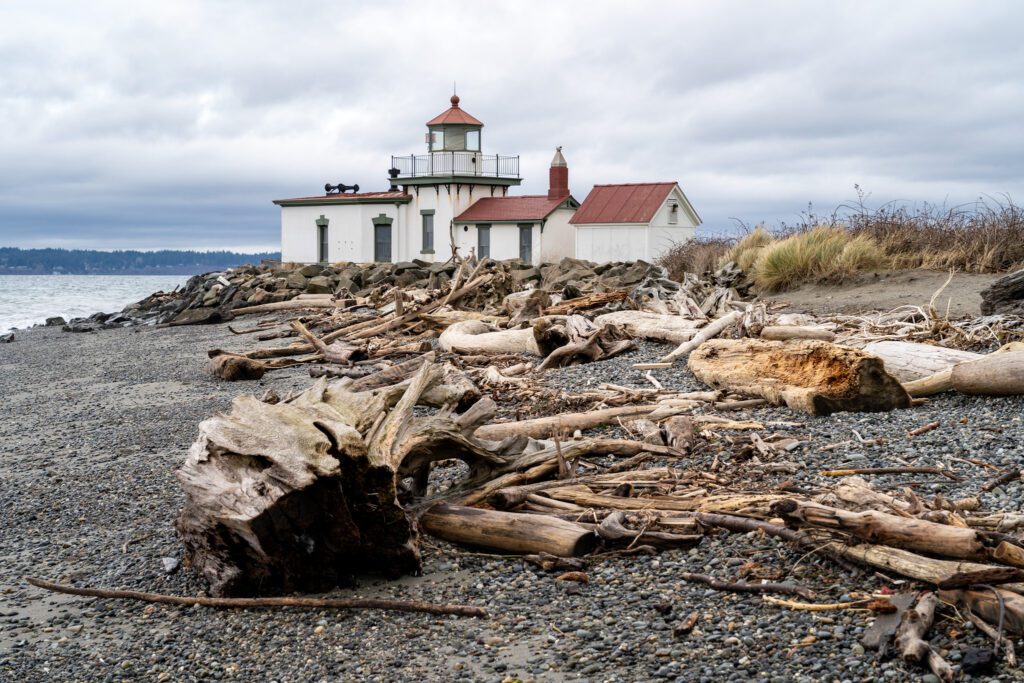 Museum of Museums: Museum of Museums (MOM) is an eclectic art space on Boylston Avenue in Capitol Hill that is characteristic of the creative side of Seattle. Rotating installations and exhibits, murals, sculptures, pop-ups, and a theater unfold over two floors of this mid-century medical building turned contemporary art museum. MOM is dedicated to inspiring the local art scene and community in Seattle and is definitely worth a visit for a taste of the innovative and off-beat nature of the city.
Natural Wine Bars: There is no doubt that Seattle has a phenomenal beverage scene and with a fantastic local wine scene, you'll never be far from a delicious glass of wine. A rising trend in Seattle that I happen to love is natural wine bars. If you're interested in experimenting with something a bit different and sustainability-oriented, skip over the more typical wine bar and stop at one (or two) of Seattle's wine bars dedicated to natural vino. Left Bank and Princess & Bear in South Park, Light Sleeper in Capitol Hill's Chophouse Row, and Marseille in Melrose Market are fantastic options for a memorable natural wine tasting experience.
Paddleboard/Kayak: One of my favorite parts about Seattle is how active you can be in the middle of the city. Surrounded by bodies of water, the Emerald City is fantastic to experience from the water. Rent a kayak or stand up paddleboard for part of a day and paddle your way across one of Seattle's many lakes or the Puget Sound, admiring houseboats and city views along the way. Alki in West Seattle, South Lake Union, and Lake Washington in the University District all have kayak and SUP rentals aplenty. Ballard Kayak has hourly rentals for single and double kayaks, as well as SUP boards at reasonable rates from Shilshole Bay Marina.
Burke-Gilman Trail: A 19-mile trail that stretches from Woodinville north of Seattle to Golden Gardens Park in Seattle, the Burke-Gilman can be biked, hiked, or jogged. This popular stretch of trail brings you to some of the most iconic spots in the city, including Gas Works, the University of Washington, Matthews Beach, Magnuson Park, Golden Gardens, the Fremont Canal, and a number of restaurants and breweries. Rent a bike or choose to traverse it by foot and experience this unique route through Seattle.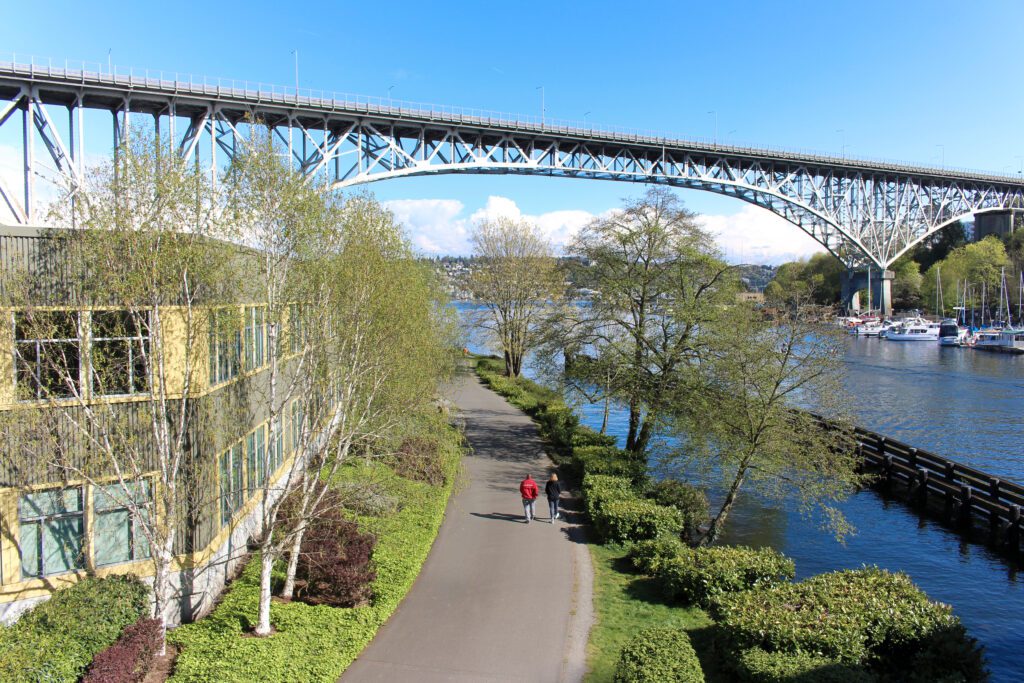 Ferry from Downtown to West Seattle: Ferries are an iconic part of the city. The skyline is full of ferries gliding across the Sound and they're even more enjoyable when experienced firsthand. While many of the ferries head to the surrounding islands, you can catch a quick ferry from downtown Seattle to West Seattle, which is an entirely different experience than the rest of the city. Spend the day walking along Alki, paddling or kayaking with the view of the Seattle skyline, and grab a beer and some tacos at Marination Ma Kai.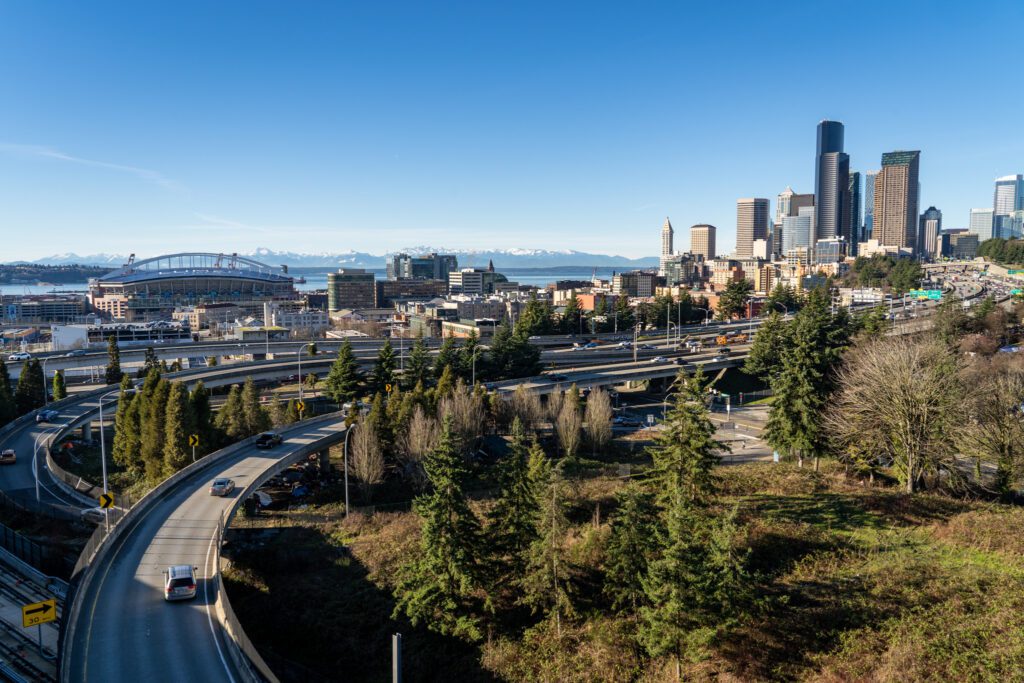 Where to Stay For One Night in Seattle?
Where you choose to stay depends entirely on what you want to explore.
Staying somewhere central and well-connected to public transportation may be in your best interest if you want to hit the main sites of the city. Downtown and Belltown are both centrally located, plentiful in budget, mid-range, and high-end hotels, and are walkable and connected to public transportation.
If you choose to stay in the northern part of the city, Ballard has a few boutique hotels and some great Airbnb options. North Seattle is a great base if you want to stay in a more local, residential part of Seattle that offers an eclectic and nature-oriented experience.
Read in more detail about each of Seattle's best places to stay and what they have to offer as places to stay.
Staying in Downtown Seattle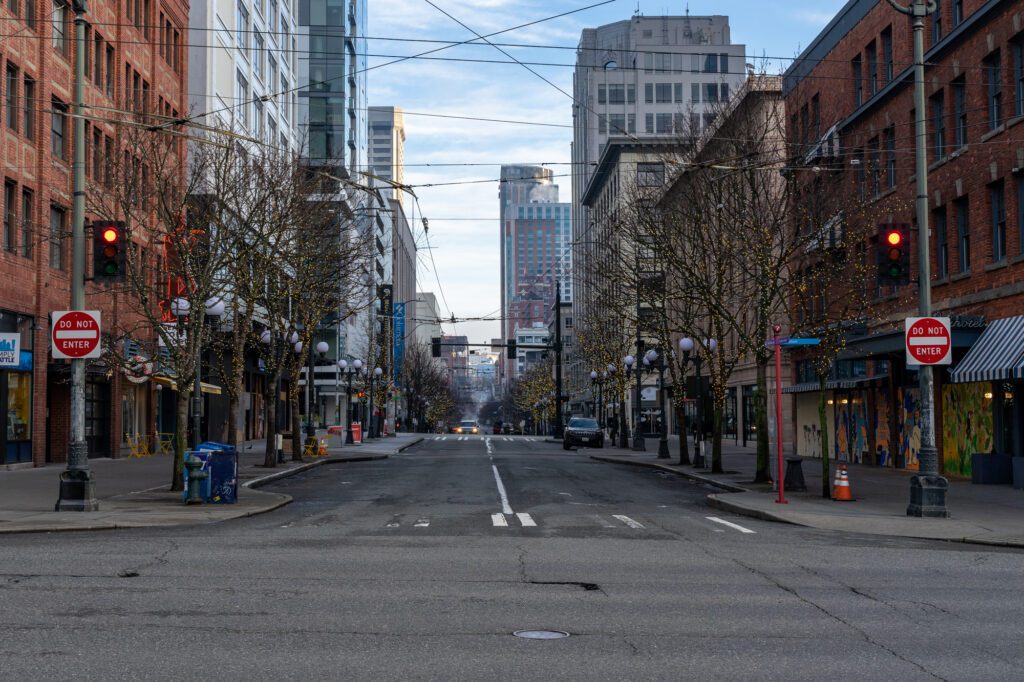 Downtown Seattle is at the heart of much of the business and tourist attractions in the city and can easily be explored by foot.
The city center has a fantastic range of hotels to choose from. Here, you'll find Pike Place Market, Post Alley, and views over Elliott Bay.
Palihotel Seattle: A boutique hotel that is a short walk from some of downtown's best spots, Palihotel is an eclectic, stylish boutique stay. The green tones and turn-of-the-century vibe make for a fun ambience. Enjoy the cozy lounge and tasty restaurant, the Hart and Hunter, which is a great spot for any foodie.
The Edgewater: The Edgewater is an iconic Seattle landmark if you're looking to splurge on a hotel that boasts both history and ambiance. Over the years, the Edgewater has hosted the Beatles, Pearl Jam, the Foo Fighters, and other iconic musicians. Located on Pier 67 situated right over the water, the waterfront views at the Edgewater are abundant. Indulge in classic Pacific Northwest cuisine at the Six Seven Restaurant and then relax by the fireplace on cool Seattle evenings.
Inn at the Market: The only hotel located right inside Pike Place, Inn at the Market is colorful, comfortable, and offers the ultimate level of convenience in its proximity to downtown. When you're not exploring, relax on the rooftop with sweeping views of the market, Elliott Bay, and Mount Rainier.
Staying in Belltown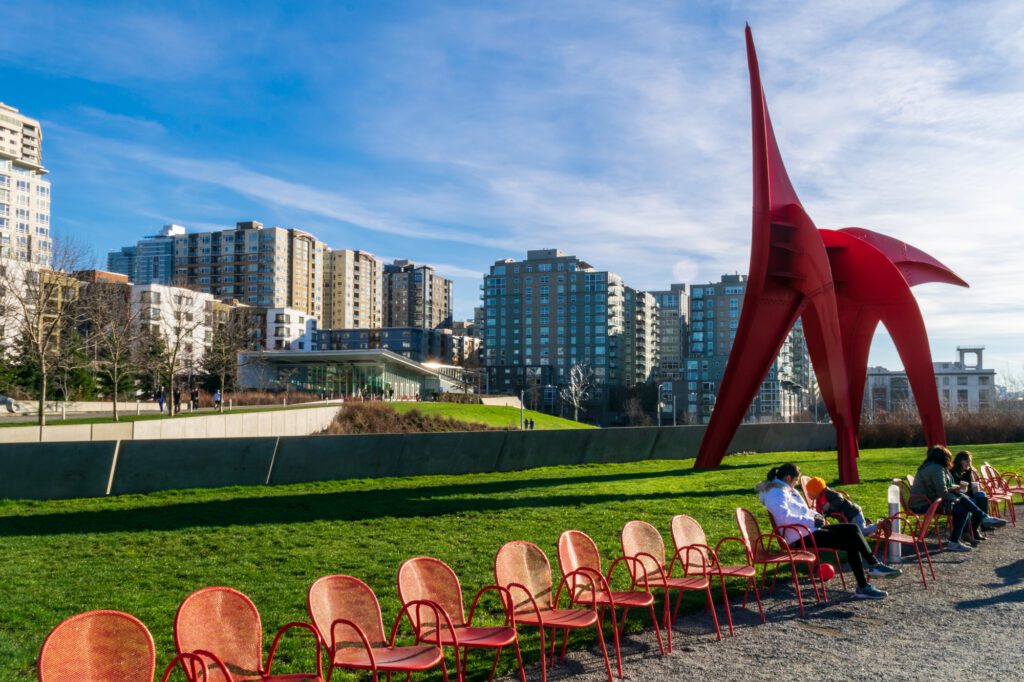 Situated right next to downtown, Belltown is in the heart of central Seattle with sweeping views over the Puget Sound. Boutique hotels, restaurants, cafes, and bars blend in with warehouses and live music venues.
Beyond its proximity to the city center, Belltown also offers trails, outdoor art exhibits, and beach access.
Hotel Andra: Located in the heart of Seattle's shopping and restaurant scene, Hotel Andra offers a stylish and peaceful urban retreat. Perhaps one of the best parts of this luxury boutique stay is its proximity to Lola and Assaggio, boasting Mediterranean and Northern Italian menus designed by two of Seattle's most celebrated chefs.
StayPineapple Hotel FIVE: A funky, bright hotel that is great value for money, StayPineapple FIVE is conveniently located between both Pike Place and Seattle Center. This dog-friendly stay offers great amenities, including daily drink credit, bikes, and afternoon snacks.
The Sound Hotel Belltown: The Sound Hotel in Belltown offers upscale, chic stays walking distance from many of the major sites in Belltown and downtown Seattle. Enjoy views of the city from most of the rooms, upgrade to a suite if you want, and refresh with craft beers, Washington wines, or coffee at Currant Bistro inside the Sound.
Staying in Ballard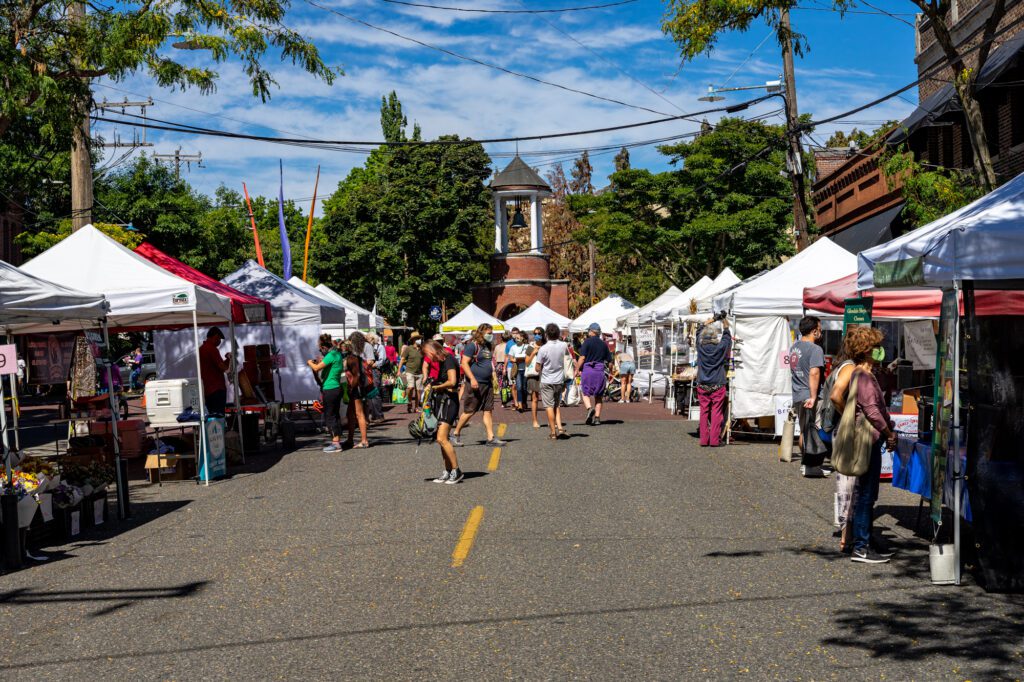 Situated along the Ballard Locks, this charming neighborhood boasts a proud Nordic history, waterfront views, and an innovative culinary and beverage scene.
The downside is that Ballard is quite far from the rest of the city so is best to use as a home base if you have a car and are hoping for a taste of this area with less time spent visiting the sites of central Seattle.
Hotel Ballard: A luxurious, boutique stay in the heart of Ballard, Hotel Ballard is worth the splurge if you're looking for a sophisticated stay with a Pacific Northwest twist. At Hotel Ballard, you'll have access to a spa, athletic club, the tasty Stoneburner Restaurant, and a rooftop overlooking the marina with a fireplace to keep you warm on chilly evenings. Located centrally on Ballard Avenue, you'll be in the center of the best of Ballard's eclectic shops and eateries.
Ballard Inn: A mid-range stay among some of Ballard's best offerings, Ballard Inn is a boutique hotel inside of an old bank. Here, you'll find a lobby and rooms designed with modern comforts blended with historic style.
Private Ballard Backyard Cottage: If you're looking for something a bit more residential in Ballard, this private cottage is the perfect urban retreat. Complete with a full kitchen, a small backyard, and all the modern amenities you could want, this stay is comfortable, affordable, and will give you a taste of local Ballard life.
Getting Around Seattle
Most of central Seattle is quite walkable, particularly in and between downtown, Belltown, and Capitol Hill. However due to lack of public transportation, you'll need a car or rideshare to access neighborhoods in North Seattle like Ballard and Fremont.
On Foot
It is easy to explore each of Seattle's major neighborhoods by foot if you stay just within that one neighborhood, as each neighborhood is densely packed with restaurants, cafes, bars, shops, and more that are easy to walk between.
On the other hand, Seattle itself is fairly spread out and it's not always possible to walk between many of the city's major neighborhoods, which are separated by highways, major roads, and sizable distances.
A few neighborhoods blend into one another, like downtown into Belltown, downtown into Capitol Hill, and Wallingford into Fremont.
In terms of safety, the city is safe to walk for the most part, though there are areas of downtown, Capitol Hill, and Belltown that I am cautious of at night.
By Public Transport
Honestly, Seattle's transportation system is lackluster. For years, the only transportation the city had was a bus system that is convenient enough to get between certain locations but left less major destinations off the bus route and difficult to reach.
The buses are notoriously slow and unreliable based on the schedule. In the past few years, the city has opened the light rail, which provides transport on a south-north line, stopping at major locations in downtown, Capitol Hill, and the University District.
By Bike
For an outdoorsy and green city, Seattle isn't necessarily the friendliest city for bikers. Bike lines have only been added in recent years and still aren't a given everywhere. The city is also very hilly. Throw in some rain, congested traffic, and aggressive drivers, and it's not necessarily easy to be a cyclist in Seattle.
However, it is still completely possible and not highly unusual to traverse the city on bike. Some parts of the city are pleasant for bike rides as well, such as hopping on the Burke Gilman Trail or biking around Green Lake—but these are more leisurely rides than a mode of transport.
You can rent a LimeBike from the side of the street or choose to rent one from Pedal Anywhere, located on Eastlake between Capitol Hill and South Lake Union. Pedal Anywhere's rentals start at 24 hours with a choice of road bike, hybrid bike, or touring bike. Prices vary based on style and size of bike and the daily rate becomes much cheaper when renting for more than 24 hours.
By Car
Depending on what you plan to do and where you plan to go, having a car will give you a lot of freedom to explore Seattle.
If you're only planning to stay and see major sights in downtown, Belltown, and perhaps Capitol Hill, a car isn't necessary and will be more hassle than it is worth. For the rare occasion that you may be adventuring a bit further outside the city center, you can order an Uber or Lyft easily.
Parking is timed and paid in these neighborhoods and can be a challenge to find. Since 2020, parking costs have dropped significantly to 50 cents per hour, capped at two hours.
More residential neighborhoods like Fremont, Ballard, Wallingford, and Green Lake benefit from having a car and do have more free parking, though it is still timed, typically with a two-hour limit.
When to Visit Seattle
It's no secret that Seattle is known as the "rainy city." This reputation is commonly held by outsiders who haven't experienced the city firsthand—or at least not during the non-rainy months of the year.
I like to keep this rare and blissful period on the downlow, so the secret doesn't get out that Seattle's weather actually isn't miserable year-round.
Undisputedly, the best time to visit Seattle is during its glorious summer months— from late June through early September. July and August have the most consistently pleasant weather with almost uninterrupted blue skies, warm, sun-soaked days, and late sunsets.
Considering that Seattle is such an outdoorsy city, the weather really can make all the difference. The city takes on an entirely new energy during the summer, as street side cafes and beer gardens are abuzz, and Seattleites live and breathe outdoors.
Seattle's many parks, lakes, and beaches are brimming with locals eager to soak up every last drop of sunshine.
There are outdoor concerts, rooftop happy hours, beach bonfires, farmers markets, and eclectic festivals that take place throughout the summer months, and swimming, paddle boarding, kayaking, and sailing are all at their prime during these months.
That being said, the shoulder months can also be quite pleasant.
While June gloom frequently kicks in, May can be a beautiful month to visit while spring is blossoming, and the city is coming alive. September and October weather are a gamble but there are lovely fall days scattered throughout these months. The air is fresh and crisp, colors are changing, and fall festivities liven up the chillier, greyer days.
And finally, while I am a certified sun chaser myself, there is something to be said for the gray and rainy winter days that are so characteristic of the grungier side of Seattle.
You'll rarely encounter extreme winter weather so even during the winter months, temperatures will be cold with a steady drizzle but not bitterly cold temperatures.
While you won't be able to experience the more upbeat, outdoorsy side to Seattle during these months, you can take advantage of all of the cozy coffee shops, wine bars, and mouthwatering restaurants the city has to offer.
---
MORE TO EXPLORE IN THE PACIFIC NORTHWEST
If you're planning a trip to the Pacific Northwest, we've got you covered with all sorts of super detailed travel guides to our favorite places in Washington and Oregon.