How to See the 3 Amazing National Parks in Washington State
After spending the past two years on a never ending road trip to most of the national parks in the western United States, we get asked what our favorites are whenever we catch up with friends and family. Every time I start to think about my answer, all three of the national parks in Washington state rise to the top of the list. Each park brings a unique combination of offerings to the table that make it a special place to visit.
Despite growing up in Washington (in the Seattle area), it blows my mind (and Alysha's) that I had never been to ANY of Washington's national parks until 2016, at the age of 26. Growing up, I guess you could say my family wasn't exactly into hiking and the outdoors.
Since then, we've spent a lot of time in the Pacific Northwest over the summer, exploring the three amazing parks in Washington and beyond. Over the past two summers alone, we've spent upwards of nine weeks living in our van (it's a Honda Odyssey, nothing fancy here) in Washington.
In the guide below, we've created a mini travel guide for each of the three Washington national parks – Mount Rainier, Olympic, and the North Cascades – with our favorite hikes, scenic spots, and exactly what we think makes each of them special and worth visiting.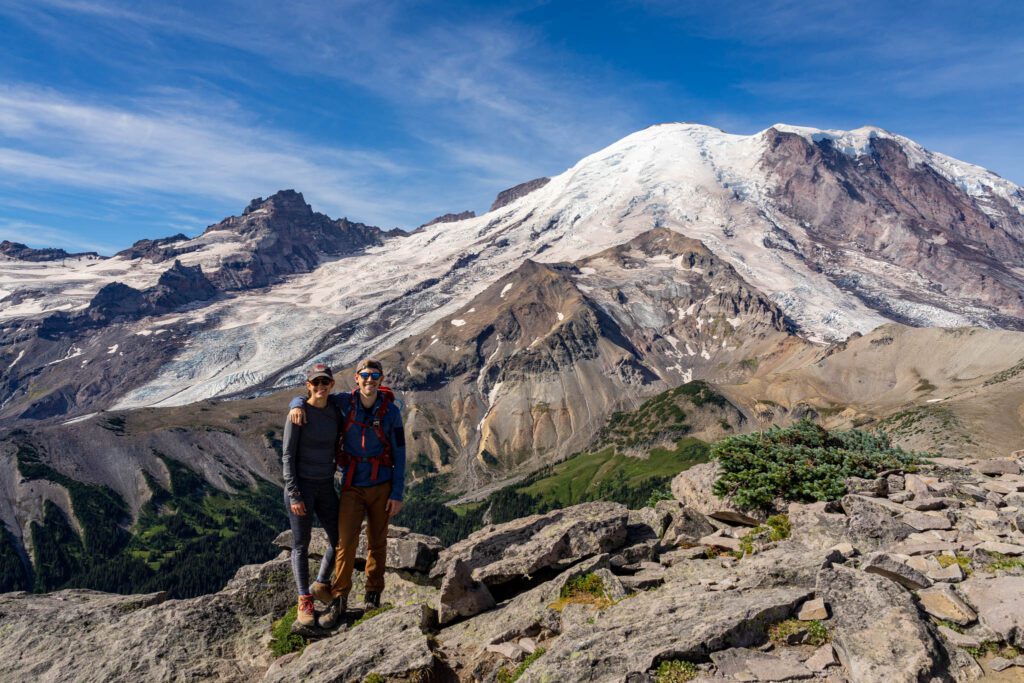 Disclaimer: Some of the links in this post, like hotel and vacation rental links, are affiliate links, meaning at no additional cost to you we make a little bit of money if you click through and book. That being said, we would absolutely never recommend something to you that we don't stand behind 100%.
A Complete Guide to the 3 Washington State National Parks
There are three national parks in Washington State – Mount Rainier, Olympic, and North Cascades National Park – and we're going to cover all three in painstaking detail below.
Even though there's a lot of detail in the mini-guides below, there's more where that came from. We have even more detailed guides – hiking guides, itineraries, and more – to help you plan an incredible trip.
Mount Rainier National Park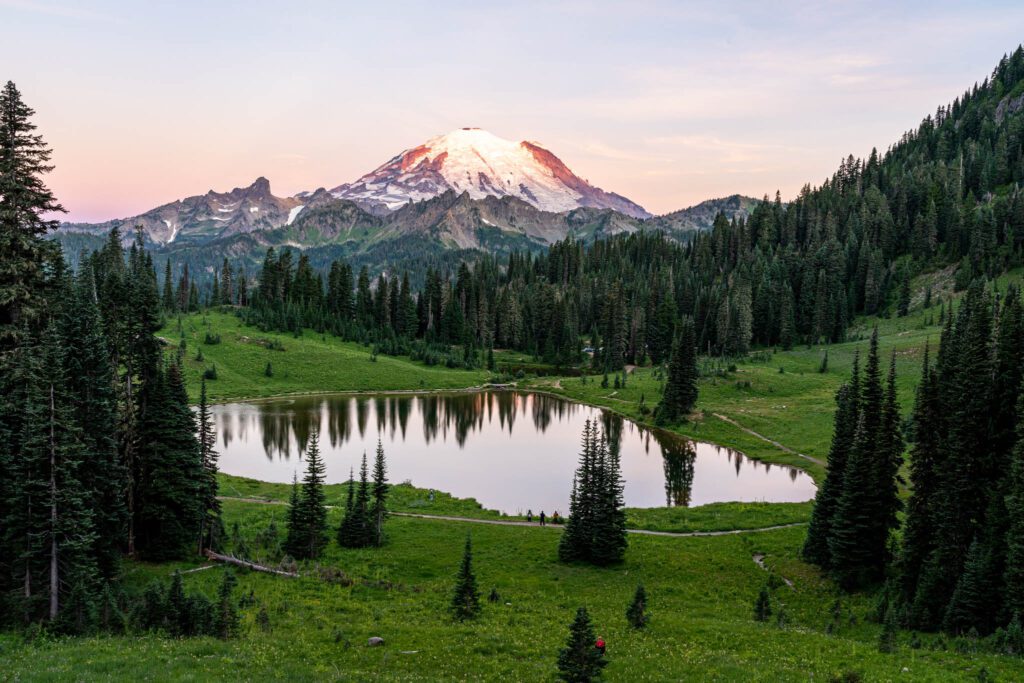 Mount Rainier towers over the Seattle skyline, rising 14,000+ feet above sea level. I always like to judge the weather in Seattle by whether or not you can see Rainier from the city. If you can't, it's either because it's gray and drizzly, or because the summer haze (or in more recent years, wildfire smoke) is obscuring the majestic glaciated peak.
Whichever way you slice it, Rainier is spectacular both from afar, and more so once you get up close. On our last visit, we were joking that it really doesn't look that high once you're up close and personal as we stood atop the third burroughs of the Burroughs Mountain trail. Of course, it is. It's the tallest peak in the Pacific Northwest, and it's not really that close (Rainier is more than 2,000 feet higher than Mount Adams, which is nearby).
A Quick Geography Overview
To really talk about Mount Rainier, we first need to talk about the geography of the park. You can think of it as a big square, with Rainier squarely in the center. We like to think of the park as having four distinct regions.
Paradise: The most visited part of the park on the south side of Rainier. It's probably the most diverse area in terms of things to do and see – there are lakes, waterfalls, and what might be the best hike in Washington State, the Skyline Trail.


Sunrise: Our personal favorite part of the park because it's where you'll find the best hiking. It's on the eastern flank of Rainier, and it's the highest point you can drive to in the park at 6,400 feet above sea level. There are four or five amazing hiking trails that leave from the Sunrise Visitor Center, and we can't get enough of them. Unfortunately, the elevation and remoteness means that this part of the park is only really open from mid-summer through mid-September. A maddeningly short hiking season.


Ohanapecosh: This is at the southeastern corner of the park, which means it's furthest from the Seattle metro area. If you're coming in the summer, it makes a good stop between Paradise and Sunrise (or day trip from one of those), if you're making that journey.


Mowich Lake / Carbon River: The northwestern corner of the park, access here is tough (the easiest access point is an 18 mile washboard gravel road that washes out occasionally, which should tell you something). However, two of our favorite hikes in Mount Rainier National Park – Tolmie Peak and Spray Park – leave from the end of that road, so it might be worth visiting if you've been to the park once or twice before and are looking for something new.
In the guide below, we're going to focus on Paradise and Sunrise, which are the most popular parts of the park, and are the best areas to visit on your first few trips to Mount Rainier National Park.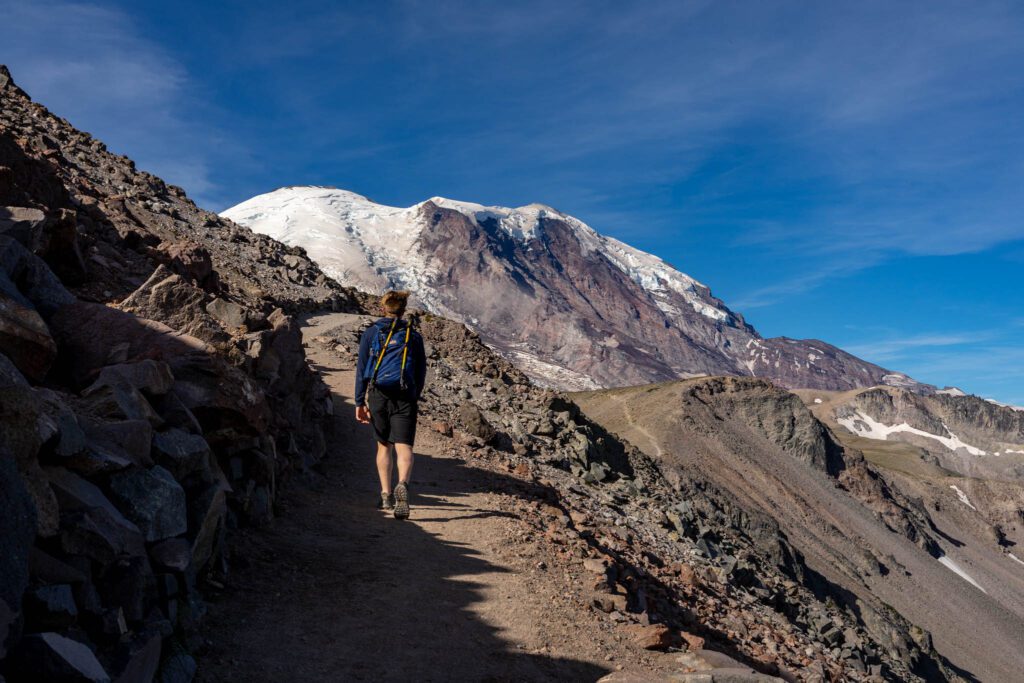 When to Go
The answer to this question depends on a couple of factors, namely what you want to do and which region you have your eye on.
If you want to go hiking, then the answer is summer. Specifically, mid-July through the end of August. That's when you're most likely to find snow-free trails, blue sky, and relatively warm and dry weather. Plus, the roads to Sunrise are open, so you'll be able to access the amazing hiking on Rainier's eastern flank.
Early fall is also a good time to go, but be prepared for more variable weather. The foliage starts to turn in late September and early October, and the blooming wildflowers are replaced by a bright orange-red carpet for a blissful week or so.
If you're coming in winter and spring, you won't be able to do most of the hikes in the park, though there is some good snowshoeing to be had. You'll be limited to visiting Paradise as roads to other parts of the park will be closed.
How Many Days
Mount Rainier National Park makes a solid day trip from Seattle – it's a long one, though, with about five hours of driving. If you're planning a day trip, we have an entire guide to planning a perfect Mount Rainier day trip from Seattle, with separate itineraries for Paradise and Sunrise.
It's even better if you have several days. If you've got three or four days to spend at Rainier, you can comfortably fit in both Paradise and Sunrise (we'd recommend splitting your time in half between the two). Rainier is easily accessible from both Seattle and Portland, and makes a nice weekend trip from either of the major cities in the Pacific Northwest.
More time? There's no shortage of things to do in Mount Rainier National Park, and you could spend up to a week exploring the different corners of the park and never run out of new and exciting sights, sounds, and hikes.
Getting There
Mount Rainier is the most accessible national park near Seattle. And frankly, we realized that it might actually be the most accessible national park from ANY major metropolitan area in the country. Though Rocky Mountain National Park in Colorado would like a word, I suppose.
Whether you're going to Paradise or Sunrise, it's going to take you about two and a half hours if you're coming from Seattle.
To get to Paradise, you'll head south on I-5 for just under 40 miles and get off at exit 127 for 512-E. Cross over the freeway and take a right on Highway 7, which you'll follow south for 32 miles. From there, you continue onto Highway 706, which then becomes Paradise Road E, which takes you all the way to the Henry M Jackson Visitor Center.
Sunrise is a little more straightforward. We usually take 405 South to 169, and follow that to Enumclaw where you hop on 410 South. Follow 410 for about 35 miles, then turn onto Sunrise Road and enter the park, following the road up to the Sunrise Visitor Center.
From Portland, it's just under three hours to Paradise and three and a half hours to Sunrise. Which means it's a bit far for a day trip from Portland – opt for a couple of days if you decide to make that journey.
What to Do and See
Before we get into the overview below, we have an entire guide dedicated to this exact subject. Make sure to read our guide to the best things to do in Mount Rainier National Park for more ideas and details behind the things listed below!
We're going to split this up between Paradise and Sunrise to give you an overview of both.
Things to Do in Paradise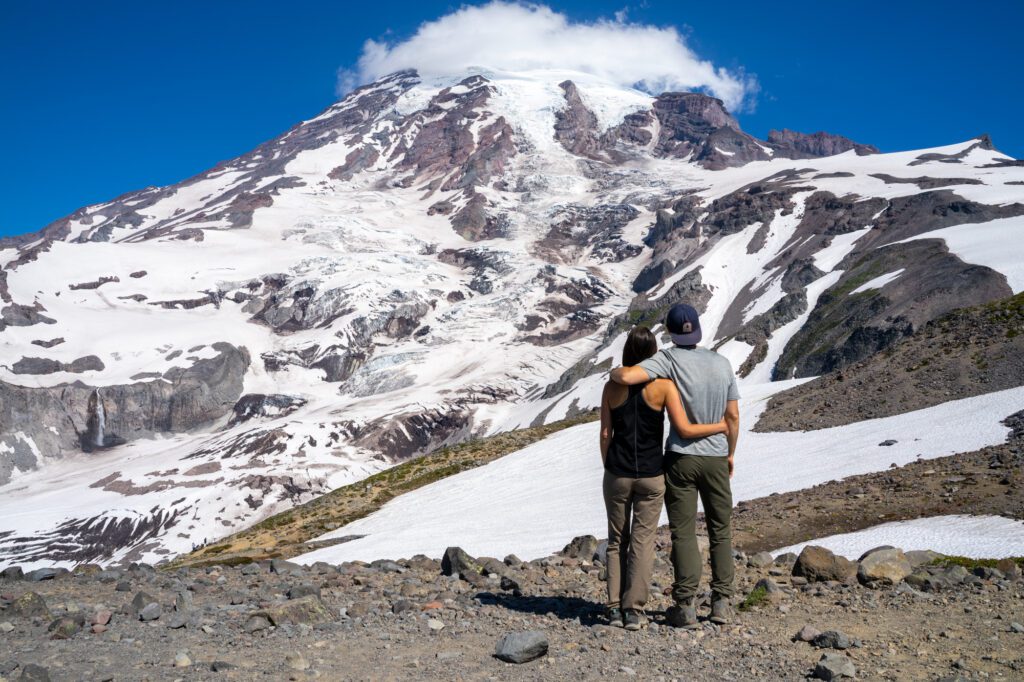 Paradise has the greatest diversity in terms of things to do and see, we think.
Hike the Skyline Trail: Our favorite hike in Washington State? It's a close one between this hike and a hike in the North Cascades, which we'll get to below. This is a moderate hike (my mom has done it, and she's 60) at 5.5 miles and 1,700 feet of elevation, and along the climb the views of Rainier, the Tatoosh Range, and Mount Adams and Mount St. Helens get better and better and better and better until you're standing at Panorama Point with a crazy 360 degree view of all of it. Truly spectacular.


Definitely Go Chasing Waterfalls: Channel your inner TLC (we're sure nobody else has ever made this joke before) and check off all the waterfalls in the area. Our favorite is Myrtle Falls because of the fact that Rainier's southern face looms over the falls in the background. Narada Falls and Christine Falls are the most easily accessible from the road, while Comet Falls is worth the short hike (from the same trailhead as Christine Falls).


Reflection Lakes: This is a fantastic photo spot, particularly at sunrise or sunset when the wind is calm and there's a picture-perfect reflection of Rainier in the lake. Be prepared for mosquitoes in the summer – they're relentless.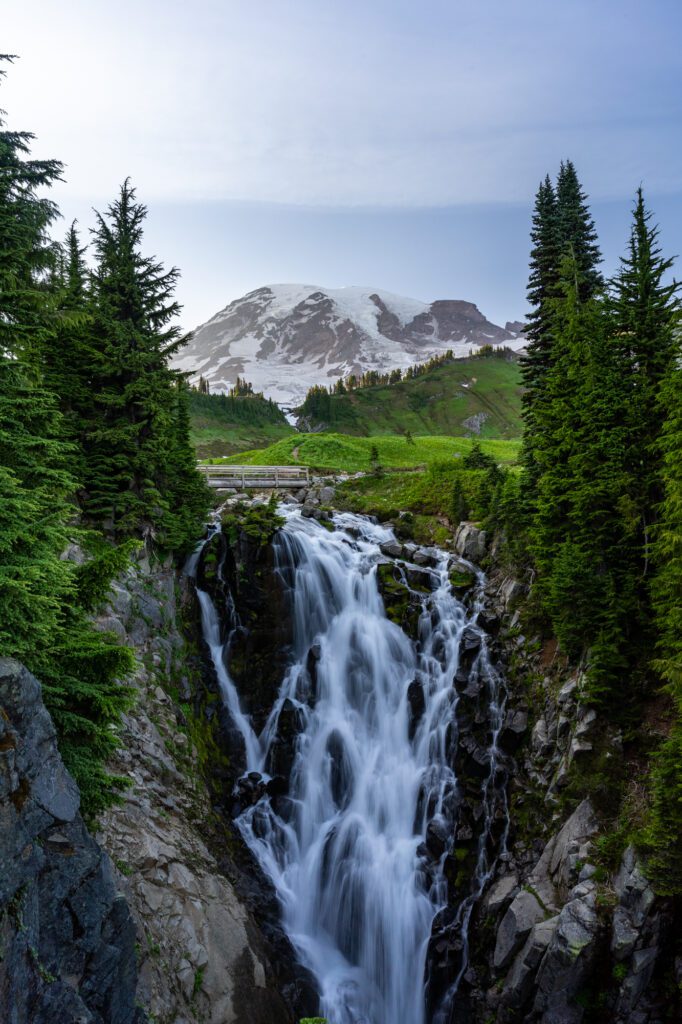 Things to Do at Sunrise
Sunrise is home to the best concentration of hikes in the park. Here are our favorites. All three trails follow the Sourdough Ridge trail out to the Frozen Lake junction, which is a great hike in and of itself. From there, they diverge and head in opposite directions, offering three completely different experiences.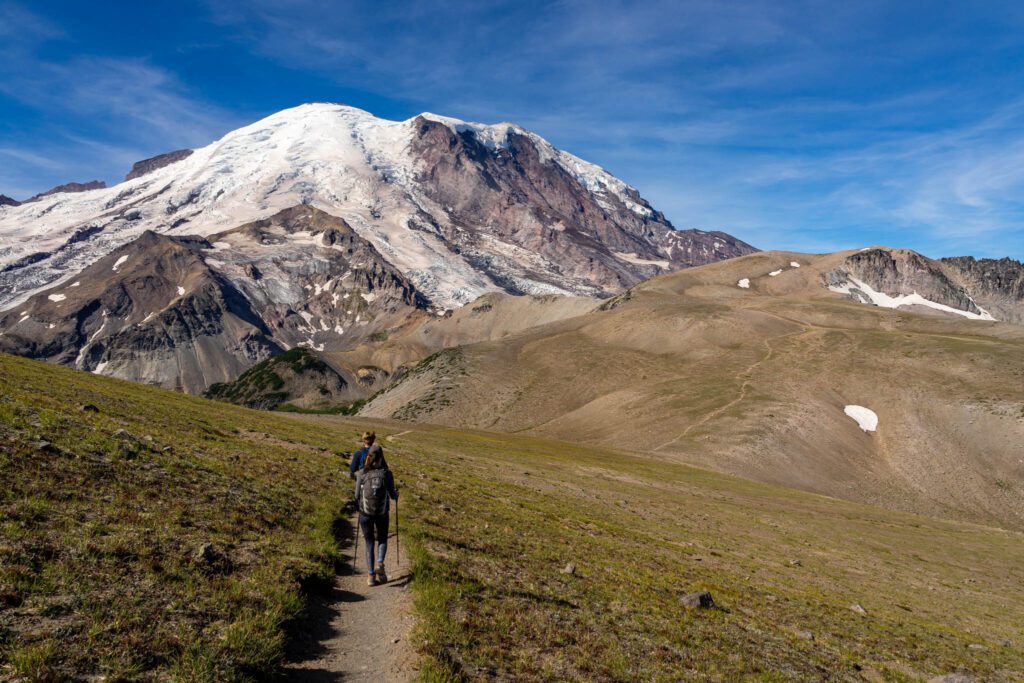 Burroughs Mountain Trail: This hike is spectacular. You'll climb from Frozen Lake up into the high alpine tundra, where the foliage is replaced by a neverending barren, rocky landscape. With mountain goats! The hike to the first two burroughs is tame, at 6 miles and 1,000 feet of elevation gain from the parking lot. To get to the third burroughs, which is as close as you can get to Rainier without actually climbing it, it's another 3 miles and 1,200 feet of elevation gain, which is TOUGH. Here's our guide to hiking the Burroughs Mountain Trail.


Berkeley Park: If you're here in early summer (think mid to late July), then this is the place to go to see a spectacular multicolored display of wildflowers. Red! Purple! White! Orange! It's all down there in Berkeley Park.


Mount Fremont Lookout: If you've never been to one of the historic fire lookouts in Washington State before, this is your chance! The trail heads up onto a ridge as you leave the Frozen Lake junction, and meanders its way along the ridge until you get to the Mount Fremont fire lookout, which looks out onto the valley below with Rainier towering almost 10,000 feet above it all in the distance. More trail info here.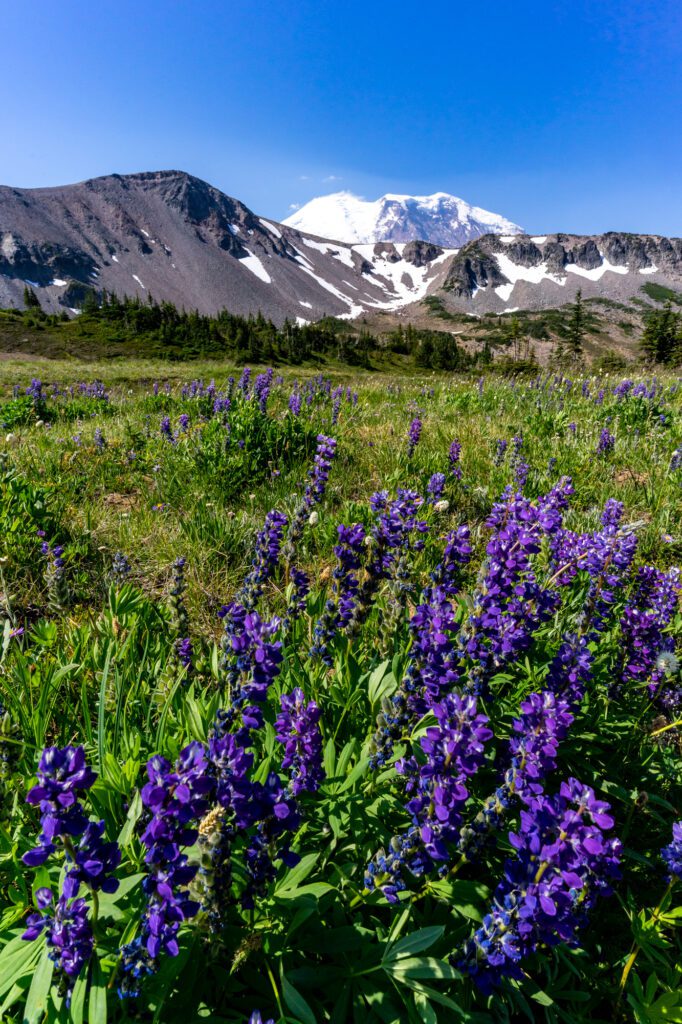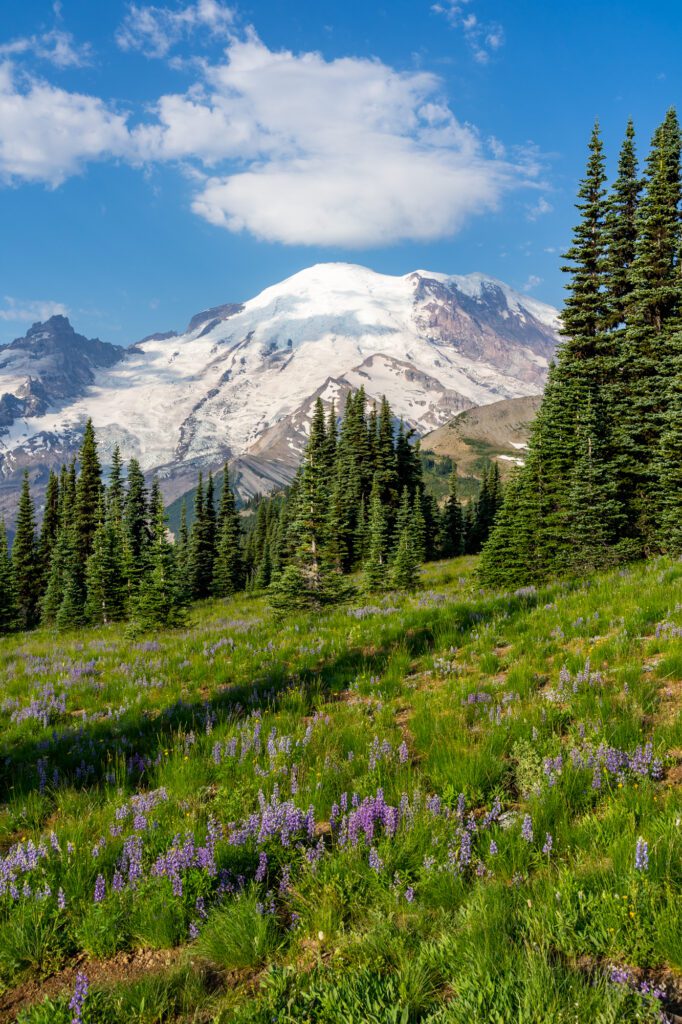 One other thing to do near Sunrise is visit Tipsoo Lake, where you'll find an amazing view of Ranier's Peak with a pristine alpine lake. The Naches Peak Loop leaves from here, and is one of the best bang-for-your-buck hikes in the Pacific Northwest (do it clockwise!).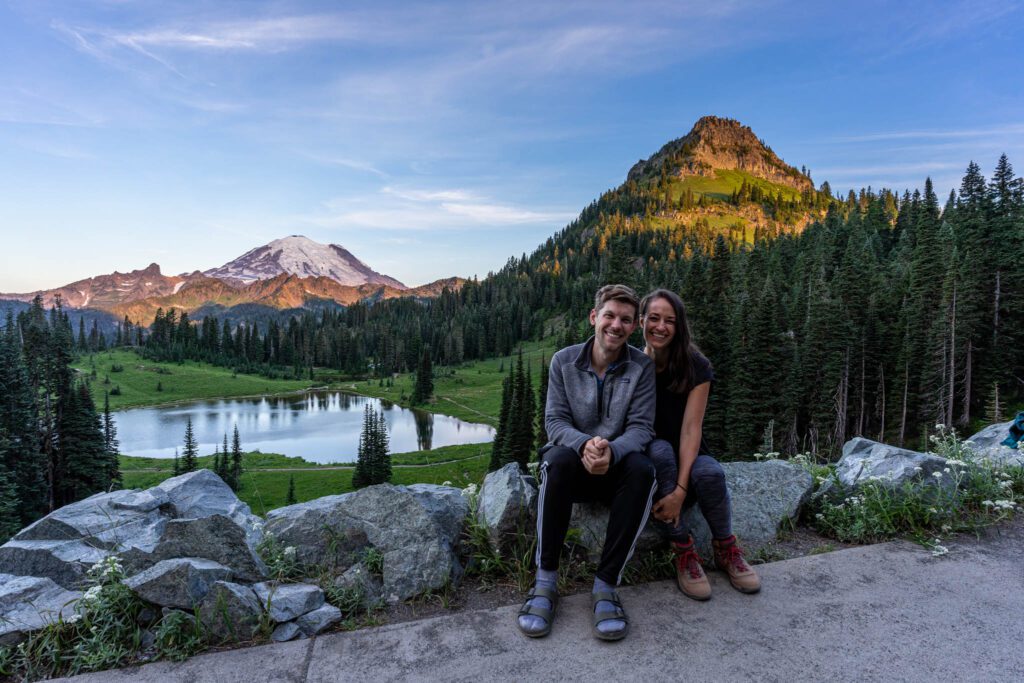 Where to Stay at Mount Rainier
Again, this depends on a couple of things. Namely, whether you're up for camping, and which part of the park you're visiting.
Not up for camping?
For Paradise, stay in the town of Ashford, just outside the park entrance. Here are a couple of options.
For Sunrise, there aren't too many choices outside of camping. Your best bet is staying in a cabin near Crystal Mountain along Highway 410, which is about 45 minutes away from the Visitor Center.
If you're up for camping at Mount Rainier, you have three options:
Cougar Rock Campground: The only campground near Paradise. Book up to six months in advance – it's always full during the summer. More info here.


White River Campground: The campground closest to Sunrise. It's first come, first served, so no reservations. It gets full on Fridays and stays full through Monday. The best time to go to secure a spot is Tuesday – Thursday, if you can swing it. Otherwise, show up as early as possible! More info here.


Ohanapecosh Campground: This is at the southeastern corner of the park and is about equidistant between Paradise and Sunrise (about 45-60 minutes to either). Reserve up to six months in advance. More info here.
You could also stay at one of the National Forest Service campgrounds along Highway 410 just outside of the park, which we've done before. Silver Springs is our favorite.
Olympic National Park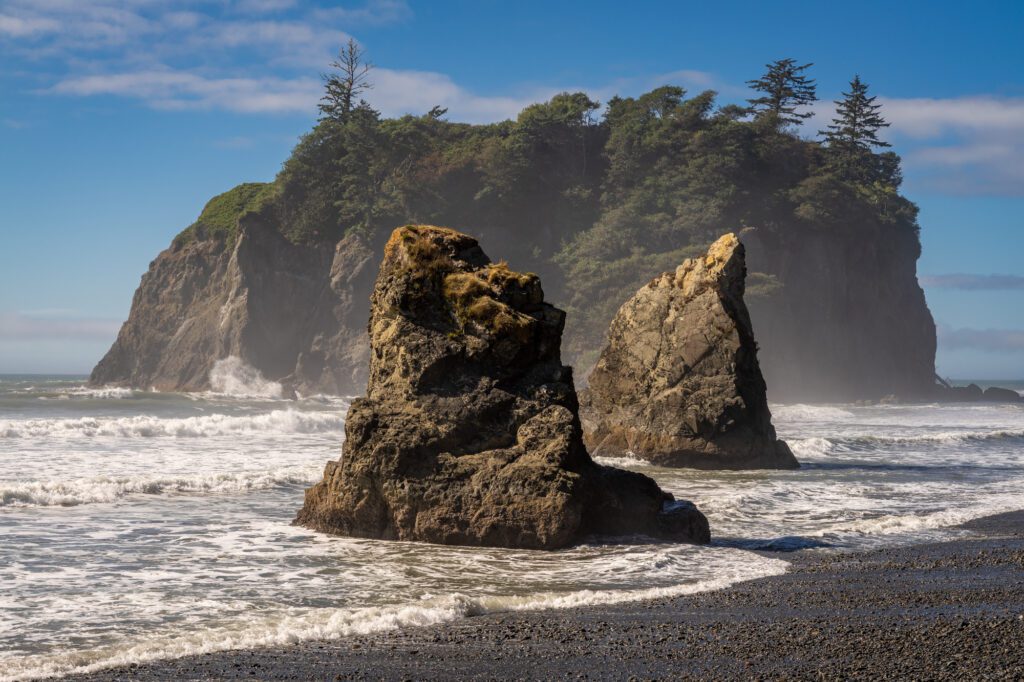 While Rainier is spectacular in the sense that the glaciated peak is visible towering over most of Western Washington, I would argue that Olympic National Park is equally spectacular for a different reason. And that reason is its diversity.
There are several distinct, unique ecosystems on the Olympic Peninsula, all within the boundaries of Olympic National Park. There's the alpine region around Hurricane Ridge. There's the Pacific Beaches, the westernmost point in Washington State. And there's the temperate rainforest, which is unique to this part of the Pacific Northwest.
Of Washington's three national parks, Olympic is both the largest – it truly is a huge park, which is why it's important to think about how to organize your time – and the most diverse.
A Quick Geography Overview
Olympic National Park is massive. It's over a million acres, with 70 miles of Washington's coastline falling within the park's boundaries.
At a high level, Olympic National Park is like one big half circle, starting in Port Angeles, heading out to Cape Flattery at the northwest corner of the United States, and following the Pacific Coast south to Lake Quinault. It's also a little fragmented, and you'll be passing in and out of the park as you drive along the peninsula. Again, it's a massive park.
To illustrate that point, to drive from the northern tip of the park – Port Angeles – to the southern tip – Lake Quinault – it takes two and a half hours (125 miles).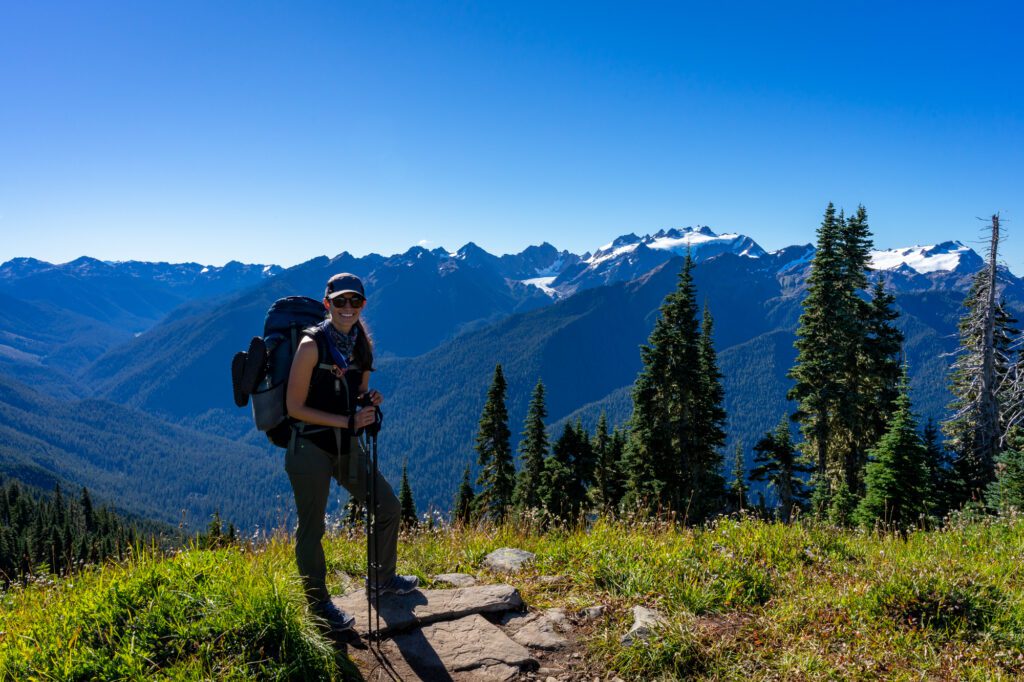 For that reason, it's important to talk about the geography here too, which will help organize the sections below. We like to think of Olympic National Park as being made up of four separate areas:
Hurricane Ridge & Lake Crescent: This is the part of the park closest to Seattle. Hurricane Ridge is just south of Port Angeles, and is the highest point in the park that you can drive to. Lake Crescent is east of Port Angeles, and has a couple of good hikes along its shores.


The Northern Pacific Coast: For the purposes of this guide, this is everything north of Ozette Lake. This is the part of the park that feels the most wild. The northwestern point in the United States is at Cape Flattery, and there are a couple of great beaches to explore. It's on the land of the Makah Tribe, and you need to purchase a recreation permit from them to access this part of the park (2021 Note: this part of the park is closed until further notice).


The Southern Pacific Coast: This is everything along the coast from La Push down to Kalaloch, including Rialto and Ruby Beach.


The Hoh Rainforest: The most famous of the temperate rainforests in the Pacific Northwest deserves its own section. It's just south of Forks, though it takes a while to get from Highway 101 into the rainforest itself.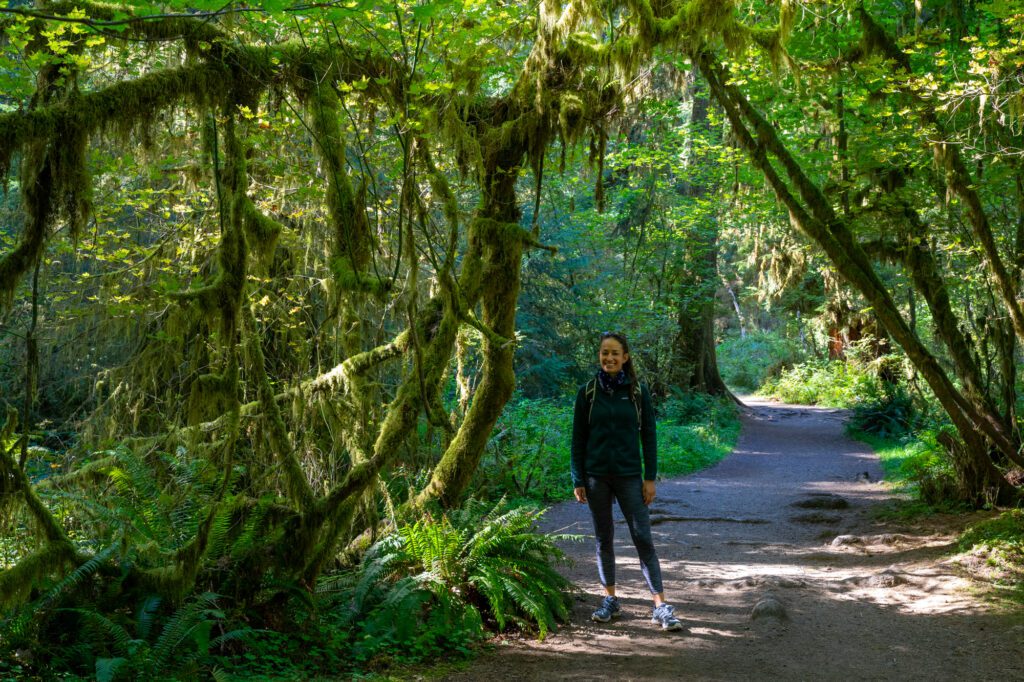 When to Go
Olympic National Park is more of a year round destination than Washington's other national parks.
Like most of the Pacific Northwest, the best time to visit Olympic National Park is going to be summer, when it's at its most warm, dry, and predictable. Still, it's coastal, so you might run into fog or rain. It's hard to predict, but it's LESS hard to predict than other times of year.
Spring and fall are also good times to visit, though rain and fog are more prevalent.
In the winter, the alpine sections (namely, Hurricane Ridge) are going to be covered in snow, but most of the park is around sea level, which means it's possible to visit the lower elevation parts of the park without having to navigate snow.
However, Olympic National Park is known for how much rain it gets. The temperate rainforests get more than 100 inches of rain per year, which is concentrated between the months of November and April. If you visit in the winter, be prepared for rain. Lots of it. That being said, it's a different vibe than summer, but that stormy weather does make for a fun experience. As long as you're expecting it going in.
How Many Days
To do a loop that takes in the entire Olympic Peninsula, including all four regions mentioned above, you really need at least four days.
If you have two to three days (aka a weekend), focus on Hurricane Ridge, Lake Crescent, the Hoh Rainforest, and the area around La Push (Rialto, Second, and Ruby Beaches) and save Kalaloch and the northern Pacific Coast for next time.
You could easily spend a week or more exploring the park, but you probably don't have that kind of time.
Getting There
You can either start your journey from the southern end (Lake Quinault) or the northern end (Port Angeles) of the loop. We've done it both directions in consecutive summers, and prefer going north to south.
The easiest way to get to either is from Seattle, though Portland is also a good option if you're starting at the southern end.
To get to Port Angeles, you can either take the Bainbridge Island Ferry from Seattle and then hook up with Highway 101 to head out west, or you can drive around through Tacoma, cross the Narrows Bridge, and follow Highway 101 up the eastern side of the peninsula to get to Port Angeles. It's going to take you roughly the same amount of time, it depends on whether you want to take the ferry and if you're okay driving an extra 45 miles or so.
To get to Lake Quinault from Seattle, take I-5 south from Seattle to Olympia, then head west towards Aberdeen on Highway 101 / Highway 8 West / US-12 West (it changes names several times over the course of about thirty miles or so). Eventually, you'll head north on 101 to Lake Quinault.
What to Do and See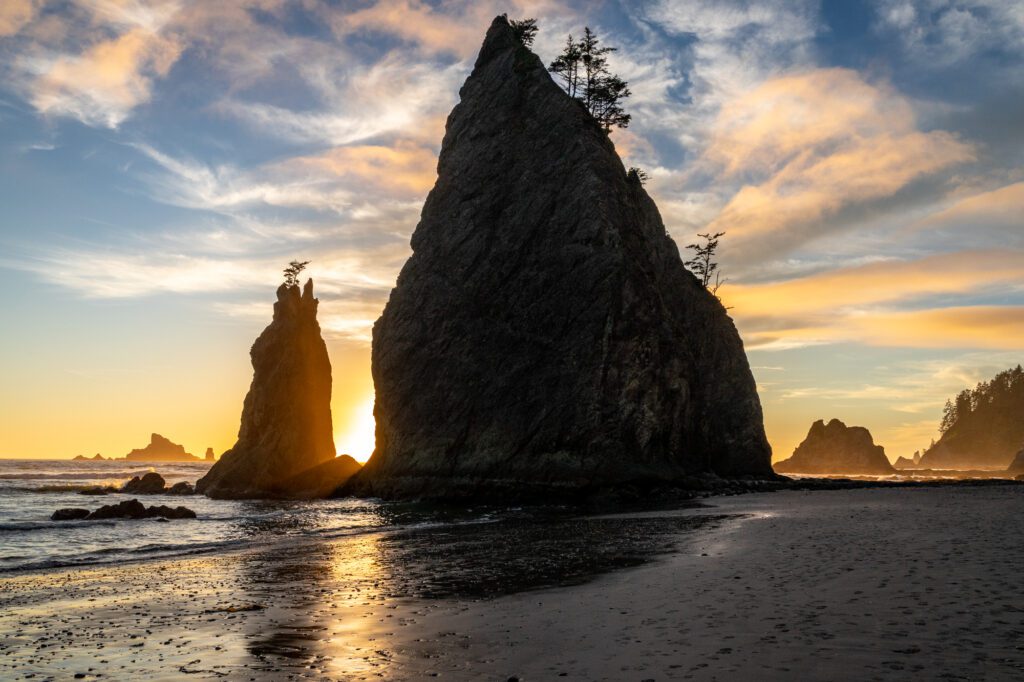 We're going to organize this section by region. We noted the way we like to think about the park above, and that's the way we're going to split it up here too.
Given the amount of ground you're going to cover, it's worth noting that you're going to want to be strategic about your itinerary and how you organize your time. Make sure to read our Olympic National Park itinerary to help you think about the best way to do that.
Hurricane Ridge & Lake Crescent: You're definitely going to want to visit Hurricane Ridge, the highest point in the park that's accessible by car. Hike the short, paved trail up to Hurricane Hill, where you can see Canada, Mount Baker, and the Olympic Mountains on a clear day. Drive out on Obstruction Point Road for better views of the mountains (it's a narrow, dirt road with steep drop offs). Head to Lake Crescent to hike to Marymere Falls, then grab a drink at the historic Lake Crescent Lodge on the lakeshore. Sol Duc Falls is worth a visit, too.


Northern Pacific Coast: There are two main highlights on the Northern Pacific Coast. First is Cape Flattery, the northernmost point in the contiguous United States. There's a short boardwalk that leads out to a great view of the ocean and Strait of Juan de Fuca. The second is Shi Shi Beach, which is an eight mile (round trip) hike out to a gorgeous beach where you'll find Point of Arches, a set of great sea stacks just offshore. This part of the park is on the land of the Makah Tribe, and you need to purchase a recreation permit from them to access this part of the park (2021 Note: this part of the park is closed until further notice).


Southern Pacific Coast: This part of the Pacific Coast is littered with great beaches. Rialto is the most accessible, and the walk out to Hole-in-the-Wall is one of our favorite hikes in Olympic National Park (it's BARELY a hike, more of a walk on the beach). Ruby Beach is great for the driftwood and sea stacks. The La Push beaches – First, Second, and Third – are also worth visiting, though if you're limited on time, we'd choose Second Beach over the other two. Further south are the Kalaloch Beaches (creatively named 1, 2, 3, and 4) and the Kalaloch Lodge and finally, Lake Quinault. Wherever you are on the coast, make sure to look up! We've seen multiple bald eagles at the beaches sitting up in the tops of the trees.


Hoh Rainforest: The temperate rainforest is one of the most popular places in the park, so it is VERY VERY important that you show up early if you're here on a summer weekend. The parking lot gets full somewhere between 9:00 and 10:00 am, and it's a one car out, one car in policy after that. We waited an hour last time because we showed up at 10:00 am. Learn from our mistake! Definitely do the short Hall of Mosses walk through the rainforest, then head out on the Hoh River Trail to find a little more solitude.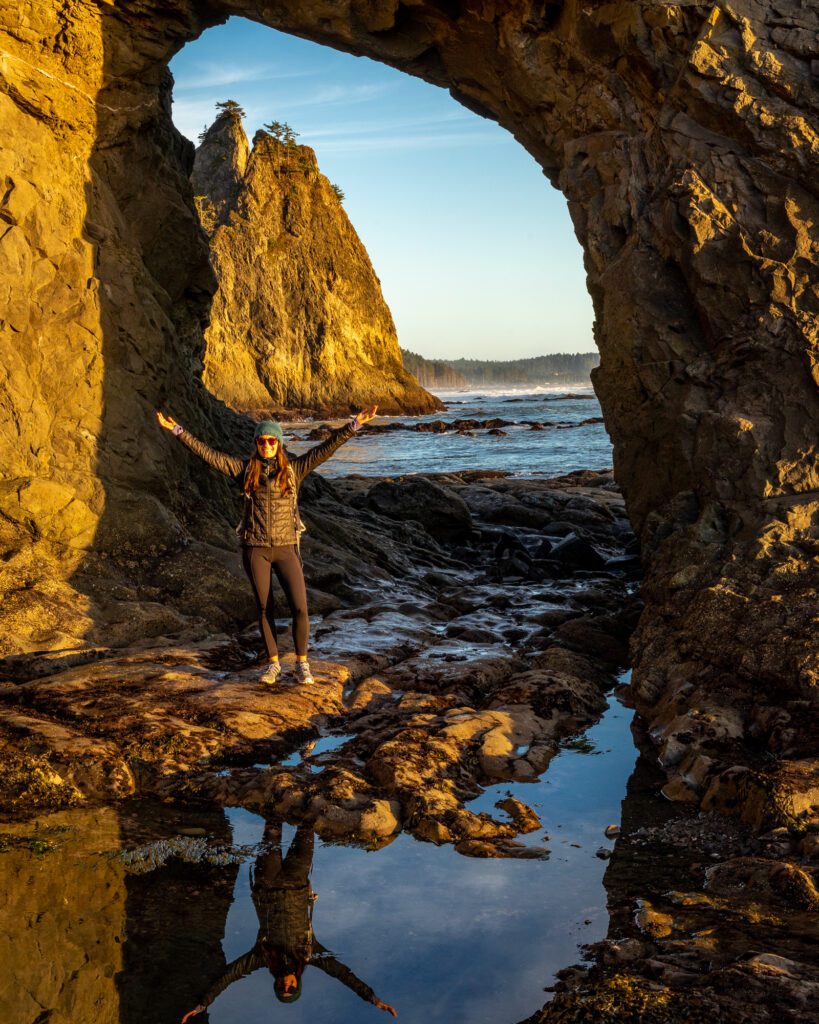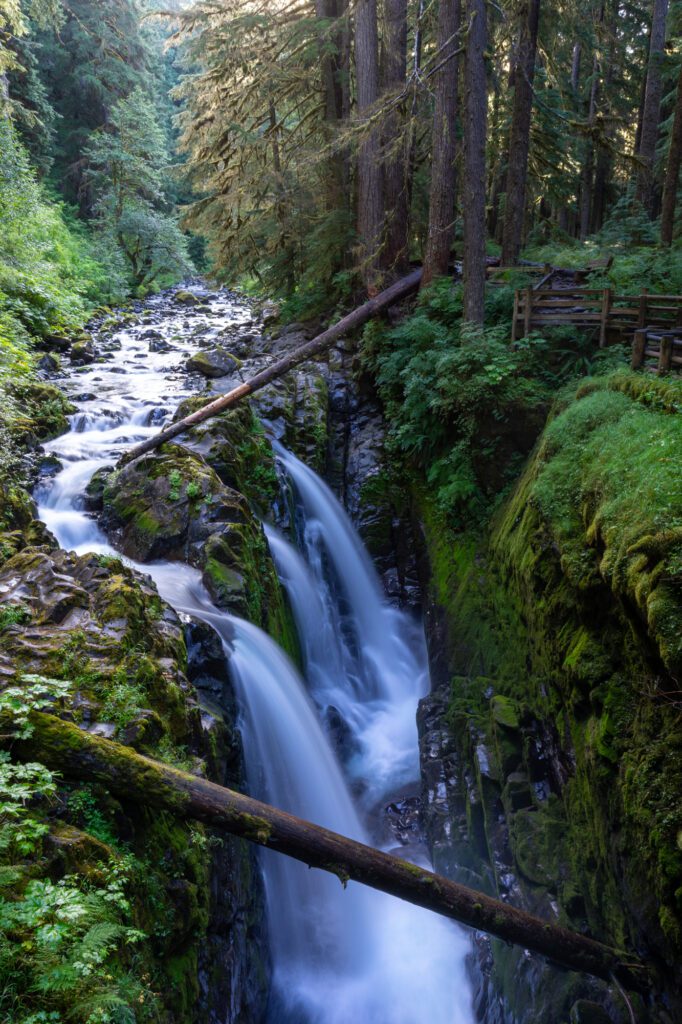 Where to Stay
The two best home bases for exploring the park are going to be near Port Angeles, which is best for Hurricane Ridge and Lake Crescent, and Forks (yep, that Forks), which is best for the Pacific Coast and Hoh Rainforest.
In Port Angeles, stay at:
The Olympic Lodge: The nicest hotel in Port Angeles. It's in town, so you won't get the whole wilderness feeling, but you'll be close to amenities like groceries, restaurants, gas, and more.


Cabins on Lake Sutherland: Just before you reach Lake Crescent, there's a charming little lake on the right with private cabins lining the shore. These would be a great home base for exploring both Hurricane Ridge and Lake Crescent.
In Forks, stay at:
The Misty Valley Inn: Just north of town, this is a charming bed & breakfast with nice rooms and a great breakfast.


The Woodlands Inn: On the other side of town (the south end), this place has cabins that are rustic on the outside, modern on the inside. They all have kitchens, which is good because there's not a whole lot of places to eat in Forks.
If you want to stay near the Hoh Rainforest, check out the Hoh Valley Cabins. The location is a little inconvenient for the rest of the park given it's pretty far off of 101, but the cabins are gorgeous!
Camping in Olympic National Park is plentiful, though most of it is first come, first served. The reservable campgrounds are Kalaloch and Mora on the Pacific Coast, and Sol Duc, which is near Lake Crescent in the Sol Duc Valley. More information on camping in Olympic National park here.
North Cascades National Park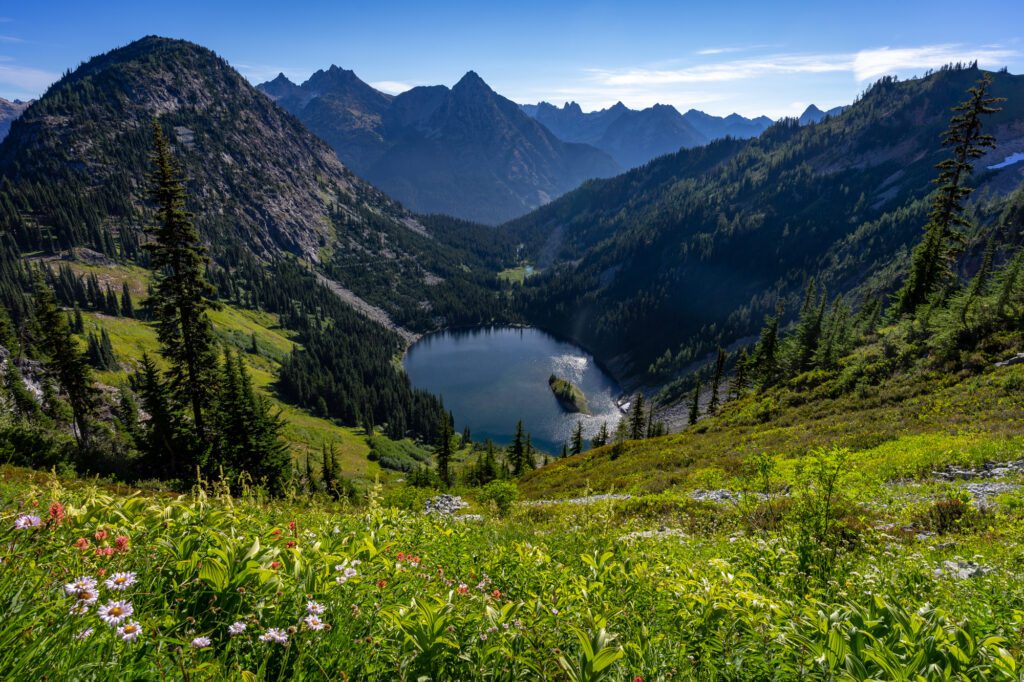 North Cascades National Park is the least visited of the three Washington State national parks, which makes for a much more pleasant experience if you're looking to get away from the crowds. It's not empty, by any means, but there are far fewer people than in either Olympic or Rainier.
The reason for that might be the fact that it's a little hard to get to, and the road that runs west to east through the park – Highway 20 – is really only open for about six months out of the year. The hiking season is even shorter – most higher elevation trails (so, all of them) are covered in snow into July, which we learned the hard way when we tried to plan a June adventure for our first trip to the North Cascades. Whoops. Again, learn from our mistakes!
But if you're like us and you're a sucker for alpine lakes surrounded by rocky mountain peaks, then we're pretty sure you're going to fall head-over-heels in love with the North Cascades just like we have.
For even fewer people and equally amazing views, head to the north side of Mount Baker along Highway 542, which is one of our favorite parts of Washington. Check out our Mount Baker hiking guide for all of the great hikes along that stretch.
When to Go
There's no doubt about it. You should visit North Cascades National Park in the summer. Specifically between mid-July and August, which is when the hiking trails are most likely to be snow-free, and you'll get nice warm weather, long days, and perfect hiking conditions.
Fall is also a great time to visit, and you might catch the larches as they turn, lighting up the mountain sides with their golden glow. It usually happens in early October, but it depends on the year. If you visit in the fall, be prepared for freezing temperatures and snow, especially the further you get into October.
As we mentioned above, Highway 20 closes sometime around early November (here's the historical data on when it opened and closed by year). It usually is open by early June the next year, but the hiking trails are still covered in snow into July.
How Many Days
The North Cascades are a little far for a day trip if you're coming from Seattle. It's going to take you about three hours, one way, to get to the really interesting parts of the park, which are at the eastern edge of the park boundaries.
We've done multiple two and three day trips to North Cascades National Park, and we STILL haven't done all of the hikes we want to do. But that seems to be the perfect amount of time to spend in the park to do a good hike or two, see some of the other sights, and head home on a high.
There's also a ton of great backpacking to be done in the North Cascades, and you could easily spend an entire two to three day trip out in the backcountry (look at Cascade Pass / Sahale Arm).
Getting There
From Seattle, it's a straight shot up I-5 to Sedro Woolley, where you'll connect with Highway 20 East, which takes you all the way through the Cascade range into eastern Washington. It'll take you just over two hours to get to the Visitor Center at the western end of the park. To get to Washington Pass, the highest point on Highway 20 and the point where you start your descent into eastern Washington, it's almost three and a half hours.
What to Do and See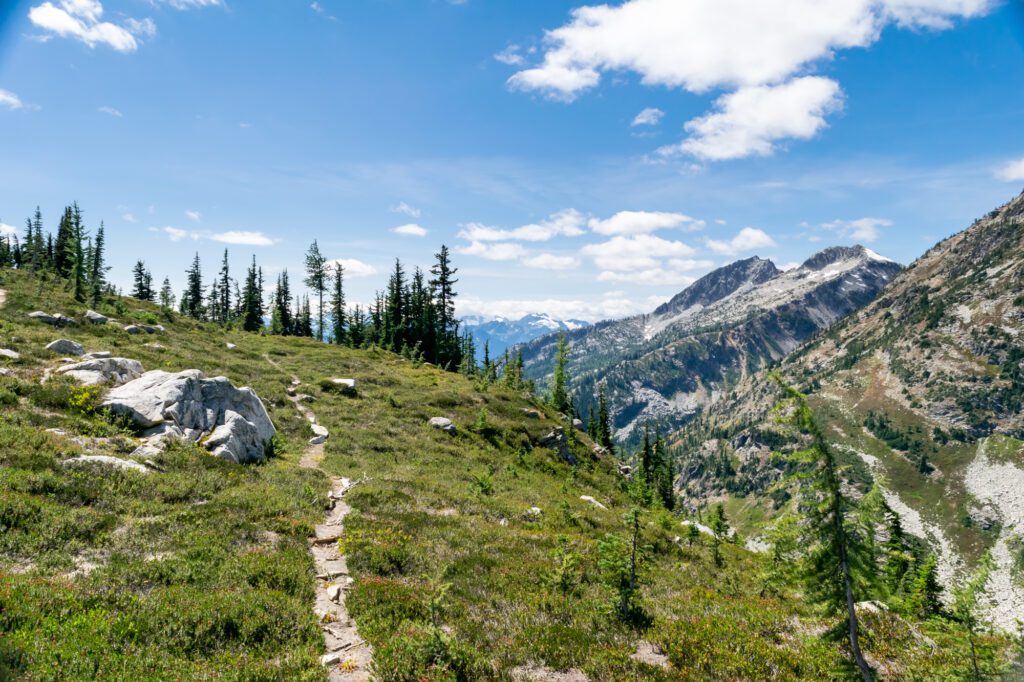 In a word, hiking. The hiking in North Cascades National Park is second-to-none, in our opinion. Within the park, you're going to find trails of all levels. Here are our three favorites:
Maple Pass Loop: This is the hike that's tied with the Skyline Trail for the title of best hike in Washington State, at least in our experience. It's a loop that takes you up and around an alpine lake, with views of the Cascade Range all the way through. It has it all – spectacular mountain views, a nice lake, blankets of wildflowers, and cute and cuddly marmots. Once you're up on the ridge, the views just don't stop. More trail information here.


Blue Lake: This hike is pretty easy, which makes it one of the more accessible hikes within the park boundaries. You'll climb gently through the forest to reach a crystal-clear, blue-green alpine lake surrounded by rocky mountain peaks. Paradise on earth, if you ask us. More trail info here.


Hidden Lake Lookout: Another of Washington's picturesque fire lookouts, this one is hard to get to. The road to the trailhead is bumpy and not passable by most passenger vehicles, and the climb up once you're on the trail is unrelenting. The views at the top will make your jaw drop, and you'll absolutely forget about all the effort it took to get there once you emerge onto the ridge above the perched alpine lake, with the Cascades in the distance. More trail info here.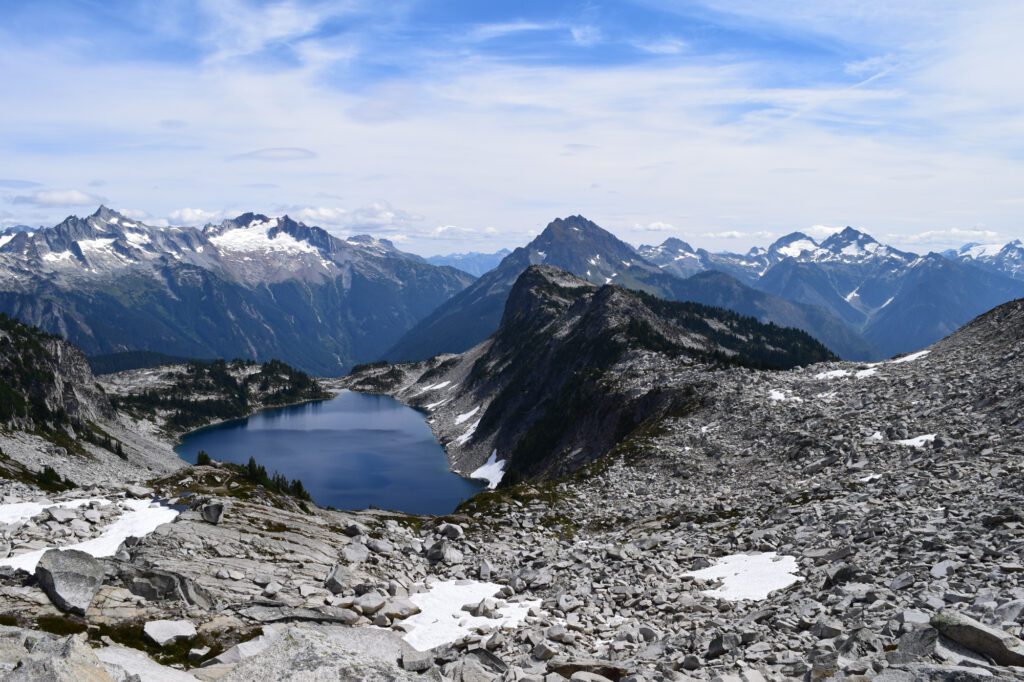 The park offers other things to do and see off of the hiking trail too.
Drive the entirety of Highway 20, from Sedro Woolley to Washington Pass, for some of the most spectacular mountain scenery in the state of Washington.


Stop at the Diablo Lake Overlook to admire the turquoise water of Diablo Lake, which is that color due to sunlight reflecting off of rock particles floating in the lake due to erosion.


Rent a canoe or kayak from Ross Lake Resort and explore the hidden corners of Ross Lake by boat.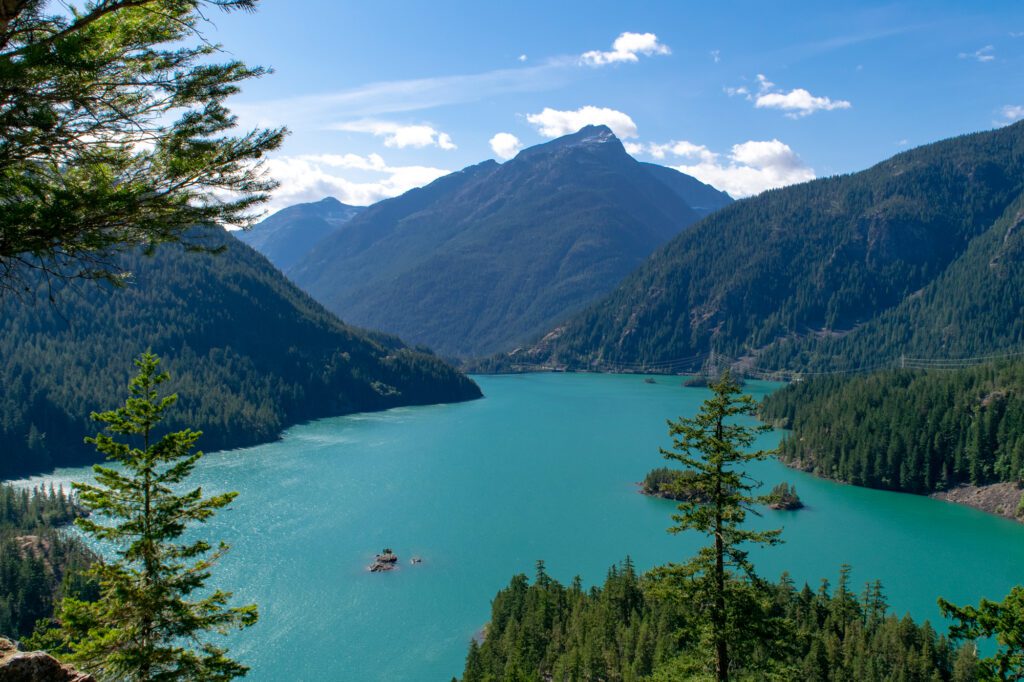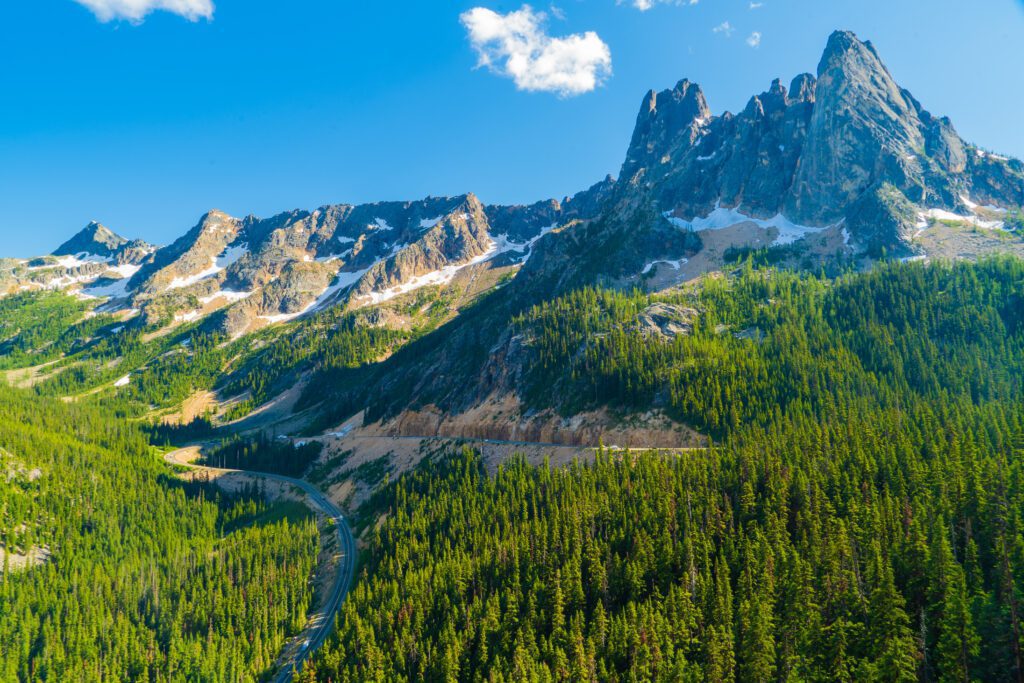 Where to Stay
The best way to experience the North Cascades is by camping. Inside the park, the campgrounds are the only option when it comes to places to stay. And there's not a whole lot of options outside the park if you're not up for camping (though there's a few, which you'll find below), so we highly recommend camping. There are two campgrounds inside the park – Newhalem, and Colonial Creek.
Both are reservable up to six months in advance, and you're going to want to reserve early for July and August. Having stayed at both campgrounds, Colonial Creek is our top choice both in terms of location, and in terms of the sites – it's right on Diablo Lake! More info here.
If you're not camping, the best place to stay is actually on the eastern side of the park, between the towns of Winthrop and Mazama. This side puts you in a more advantageous position to get to the trailheads for Blue Lake and Maple Pass, and is a much, much more pleasant place to stay than the tiny towns on the western side of the park.

Here are a couple of hotels that caught our eye (we've always camped inside the park, but Winthrop is on our list to tackle soon!):
Mt. Gardner Inn: Pretty standard hotel-style rooms, some of which have balconies and nice views of the Methow Valley.


Methow River Lodge: Just outside of town to the south, the rooms at this riverfront lodge are a cross between hotel-style and apartments, with more space than you'd expect.


River Run Inn: Choose between hotel-style rooms and bigger chalets, all along the Methow River just a few minutes outside of the town of Winthrop.
Vacation Rentals are also a great option near Winthrop – here are three to consider:
---
MORE TO EXPLORE IN THE PACIFIC NORTHWEST
If you're planning a trip to the Pacific Northwest, we've got you covered with all sorts of super detailed travel guides to our favorite places in Washington and Oregon.