Where to Stay in Seattle: 8 Amazing Places to Stay
The biggest city in Washington state and the heart of the Pacific Northwest, Seattle has gained all sorts of reputations over the years. Grunge scene turned tech hub, the rainy city, bearded, flannel-wearing lumberjacks… Not one of Seattle's stereotypes quite captures the many faces Seattle wears, however.
Don't let the rain scare you away because the drizzle is what keeps the city green and come summertime, the sun shines through and the blue skies are there to stay for a few fleeting months. If you're planning a trip to the Emerald City for the first time, you might be wondering where to stay in Seattle, Washington.
Sandwiched between Lake Washington, the Puget Sound, and the Cascade Mountains, the views and nature in Seattle are inescapable. During the cooler months, there are enough craft breweries, local wineries, understated coffee shops, and delectable eateries to keep you busy until the sun comes out again.
Whether you want to stay at the heart of the action in downtown or are craving a quirkier seaside experience, here is a guide to the best neighborhoods in Seattle. I went to university in Seattle and have lived there intermittently ever since, having the opportunity to live, explore, and indulge in the best neighborhoods in Seattle.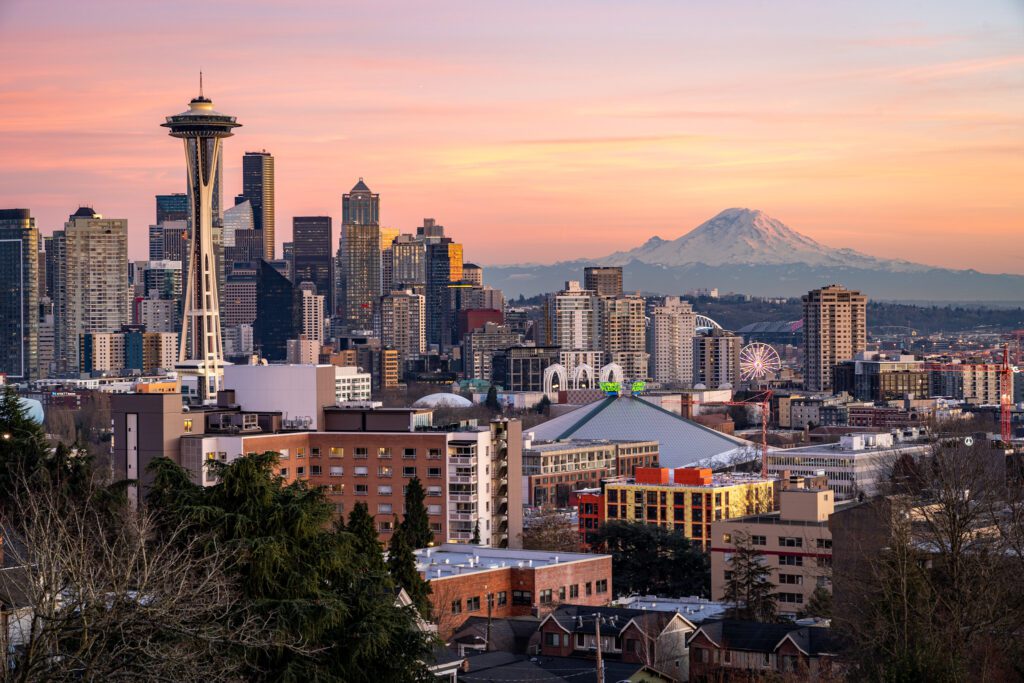 Disclaimer: Some of the links in this post, like hotel and vacation rental links, are affiliate links, meaning at no additional cost to you we make a little bit of money if you click through and book. That being said, we would absolutely never recommend something to you that we don't stand behind 100%.
Where to Stay in Seattle: A Complete Guide to the 8 Best Places to Stay in Seattle
The best places to stay in Seattle vary based on personal preference and exactly what you are looking for. This comprehensive breakdown of some of Seattle's major neighborhoods should help guide your decision.
Looking to find the right place to stay for your style, budget, and group size, but don't have time to read the (extremely detailed) entire guide below?
We hear you, and we've got you covered. Though we'd would recommend heading down and reading the section you're most interested in to get a local's take on the best places to eat, drink, visit, and stay within that neighborhood.
Downtown Seattle: Best Neighborhood for First Time Visitors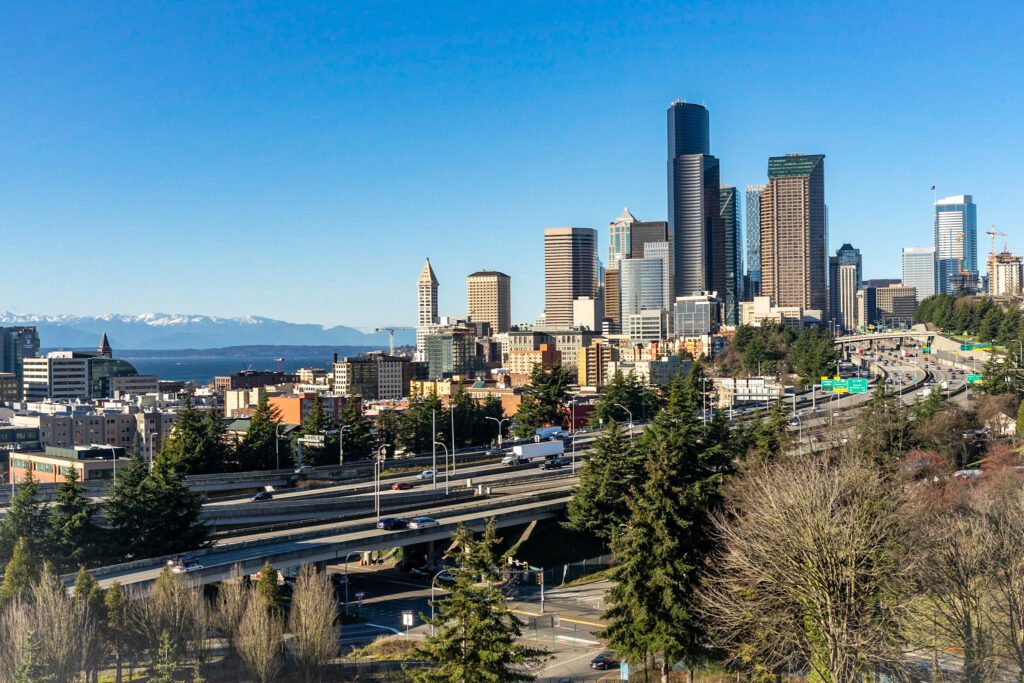 Downton Seattle is at the heart of much of the business and tourist attractions in the city. If you don't mind hills, downtown is best explored by foot, where you can shop, find places to eat and drink, do some sightseeing, and enjoy views over Elliott Bay.
The city center is at the heart of a lot of business and commercial activity and is less residential.
We'd recommend concentrating on the area around Pike Place Market and the adjacent Post Alley, which is a colorful alley of restaurants and home to the infamous gum wall.
Pros and Cons of Staying in Downtown Seattle
Pros:
It's walkable. This compact neighborhood is easy to walk around and see a lot within a relatively small area.


There are a bunch of different places to stay. There are many accommodation options and much of the major sightseeing is in downtown, which makes it convenient to step outside your hotel and quickly reach destinations.


It's well connected. Public transportation connections (the light rail and the bus) are abundant too, which means you'll be able to go to the airport or Capitol Hill by hopping on the light rail.
Cons:
Parking and driving are awful. As great as it is for walking, downtown Seattle is horrendous to drive in. There is lots of traffic and one-way streets, and parking is overpriced and difficult to find. If you do want a car to navigate the city or elsewhere in Washington, be prepared to pay high parking fees.


It's "touristy". Downtown Seattle is also the most touristy, lacking much of a local feel. Most of the businesses cater almost exclusively to tourists, and very few Seattleites actually live here.
Downtown Seattle Highlights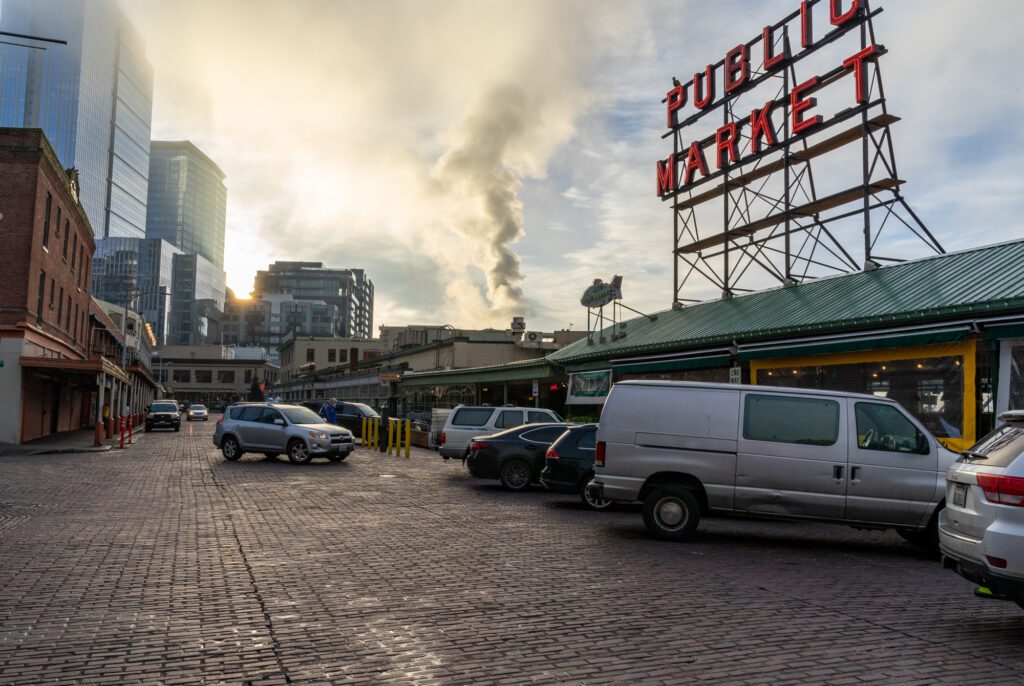 Pike Place Market: The famous Pike Place Market is unmissable in downtown Seattle. Even as a local, I still love visiting the market year-round. Fresh, seasonal produce and flowers spill from stands on one side of the market while the other side is lined with fresh catches of the day on ice: salmon, Alaskan king crab, oysters, and more. You'll find local artisans selling jewelry, paintings, beauty products, and more. Tucked into all sorts of hidden corners are eclectic shops selling vintage posters, old editions of National Geographic magazines, international foods and goods, among many other things.


Beecher's Cheese: Located on the same street as Pike Place, Beecher's Cheese is an unmissable stop during your time downtown if you're a cheese fanatic. Inside, you can sample and buy a variety of Beecher's cheeses, including their famous flagship cheddar. Come hungry and fill up on one of their many grilled cheese or mac and cheese options, including the decadent Dungeness crab mac and cheese. Pro tip: walk to the oil shop next door and they'll put a drizzle of truffle oil on top of your mac and cheese. Just when you thought it couldn't get better, it did. 


Cloudburst Brewing: Seattle has no shortage of craft breweries and you might find yourself wondering how to pace yourself to try them all. Cloudburst is an industrial-style brewery in a restored brick building that offers an extensive list of locally brewed beers on tap and to-go. Naturally, there is an emphasis on the IPAs and hops, as this is Seattle after all. Taste your way through some of their classic and seasonal specialties to become more acquainted with Seattle's infamous beer scene. 


Pike Place Chowder: Pike Place Market is stuffed full of small, international food stands and unassuming restaurants. There is nothing fancy about any of them, but the food is reliably tasty. If you're looking for a classic and unpretentious taste of the PNW, stop by Pike Place Chowder for a bowl of chowder. You can choose from a number of different seafood chowders, none of which you can go wrong with. The salmon chowder is my personal favorite. 


Seattle Aquarium: Situated on Elliott Bay, the Seattle Aquarium is primarily dedicated to marine life of the Pacific Northwest. Explore exhibits on animals in Washington's waters, aquatic birds, and the pacific coral reef. Learn more about marine conservation in the region as well.


Seattle Art Museum: Located just one block up from Pike Place Market, the Seattle Art Museum, or SAM, hosts a wide range of exhibits. Find classic paintings, Pacific Northwest indigenous art, and experimental, thought-provoking displays. Check their website for current exhibits and opening hours.


Central Public Library: The flagship library in Seattle, the Central Public Library in downtown is an iconic building constructed from steel and glass. The striking design allows for an open, light-flooded space filled with greenery and plants. Whether you are a bookworm or architecture enthusiast, the library is worth a short visit while you're in the neighborhood.
The Best Places to Stay in Downtown Seattle
As we mentioned, there are a bunch of options when it comes to places to stay in downtown Seattle.
The State Hotel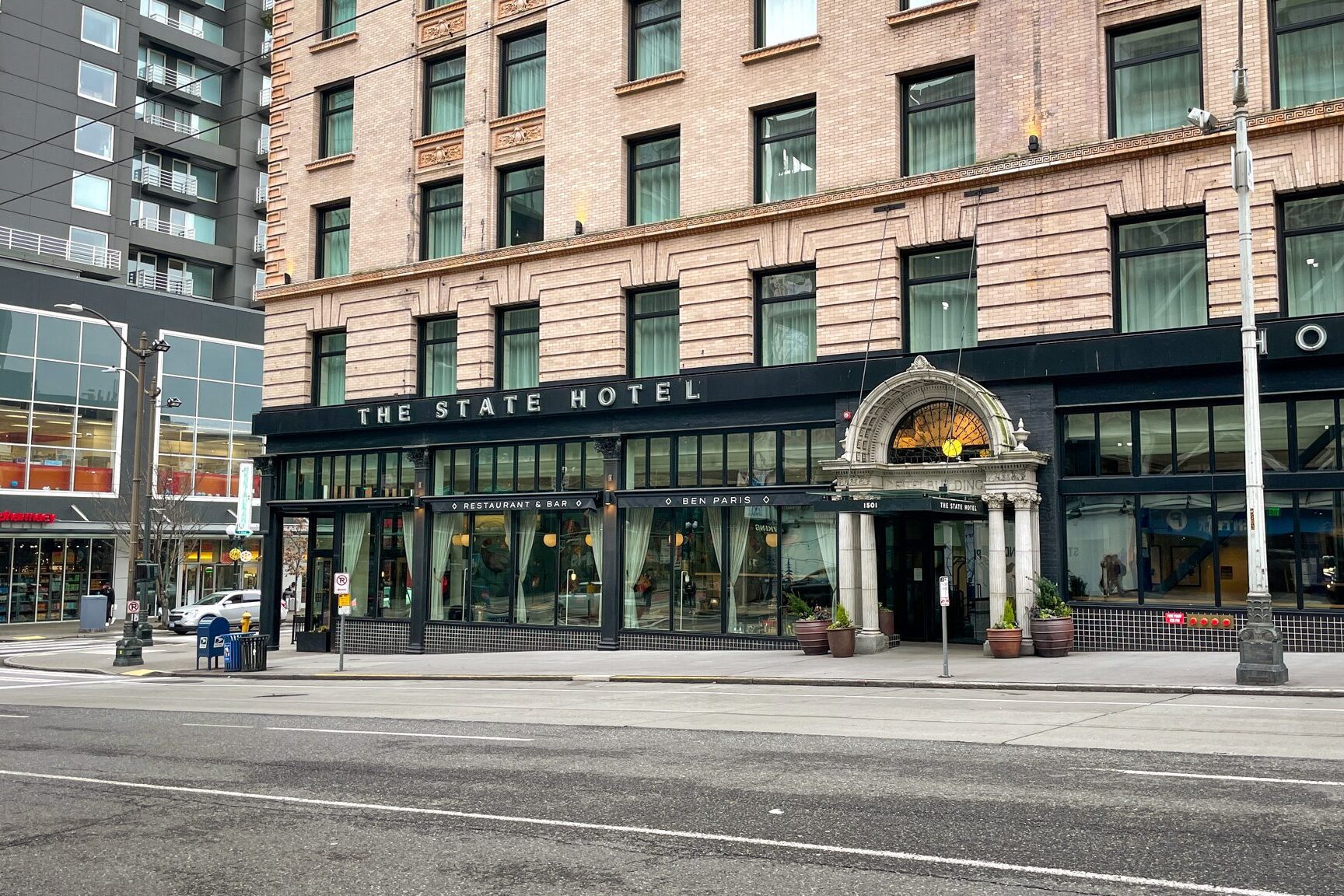 A historic building that boasts city and water-view rooms decked out in modern comforts, the State Hotel is classy, upper-budget stay.
Just steps from Pike Place Market and other offerings of downtown, the State Hotel is as convenient as it is comfortable and chic.
Inn at the Market
The only hotel located right inside Pike Place, Inn at the Market is colorful, comfortable, and offers the ultimate level of convenience in its proximity to downtown.
When you're not exploring, relax on the rooftop with sweeping views of the market, Elliott Bay, and Mount Rainier.
Palihotel Seattle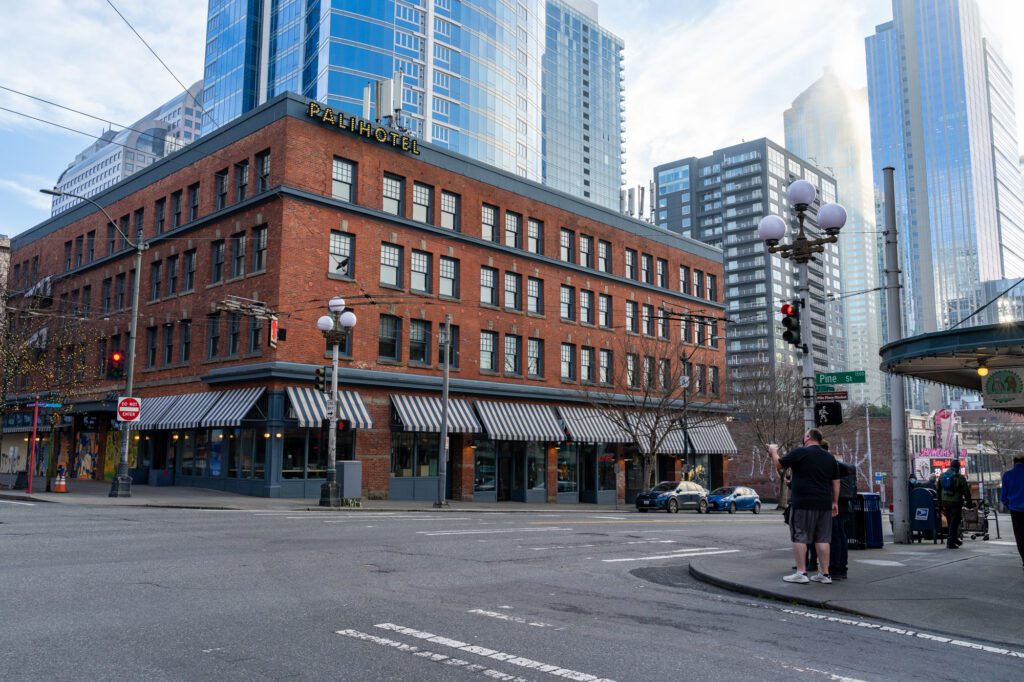 A boutique hotel that is a short walk from some of downtown's best spots, Palihotel is an eclectic, stylish boutique stay. The green tones and turn-of-the-century vibe make for a fun ambience.
Enjoy the cozy lounge and tasty restaurant, the Hart and Hunter, which is a great spot for any foodie.
Green Tortoise Hostel
The Green Tortoise Hostel is a budget-friendly stay with an impeccable location. You can choose from shared dorms or private rooms and partake in communal events like walking tours and pub crawls. A great fit for a younger crowd looking to meet other travelers.
Hotel Max
A boutique hotel in an old, restored building that converges style, creativity, and music, Hotel Max is a unique stay for the creative minded.
Choose from a variety of sizes of rooms depending on your budget and group size. You can even stay in a music-theme room decked out with a carefully curated vinyl collection.
The Edgewater
The Edgewater is an iconic Seattle landmark if you're looking to splurge on a hotel that boasts both history and ambiance. Over the years, the Edgewater has hosted the Beatles, Pearl Jam, the Foo Fighters, and other iconic musicians.
Located on Pier 67 situated right over the water, the waterfront views at the Edgewater are abundant. Indulge in classic Pacific Northwest cuisine at the Six Seven Restaurant and then relax by the fireplace on cool Seattle evenings.
Belltown: Central and Convenient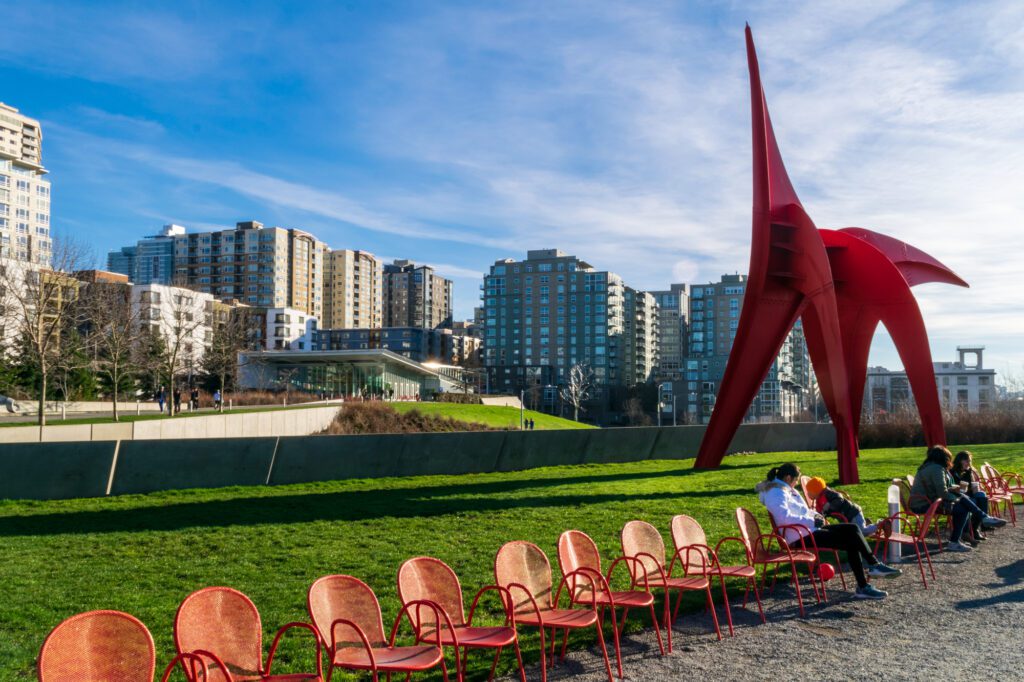 Sandwiched right next to downtown, Belltown is in the heart of central Seattle with expansive views over the Puget Sound. Here, you'll find a bit of everything: artsy meets historic. Boutique hotels, restaurants, cafes, and bars blend in with warehouses and live music venues.
The neighborhood especially comes to life at night. Beyond its proximity to the city center, Belltown also offers trails, outdoor art exhibits, and beach access.
Pros and Cons of Staying in Belltown
Pros: Belltown is near the waterfront and quite accessible to the attractions of downtown Seattle. Accommodation options are abundant and public transportation is easy to find.
Cons: Parking is difficult and expensive if you plan to have a car. I also don't like the restaurant options as much, as many have a more commercialized feel. At night, areas around Belltown feel less safe than other neighborhoods in Seattle.
Belltown Highlights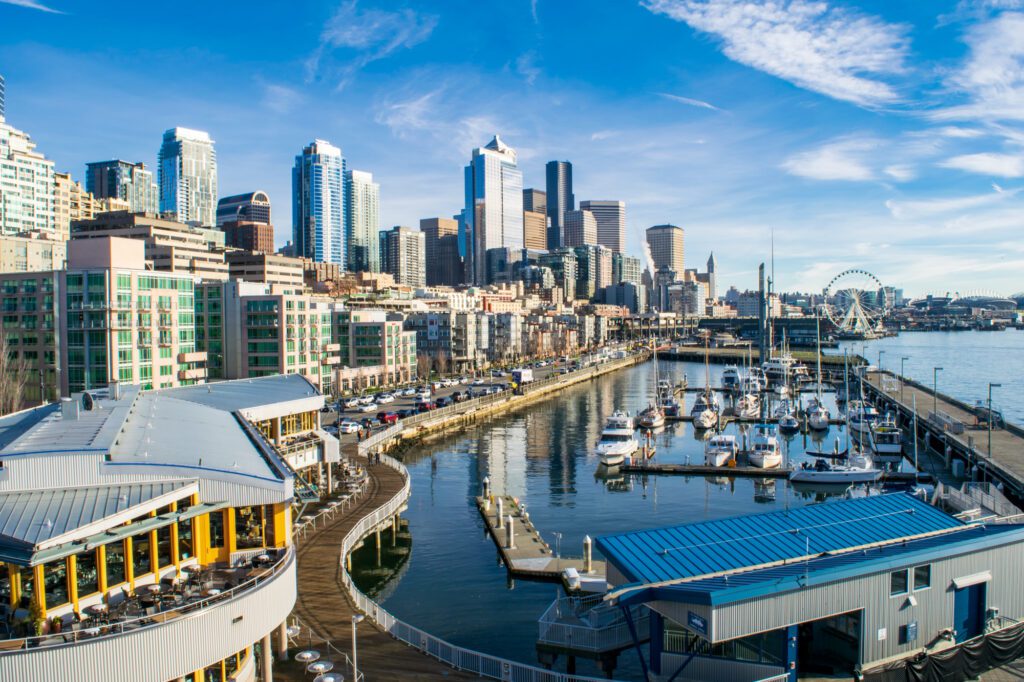 Olympic Sculpture Park: The largest green space in downtown Seattle, Olympic Sculpture Park is no ordinary park. Explore the sculptures scattered throughout the grassy space and admire the open views across the Puget Sound. A great place to get a bit of green in the middle of the city and catch a sunset.


No Anchor: A beer bar and eatery serving up the best of the Pacific Northwest, No Anchor focuses on fresh, local ingredients. Wash unique dishes like smoked, pickled mussels and sea urchin pappardelle down with a rotating list of craft IPAs, porters, and sour beers. 


Lola: A Tom Douglas creation, Lola features an exquisite Mediterranean and Greek-inspired menu. The barrel-aged feta and variety of kebabs are among some of the best items on the menu. 


Dahlia Bakery: Another of Tom Douglas's delicious creations, Dahlia Bakery is home to a phenomenal selection of sweet and savory baked goods. Artisan breads, coconut cream pie, flaky pastries, and gluten-free mochi donuts are among some of the tasty selections on the menu. 


Le Caviste: As a non-coffee drinker thanks to a strange caffeine intolerance, I seek out wine bars instead of coffee shops as my go-to spots to work or read a book. Le Caviste is a petite wine bar featuring a carefully selected menu of French wines, with an equally delicious selection of French cheese and charcuterie to accompany. 
The Best Places to Stay in Belltown
Belltown Inn: Belltown Inn offers simple, clean, and modern rooms at a good value for money. This hotel is situated in the heart of Belltown, is pet-friendly, and has an inner courtyard from which to take in the city and fresh air.
Ace Hotel Seattle: Located in Belltown close to the water, the Ace Hotel blends modern and vintage in their stylish, comfortable rooms in varied price ranges, depending on if you want a shared or private bathroom. There is also a shared kitchen onsite.
The Sound Hotel Belltown: The Sound Hotel in Belltown offers upscale, chic stays walking distance from many of the major sites in Belltown and downtown Seattle. Enjoy views of the city from most of the rooms, upgrade to a suite if you want, and refresh with craft beers, Washington wines, or coffee at Currant Bistro inside the Sound.
Hotel Andra: Located in the heart of Seattle's shopping and restaurant scene, Hotel Andra offers a stylish and peaceful urban retreat. Perhaps one of the best parts of this luxury boutique stay is its proximity to Lola and Assaggio, boasting Mediterranean and Northern Italian menus designed by two of Seattle's most celebrated chefs.
StayPineapple Hotel FIVE: A funky, bright hotel that is great value for money, StayPineapple FIVE is conveniently located between both Pike's Place and Seattle Center. This dog-friendly stay offers great amenities, including daily drink credit, bikes, and afternoon snacks.
City Hostel: Located in a renovated historic hotel, City Hostel is part hostel and part art gallery. This fun, budget-friendly spot has been brightened up by local artists and offers dorm and private room options. Meet fellow travelers over games, in the hostel movie theater, or in front of the cozy fire.
South Lake Union: Modern and Sleek with Water Views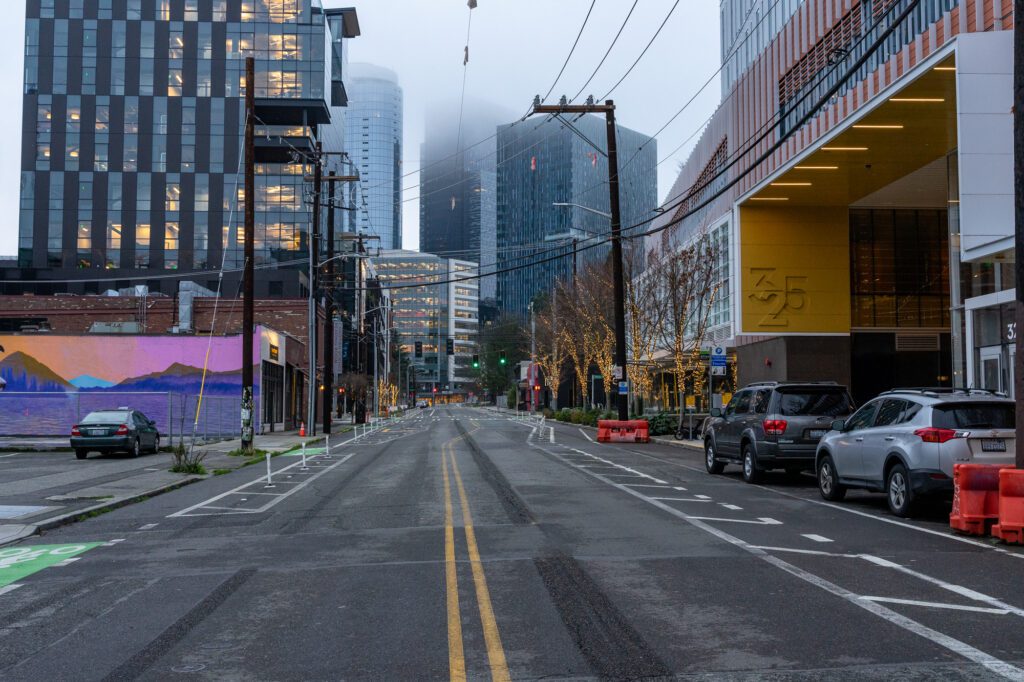 As the headquarters of Amazon, South Lake Union— also referred to as SLU— mixes a business and marina vibe.
Newer and flashier than some of Seattle's other neighborhoods largely thanks to the thriving tech scene, South Lake Union has the advantage of accessibility to downtown while also being right on the water.
Pros and Cons
Pros: With proximity to downtown yet tucked within a neighborhood of its own, South Lake Union is readily accessible to much of the city beyond the neighborhood itself. SLU has a newer feel and the proximity to the water is certainly a plus.
Cons: SLU has a bit more of a commercial feel, lacking some of the eclectic artsy vibes and restaurant scenes of some of Seattle's other areas. Beyond the marina, there isn't as much to do right in South Lake Union either.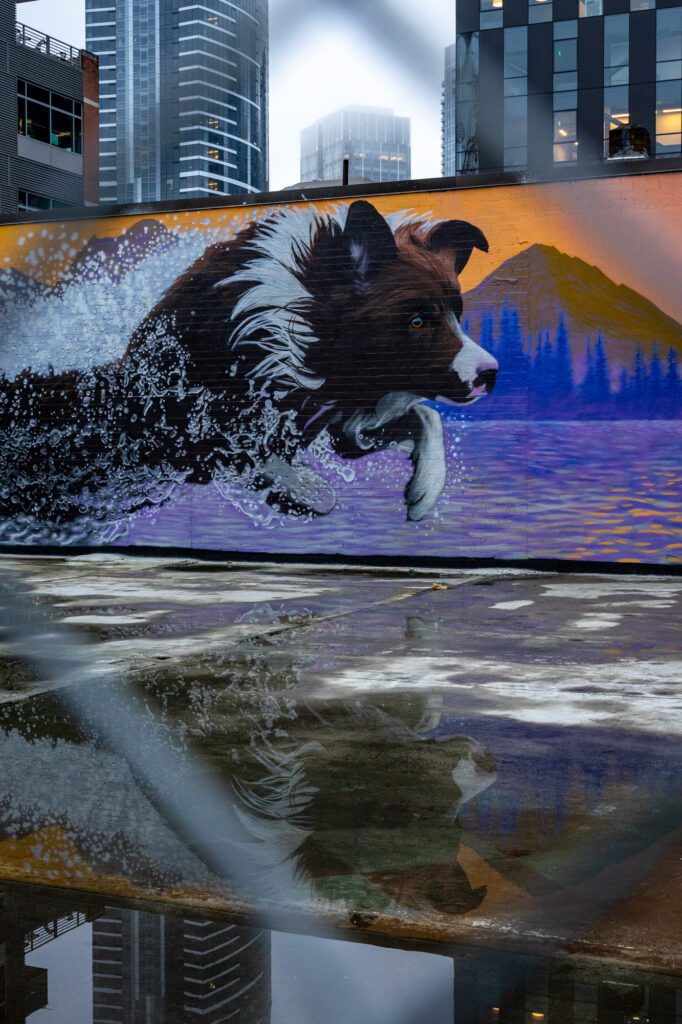 South Lake Union Highlights
Lake Union: The lake itself is an undeniable feature of the neighborhood. Aside from admiring the boats docked in the marina, rent a kayak or paddleboard and explore Lake Union yourself for an hour or two. 


Mbar: The view from Mbar's rooftop is worth a visit alone. Enjoy Middle Eastern-inspire small plates and sip on a craft cocktail or glass of wine while overlooking the Seattle skyline and Olympic Mountains. 


SLU Saturday Market: This seasonal market in the heart of South Lake Union hosts a range of food trucks, pop-ups, and craftsmen. It is worth a wander and a taste if you're in the neighborhood on a Saturday to explore some of Seattle's best food and crafts.  
Best Places to Stay in South Lake Union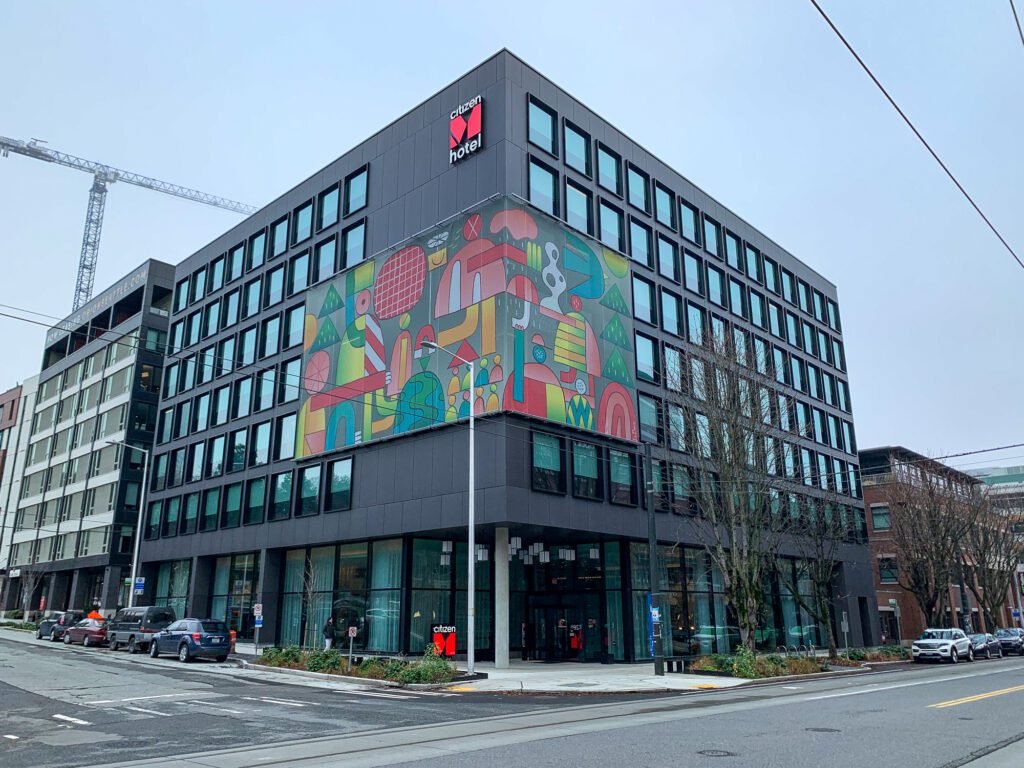 Citizen M: A fun stay with a view over South Lake Union, Citizen M combines comfort with high tech features such as controlling blinds and temperature all from their app. Beyond the comforts of your fully stocked room, you'll also find a 24/7 canteen to grab food and drinks.
Moxy Hotel Downtown: Modern with hints of Pacific Northwest flair, Moxy in South Lake Union offers comfortable rooms, an expansive lounge, 24/7 food and drinks, a welcome cocktail, and proximity to some of the best food trucks in the city.
Modern Houseboat in Seattle: For a unique experience in the maritime city, you may want to splurge on something a bit different. Houseboats are floating on many of the lakes in Seattle. With beachfront access, a deck right on the water, kayaks to paddle on the lake, and a simple but cozy interior, this houseboat on Lake Union can help make all your Seattle dreams come true.
Queen Anne: Historic and Cultural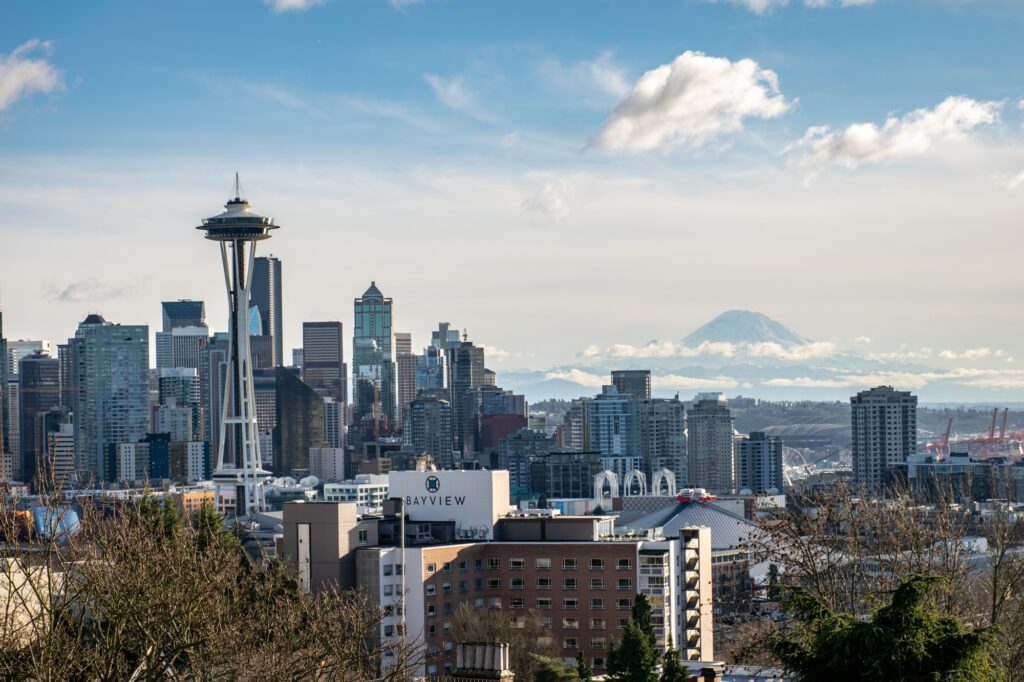 An affluent neighborhood that spreads over two main sections, Queen Anne is a blend of residential and commercial areas. Upper Queen Anne features historic mansions with fantastic views of the city, while Lower Queen Anne slopes down into Seattle Center and some of the city's major attractions, as well as the majority of the accommodation options.
Queen Anne offers a slightly more local feel than downtown but still offers proximity to the city center.
Pros and Cons of Staying in Queen Anne
Pros: It's proximity to Seattle Center, home to many of the city's major attractions, is definitely in Queen Anne's favor. The homes and views in Queen Anne are undeniably beautiful as well, offering a blend between urban and residential feel.
Cons: Queen Anne is quite spread out so depending on where you are staying and where you want to go, you might be conquering some big hills or having to take transportation. I don't find the restaurant and nightlife scene in Queen Anne as vibrant, nor the energy of the neighborhood as welcoming as other places in Seattle.
Queen Anne Highlights
Seattle Center: Seattle Center is a must-visit spot for a lot of the tourist attractions in the city. Here, you'll find the Space Needle, the Chihuly glass garden, and the Pacific Science Center, among a number of other attractions and museums. I'm never a huge fan of paying to go to the top of big structures, but you can pay to take a trip to the top of the Space Needle if you like. Alternatively, you can also book a table at their restaurant to dine with a view from the top. The Museum of POP Culture holds a lot of contemporary and historic music, art, and cultural exhibits, while the Pacific Science Center offers laser shows to the tune of Pink Floyd, among other bands, in the evening. Spend some time exploring the various art exhibits, museums, and events that take place in Seattle Center year-round. 


Kerry Park: A small park that is located on the slope of Queen Anne Hill, Kerry Park is worth a visit around sunset. Here, you can watch the sun cast its golden rays over the Seattle skyline, with views of Mount Rainier and Elliott Bay in the distance. Stay until it turns dark and you can see the skyline glittering from the park.


Toulouse Petit: Located in Lower Queen Anne, Toulouse Petit is a Creole-inspired restaurant serving a unique range of seafood, meat, and veggie dishes, as well as unmissable beignets. Toulouse's extensive happy hour menu is particularly worth the stop. 


Bounty Kitchen: Being a health and environmentally conscious city, Seattle is home to plenty of eateries that reflect this ethos. Bounty Kitchen in Queen Anne is a phenomenal spot to satiate yourself with creative, delicious dishes focusing on healthy grains, vegetables, and the bountiful goods foraged from the Pacific Northwest.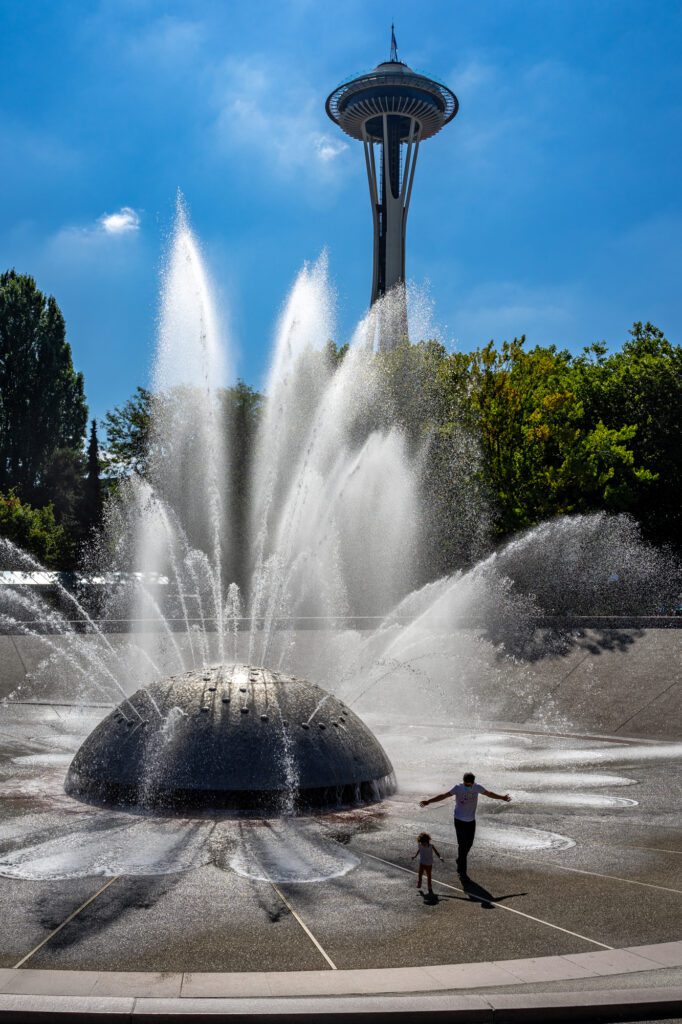 The Best Places to Stay in Queen Anne
StayPineapple Maxwell Hotel: The Maxwell Hotel is situated right in the heart of Queen Anne in Seattle Center. The bright, bold art and murals bring this mid-range, dog-friendly hotel to life. Borrow their bikes to cruise around town and then come refresh in their pool after your day out.
The Mediterranean Inn: This mid-range hotel is accessible to public transportation and offers modern, plush rooms with kitchenettes in the heart of Queen Anne. After a day out on the town, take in panoramic views of the Puget Sound, Cascade Mountains, and the city from the rooftop terrace.
MarQueen Seattle: The MarQueen is a fun option if you're looking for a historic-feeling place. Take a trip back in time when you step foot into the historic, brick structure of MarQueen Seattle, an elegant choice with a European twist. Unwind in their speakeasy-style lounge after a day of sightseeing in this historic neighborhood.
Fremont: Artsy and Hip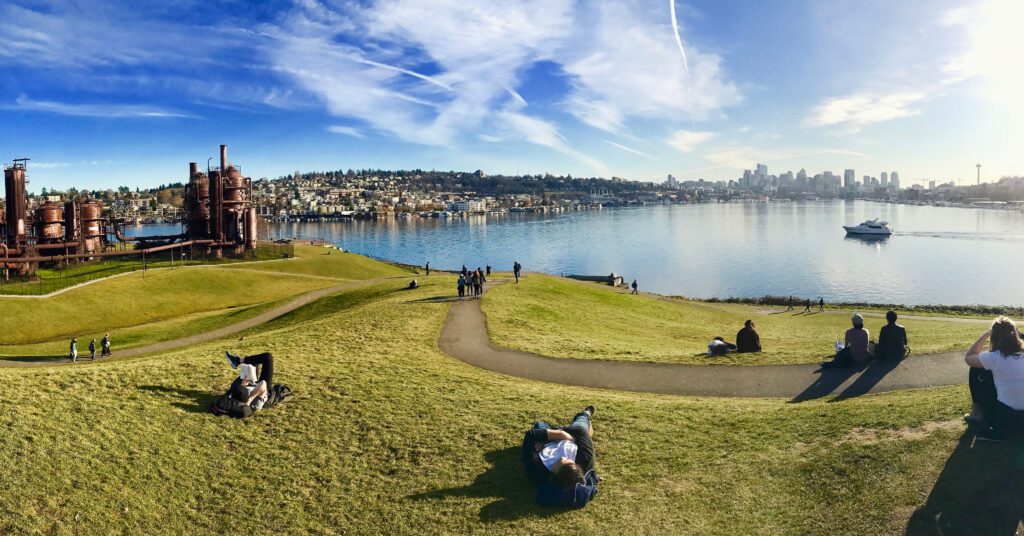 Eclectic Fremont is one of my favorite areas of Seattle. Filled with independent cafes, wine bars, and restaurants, Fremont satiates all foodie desires.
Situated along the canal, this neighborhood is also friendly to outdoorsy souls and is home to much of Seattle's creative community. You can bike, run, or paddleboard along the canal.
Each Sunday, vintage lovers can explore the Fremont Sunday Market and Vintage Mall.
If you're around over the summer solstice in June, be sure to stop by the Summer Solstice and Naked Bike Race celebrations, where some of Seattle's most colorful and sun-worshipping residents celebrate the onset of summer.
Pros and Cons of Staying in Fremont
Pros: Fremont is easily one of the most interesting neighborhoods in Seattle. It is artsy and eclectic with a fantastic dining and drinks scene, as well as beautiful streets draped in foliage and views to the water.
Cons: Fremont is more residential in terms of atmosphere and accommodation and has sparser public transportation. Situated further north of downtown and Seattle Center, it will take longer to travel to some of the major tourist attractions in the city and might benefit from having a car.
Fremont Highlights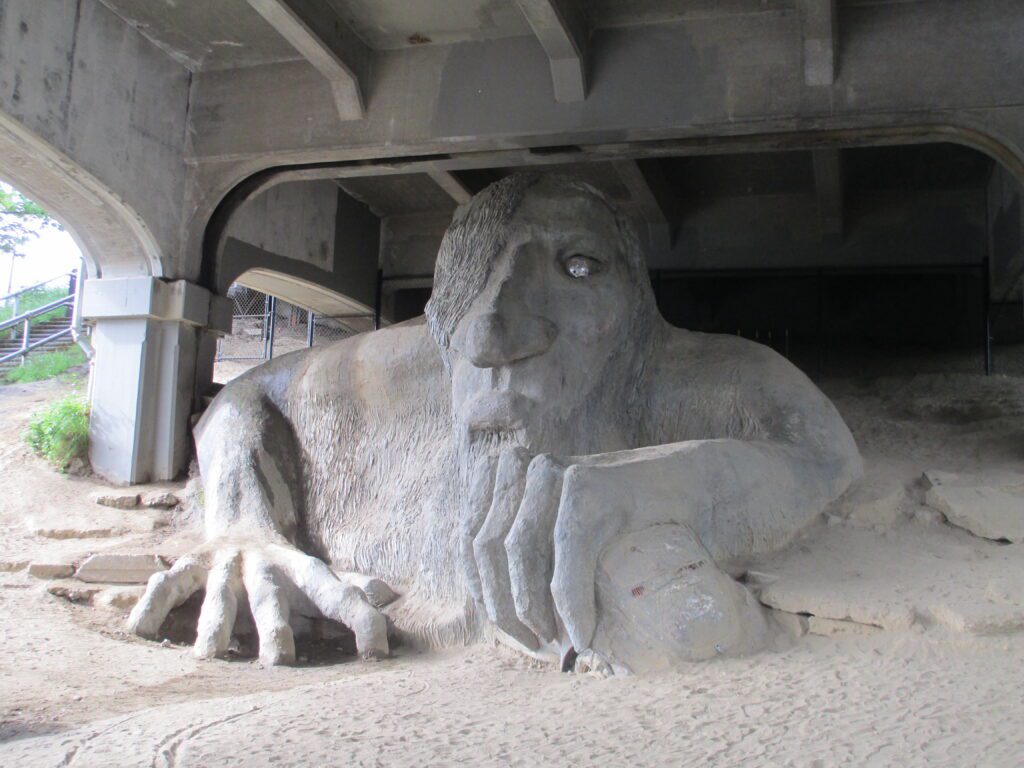 Troll: Yes, there is a giant troll sculpture that lives under the Fremont Bridge. The troll is clutching a VW car, as if it snatched it straight from the highway. An art competition was held in 1990 as an attempt to rehabilitate the area under the bridge. The now infamous troll won and has become an iconic part of eclectic Fremont.


Gas Works Park: Gas Works is a hilly park on the site of the old Seattle Gas Light Company overlooking Lake Union. On a sunny day, expect to find the hills abuzz with picnics, dogs, and flying kites, where bikers and runners wind along the paths throughout the park.


Fremont Brewing Company: The neighborhood brewery where young professionals gather after work, Fremont Brewing serves a couple dozen locally brewed beers on tap with plenty to go as well. Grab a pint of your favorite beer or cider, take a seat at the long, wooden tables or stand and socialize in the beer garden. Beyond their reliably delicious brews, Fremont Brewing Company also sources ingredients locally and is committed to environmental and social sustainability as much as possible. 


Rockcreek: The menu at Rockcreek is as innovative as the restaurant design. One of my absolute favorite brunch spots in the city, this seafood-oriented restaurant offers ethically sourced fish, oysters, and crab, among other seafood, in unique spins on classic dishes. The woodsy chic interior is made from repurposed materials and local woods. Ethical with mouthwatering food and drinks? Hard to go wrong. 


Local Tide: This small joint specializes in seafood sandwiches. The rockfish is banh-mi-inspired and bursting with herbs and spice. Although if you're there on the weekends, the infamous Dungeness crab sandwich might be the way to go. Whatever you choose, you can't go wrong. 


The Whale Wins: Located on Stone Way, one of my favorite streets in Fremont, The Whale Wins a fantastic spot for aesthetic and food. Its aqua-colored décor brightens an indoor European-style grocer and a sunny patio. Their rotating menu of European and PNW-inspired dishes, complemented by a standout wine list, is best experienced with a group so you can order many of the dishes on the menu. 


Vif: As both a fan of wine and anything sustainable and organic, Vif quickly became my favorite spot in Fremont for wine. As both a wine bar/café, as well as a wine shop, Vif offers organic and natural wines by the glass and for takeaway in a small, French café-style setting. 


Pablo y Pablo: Located somewhere between Wallingford and Fremont, Pablo y Pablo is one of many fantastic Mexican restaurants in Seattle and one of my personal favorites. What's not to love about soft shell crab tacos and spicy papaya margaritas? You'll find tasty twists on classic dishes.


Miir: Miir combines the best of Seattle. A coworking space with a superb selection of coffee and teas alongside an extensive selection of beers and kombucha on tap, a shop selling accessories like water bottles and camping cups that fund clean water and community development projects, while hosting workshops and community events. I'm not sure it gets more Seattle than that mix of elements. Miir is one of my favorite places to grab a drink and work or catch up with a friend from when I'm in the neighborhood.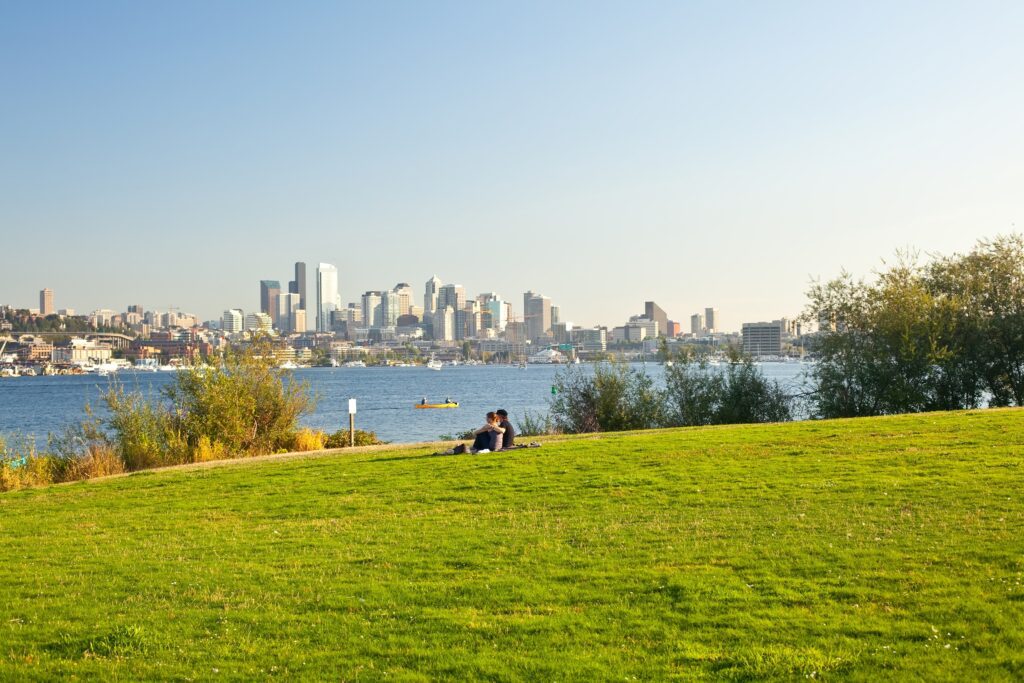 The Best Places to Stay in Fremont
Hotel Hotel Hostel: This moderately priced stay is located by some of Fremont's best eateries. Designed with the idea of intentional, communal living in mind, Hotel Hotel offers shared and private rooms and co-working spaces, which encourage the concept of co-living as well. A perfect option for someone looking to stay and work remotely for a while, while connecting to the creative community of Fremont.
Emerald House Fremont: Located just a few blocks from some of the best cafes and restaurants in Fremont, this small, artsy home is a perfect stay for a family or small group who are looking for a house versus a hotel. Cook in the fully equipped kitchen, relax on the front porch, and bonus is free street parking if you plan to have a car.
Luxurious Nest in Downtown Fremont: This converted apartment is the top unit of a craftsman home in a quiet area in central Fremont. The perfect stay for a couple or solo traveler, boasting a full kitchen, modern amenities, free street parking, and accessibility to public transportation and the best of Fremont's food and drink scene.
Ballard: Quaint and Sophisticated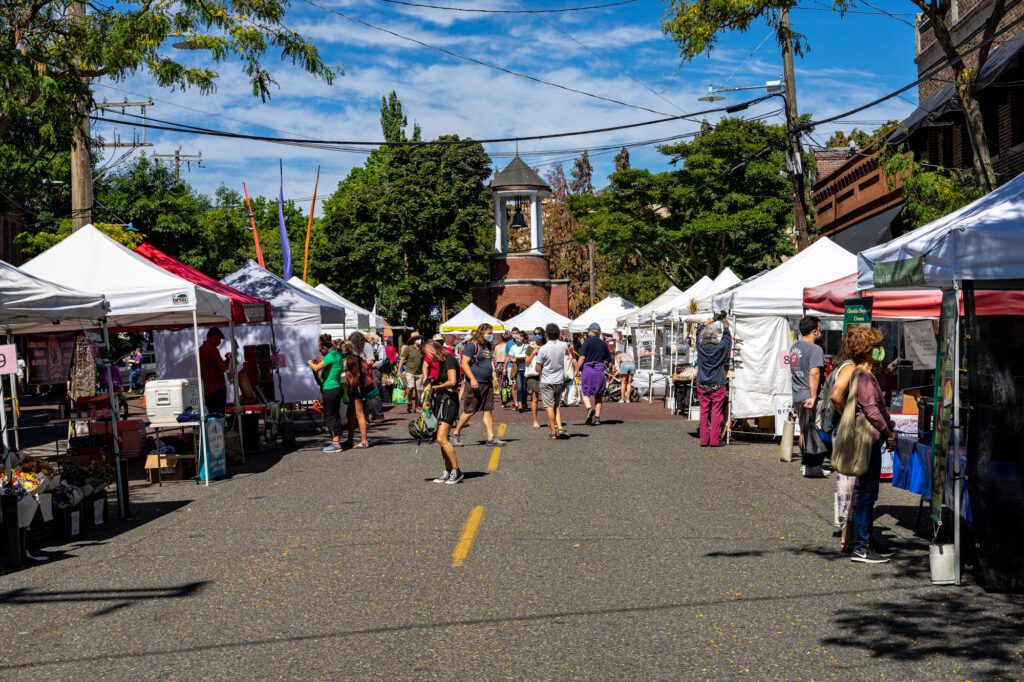 Beautiful Ballard feels like it's a small maritime town tucked within a major city. Situated along the Ballard Locks, this charming neighborhood boasts a proud Nordic history, waterfront views, and an innovative culinary and beverage scene.
Pros and Cons of Staying in Ballard
Pros: Ballard has the air of a quaint seaside town with all the pluses of a big city. The neighborhood has a fantastic food, café, and bar scene, is surrounded by water, has beautiful, walkable streets, and an energetic nightlife.
Cons: Ballard is far north and is a decent trip away from the heart of Seattle, whether by bus or by car. If you're wanting to spend a lot of time in central Seattle, Ballard will feel inconvenient. However, if you're looking for a unique Seattle experience tucked away from tourist spots, Ballard might be for you.
Ballard Highlights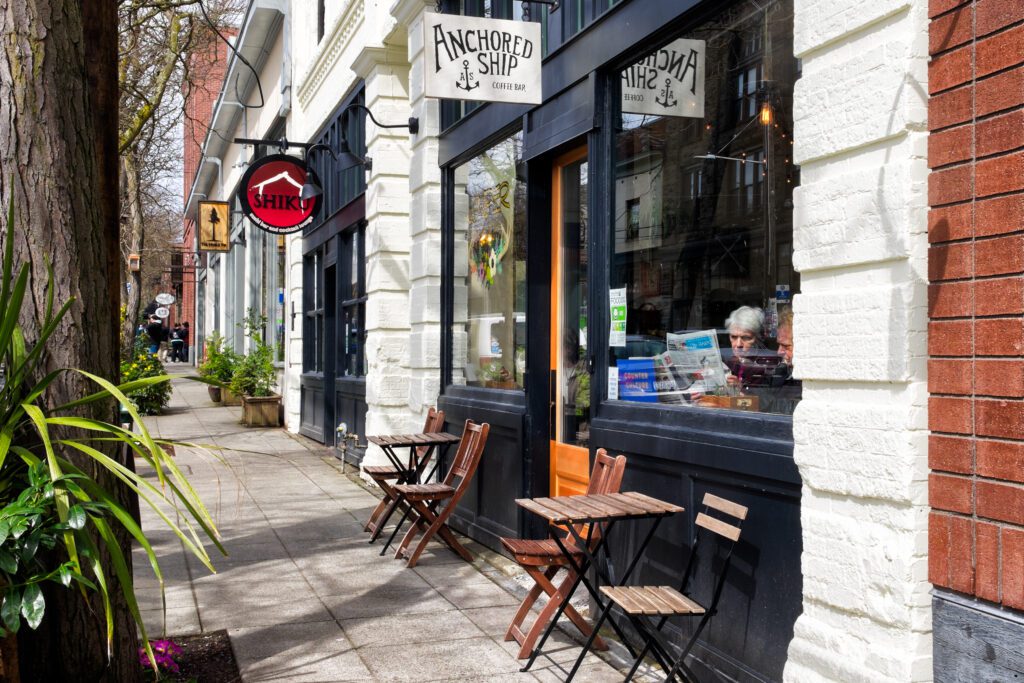 Golden Gardens: The only sandy beach in Seattle, Golden Gardens is the spot to be at on a sun-soaked summer day. Stretch out on your patch of sand, bring a picnic, and maybe take a dip in the chilly waters of the Puget Sound. Join in a game of beach volleyball if you like and stay for sunset, which quickly gives way to bonfires and night swimming.


Ballard Avenue: A historic street running through downtown Ballard, Ballard Avenue is one of the best places to start in the neighborhood. Go for a stroll, peaking into vintage and curated concept shops while scoping out the many fantastic drink and food options. Every Sunday, Ballard Avenue turns into a farmers market, where you'll find fresh flowers, produce, artisan goods, homemade cheeses, ciders, and more being sold by local farmers and artists.


Shilshole Bay Marina: A typical Seattle marina lined with sailboats and yachts. You can also rent kayaks and stand up paddleboards from Ballard Kayak and take them out on the water. Renting a SUP or kayak for a few hours is a fun way to explore the Puget Sound if weather permits. 


Reuben's Brews: Pick a spot on the expansive, sunny deck at Reuben's Brews. A Seattle favorite, Reuben's has an impressive list of IPAs and seasonal beers all crafted onsite. If you're a craft beer lover, this is a must try. 


Rupee Bar: Part hipster, part Sri Lankan-Indian, this South Asian fusion restaurant is one of my favorite recent finds in Ballard. You can choose to sit street side or slide into a table indoors and start eating and drinking your way through the menu featuring small plates and cocktails inspired by the flavors of South Asia. You really can't go wrong with anything you order. Come hungry and bring friends so you can work your way through the entire menu, which changes regularly. 


Tractor Tavern: Located in historic Ballard, the Tractor Tavern has been a favorite music venue among Seattleites for two decades. Come and listen to live folk, jazz, rock, reggae, and more in this spot that features an impressive lineup of local musicians. 


Walrus and the Carpenter: If you're looking for an unpretentious and undeniably stylish place to dig into Seattle's seafood scene, this is your spot. Walrus and the Carpenter is an oyster bar inside a chic farmhouse-style building serving fresh oysters, tender grilled octopus, cheeses, a range of other mouth-watering dishes scavenged from the sea and the garden, and a wine and cocktail list that will quench your thirst. Come early to guarantee a table as this spot is exceptionally popular. 


Ballard Farmers Market: A year-round farmers market that sells exclusively goods from Washington farms, Ballard Farmers Market is a must-visit if you're in the area on a Sunday. Enjoy seasonal produce and flowers, fresh baked goods and cheese, as well as browse PNW crafts.
The Best Places to Stay in Ballard
Hotel Ballard: A luxurious, boutique stay in the heart of Ballard, Hotel Ballard is worth the splurge if you're looking for a sophisticated stay with a Pacific Northwest twist. At Hotel Ballard, you'll have access to a spa, athletic club, the tasty Stoneburner Restaurant, and a rooftop overlooking the marina with a fireplace to keep you warm on chilly evenings. Located centrally on Ballard Avenue, you'll be in the center of the best of Ballard's eclectic shops and eateries.
Ballard Inn: A mid-range stay among some of Ballard's best offerings, Ballard Inn is a boutique hotel inside of an old bank. Here, you'll find a lobby and rooms designed with modern comforts blended with historic style.
Private Ballard Backyard Cottage: If you're looking for something a bit more residential in Ballard, this private cottage is the perfect urban retreat. Complete with a full kitchen, a small backyard, and all the modern amenities you could want, this stay is comfortable, affordable, and will give you a taste of local Ballard life.
Modern Studio Retreat in Sunset Hill, Ballard: Located a short walk away from central Ballard in the charming Sunset Hill neighborhood, this lower level studio is the fit for a couple or solo traveler. The studio is modern, tastefully designed, and stocked with thoughtful amenities, and also has street parking.
University District: Young and Budget-Friendly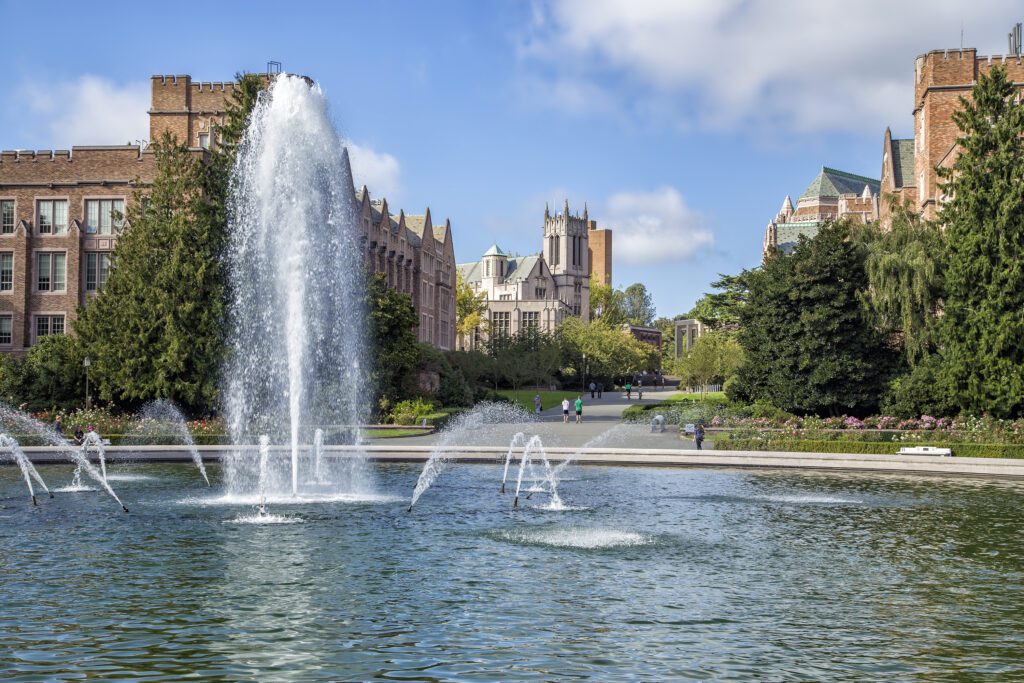 Located north of downtown, the University District is the neighborhood adjacent to the University of Washington and the University of Washington Medical Center.
Predominantly a university neighborhood, the "U District" as it has been nicknamed, has a young feel and a street full of budget-friendly restaurants, secondhand clothing shops, dive bars, and cafes to match.
Pros and Cons of Staying in the University District
Pros: The University District has a distinct vibe thanks to the proximity to the University of Washington. It tends to be more affordable for food and drinks due to the student population, is energetic during the day and night, and has readily available public transportation. Outside the main strip, there are some beautiful parks and waterfront spots in the neighborhood as well.
Cons: The U-District has a distinctly university town feel, which might not be what you're looking for if you're not a university student. Many of the best spots in the neighborhood revolve around the university and less about Seattle as a whole.
University District Highlights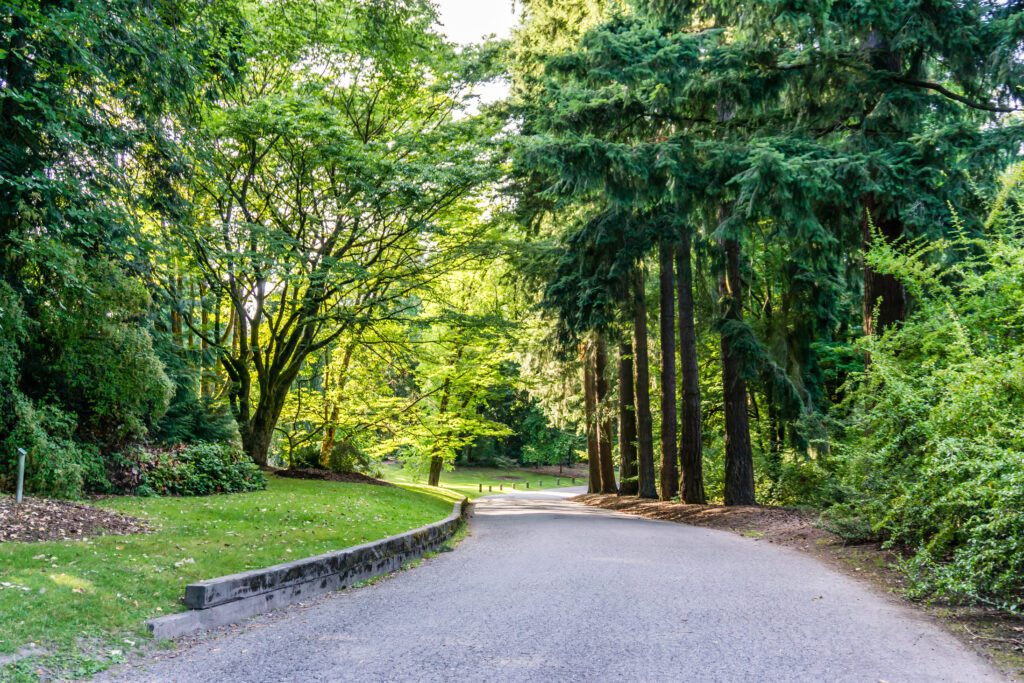 University of Washington: A sprawling campus in the middle of the city, the University of Washington is a beautiful place to spend part of a day exploring, from Red Square with the gothic style library, to the grand architecture lining the grassy quad. In spring, the quad becomes a spectacle as the cherry blossom trees bloom for a few short weeks. If you're there during the season, catch a UW basketball or football game at the stadium.


Arboretum: An expansive oasis on the shores of Lake Washington, the Arboretum is a green pocket in the heart of the city. Go on a walk (or guided tour) along the many trails curving through gardens and woodlands, which are also a great spot for a picnic.


Washington Activities Center (WAC): Located down the hill from the university is the WAC where kayaks and canoes are available to rent. Navigate the waters of Lake Washington through lily pads and to views across the water of lakeside homes.


Burke Museum: The Burke Museum is on the UW campus and is a museum dedicated to the preservation and celebration of Pacific Northwest indigenous cultures, as well as natural history. There are rotating interactive exhibits on display centered around science, culture, and history.


Neptune Music Company: This vintage-feeling music store is home to a phenomenal collection of used vinyl. If you're a music lover, spend time browsing the jazz and classic rock collections at this laid-back record shop. Neptune used to be a favorite stop of mine when I lived in the U-District.


The Octopus Bar: Although slightly north of the heart of the U-District on your way to Wallingford, the Octopus Bar was a favorite venue during my college years (and thereafter, for that matter). This iconic bar is an ode to Seattle's maritime history through their unique cocktail menu and eclectic décor. 


Seamonster Lounge: Another favorite during my time in the U-District, Seamonster Lounge is a few steps away from the Octopus. Hosting funk, jazz, and soul bands several nights of the week, the Seamonster is low-key, understated, and a lot of fun if you're looking for an unpretentious local music venue with soul. 


Thai Tom: A favorite among the university crowd, this popular, hole-in-the-wall Thai spot is no secret. Serving the best Thai food in the neighborhood, this spot is worth a stop for lunch or dinner. Thai Tom is small and consistently packed so you might be best off getting takeout and enjoying your lunch elsewhere, such as on UW's campus.


Café Allegro: Opened in the 1970's, Café Allegro is Seattle's oldest espresso bar and offers some of the best roasted coffee in the neighborhood (and perhaps city). Café Allegro is a fantastic place to grab a cup and work during the day or catch up with friends and watch open mic nights in the evening. 


Portage Bay: Another wildly popular restaurant among the University of Washington crowd, Portage Bay offers some of the best sustainable brunch and lunch options in the neighborhood. The dishes are hearty, healthy, and full of flavor. You'll find an impressive berry, nut, and toppings bar to enhance your waffles and pancakes. 
The Best Places to Stay Near the University of Washington
Graduate Hotel Seattle: At Graduate Hotel, vintage meets contemporary mixed with a lot of Husky pride, the University of Washington's mascot. This mid-range stay offers a range of rooms, a communal coffee table, a rooftop bar with mountain views, a café and wine bar in the lobby, and is just a short walk from University of Washington's campus.
Watertown Hotel: Another StayPineapple hotel, Watertown in the U-District is colorful and quirky. Located a short walk from campus and the action along University Avenue, there is easy access to public transportation, or alternatively hop on one of Watertown's bikes. Enjoy afternoon snacks, access to a seasonal pool, among other perks in this comfy stay.
University Inn: Just a few doors down from its sister hotel, Watertown, the University Inn is a great place to stay for young travelers. With easy access to the University of Washington, this dog-friendly stay is affordable, fun, and won't disappoint.
Capitol Hill: Energetic and Eclectic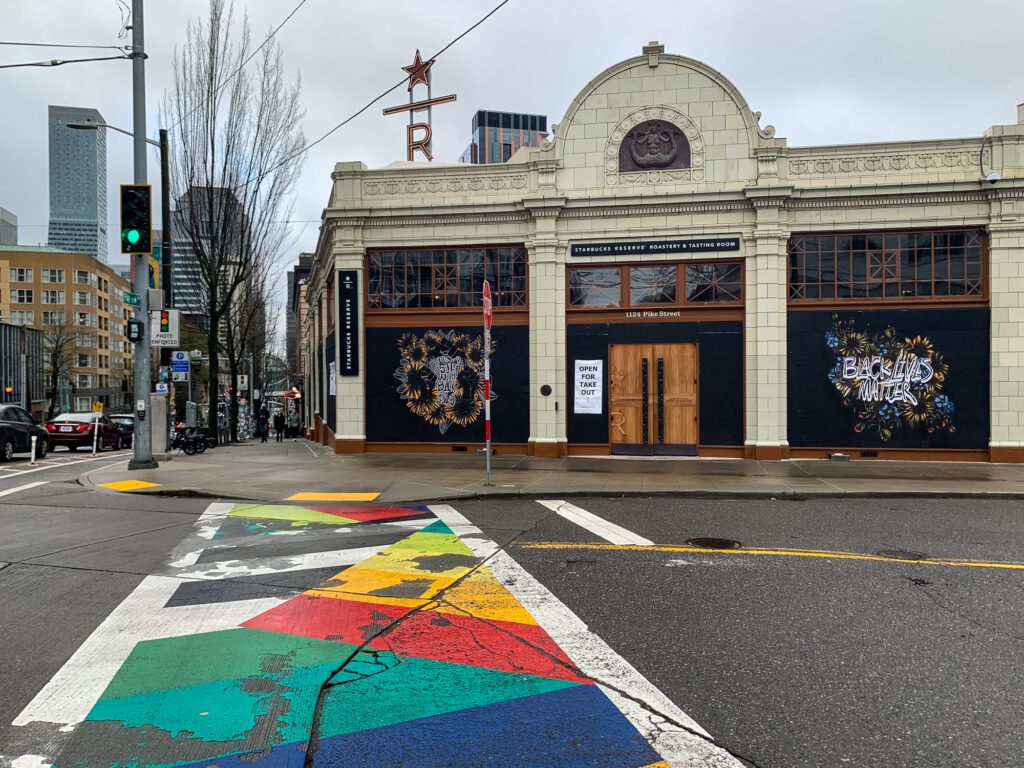 This sprawling section of Seattle stretches from the busy streets of Pike and Pine, where restaurants, bars, and music venues attract an intoxicating energy, to the grand homes and shaded streets of north Capitol Hill.
The hub of LGBTQ culture in Seattle and a center of much of the city's art and music scene, Capitol Hill's grungy buildings and sidewalks are brightened up with graffiti.
Pros and Cons of Staying in Capitol Hill
Pros: Capitol Hill is centrally located in Seattle, making it accessible to the sites of Queen Anne and downtown, as well as the waterfront and parks of Fremont and Ballard. Not to mention, the neighborhood's drool-worthy food and drink scene will keep you busy for days on end. Public transportation is frequent, the neighborhood is very walkable, and you are walking distance from downtown.
Cons: Capitol Hill is more residential, so you won't have many hotel options to choose from. Parking can also be quite a challenge. At night, safety can be an issue in central Capitol Hill (less so in the more residential north Capitol Hill).
It is worth noting that Capitol Hill and the Central District (a residential neighborhood southeast of Capitol Hill) have undergone mass gentrification over the past several decades.
Historically Black neighborhoods, the inflation of housing costs, has pushed many of the communities out of Capitol Hill and the Central District. The process of gentrification in Seattle has accelerated over the last several years—largely a result of the boom of the tech industry— and has deepened the wealth inequality in the city.
Capitol Hill Highlights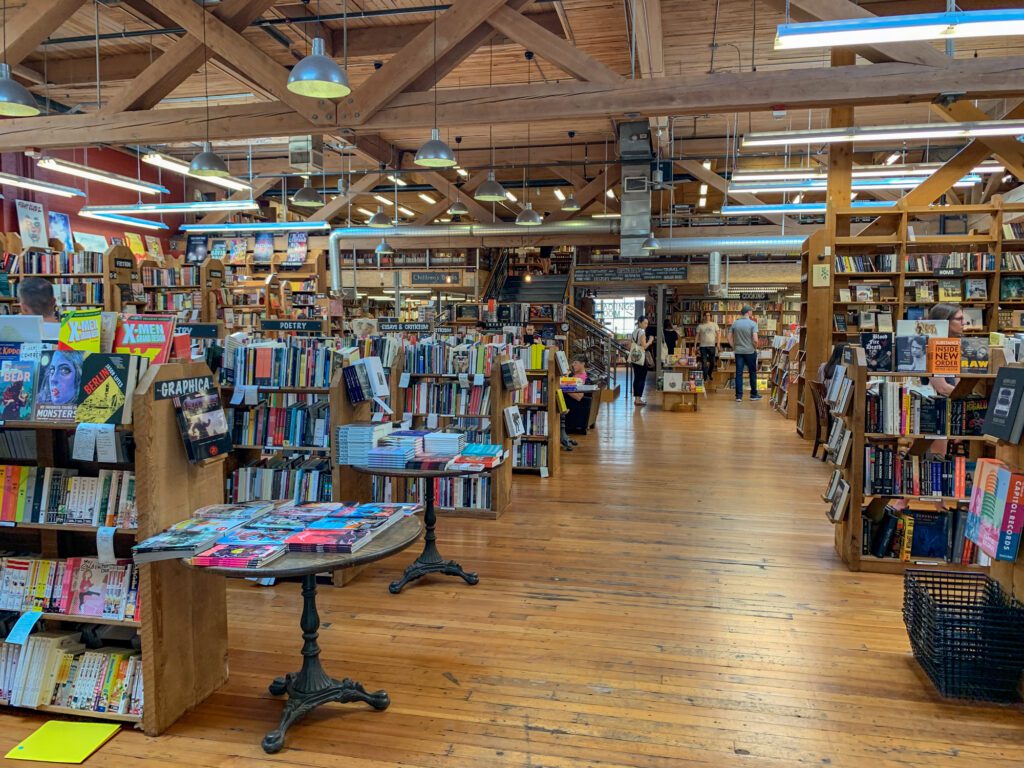 Oddfellows Cafe and Elliott Bay Book Company: A neighborhood favorite for brunch, Oddfellows Café is an open, light-flooded space and has a phenomenal menu with elevated versions of classic brunch favorites. After you're done eating (or while you wait for your table), head to the adjoining Elliott Bay to browse their selection of books, cookbooks, and art supplies. 


Footprint Wine Bar: A relatively new establishment in the neighborhood, Footprint is one of my favorite recent finds. The intimate space is founded with the intention to consume wine more sustainably and with less waste. The selection of wines comes from organic and biodynamic wineries in the Pacific Northwest and is served from kegs, which eliminates bottle waste. If you're a local in the area, you can fill up a growler of wine and bring it back for refills. The wines are as enticing as this newly conceptualized idea of a wine bar. 


Melrose Market: An upscale market-style experience, including natural wine shop Marseille, a gourmet cheese and deli stop, and local arts. Don't miss Taylors Shellfish Farms, a sustainably minded oyster bar and shellfish shop with the best of the Pacific Northwest's seas on sale. Melrose Market is a delightfully hipster, one-stop artisanal center for all things food, drinks, and design. 


Volunteer Park: My favorite park in Seattle, Volunteer Park is in north Capitol Hill, tucked away from the bustle of the restaurants and nightlife. In the park, you can find a shady spot for a picnic beneath grand, flowering trees, explore plant life at the conservatory, and stop by the Seattle Asian Museum.


Neumos: An iconic music venue in Capitol Hill, Neumos is at the center of the neighborhood's nightlife and festivals. Catch live music here most nights of the week, featuring big name artists as well as local musicians and DJs, from indie rock to hip hop. 


Café Presse: A French-inspired café that is as perfect for a sunny sidewalk brunch as it is for a dimly lit dinner and cocktails, Café Presse has been one of my go-to spots in Seattle for as long as I can remember. 


The Cloud Room: Tucked into the creatively designed Chophouse Row, which features a host of tasty restaurants, concept shops, and live music during the summer, the Cloud Room is a coworking space and bar that is one of the city's best secrets. Inside a Mad Men-inspired mid-century modern living room complete with a record player, grand piano, and sweeping city views, sits one of the best cocktail bars in town and few crowds. 


Momiji: There is no shortage of sushi in Seattle, a city known for its seafood and Asian influences. Momiji is one of my favorite spots for sushi and Japanese cuisine, particularly for their happy hour, which has fantastic deals on sushi rolls, appetizers, and drinks. 


Hello Robin: Situated in north Capitol Hill, Hello Robin is a must visit for those with a sweet tooth. Combine the famous local ice cream flavors of Molly Moon with sinfully delicious freshly baked cookies to make ice cream sandwiches, and you'll keep coming back for more.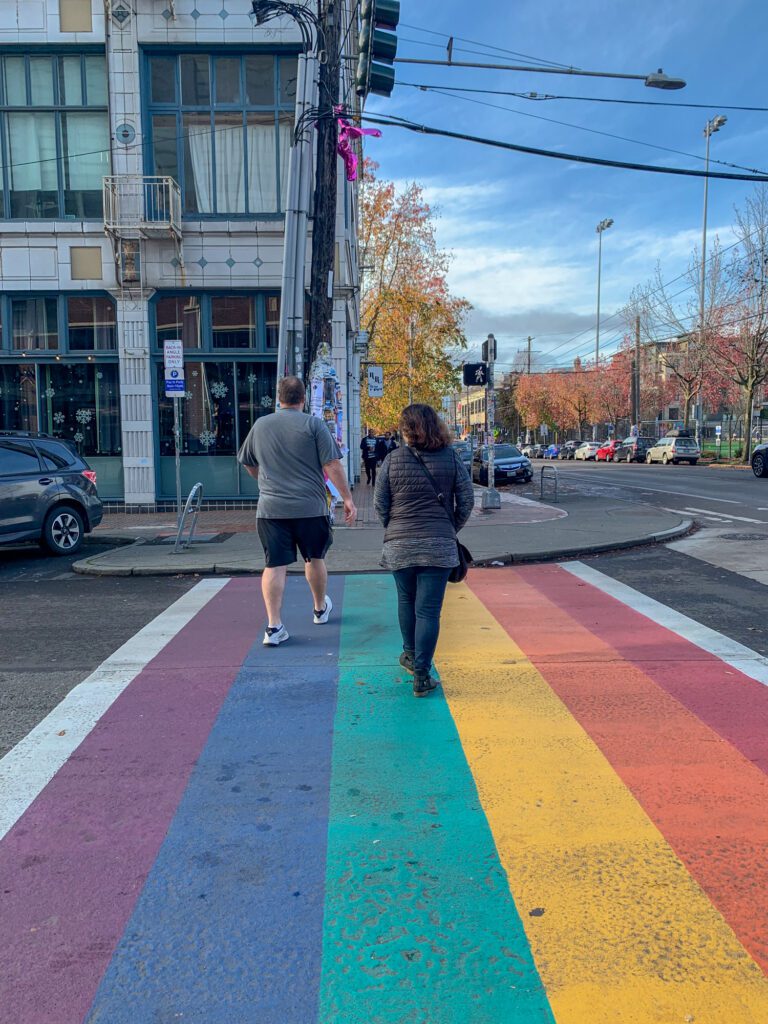 The Best Places to Stay in Capitol Hill
Hotel Sorrento: Located on First Hill, just down from the heart of Capitol Hill on your way to downtown, Hotel Sorrento is a stylish stay with a lot of history. Step back in time with the vintage art and furniture, indulge in a tasty Italian meal in a garden at Stella, grab a cocktail at the speakeasy-style bar, or cozy up in front of the fire.
Sophisticated Studio with Breathtaking Views of Seattle: Situated in the heart of Capitol Hill, this studio is equal parts vintage and modern, with chic décor and luxurious details. This studio is perfect for a couple or solo traveler and has a rooftop with unbeatable views of the Space Needle.
Retro Capitol Hill Apartment: Right in the middle of the action of Capitol Hill, this vintage-inspired apartment is splashed in shades of green and yellow, accented with funky art, and has a modern kitchen and bathroom. This is the perfect stay for a solo traveler or a couple seeking to experience the very best of Capitol Hill. Enjoy street parking, easy access to public transportation, or simply walk to the fantastic range of coffee shops, bars, and restaurants in the neighborhood.
Modern Condo in the Heart of Seattle: An ideal stay for a couple or individual, this condo is modern and sleek. The beautifully designed space is equipped with a fully stocked kitchen and bathroom, new furniture, and is walking distance from both 15th and Broadway, two of Capitol Hill's main streets for eating, drinking, and shopping.
A Crash Course in Seattle Geography
This west coast port city sits on an isthmus between the Puget Sound and Lake Washington. Just 100 miles south of the Canadian border, Seattle is the northernmost major city in the United States. Before European settlers arrived in the mid-19th century, the Seattle area had been inhabited by American Indians for several thousand years.
Named for the Chief Si'ahl of the Duwamish and Suquamish tribes, Seattle is situated on the southeastern shores of the Puget Sound, a 100-mile long inlet of the Pacific Ocean. The many waterways make the geographic layout of Seattle somewhat complex and that much more interesting. Downtown faces Elliott Bay, where the city was originally founded.
Seattle is divided in half north to south by an eight-mile-long canal that passes through Lake Union, Portage Bay, and Union Bay and connects Lake Washington to the Puget Sound in Shilshole Bay in the northwest of the city. The south of the city is divided by the Duwamish River.
For a simplified layout of the city, it generally can be divided by south, west, central, and north Seattle.
South Seattle neighborhoods, like Georgetown, Beacon Hill, and Columbia City, span the Duwamish River and until recent years were a bit rough around the edges. They are still primarily residential but include some great food, drink, and music joints.


West Seattle is a picturesque, laidback residential area across the water from the rest of the city with an expansive beach and waterfront restaurants.


Central Seattle has some of the best neighborhoods in Seattle, including downtown, Belltown, South Lake Union, and Capitol Hill. These neighborhoods include a mix of business, commercial, and tourist ventures. They are quite densely populated and can be high traffic areas, but are filled with fantastic places to eat, drink, and explore culture.


North Seattle extends north from Capitol Hill and includes neighborhoods like the University District, Wallingford, Fremont, and Ballard. These neighborhoods mix business and residential and are adjacent to Lake Washington and the Puget Sound. Art, music, and culinary innovation thrive in these eclectic neighborhoods.
It is worth noting that central Seattle (particularly downtown, Belltown, and Capitol Hill) has a sizable unhoused population, largely due to the rising cost of living and housing costs over the past few decades.
There is a lot of energy and vibrancy in these neighborhoods, but it is a factor to consider when deciding on a place to stay, especially if you are traveling with kids.
Where NOT to Stay in Seattle
Not all parts of Seattle are ideal to stay in, even though they are definitely worth a visit.
South Seattle: While South Seattle neighborhoods, in particular Georgetown, boast a great number of places to eat and drink, they're not the best to stay in. They are more residential, lack accommodation options, and are removed from the main sights of Seattle. That being said, explore the wine tasting rooms and breweries in Georgetown and the international eateries across the south Seattle neighborhoods. They're rich in local favorites and steer away from tourist traps. 
West Seattle: West Seattle is often considered another city in and of itself, as it is relatively isolated from the rest of Seattle. You have to cross a bridge to reach West Seattle and with the bridge undergoing repairs, the area is even more challenging to reach than usual. Accommodation is mostly residential but if you care to explore the area, hop on a ferry from downtown and spend the day in West Seattle. The neighborhood stretches along picturesque Alki Beach. The main street boasts superb restaurants and breweries as well as a kayak and SUP rental with views across the Puget Sound to downtown. Right next to the paddle board rentals is Marination Station, one of my favorite restaurants in the city that is a Hawaiian-Korean fusion.
North Seattle: This area largely consists of anywhere north of Green Lake (Greenwood, Northgate, and beyond). The northern neighborhoods of Seattle are quite far from the action, very residential without many accommodation choices, and offer little to do or see.
---