Where to Stay in Portland: A Local's Complete Guide
Traveling to a new city for the first time can be incredibly fun and incredibly stressful. If you're anything like me, I'm always nervous about making the wrong choice about where to stay, where to eat, and what to do. What if I book the wrong hotel and end up in a dumpy part of town? What if I spend all day driving to a trailhead I never end up finding? What if I waste my big splurge dinner on a crappy restaurant?
Hopefully you're reading this in hopes of not making any of these mistakes as you plan your trip to Portland.
This post will focus solely on the biggest choice of all – where to stay in Portland, Oregon!
Where you end up staying can influence a lot of what you end up doing and what's readily accessible to you. The good news is that there are several awesome neighborhoods in Portland that will give you more than enough to do while you're here.
Furthermore, you've come to the right place! I grew up here and have lived in all five quadrants of the city (and you're right, quad does mean four, but we're "weird" out here and insist on doing things differently).
Also, please note that in the last couple years people have actually added a sixth "quad"rant with the South Waterfront. I have yet to accept this into my vernacular. I've helped friends and family throughout the years find great places to stay in Portland that fit their budget and their vibe, and I'm here today to help you, dear reader.
Planning a trip to Portland? Here's our guide to planning a weekend in Portland, with where to eat, stay, and play for an incredible weekend trip.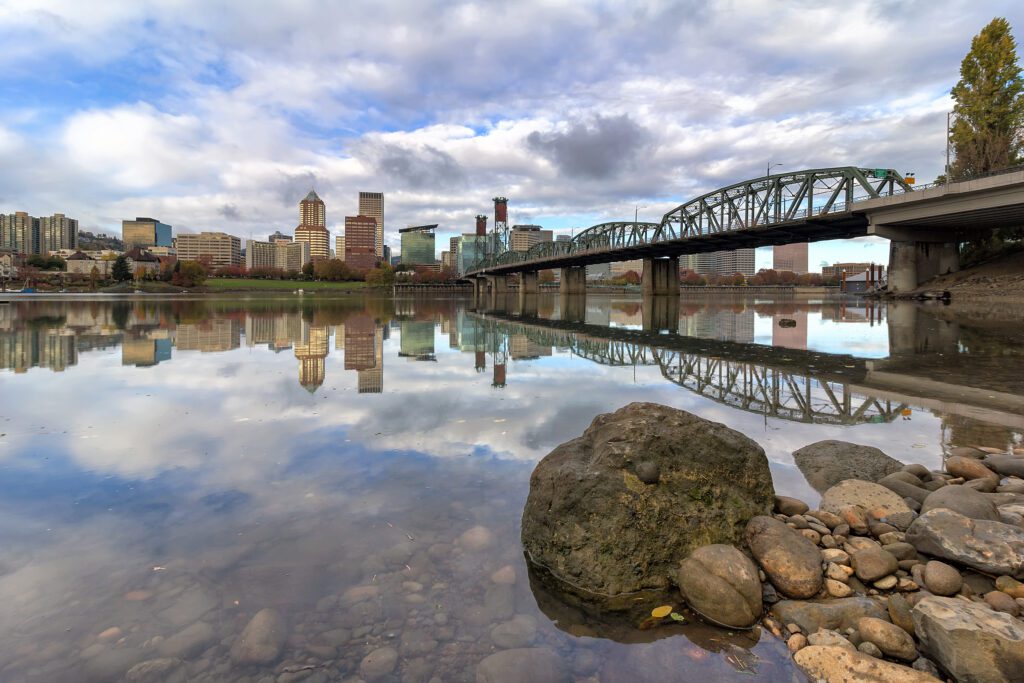 Looking to explore Portland? We have plenty of other Portland travel guides (written by a Portland local) to help you discover something new and exciting.
Disclaimer: Some of the links in this post, like hotel and vacation rental links, are affiliate links, meaning at no additional cost to you we make a little bit of money if you click through and book. That being said, we would absolutely never recommend something to you that we don't stand behind 100%.
A Quick Portland Geography Overview
Portland is an easy city to get around in for the most part, and I believe this to be true even for the directionally challenged. Once you get to know a few key landmarks you can start making your way around town like a real local.
The river that runs through the city is the Willamette River (pronounced will-am-it, not will-a-met-ee — don't laugh, I've heard it way too many times).
This river bisects the city into its west and east sections. The north/south divide is Burnside Street which also conveniently has a bridge of the same name (it may help you remember it as the bridge with the big light-up "Made in Oregon" sign on it).
With the exception of North Portland (which is somewhere you probably won't want to stay as a tourist), these quadrants are how the city's streets and neighborhoods are split up – NW, SW, NE, and SE Portland. Get familiar with it because you'll hear it a lot and it will be helpful when deciding where to stay in Portland.
Also, if you get lost, at the very least you can look at the street signs to know what quadrant you're in (ex. "NW Flanders and NW 23rd Ave"). If cardinal directions aren't your forte, just look for Mt. Hood and you'll know you're facing east and then, "Never Eat Shredded Wheat".
Oh yeah, Portland also has an absurd number of bridges, so don't freak out if you're driving somewhere and you accidentally cross a bridge. It's pretty easy to find another one to get yourself back to the right side of town.
Crystal clear, right?
Here's a quick summary of each of the main areas.
Southwest Portland: Southwest Portland consists of basically Downtown Portland, along with lots of windy, hilly neighborhoods that branch off behind it and to the south of it. I don't recommend getting deep into the southwest. There are some nice greenspaces, but it's mostly residential and there's not a ton of stuff for tourists to do.


Northwest Portland: Northwest Portland is home to some of the best places to stay in Portland, like the Pearl, Nob Hill, Slabtown, and the Northwest District. Downtown and NW both have tons to do as far as bars, restaurants, museums, and entertainment. The westside is also generally trendier, fancier, and spendier than neighborhoods on the eastside, but can be one of the best places to stay in Portland especially if it's your first time.


Southeast Portland: Sitting south of Burnside and east of the river is Southeast Portland with its many established neighborhoods that have more of the Portlandia vibe than those on the westside. It also has more tree-lined residential neighborhoods and is generally very bikeable and walkable. This makes it a great part of town to stay in if you prefer to get around on two wheels instead of four. Prices for everything are generally cheaper, though that doesn't mean you can't find superb fine dining and high-end shopping mixed in with tiny local shops and oddities on streets like Hawthorne, Division, and Belmont. The eastside in general feels more spunky, young, and scrappy.


Northeast Portland: This huge area encompasses everything east and north of the river and north of Burnside. The only North Portland neighborhood we'll highlight here is Mississippi, though there are many other awesome parts of town up north like my stomping grounds of St. Johns (holla!). The N and NE neighborhoods are bike friendly, dynamic, and the most diverse (though getting less so due to widespread gentrification). Here you'll also find bigger venues for events like the Convention Center and the Rose Garden if you wanna take in a Blazers' game while in town.
Where to Stay in Portland: The 8 Best Areas to Stay in Portland
Portland is a relatively big city, and like all cities there are a number of choices for where to stay and in what part of town.
I'm writing this post primarily for those of you who will either be visiting Portland for the first time, or have only been here a couple times before.
Not that you can't use the information if you're a seasoned Portland traveler, but usually after a few visits you'll have a better idea about the neighborhoods you like best and where you want to be.
I recommend pulling up a map of the city as you search for lodging so you can start orienting yourself before you even get here.
Downtown Portland: The Best Place to Stay for First Timers in Portland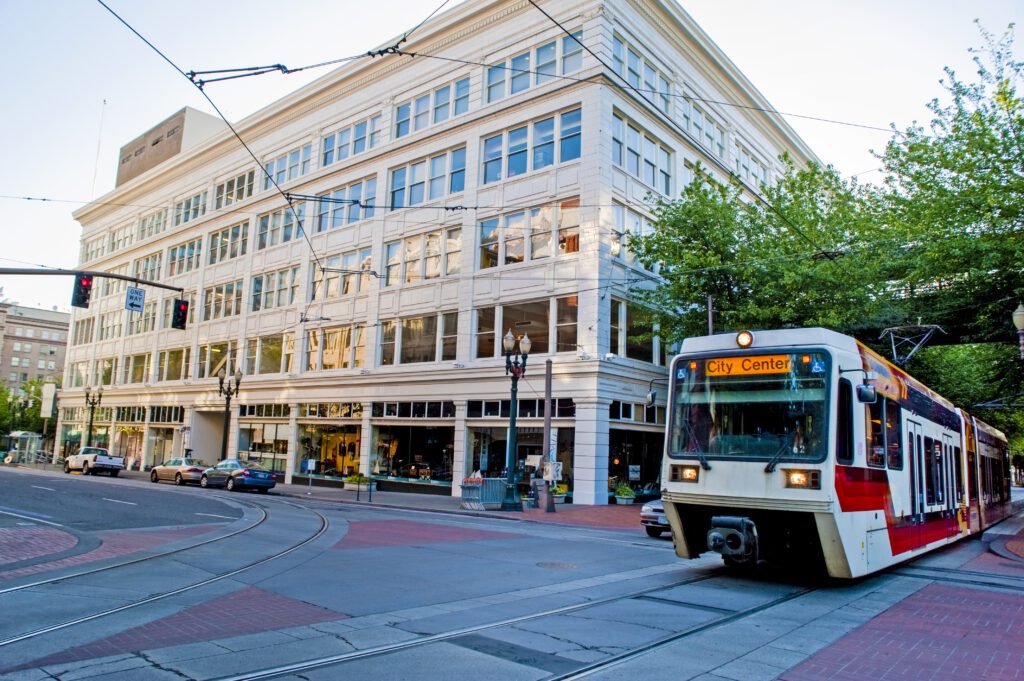 Pros of Staying in Downtown Portland
Staying downtown puts you in the best location to access public transportation be it the MAX, streetcar, or buses which makes it an ideal spot if you want a centralized hub to explore from. It also has the most hotel options so you're sure to find something you like.
Additionally, there are tons of restaurants and bars and shopping. It can be fun for any first-timer, but especially fun if you don't live in or spend a lot of time in big cities.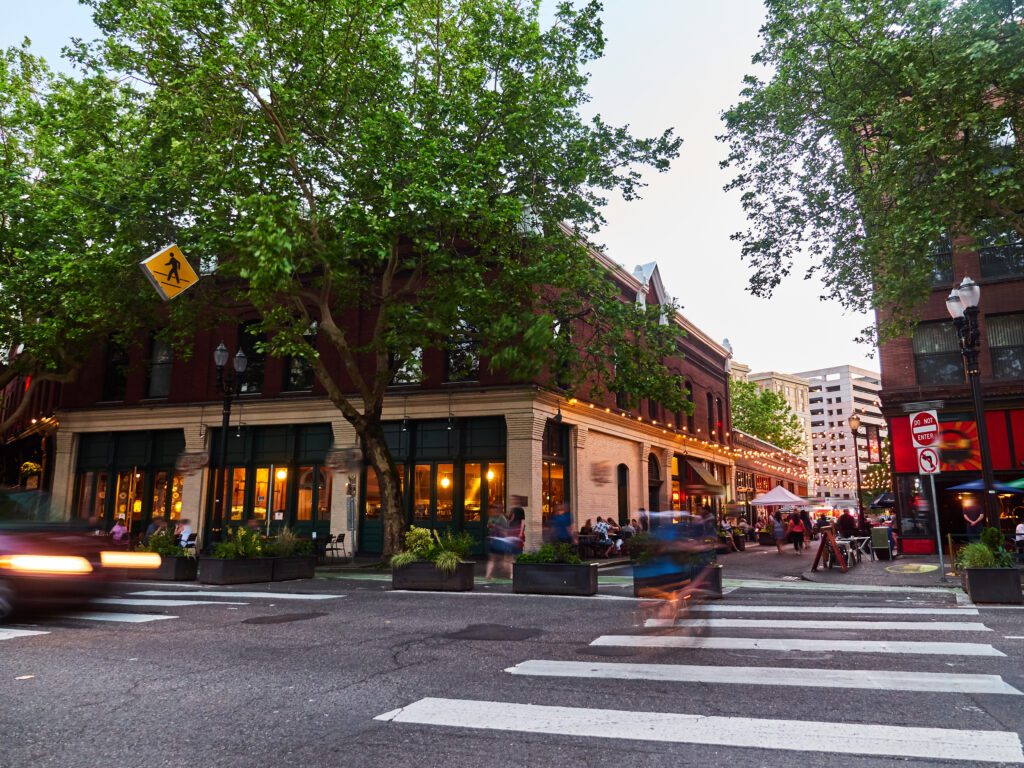 Cons of Staying in Downtown Portland
I don't not like downtown, I just don't go downtown often. All things considered, it's actually a pretty cool downtown (some downtowns can feel like a wasteland of high-rise office buildings and "business" people doing all their "business").
That said, I feel downtown lacks some of the character and vibrancy that other neighborhoods in Portland have. Also, most of the bars and restaurants are gonna be kind of expensive and probably busy.
A note from Matt & Alysha on Downtown Portland: If you are uncomfortable with the presence of a visible homeless population, you might want to look elsewhere. Like many cities on the west coast, Portland is in the middle of a full-fledged housing crisis, with housing prices skyrocketing at a pace that has outstripped wages (by a lot). Downtown Portland is the area where the issue is most visible. It's worth remembering that these are real people that, ultimately, we as a country have failed. We aren't going to solve the issue here, but we do want to acknowledge it, and realize that it might impact your decision on where to stay for your visit.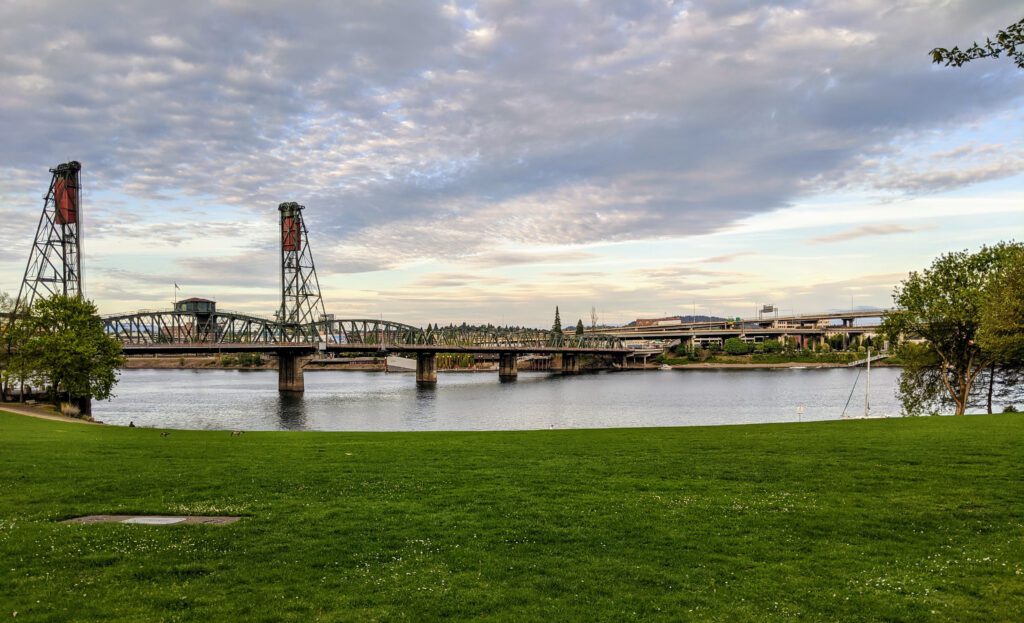 Downtown Portland Highlights
Downtown has a ton of stuff to do — food to eat, drinks to imbibe, and some of the best places to stay in Portland.
If you're craving culture, visit the Portland Art Museum for a great variety of exhibits including fantastic displays of Native American arts and crafts.
If you're looking to get out into nature, head up to Council Crest park, the highest point in Portland for sweeping views of the valley and the Cascade Range. You can either drive there and stroll around the park, or take this 6 mile hike up to the top.
For lunch I think it's fun and easy to hit up one of the city's many food cart pods, but you'll find the biggest variety at the Fifth Ave and Third Ave pods.
Spend your afternoon soaking in the books at Powell's City of Books, then have dinner at one of my favorite thai restaurants, Thai Peacock. Top it off with a nightcap at the dimly lit, cavernous Pepe Le Moko.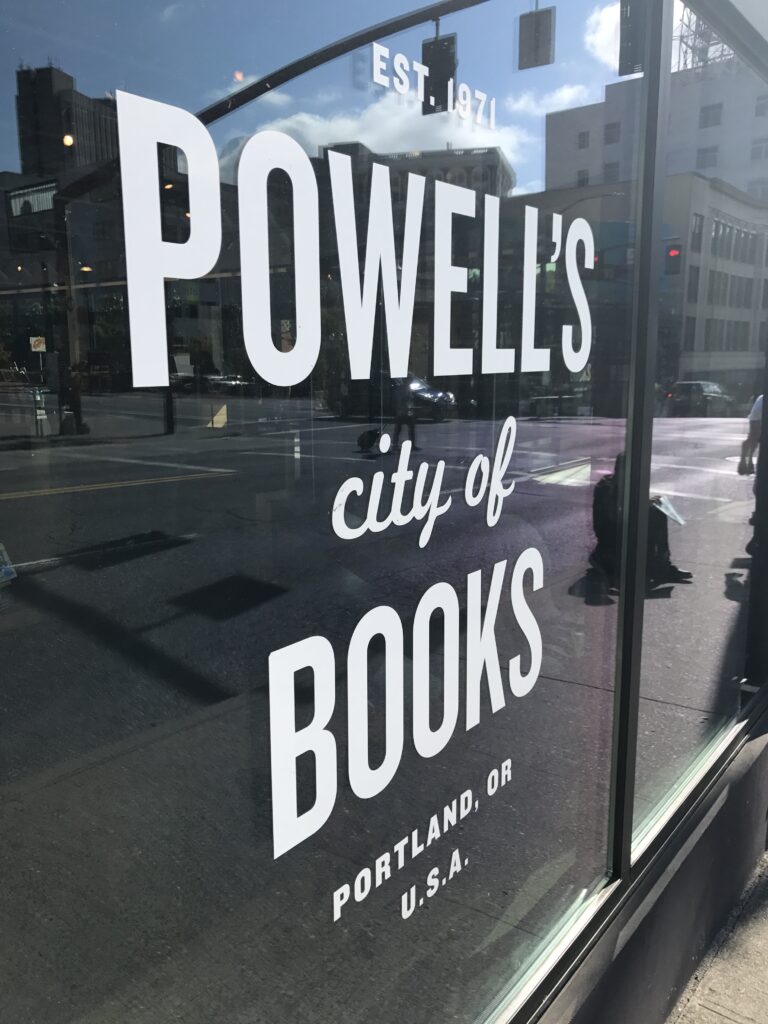 The Best Places to Stay in Downtown Portland
You'll have the pick of the litter as far as hotels go, but two of my favorites are the Hotel Deluxe with its charming rooms and dark and swanky lobby bar, and the Society Hotel, which has hip lodging options including shared and private rooms.
Another excellent choice with a killer location right in the city center is the Royal Sonesta with pet-friendly rooms and retro décor.
Buckman / the Central Eastside: Best Location to Explore Both Sides of the River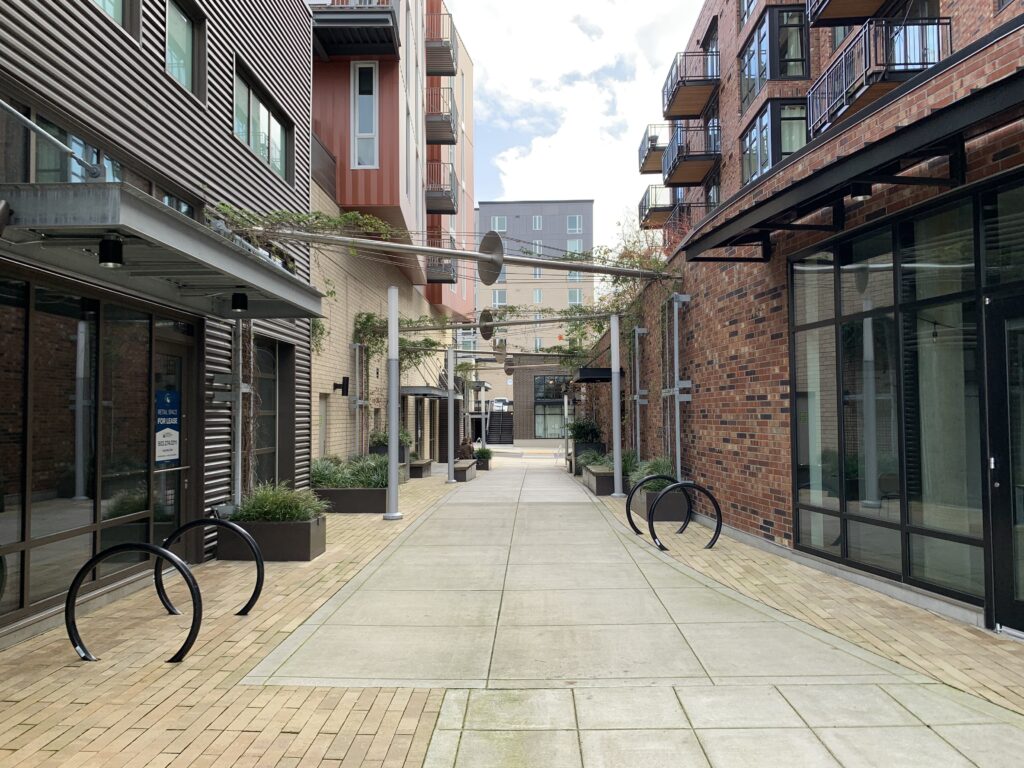 The Buckman neighborhood (also called the Central Eastside) is located just across the river from downtown, making it the best centrally-located eastside neighborhood to stay in.
Pros of Staying in Buckman
If you're torn between wanting to experience both sides of town, Buckman can make for a great choice as you'll be close enough to the westside with an easy walk or ride across the Burnside, Morrison, or Hawthorne bridge.
It's also home to plenty of eating and drinking and keeps growing with more and more hotel accommodations. I'd recommend the central eastside as one of the best areas to stay in Portland.
Cons of Staying in Buckman
Running through the central eastside are the busy streets of MLK and Grand and crossing these streets can be a bear sometimes.
Also, though the area continues to gentrify, there are still parts that are a bit seedier and dirtier.
Buckman / Central Eastside Highlights
I'm a fan of the Buckman neighborhood and there always seems to be some restaurant/shop/bar on my bucket list to visit here.
It also has some great "old" Portland standbys like the always fabulous Produce Row Cafe that's been there since 1974.
Outdoor gear enthusiasts will love wandering around Portland's own competition to REI for 25 years, Deek and Brian's Next Adventure (don't leave without checking out their bargain basement!).
If you're a fan of live music check the upcoming shows at the Doug Fir (I still remember the mind-blowingly good Mountain Goats show I saw there like 15 years ago when they were newly opened). Skip the food in the lounge and instead go to Hey Love next door for creative cocktails and an awesome happy hour.
Or, buckle up for a wild night out at Crush Bar for martinis and a burlesque-drag show.
Places to Stay in Buckman
Though I haven't stayed there myself, there's lots of hype and positive reviews about the newly opened (and much needed) Hotel Grand Stark.
Kex Portland is also a good choice with shared and private room options and more of a "social hostel meets boutique hotel" vibe.
Both hotels are in renovated turn-of-the-century buildings, and they both retain that historic vibe while bringing in modern amenities and tastefully curated décor. Image Courtesy of the Jupiter NEXT Hotel
There's also the old eastside standby, Jupiter Hotel. Protip: Opt to stay in the newer section of the hotel known as the Jupiter Next. The original hotel is fun, but is loud and you'll have to sleep with ear plugs.
Hawthorne / Belmont: The Coolest Neighborhood in SE Portland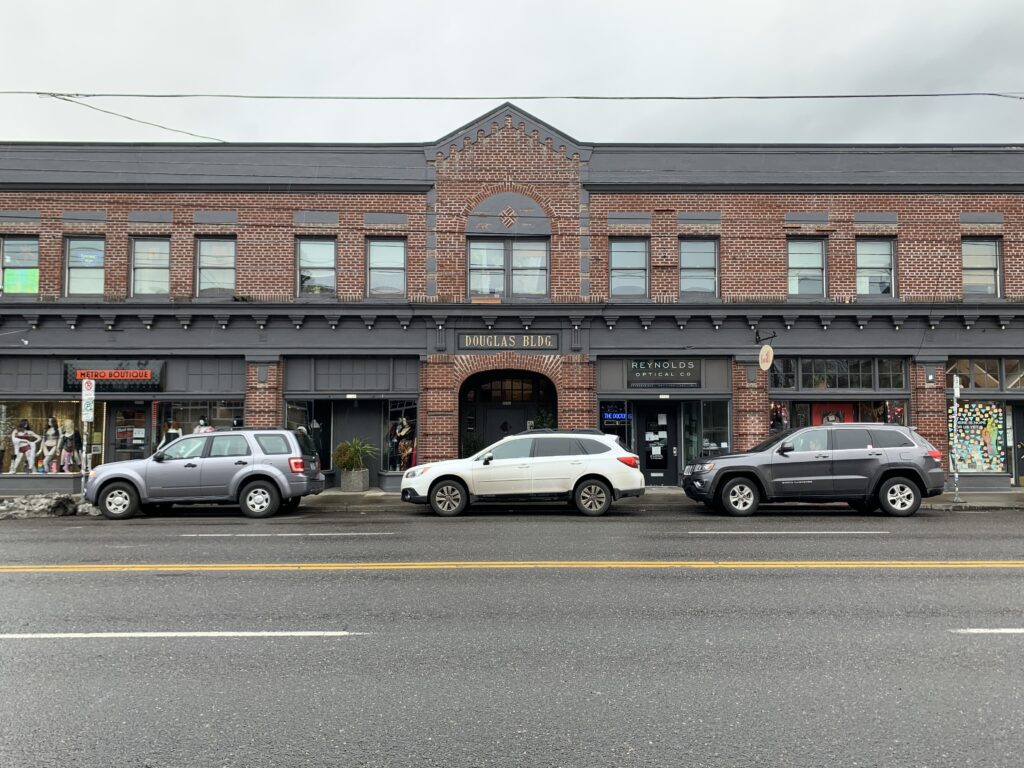 The Hawthorne district is one of the most established SE neighborhoods in all of Portland. Back when I was a budding hippie in high school, Hawthorne was the destination of choice for all the nag champa and flowy skirts a girl could want.
It still has a more hippie vibe than other areas of town, but it's chock full of things to do, and you can easily spend a day walking up and down Hawthorne just people watching.
Pros of Staying in Hawthorne/Belmont
It's a super fun area of town with a good assortment of things to do for adults and kids alike, so if you're traveling with your family, consider the Hawthorne area.
It also has the best selection of non-hotel accommodations which is a great way to connect with the city and feel like a local
Cons of Staying in Hawthorne/Belmont
Parking and driving around Hawthorne sucks, so be wary if you're bringing a car. You'll probably end up ditching it and traveling by foot or bike if you do have one.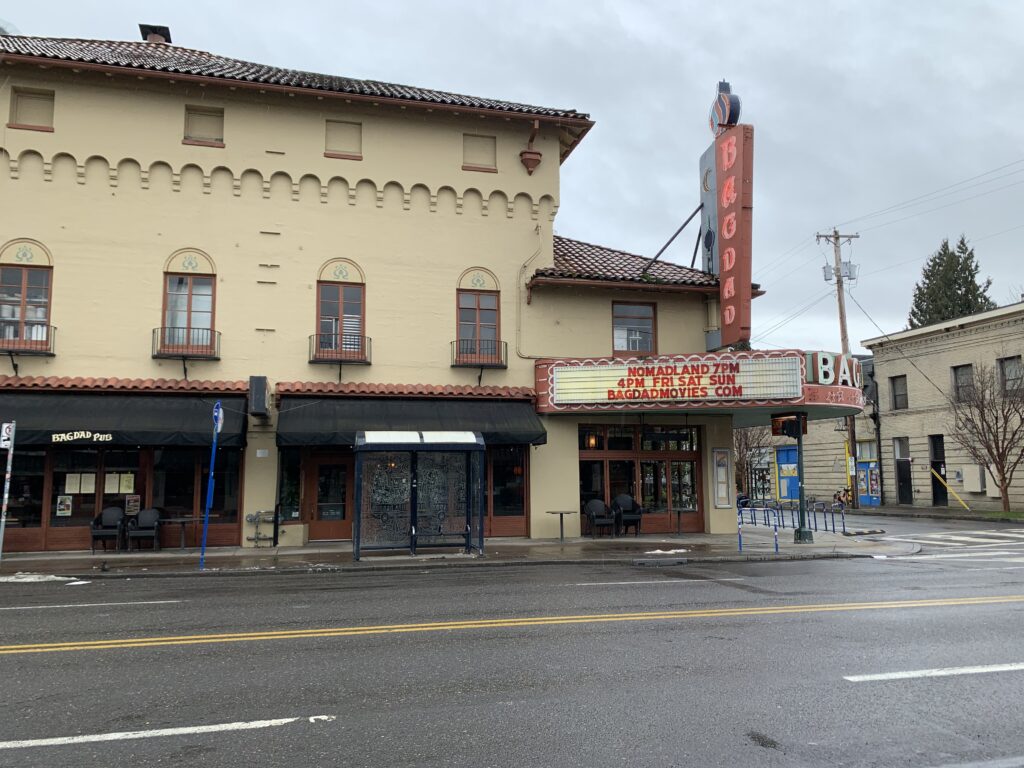 Hawthorne / Belmont Highlights
In the morning grab a cup of single-origin coffee at Coava, then pop over the Slappy Cakes for a fun and interactive breakfast experience (great for kids).
For your day, there's no shortage of entertainment to be found around here. Hawthorne is known for its local shops, especially vintage clothing and furniture (and if this is up your alley, spend some time in the sprawling House of Vintage).
After that walk a couple blocks west and grab lunch (and a mojito) at Cubo de Cuba, or snag some brisket tacos at Matt's BBQ Tacos.
Powell's also has a large sister store on Hawthorne for the book lovers, and kids (and adults!) will love playing skee-ball and other arcade games at Wunderland.
Film buffs should not pass up a visit to Movie Madness, a much beloved and supported non-profit video rental store (yes – video rental!) that's been around for 30 years and also doubles as costume and prop museum (including the knife from Psycho, and Julie Andrews' dress from The Sound of Music).
At night, enjoy cocktails at Circa 33 on Belmont, or the Sapphire Hotel on Hawthorne.
Where to Stay near Hawthorne
Your choices for lodging will mostly be Airbnb, but there are a lot of good options like this utterly unique and utterly Portlandly guest suite, or this stylish loft in an awesome location that even comes with a 100 inch projector screen with surround sound for a movie night!
If you're traveling solo and don't mind shacking up in someone else's house, you should definitely look into this private room in a gorgeous house with shared front and back porches to enjoy the city.
The Pearl District: An Upscale Neighborhood near Downtown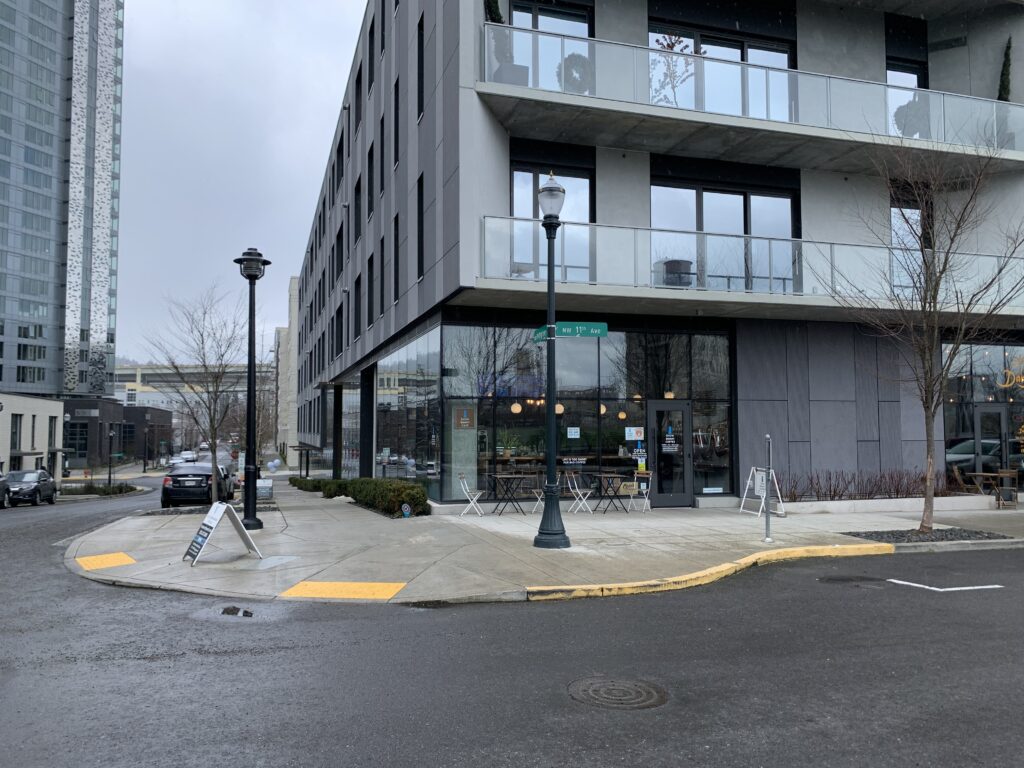 Pros of Staying in the Pearl
Like staying downtown, the Pearl offers easy access to public transportation or bikes which make it ideal for travelers who want to go carless.
There's also plenty of shopping, dining, and drinking within walking distance that you'll have no shortage of options. It also has that bustling "big city" feel and is one of the liveliest neighborhoods in all of Portland.
Cons of Staying in the Pearl
Also like downtown, many of the shops and restaurants around you will be on the higher end, so if you're a budget traveler, the Pearl might not be your ideal location.
Plus, all the reasons why some might love staying in the Pearl (big city feel, lots of people out and about all the time) could be the very reason you don't want to stay here.
It's easy enough to stay in other parts of town and pop on the MAX to spend an afternoon exploring the Pearl.
Pearl District Highlights
The Pearl is the trendy next-door neighbor of downtown and has been one of the fastest growing parts of town for the last 20 years. It's home to restaurants, shops, and bars and is always bustling with foot traffic – tourists and locals alike.
The Pearl is a great place to walk up and down the streets (preferably chomping on a signature la'ssant from NOLA Doughnuts) popping in to a mix of high-end retail stores like Anthropologie or Lululemon, mixed with local stores like Portland Gear (that has legit cool Portland-themed clothing if you need a keepsake).
For dinner, get the Pearl pizza at Oven and Shaker, then take in a world class play at The Armory.
Round out your evening with a drink or two at the dimly lit and classy Vault Cocktail Lounge, or grab a pint at the Big Legrowlski.
Best Places to Stay in the Pearl District
There are not a ton of lodging options in the Pearl, though the Hampton Inn and the Canopy by Hilton are two good choices for nice, stylish rooms at reasonable prices.
And, though it's a bit farther away from the action (but still in the Pearl) is the Residence Inn with super clean and quiet rooms (some have kitchens!), helpful staff, and it's just a block away from one of my favorite cty parks, Tanner Springs.
The Northwest District / Slabtown: Charming, Convenient, and Fun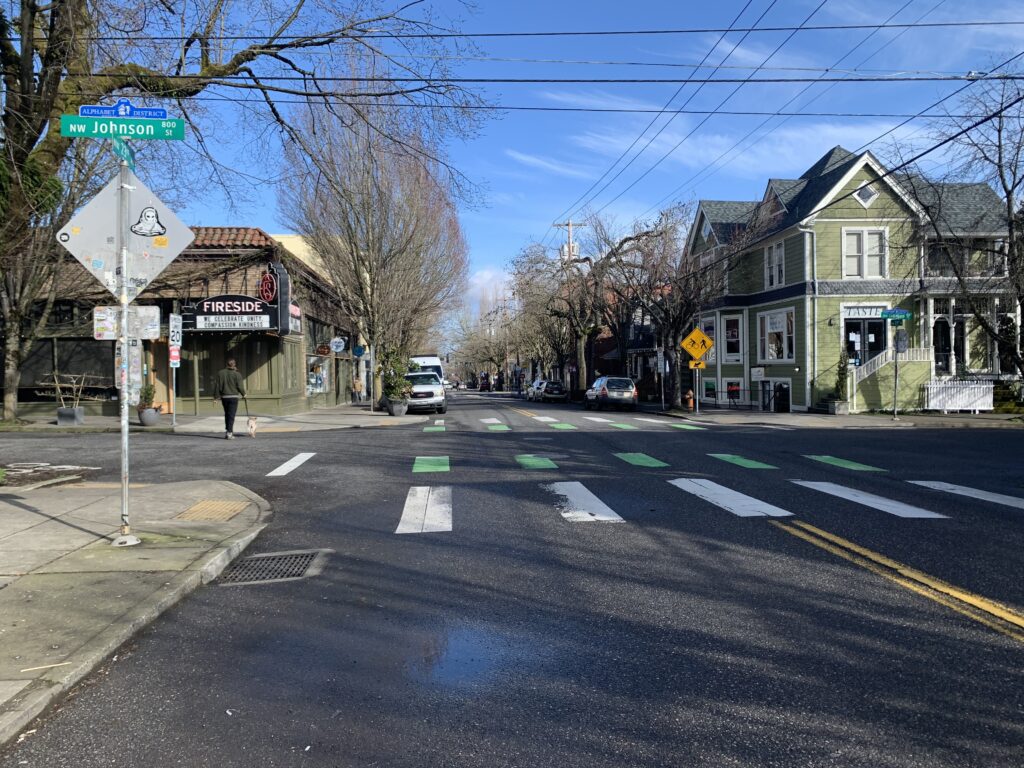 Confession: No one I know calls this the "Northwest District" though that's what you'll see on maps. You'll most likely hear "Slabtown" or the "Alphabet District," so called because the streets are alphabetical – handy tip for finding your way around!
Pros of Staying in the NW District
The NW District has a lot of the same benefits as the Pearl or downtown – easy access to streetcar and MAX lines, and lots of dining and drinking.
It also has more lodging options than the Pearl, though not as many as downtown.
Cons of Staying in the NW District
While still close-in, these neighborhoods are the farthest away from downtown or the Pearl, and there's nothing really to explore north of this area (unless we're talking Forest Park – see next section).
And, though there are very cool and trendy streets like 21st and 23rd Ave, the whole area is less "bustling" than downtown or the Pearl. Maybe this appeals to you?
NW District / Slabtown Highlights
I really love Slabtown. I think it strikes a good balance of the gritty Portland feel that I grew up with while incorporating fashionable new restaurants and bars. And you can enjoy easy access to the expansive Forest Park, with nearby Lower Macleay Park (try this outstanding hike up to Pittock Mansion and be sure to take a mid-hike break at the Audubon Society).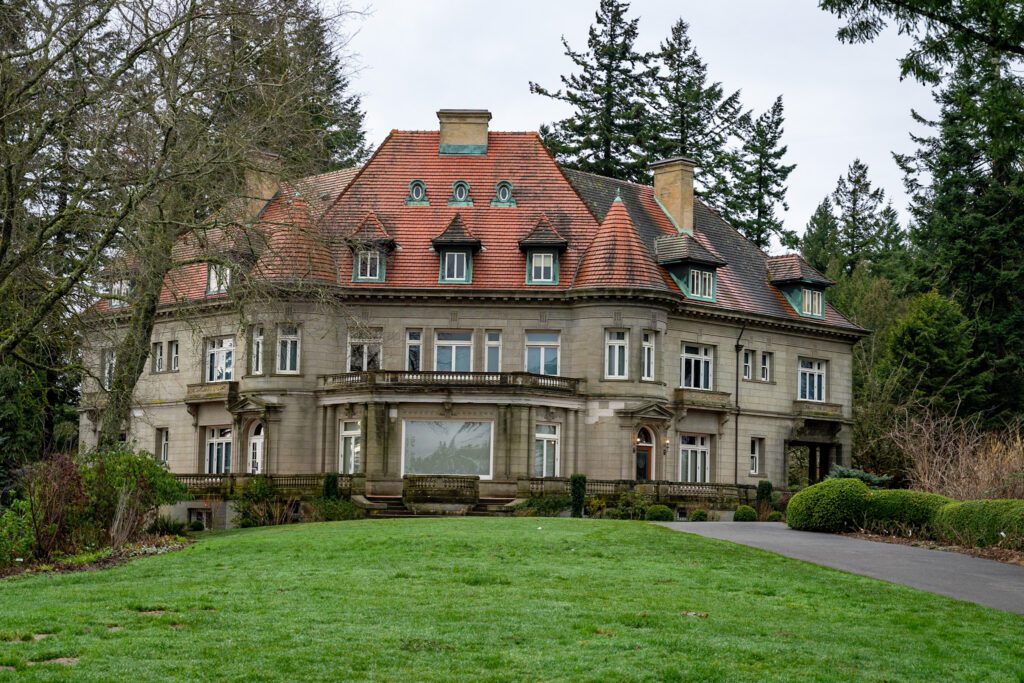 Start your day with breakfast at Besaws (I'm partial to their huevos rancheros), treat yourself to an elegant lunch (and dessert!) at the local favorite, Papa Hayden, then hit up 23rd Ave for a day of shopping. Extra special bonus if you happen to be in town in September: reserve a sunset to watch the swifts at Chapman School.
Best Places to Stay in the NW District / Slabtown
Two good hotel choices are the Silver Cloud for nice, clean rooms at a good value, or the Inn at Northrup Station whose décor looks like a Saved by the Bell set, but most rooms have balconies and come with a kitchenette so you don't have to eat all your meals out.
There are also unconventional places to stay like Slabtown Village, Portland's first tiny home hotel.
Division (the Richmond Neighborhood): A Foodie's Paradise
In the last 10 to 15 years, Division Street has exploded. Pre 2000's Division was kind of a sleepy thoroughfare with a bar and restaurant here and there and mostly residential neighborhoods.
Now it's a coveted place to live in and visit, and is home to some of the best dining in Portland.
Pros of Staying on Division
Foodies will love it here. And, though there's a several block stretch of Division and Clinton St. that's bustling with activity, you'll still enjoy a quieter and more neighborhood-y stay in this part of town.
Cons of Staying on Division
It's farther out from the other neighborhoods we've outlined here, so if you're looking for a centrally located spot, this isn't it. That said, it's still accessible; it will just take you a little longer to get to other places.
Also, neither the MAX nor the Streetcar run out here, so if you're reliant on public transport it's the bus or Lyft for you. There are also no real hotel options around here, so you'll have to find an Airbnb or other rental.
Division Highlights
The food is really the highlight of Division street, so we'll start and end there.
Morning: Good Coffee, it's not just a clever name; Lauretta Jean's, her pies taste like kittens and puppies frolicking in the clouds; Broder Cafe, aebleskiver with lingonberry jam — cue Homer Simpson mouth watering mraughruaghraughraugh sound.
Afternoon: Kati for delectable vegetarian and vegan Thai food; Double Dragon for their pork belly rice bowl; Demarco's Sandwich cart for their Italian sub.
Evening: Malka, which is so hard to pin down but just go and you won't be sorry; Nuestra Cocina, holding down the fort on Division for 17 years and it has definitely earned its place; Dot's Cafe for legit, old-school Portland vibe. Burger and fries then off to Rocky Horror . . . ahh to be 18 again.
Late night: Nightlight Lounge, North Bar, Cat's Paw are all awesome local bars for beer and cocktails, and there's also the classy Bar Norman for all you winos.
What? People do more than just eat and drink all day when they visit a new city???
Where to Stay near Division
Try the Evermore Guesthouse for an in-between hotel and B&B stay located in a 1909 Arts & Crafts Inn, or this airy guesthouse right off Clinton St. in seriously the PERFECT location. It also comes with its own back patio and BBQ if you want to stay in for a night.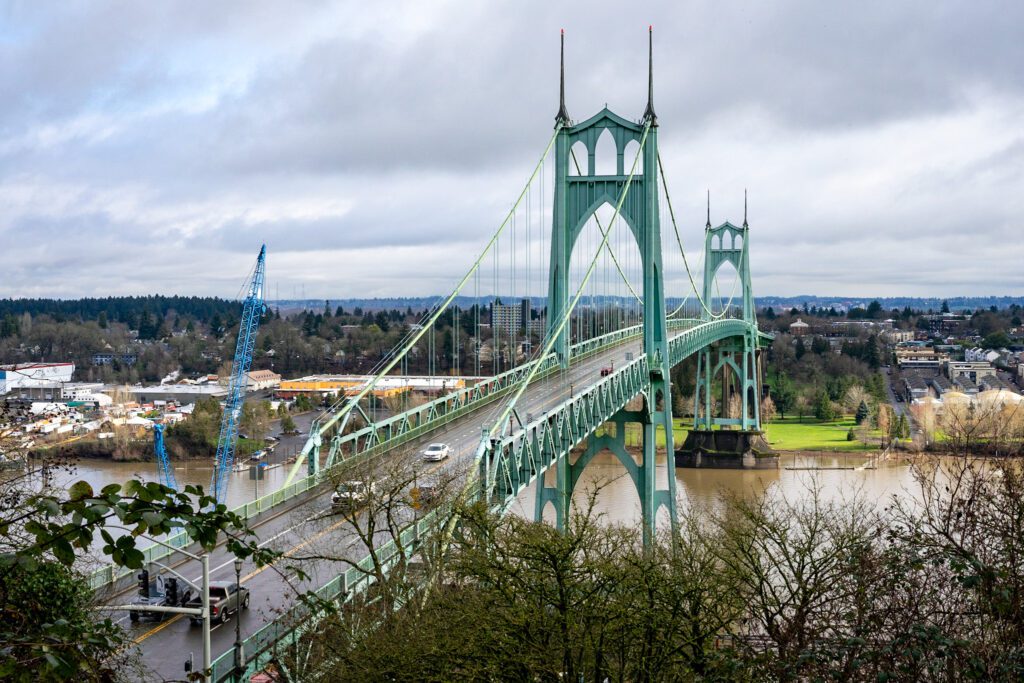 The Alberta Arts District: Best for Your 2nd or 3rd Trip to Portland
This was my neighborhood for eight years before I migrated to the northern lands of St. Johns, and it holds a special place in my heart.
I still think it's one of the best neighborhoods in Portland to live in and visit. I love that it's kinda far away from downtown and all the easily accessible "inner Portland" stuff. You have to intentionally make your way out here.
Pros of Staying in the Alberta Arts District
It's often hailed as one of the most artsy, quirky, "weird," and diverse neighborhoods in Portland and rightly so. It's just fun to hang out around here and can feel more authentic than some westside neighborhoods. Plus, there are actually tons of really awesome lodging options.
Cons of Staying in the Alberta Arts District
It's far away from other stuff. If it's your first time visiting the town and you've read through this entire post and you're totally feeling Alberta, then by all means – do it! I support you fully.
That said, I find travelers who choose to stay in Alberta have already been to Portland a couple times and have done the whole downtown thing, and are ready to experience something a little different.
Alberta Arts District Highlights
There's so much to do and eat in the Alberta Arts area. I recommend coffee at Extracto (which is actually on Killingsworth just a couple blocks north), breakfast at Pine State Biscuits (I can't not order the Chatfield), with a close second coming in with The Tin Shed. Enjoy a spectacular BBQ lunch at Podnah's Pit, then have dinner at the tastiest Thai in town, Hat Yai.
If you can, try to time your visit for the Last Thursday arts and culture walk that is HUGE and feels like you're in the parking lot of a Grateful Dead show which is a good thing (and I realize I'm outing myself in this post as a recovering hippie).
There are also a ton of bars around here which make it a popular spot for bar hoppers from around the city. My particular favorites are the Bye and Bye (which also has great vegan food), and Expatriate for cocktails and an ambiance that makes you feel cooler than you actually are.
Other noteworthy things to do are catching a show at the Alberta Rose theater, or spending an hour soaking and sauna-ing at Common Ground Wellness.
The Best Places to Stay in the Alberta Arts District
First on the list is the Kennedy School, a renovated 1915 elementary school turned hotel/restaurant/bar/movie theater that adults and kids will love.
Also worth checking out is the cool tiny house hostel, Caravan, which I think would be so fun for a group of friends to take over for the weekend.
If you want a quieter stay, try the nice and simple Alberta Petite Hotel.
Mississippi Avenue: A Fun Alternative Neighborhood up North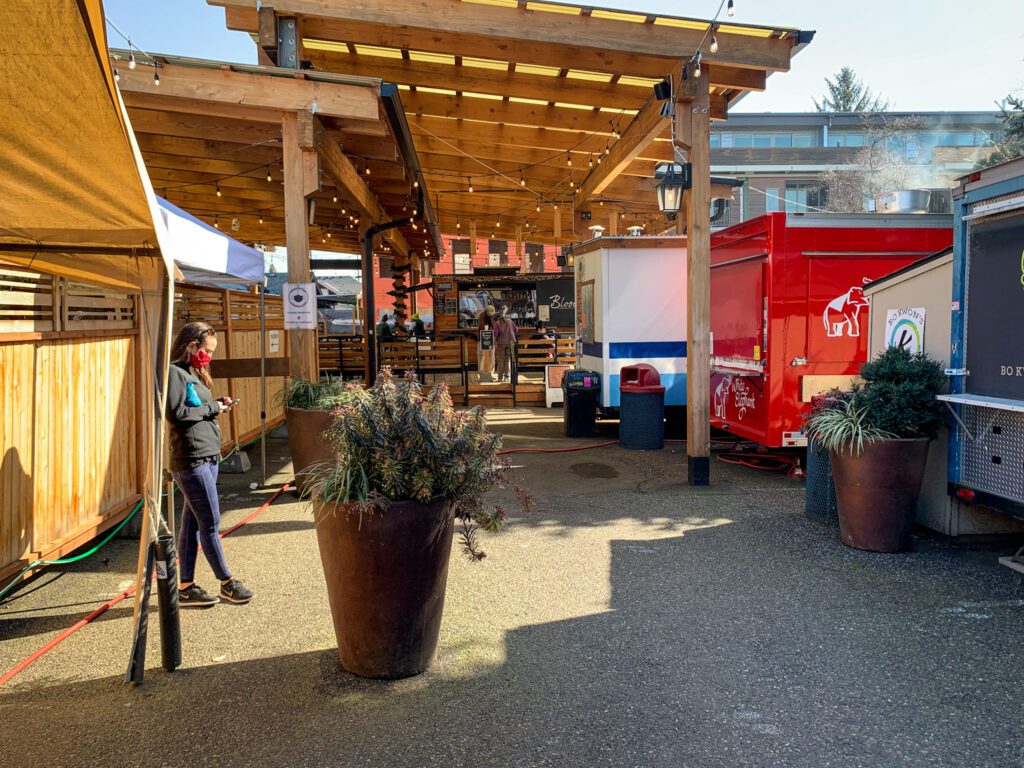 Though technically considered North Portland, its close neighbors of the Pearl and the Rose Quarter makes it so it doesn't feel that far away. Mississippi, like a number of inner-Portland neighborhoods, has seen a surge in growth over the last 20 years.
Pros of Staying in Mississippi
On this trendy street you'll find quirky shops, restaurants, and one of the best venues for live music in all of Portland, Mississippi Studios.
It's also very easy to pop over to downtown or explore to the north or northeast if you choose to stay here.
Cons of Staying in Mississippi
There aren't a ton of lodging options right around here, though there are some good Airbnb possibilities.
Also, Mississippi is kind of a hotspot for bar hopping and if you're staying right on the main drag it can be very noisy at night.
Mississippi Ave. Highlights
Mississippi is a really cool spot to stay near and explore.
Start your day with a cup of joe from The Fresh Pot then get on the waitlist for breakfast at Gravy — and yes, their sausage gravy is bomb.
There are also some fun and unique shops like Land PDX for almost too Portlandly souvenirs, and Paxton Gate because where else can you get a cured raccoon foot and a praying mantis encased in acrylic?
Two original Mississippi stores I love and frequent all the time are the Rebuilding Center (which I realize is more fun if you actually live here and have some crafty project going on, but I think it's cool for anyone to wander around), and Sunlan Lighting (again I acknowledge you're probably not lightbulb shopping on your vacation, but I SERIOUSLY LOVE THIS STORE and its whole vibe and Kay the lady who owns it is such a character. Pop in for five minutes and thank me later).
Get tacos for lunch at ¿Por Qué No?, pizza (and ice cream!) for dinner at Lovely's Fifty Fifty, then take in some drinks and jazz at The 1905. Mississippi is also home to one of the best street fairs in Portland which is usually the second weekend of July.
Best Places to Stay Near Mississippi
Check out this amazing studio loft that puts you right in between Mississippi Ave and nearby Williams Ave (another trendy street full of shops, bars, and restaurants). Or, there's this awesome tiny house loft with luxe amenities that will put you just steps away from everything.
---
MORE TO EXPLORE IN THE PACIFIC NORTHWEST
If you're planning a trip to the Pacific Northwest, we've got you covered with all sorts of super detailed travel guides to our favorite places in Washington and Oregon.