One Day in Portland, Oregon: The Best of Portland in a Day
This is a tough one. How could I possibly distill a lifetime of wonderfulness living in the best city in the country into one day!? It seems unfair.
And yet, I accept the challenge.
Yes, Portland, I believe in you that much and know that with just one day you can make someone fall in love with you. So here I go! I'll take the hundreds of options buzzing around in my head and give you the cream of the crop for one day in Portland, Oregon that'll knock your socks off!
I'll focus my suggestions on downtown and the Central Eastside which are both fantastic places to wander, eat, drink, sleep, and shop. Of course the rest of the city is equally deserving of attention, but on just a day trip to Portland, you've got to limit the scope of your adventures somewhat or else you'll be spending your whole day looking for parking or waiting for a bus.
Have more time in Portland? We've got you covered. For a more comprehensive overview of the city – including how to spend a weekend, where to eat and drink, how to get there, and more – check out my guide to planning a perfect Portland itinerary, and this guide to the best places to stay in Portland.
Disclaimer: Some of the links in this post, like hotel and vacation rental links, are affiliate links, meaning at no additional cost to you we make a little bit of money if you click through and book. That being said, we would absolutely never recommend something to you that we don't stand behind 100%.
Here's Exactly How to Spend One Day in Portland
Let's get right into how to squeeze in all the donuts, coffee, happy hours, rose gardens, city parks, and more into a single day in Portland, Oregon.
Morning Coffee in Downtown PDX
Back in my younger days I could drink coffee all day long and well into the night and still fall asleep like a baby. No more, my friends—any coffee consumption after 10:00am results in a night of tossing and turning. Because of this, I make sure my morning coffee counts. Here are my top three spots that'll keep you energized throughout your day.
Stumptown: It wouldn't be a trip to Portland without Stumptown Coffee. There are two locations downtown (as well as countless businesses that carry Stumptown), but for the real deal find them on SW 3rd and Pine, or on SW 10th and Harvey Milk inside the Ace Hotel. I'm especially fond of their cold brew.


Heart: Contending for the spot of most-loved Portland coffee is Heart Roasters on SW 12th and Washington. Heart is a micro-roaster that goes to great lengths to ensure their beans are of the highest quality and sustainable both for the environment and the farmers. Plus, their pastries are bomb.


Case Study: In addition to their stellar coffee, tea, and espresso, Case Study gets bonus points for being the coziest cafe downtown to sit down and savor your morning brew. Be aware though they're closed from 12:30 to 1:00pm every day.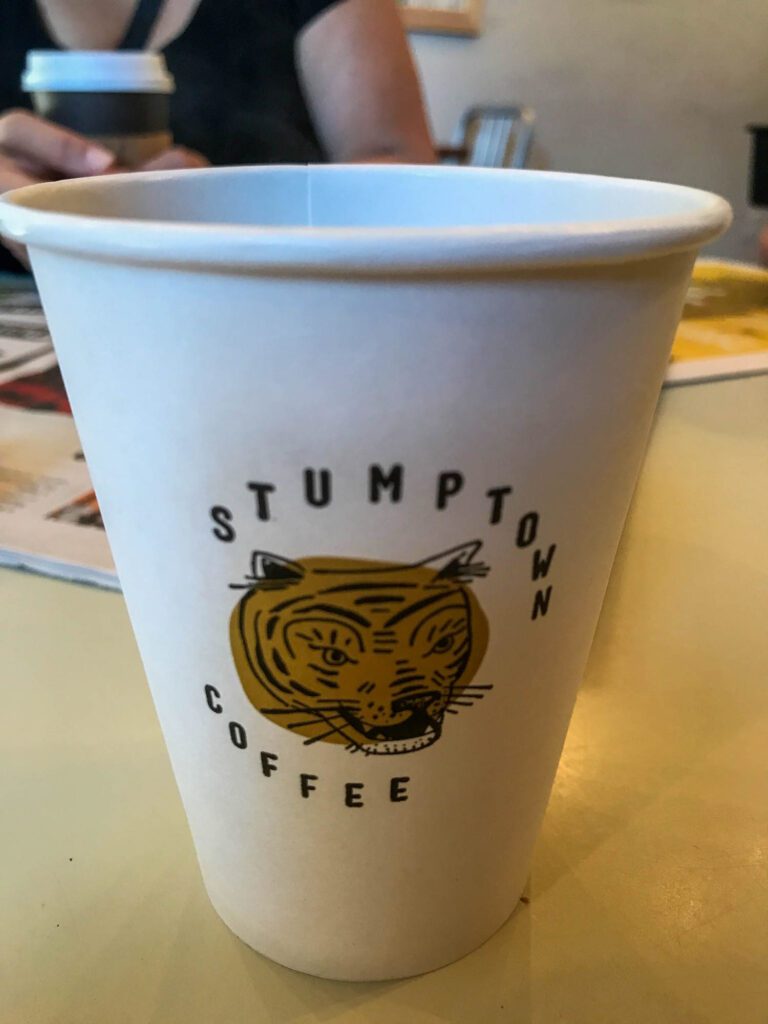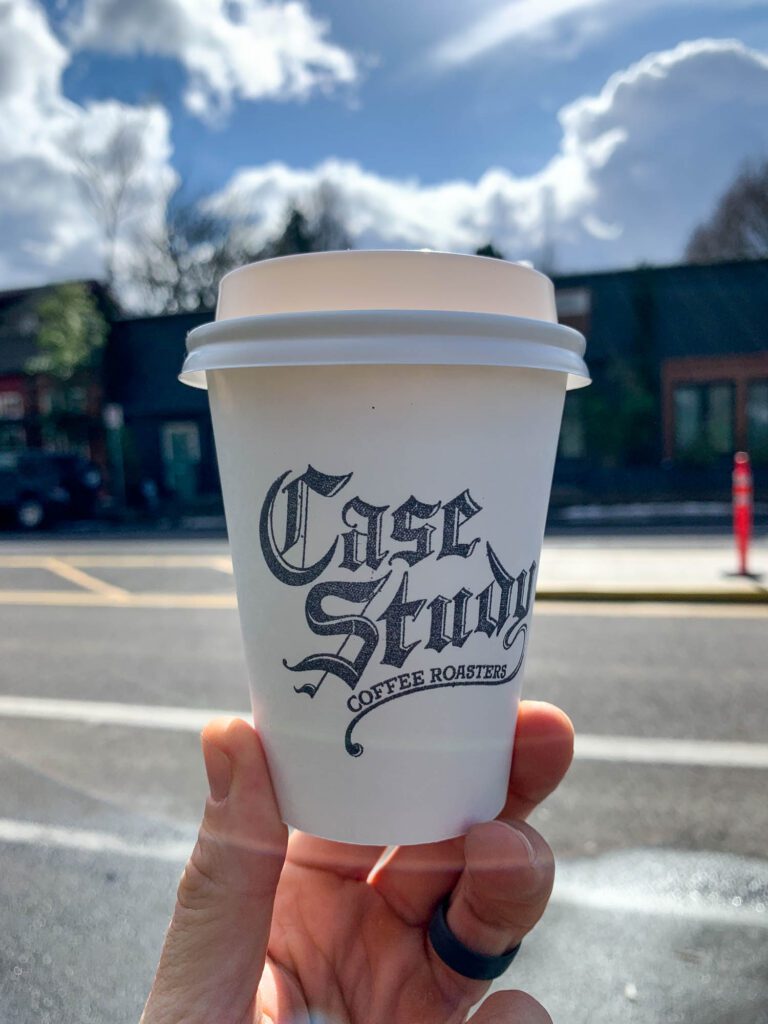 Breakfast & Donuts Come Next
I could eat breakfast all day long, and I take this meal very seriously. So it's a good thing for me (and you), that Portland excels at their breakfast game. But with less than 24 hours in Portland, how do you pick what to eat!? I can't choose for you, but I can give you options that are sure to satisfy.
Breakfast
Mother's Bistro: Mother's recently moved to a new location that's super hip and Portlandly, but I do miss their old spot where they were for almost 20 years. Though the location has changed, the food has not. Standouts are the challah french toast, biscuits and gravy, and their wild salmon hash.


Fuller's Coffee Shop: Fuller's is one of those spots that you're happy to see remaining in business and thriving. They're a working-class diner that's been around since 1947 serving up breakfast in the Pearl district. Is it all fair-trade, organic, hippy-dippy ingredients? No. But what you do get is a delicious, no-frills breakfast served fast at a reasonable price. Closed Mondays.


Daily Feast: If you like the look and feel of a classic diner, but want more options for your grub, check out Daily Feast. All their dishes are made from scratch so don't go if you're in a time crunch, though everything I've had here is fantastic and worth the potential wait. Particular favorites are the biscuits and gravy and the Daily Benny.
The Best Donuts Around Downtown Portland
Voodoo Donuts disclaimer: I've yet to formally recommend Voodoo Donuts in any of my Oregon guides so far, and I'm not about to now. That doesn't mean I harbor any ill-will toward this Portland landmark—it's a super fun place to visit! But are they the best donuts in Portland? No. Very much, no.
Blue Star: Blue Star has what are probably the best donuts in town. But, like many businesses during the pandemic, has had to shutter some of its doors and last year it closed its downtown location. But all hope is not lost! They still have a storefront that's close enough to downtown to warrant a trip to the south waterfront. Bonus: you can take the Portland Streetcar line to get there!


NOLA Doughnuts: NOLA doesn't have a wide selection of donuts, but the ones they do have, they do right. They're kinda famous (and rightfully so) for their la'ssants which take three days to make. It's like a square cronut filled with deliciousness. I'd recommend the Sticky Oat, but they're all out-of-this-world good.


Delicious Donuts: Okay, so not technically downtown, but it's right across the Burnside Bridge tucked into an unassuming corner lot next to a convenience store and an auto parts shop. Delicious Donuts is a classic donut shop doing it right. Get the apple fritter.
Exploring Downtown Portland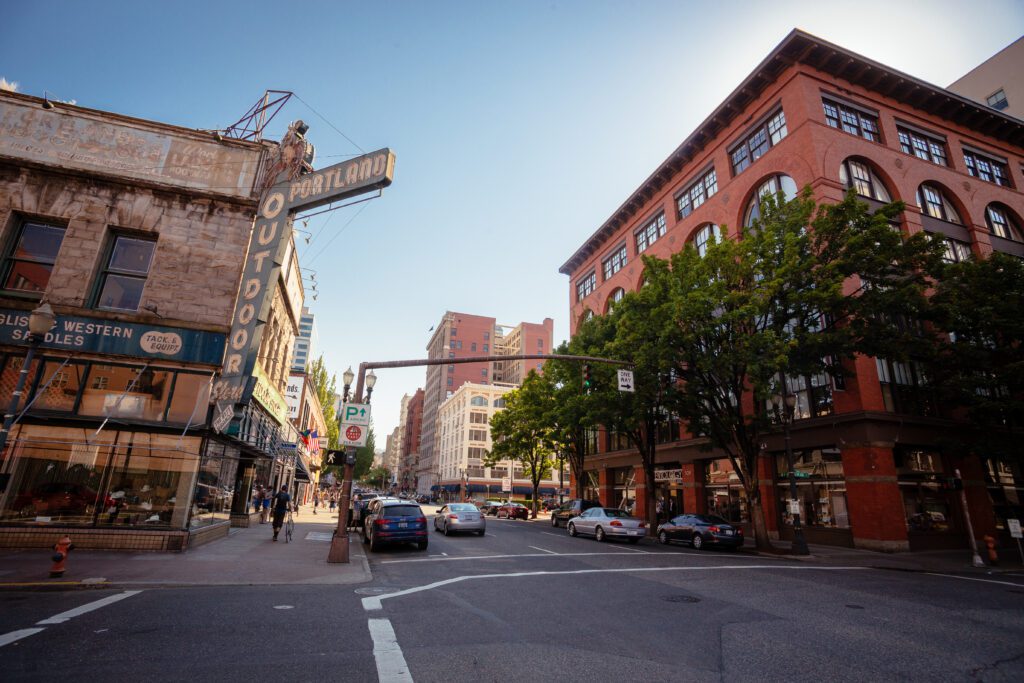 Though Portland is a foodie town through and through, there's more to do than eat. Believe me, I'd love to be able to eat all day long, but you've got to do something to fill the time between meals, so here are five solid options.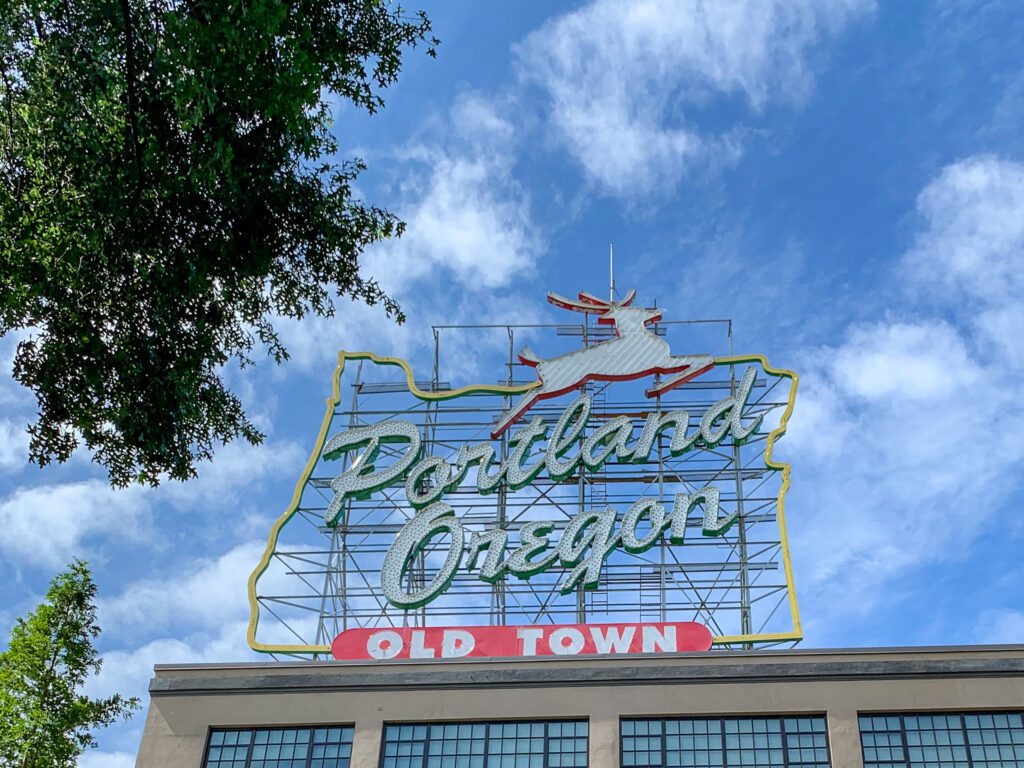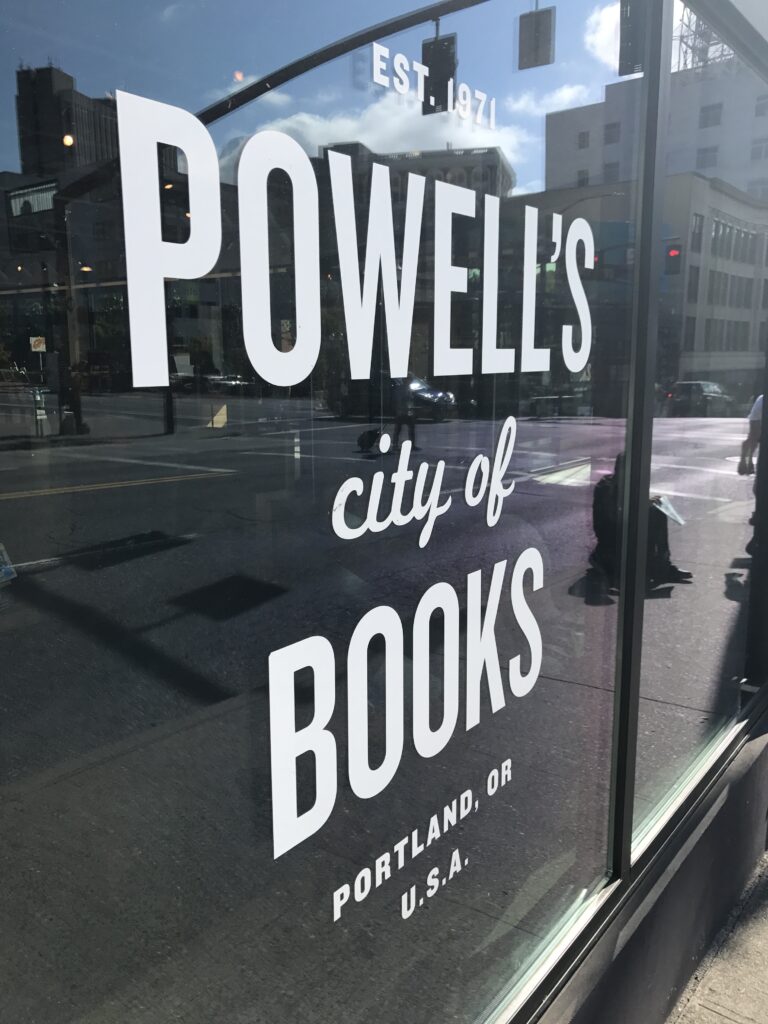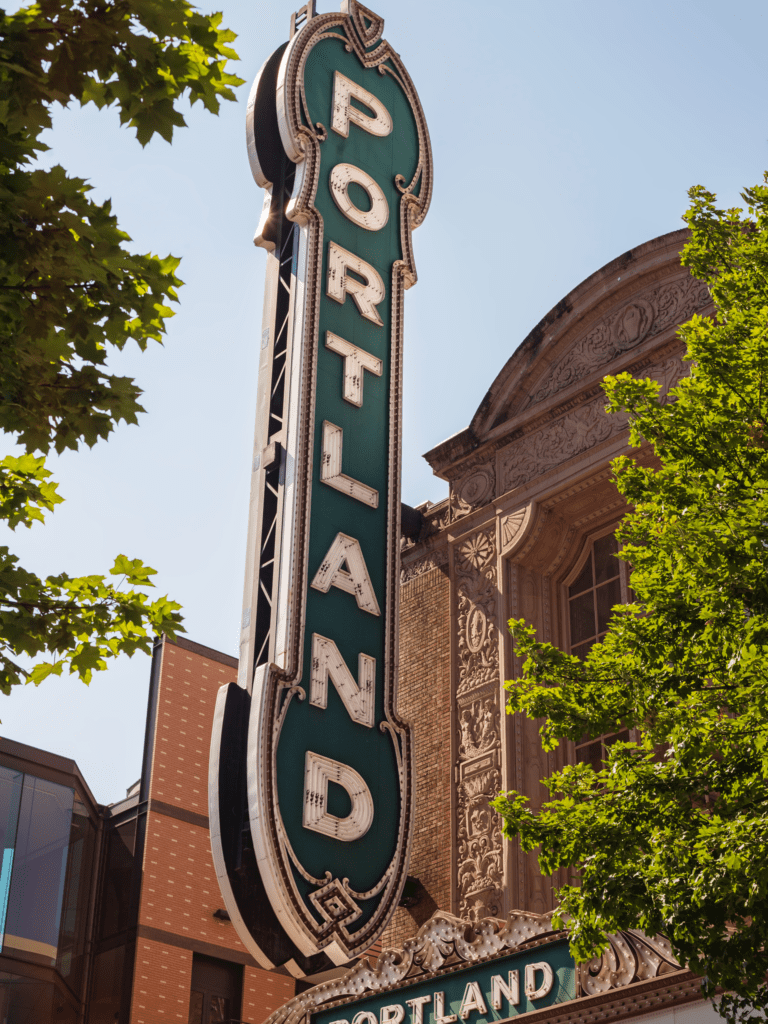 ---
Looking to explore Portland? We have plenty of other Portland travel guides (written by a Portland local) to help you discover something new and exciting.
---
The International Rose Test Garden & Japanese Tea Garden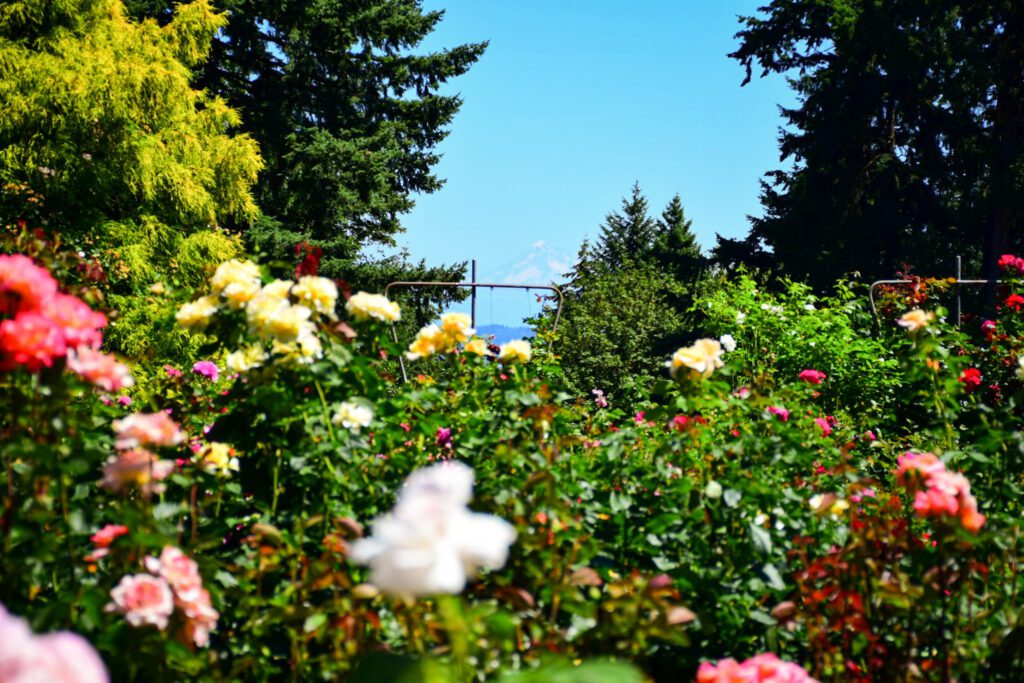 You can't visit the City of Roses without seeing the very roses we're so famous for. Within Washington Park is the International Rose Test Gardens that features over 10,000 individual roses with incredible views and delightful smells. And it's all free!
The city earned its name back in 1905 when they planted 200 miles of roses along its streets for the Lewis and Clark Centennial celebration. Legend has it that Georgiana Burton Pittock (of the famous Pittock mansion) was obsessed with roses and it was largely her influence that spurred the city into the massive undertaking.
The nearby Japanese Gardens do require an entry fee of $19, which is a bit on the steep side, but if you're into Japanese architecture and gardens, you'll be in heaven.
Pittock Mansion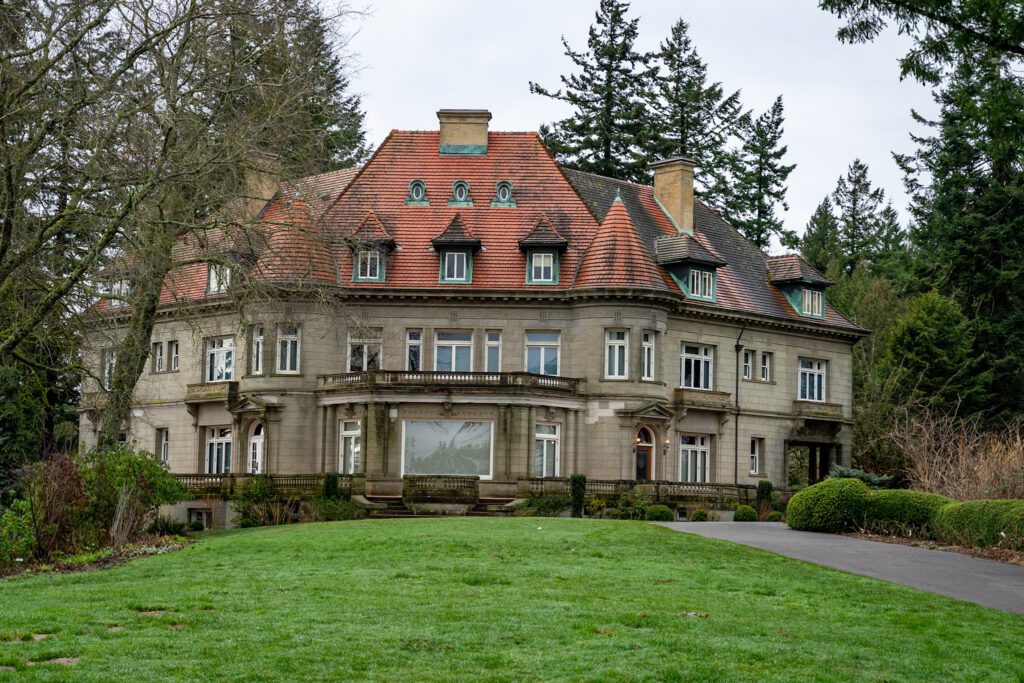 Pittock Mansion is a "​​French Renaissance-style château," (I'm no art major, but I'll take Wikipedia's word for it) and is great for a number of reasons. Not only is it impeccably decorated and maintained, but it also offers some of the best views of the city, and it's super close, and there's an awesome hike up to the top of it!
This 5 mile out-and-back trail starts right in NW Portland (and it's easy to take public transit to the trailhead) and climbs up to the Pittock Mansion. If you want to shorten it, drive or bus up to the Audubon Society (worth a visit on its own), and start up the trail from there to cut your mileage in half.
Lunch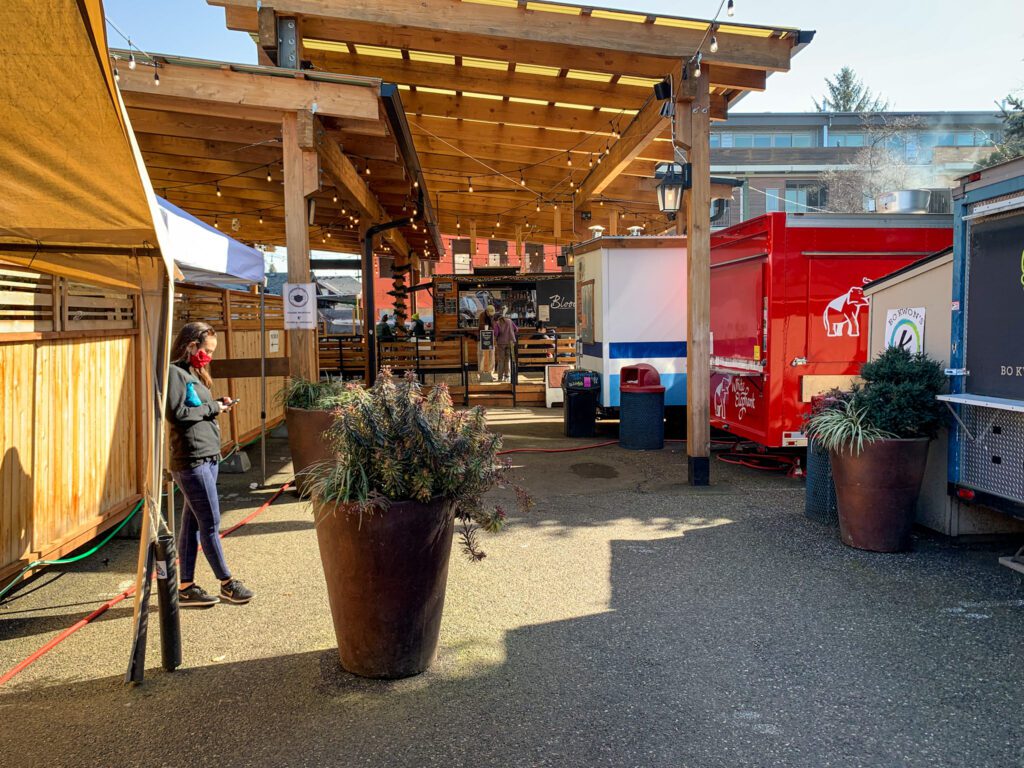 My second favorite meal of the day deserves just as much love as breakfast, but I often find myself wanting something quick and delicious so I can get on to my next adventure. Below is a mix of choices for travelers on the go, or for those who want to sit and stay a while.
Food Cart Pods: Now ubiquitous across the country, Portland was an early pioneer of food carts due to extremely lax city regulations. What came of it was a booming food cart business and pods that are now scattered all over the city. In the downtown area are the tried-and-true 5th Ave Pod and 3rd Ave Pod (only open Monday through Friday), or the newly opened Cart Blocks, a group of 18 vendors who were displaced two years ago when the swanky Ritz Carlton broke ground.


Pine Street Market: This place is like a fancy mall food court, but instead of chains like Sbarro and Panda Express you've got seriously some of the best food in Portland. Many of the restaurants here have larger locations around the city and operate a smaller version here. You can't go wrong!


Behind the Museum Cafe: This place is a real treat, and dare I say a hidden gem? They have both traditional Japanese offerings (including a delightful matcha tea), as well as American-style sandwiches. The servers wear kimonos and there's a bunch of cool knick-knacks and antiques along the walls.
Afternoon Walk along the Willamette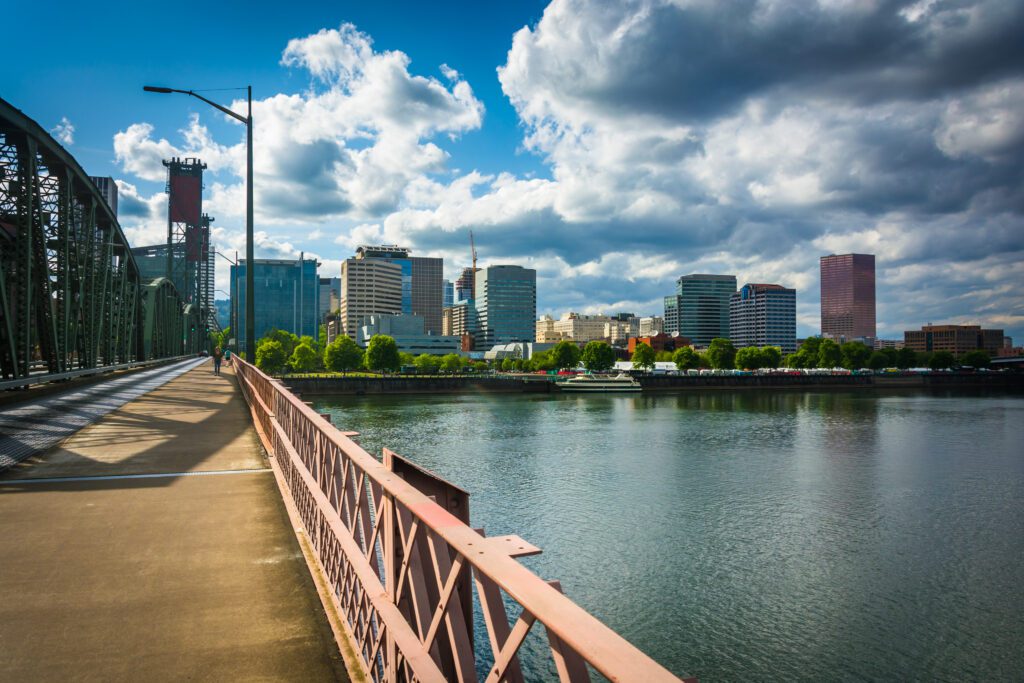 A cool way to get some steps in and see the city is by walking along either side of the Willamette River. If you're downtown, take a stroll through Waterfront Park (which is extra lovely in the spring when the cherry blossoms are in bloom).
Across the river you can take the Eastbank Esplanade which runs roughly from the Hawthorne Bridge to the Steel Bridge. The Hawthorne Bridge is the most pedestrian-friendly for crossing the Willamette on foot, but the Burnside Bridge works too and is the most conveniently located.
Eating and Drinking on the Eastside
Downtown Portland has a lot going on, but just across the river is the uber-hip Central Eastside neighborhood (covering the area south of I-84, north of Powell Boulevard, and up to 12th Avenue). So, if you're trying to get the most out of Portland in a day, it's easy to pop over the Burnside, Morrison, or Hawthorne Bridge for tons of shopping, dining, and drinking.
Happy Hour on the Central Eastside
Who doesn't love a good happy hour? If you want a break from the downtown scene, grab a drink or two at one of these awesome spots.
Dinner on the Eastside
Obviously, there are a ton of dining options downtown, but if you've already made your way across the bridge, you might as well try some of these delicious options to see how it's done on the eastside.
Nicholas Restaurant: Keeping it real in Portland since 1986, this Lebanese restaurant is delicious, fast, and reasonably priced. Be smarter than me and don't fill up on the pita, even though it's the best pita you've ever had, because then you won't be able to really indulge in your meal. Mom knew best: "don't fill up on bread!" When will I learn?


Afuri Izakaya: There's plenty of decent ramen spots in Portland, but this is the real deal! Yes, it's more expensive. Yes, you'll probably have a wait. Yes, you should still go! Pro-tip: only go with sharers! You'll want to order as much as you can reasonably eat and try it all. Portland is the first location Afuri has opened outside of Japan.


Teote: Just a touch south but still in the Central Eastside, is the Latin American restaurant and Mezcalería, Teote. I've never had anything I didn't love here. Get at least one arepa, a margarita, and fried plantains.
Drinks on the Eastside
I actually prefer bar-hopping on the eastside. To me there's more variety, smaller crowds, and more options for those dingy dive-bars that I just can't pass up.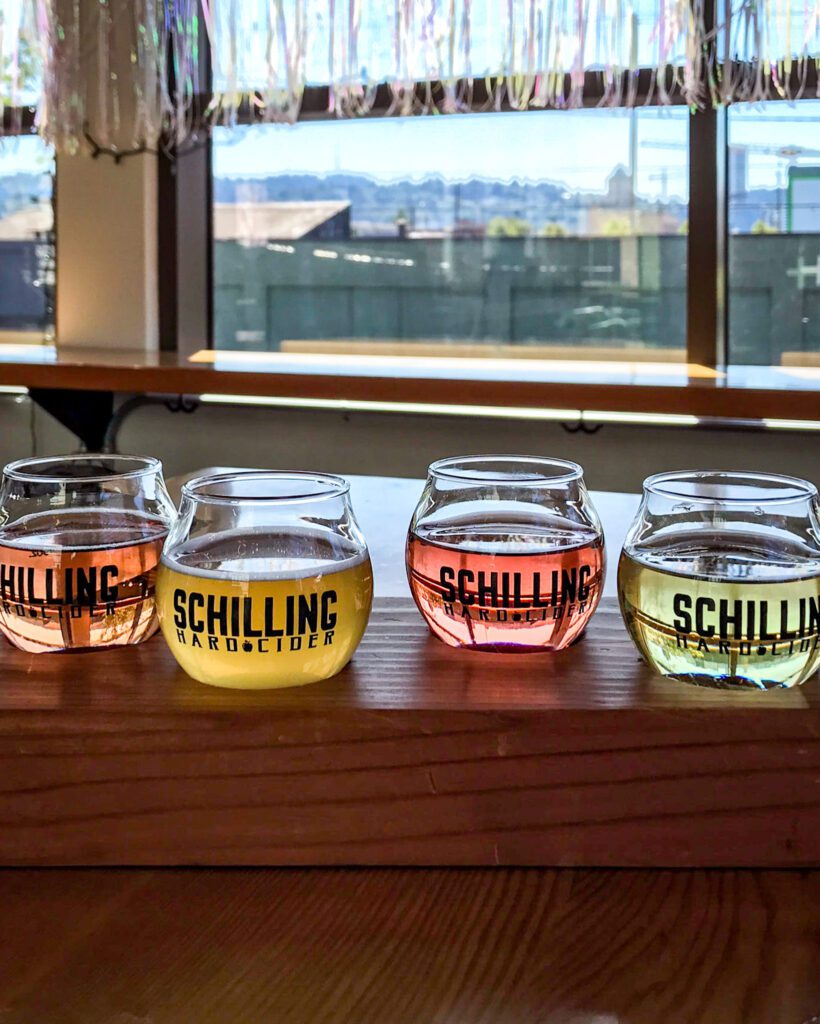 What to Do With More Than a Day in Portland
So you were able to finagle an extra half day? Woo-hoo! Here are more wonderfully Portlandy things to fill your time:
Take a Hike: I mentioned one great hike already in Forest Park, one of the largest urban parks in the country, but there are over 80 miles of trails to choose from. Two other solid options are this 4.7 mile loop that takes you through the Hoyt Arboretum, or the 4 mile Ridge Trail on the northern end of the park for iconic views of the St. Johns Bridge. Another great but much smaller place to tromp around in is Mt. Tabor Park (after which you must get sandwiches at Tabor Bread).
Psst! We have an entire guide dedicated to the best hiking in Portland, which you should totally read if you're looking for a hike or two to add to your itinerary.
Sauvie Island: Sauvie Island is known for its abundance of farms from u-pick berries to flowers to pumpkins to corn mazes and hayrides. An especially fun time can be had at Topaz Farm where you can often find live bands and local food and beer trucks! Worth noting that you will need a car to get out to Sauvie Island – it's a ~30 minute drive out to the northwest.
Ground Kontrol: Every city should have a place like Ground Kontrol because sometimes you just want to spend all afternoon playing pinball and drinking Tecate.
Alberta Arts District: The Alberta Arts neighborhood is a hip Northeast Portland area that's perfect to spend an afternoon walking down the street and checking out the abundant murals, cool shops, art galleries, restaurants and bars. I truly think that bang-for-your-buck, you can't find a better selection of restaurants within such close proximity. It's also home to the locally famous Last Thursday street fair that gets bigger and rowdier every year it's been around. This was my own neighborhood for eight years so of course I've got my personal favorites: La Sirenita for cheap and delicious Mexican food, Cruzroom for unique tacos and a fun trivia night, Pine State Biscuits where I've had literally everything on the menu and I always go back to the Chatfield, Bollywood Theater for the kati roll and fried cauliflower, and the Bye and Bye for drinks and vegan food.
Getting Around Portland
With a little information upfront, Portland is an easy city to get around in.
If you've only got one day you may be tied to one part of town, but if you do venture out, here's what you should know: The Willamette River cuts the city in half into its east and west sides, and Burnside Street bisects the north from the south, thus creating the four quadrants of the city: Northeast, Southeast, Southwest, and Northwest.
This is largely how locals will refer to different areas. Slight wrench in the system: There also two more "quad"rants: north and south Portland. North Portland includes neighborhoods like Mississippi and Williams, and South Portland is the South Waterfront.
By Bus & Public Transit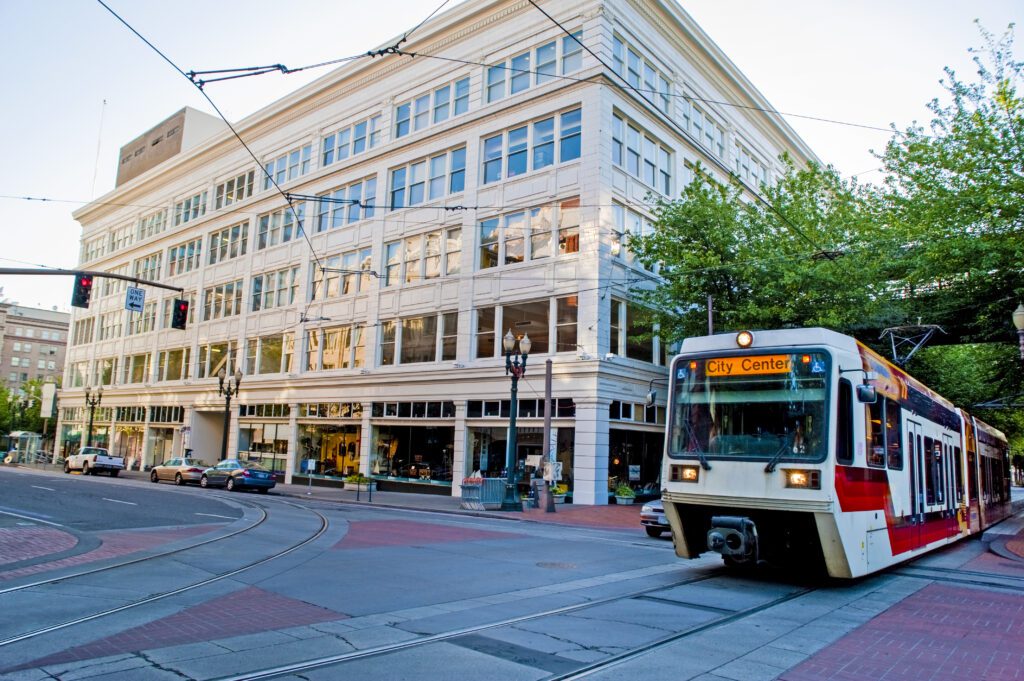 Portland has an excellent mass transit system (TriMet) composed of busses, the MAX (light rail), and the Portland Streetcar. If you're staying primarily in downtown/Pearl/Northwest I'd recommend getting an all-day pass for $5 then you can jump on and off whatever you want whenever you want. You can buy a Hop card at any of the green little kiosks at bus and MAX stops. Super easy.
By Bike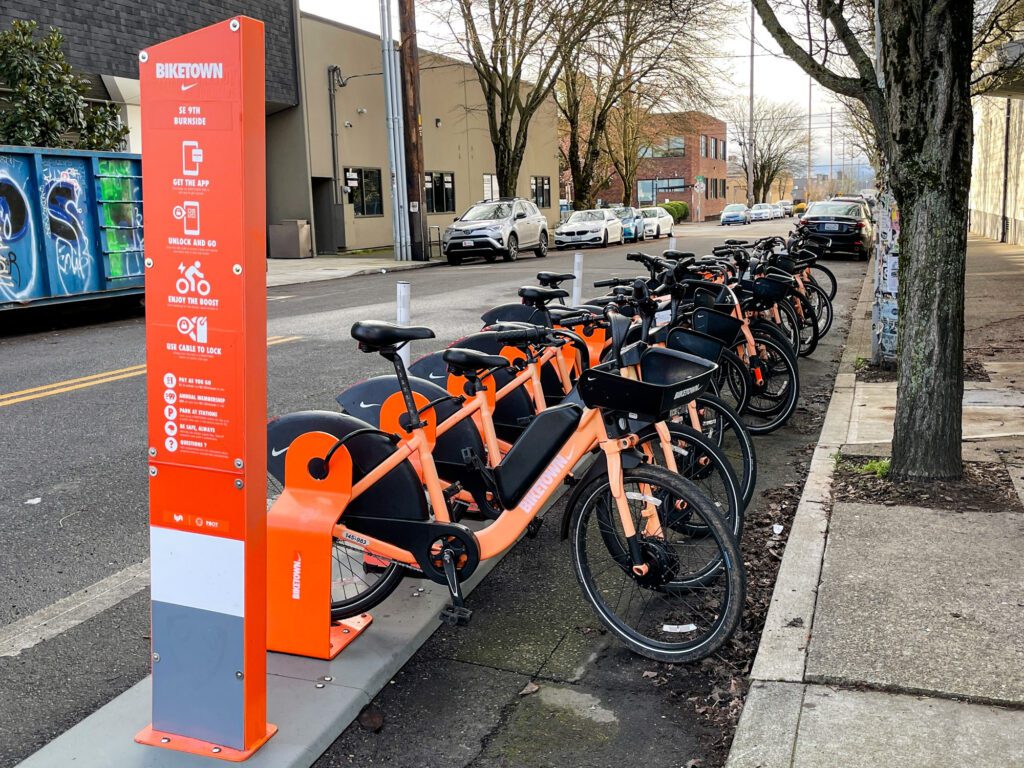 It should come as no surprise that Portland is a very bike friendly city and that's true for visitors too (just remember, when you're on a bike, obey all the rules of the road just like you're a car!). An easy way to get some wheels is with Nike's orange bikes (called Biketown) because they have stations everywhere.
They're often not the best bikes you've ever been on, but they're fine for putzing around town or getting from one neighborhood to another. I wouldn't want to take one all the way across town though. If you like to ride and you know you want a decent bike all day, try Cycle Oregon for more options.
Lyft and Uber are both great choices for the city. By now I feel like all of us have at least one of the apps on our phones. I'm partial to the bus if I'm going carless, but sometimes a Lyft is good if you're getting out late or if your bus route involves more than one transfer and you'd end up wasting an hour of your precious day waiting for a bus.
By Car
Exploring by car is also totally doable, but may be tricky if you're staying downtown. There's street parking and garages, and whenever I head downtown I
never have too much trouble finding a spot within a few blocks of my destination. If your hotel is downtown, you'll have to pony up some money to park it overnight and that won't be cheap. 
The Parking Kitty app is rather helpful and probably worth downloading for the day if you know you'll be in and out of your car. Downtown street parking is $2 per hour. Garages will vary, but you'll generally find the lowest rates at the SmartPark garages.
Where to Stay for a Night in Portland
Portland is a big city and rather spread out. You could spend weeks exploring it all, but with only a day you should probably stay downtown or the Central Eastside.
Note: We know that you might not be staying overnight in Portland, and that means you can 100% disregard this section. If you are, below you'll find a high level overview of the best places to stay. If you want a more detailed guide, head over to our super detailed guide to where to stay in Portland.
Staying in Downtown Portland
Downtown can be hard for parking and waits can be long for restaurants on the weekends, but it's still jam-packed with cool stuff and you have all the access you could ever want to the city's transit system. It's not the hippest or trendiest spot, but there are tons of hotel and food options making it convenient for a day-tripper.
The Hoxton: Right in Old Town Chinatown, the Hoxton is an ideal location for a killer day in Portland. The hotel is hip yet classy, has great food, and I totally dig the way they break down room choices from smallest to largest: Shoebox, Snug, Cozy, or Roomy. You pick what works for your needs and your wallet.


The Ace: The Ace is a fun place to stay and it's hard to beat their location (and the Stumptown Coffee in their lobby for your morning brew and the impeccable Clyde Common for dinner). All rooms big and small have original murals or art pieces hanging on the walls, making each room unique.


Hi-Lo Hotel: On the fancy end, but not stuffy-fancy, more like cool-and-modern-fancy. The Hi Lo is a little pricier, but the rooms and amenities are really nice with a clean, minimalist look. Another great location and right next to the 5th Avenue food cart pod!
Staying on the Central Eastside
Across the river from downtown, say hello to your eastside neighbor! Slightly hipper, slightly grittier, slightly cheaper, and slightly more parking (usually). I've always preferred the eastside to the west in general, so if you're not feeling the downtown vibe, head over the bridge.
Kex: Kex is my kinda place! Depending on your budget it could be more of a hostel experience in a bunk room (with 4, 6 or 16-bed options! Party!), or you can opt for a private room with or without your own bathroom. Another feature I love: no tv's in the room.


Grand Stark: This is a newly-opened hotel on the eastside and was much needed. Though it hasn't been open long, it's garnered tons of praise! The hotel is in a renovated 1906 building (home of Shleifer Furniture for over 80 years—throwback!), and its rooms are sleek and modern yet still warm and welcoming.


Jupiter NEXT (specifically the NEXT): The original Jupiter Hotel is connected to the Doug Fir (one of the best places to see live music in Portland), and has always been a trendy spot to stay, but the rooms are loud and unless you like sleeping with earplugs, you'd likely be shaken awake by late-night revelers. Instead, opt for the Jupiter NEXT right next door for more modern (and quieter) rooms. And you can still catch a show at the Doug Fir.
---
More Portland Travel Guides
Planning a trip to Portland? Or maybe you just live here and are looking for some inspiration for your next day trip or weekend getaway. Either way, check out our other Portland travel guides to inspire your next adventure near Portland.
More to Explore in Oregon