How to Plan a Perfect Day Trip to Mount Rainier from Seattle
The majestic, snow-capped peak of Mount Rainier is an unmissable sight throughout most of Washington state, protruding from the Seattle skyline. Mount Rainier, named for Rear Admiral Peter Rainier, though known as Tahoma in the native Salish language, is the highest point in the Cascade Mountain range, an expansive mountain range in Washington state.
Whether you're a local in the Pacific Northwest or are an out of town visitor, a day trip to Mount Rainier is an absolute must, especially if you're an avid hiker and outdoor enthusiast.
While Seattle is an eclectic and energetic city with a vibrant food, drink, and music scene, it's absolutely worth escaping the city and taking an adventure to the mountains. The Pacific Northwest is abundant in nature and Mount Rainier National Park offers some of the best of the region: snowy peaks, alpine lakes, old and new growth forests, mountain goats, elk, chipmunks, meadows blooming with wildflowers and berries, waterfalls and more.
I grew up in the greater Seattle area and have been based there on and off for my young adulthood. The wild landscapes and peaceful stirrings of Mount Rainier have always been one of my favorite aspects of Washington state, and visiting the Mountain is an integral part of the summers and falls I spend in the Pacific Northwest.
Interested in exploring the national parks on the West Coast? Don't miss our complete guide to all 13 West Coast National Parks where you'll find an overview of things to do, places to stay, and links to our more detailed guides on each park.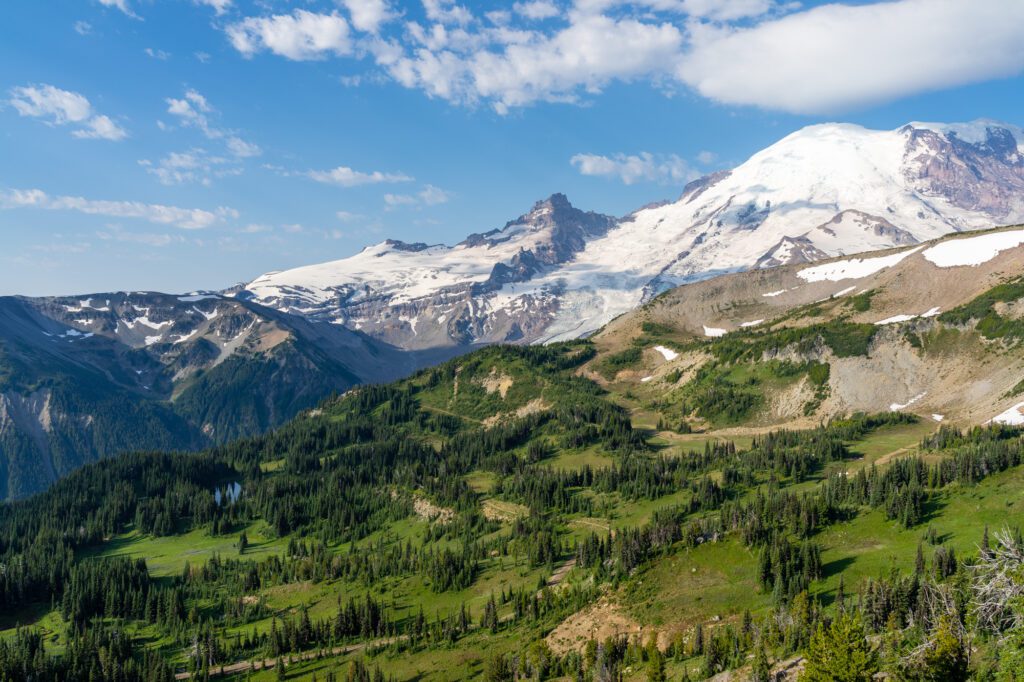 Planning a Trip to Mount Rainier? We've got a few other guides to help you plan an amazing trip.
Disclaimer: Some of the links below are affiliate links, which means that if you click on one and purchase something, we make a small portion of the sale at no additional cost to you. It goes without saying that we would never recommend something we wouldn't use or do ourselves.
Geography Overview
Mount Rainier is a sprawling, active volcano in the Cascade Mountain Range and part of the Pacific Ring of Fire. Soaring 14,411 feet into the sky, Mount Rainier is the highest mountain in the state of Washington and the most glaciated peak in the continental United States. The many ecosystems within the boundaries of the park—including lowland forests, wetlands, and alpine tundra— offer a colorful wealth of plant and animal species.
Located about 60 miles southeast of Seattle, Mount Rainier National Park is expansive and widespread. The park has numerous entrances and regions, each offering unique ecosystems and experiences. The five developed areas of Mount Rainier National Park are: Longmire, Paradise, Ohanapecosh, Sunrise, and Carbon River and Mowich.
The two most popular are Paradise and Sunrise, each are about a two-hour drive from Seattle and offer an incredible range of hiking and camping opportunities with epic mountain views. To make the most of your time at Mount Rainier, plan on spending a full day to experience as much as possible.
Paradise vs. Sunrise: Which to Choose for a Day Trip?
The two most popular regions of Mount Rainier National Park are Paradise and Sunrise. Which area you choose to visit depends on a number of factors. Something to keep in mind is that Paradise is open year-round, while Sunrise is seasonal.
Both have informative Visitor Centers and incredible vistas. I prefer the hiking opportunities at Sunrise, as they are more challenging, although Paradise offers a fantastic selection of family-friendly hikes that are accessible to all fitness levels that showcase some of the best natural beauty of the park.
Paradise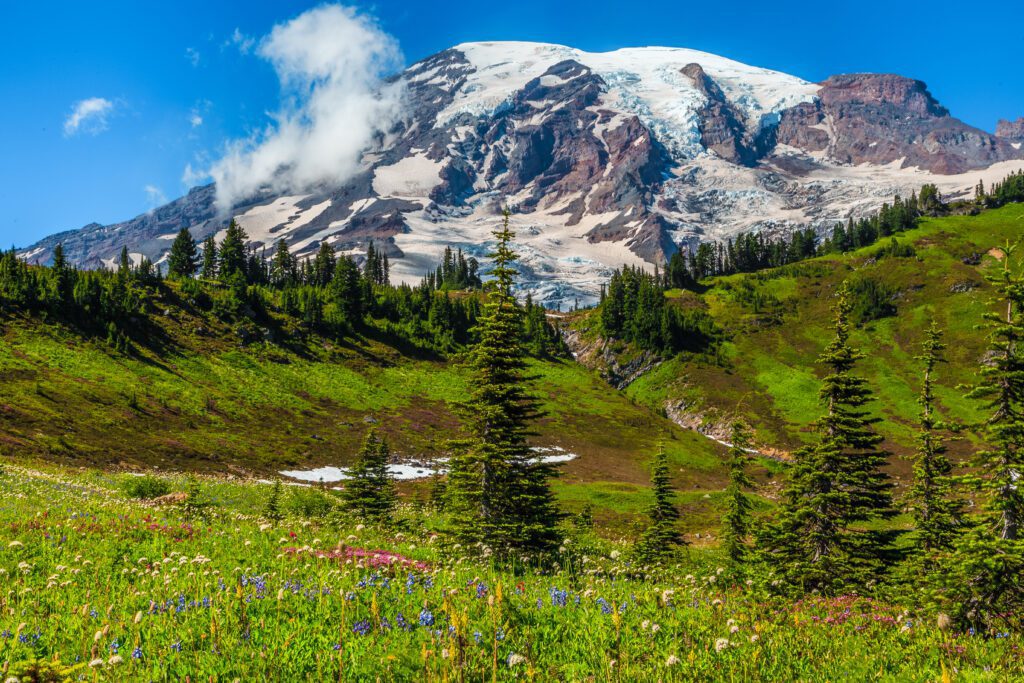 Paradise, located in the southwestern corner of the park, is the most accessible region of Mount Rainier, which unsurprisingly also makes it the most frequented section of the park. If you're traveling to Paradise from Seattle, you'll hop onto I-5 south and follow it until you reach SR 512 E. Eventually, you'll head onto SR 7 and SR 706, which will take you to Ashford, where the Nisqually Entrance is located. Drive times take about two to two and a half hours, traffic dependent.
At Paradise, you can learn more about the history and topography of Mount Rainier at the Henry M. Jackson Memorial Visitor Center before embarking on hikes to soak up the splendid views, alpine lakes, and waterfalls. This popular region is the only part of the park open year-round, boasts moderate hiking opportunities with spectacular views of Rainier's glaciated peaks, and dozens of waterfalls to marvel at.
Sunrise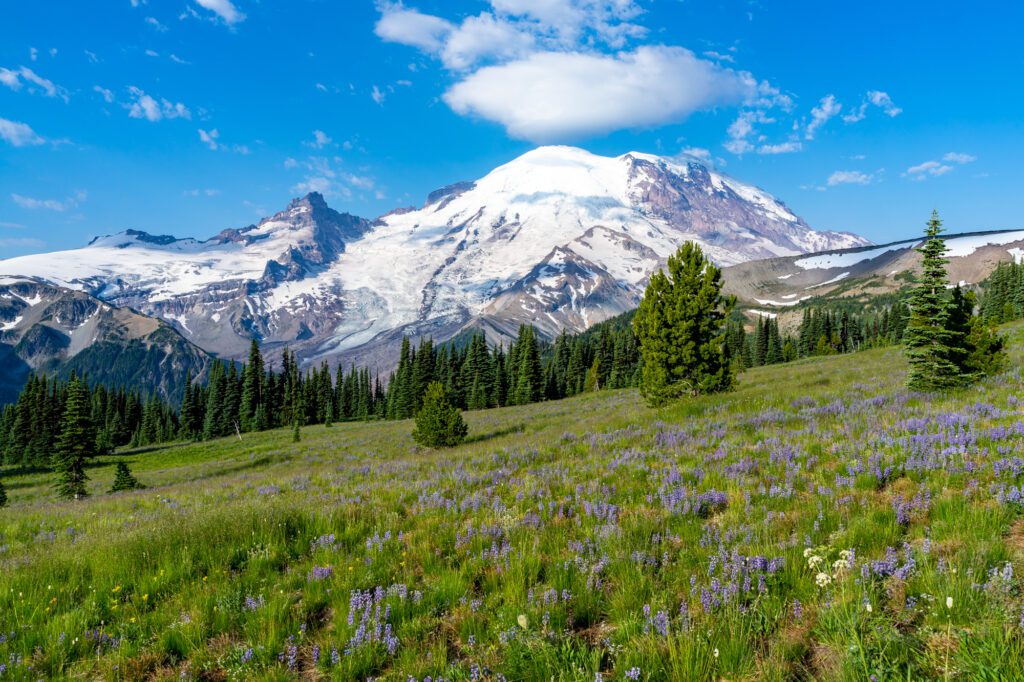 Sunrise is another popular region of Mount Rainier National Park, situated in the northeastern section of the park. A bit closer drive from Seattle than Paradise, you'll access Sunrise from the White River Entrance.
Drive southeast to the town of Enumclaw and you'll eventually reach the entrance located just off of 410 E on the Chinook Scenic Byway. Expect the drive to take about two hours, depending on where in Seattle you're staying, where in Sunrise you're going, and traffic conditions.
At Sunrise, stop by the Visitor Center, which hosts informational exhibits on the history and topography of Mount Rainier and its ecosystems. This section of the park offers a diverse range of hikes and has some of the best wildflower viewing opportunities in mid-late summer.
How to Plan an Amazing Mount Rainier Day Trip from Seattle
Although one can easily spend many days exploring Rainier and there are undoubtedly fantastic camping opportunities in the park to extend your visit, you can absolutely experience some of the best of Mount Rainier in one day.
Here are two itineraries you can choose to embark on, one that focuses on Paradise and one that focuses on Sunrise.
One Day in Mount Rainier National Park: The Paradise Version
Head out for your day in Paradise early in the morning. If you're coming from Seattle, plan to leave sometime between 6:00-7:00am, or even earlier if you don't mind an early wake-up. With approximately a two and a half hour drive ahead of you, you'll arrive in time to the Visitor Center at Paradise to start your hike in the morning and maximize your time in the park. The earlier you arrive, the better chance you also have at beating the crowds.
The entire day should take 13-15 hours, including driving, depending on which hikes and how many waterfalls you choose to explore.
Hike the Skyline Trail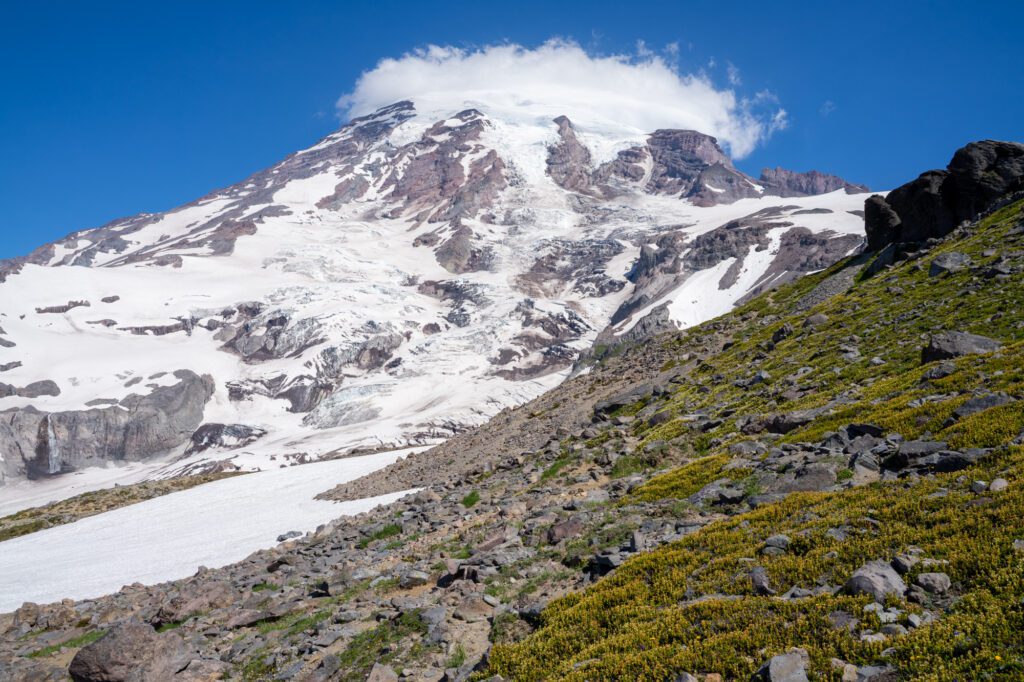 Distance: 5.5 miles / Elevation Gain: 1,450 feet
You'll reach Henry M. Jackson Visitor Center mid-to-late morning depending on when you departed. Stop by the Visitor Center to read up briefly on the history and topography of Mount Rainier before setting off for your hike.
The Skyline Trail is a quintessential Mount Rainier trail – and near the top of the best hikes in Washington State – offering a moderate hike through some of the most picturesque landscapes in Washington. On this roundtrip hike, you'll walk through sloped, green valleys that are blooming with a colorful spectrum of wildflowers in the summer months. During the fall season, the valleys turn warm shades of gold and red.
Throughout the hike, you'll be nearly face-to-face with Mount Rainier and upon reaching Panorama Point, you'll be met with views of Paradise Valley, Mt. St. Helens, and Mt. Adams. Expect the hike to take approximately three hours, dependent on your pace and how often you stop to admire the landscape.
Packwood for Lunch
After you finish hiking the Skyline Trail, head for lunch in the small town of Packwood, which is about a one hour drive and not too far from your next stop. Packwood is a small community set among the wilderness of Mount Rainier with a handful of dining and accommodation options.
Packwood Brewing Company is an unpretentious spot with the air of a classic Northwest brewery. They have a fairly typical menu for a brewery, with tacos, burgers, sandwiches, and salads to choose from, among other options. If you're a craft beer lover, this is a great spot to quench your thirst with a local brew.
Alternatively, you can head to Ashford, which is closer to the park entrance (although a bit further from your next destination) and have lunch at Wildberry, a Himalayan-inspired seasonal café that serves a mix of Nepali and American cuisine.
Grove of the Patriarchs & Ohanapecosh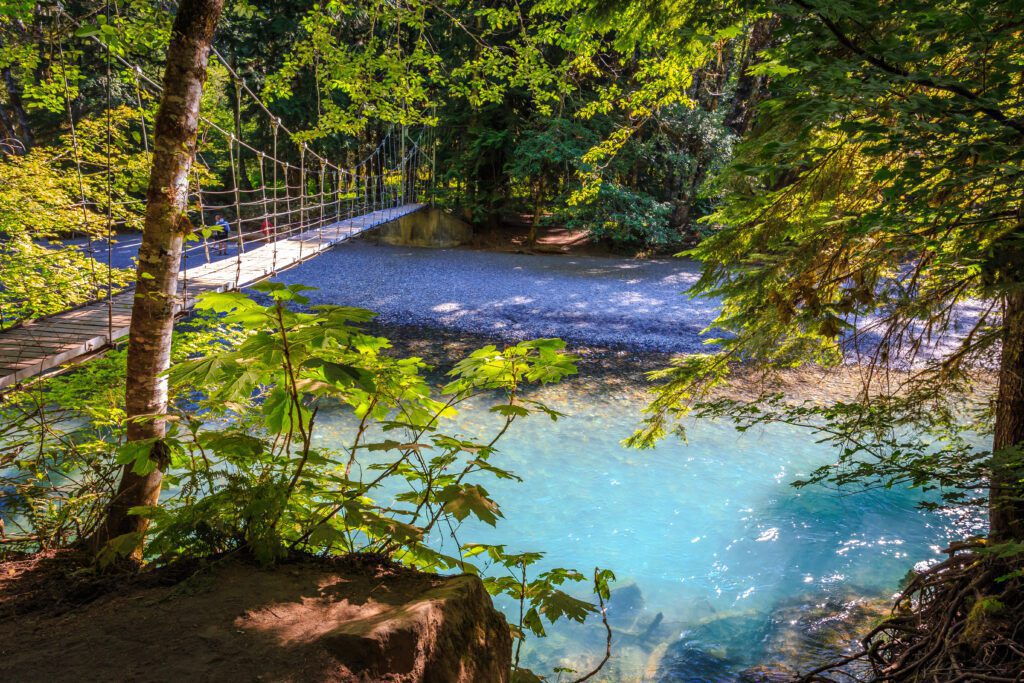 Distance: 1.5 miles roundtrip / Elevation Gain: 0 feet
After you've filled up on lunch, head to your next stop, which is the magical Grove of the Patriarchs. Less than 20 minutes' drive from Packwood (and about an hour from Ashford), you'll cross the Ohanapecosh River bridge, after which you will find the trailhead parking on the right. This easy hike should take you an hour or less, bringing you on a walk beneath majestic, ancient Douglas firs, western hemlocks, and western red cedars that have been preserved on a small, isolated island for over 1,000 years.
Waterfalls at Paradise
Once you've had your fill of ancient trees and the rushing Ohanapecosh River, it's time to explore some of the roaring waterfalls that Paradise is so famous for. You'll be backtracking a bit and heading back in the direction of the Skyline Trail but it's well worth it.
Start with Narada Falls, which is closest to the Grove of the Patriarchs trail and about a 30-35-minute drive. Narada is perhaps the most popular waterfall in the park, with two tiers, cascading down staggering rocks and into a plunge pool. You can stop and have a look from the road or choose to walk the short path to the viewpoint of the falls. Note that the path is typically covered in snow through May and can be very slippery.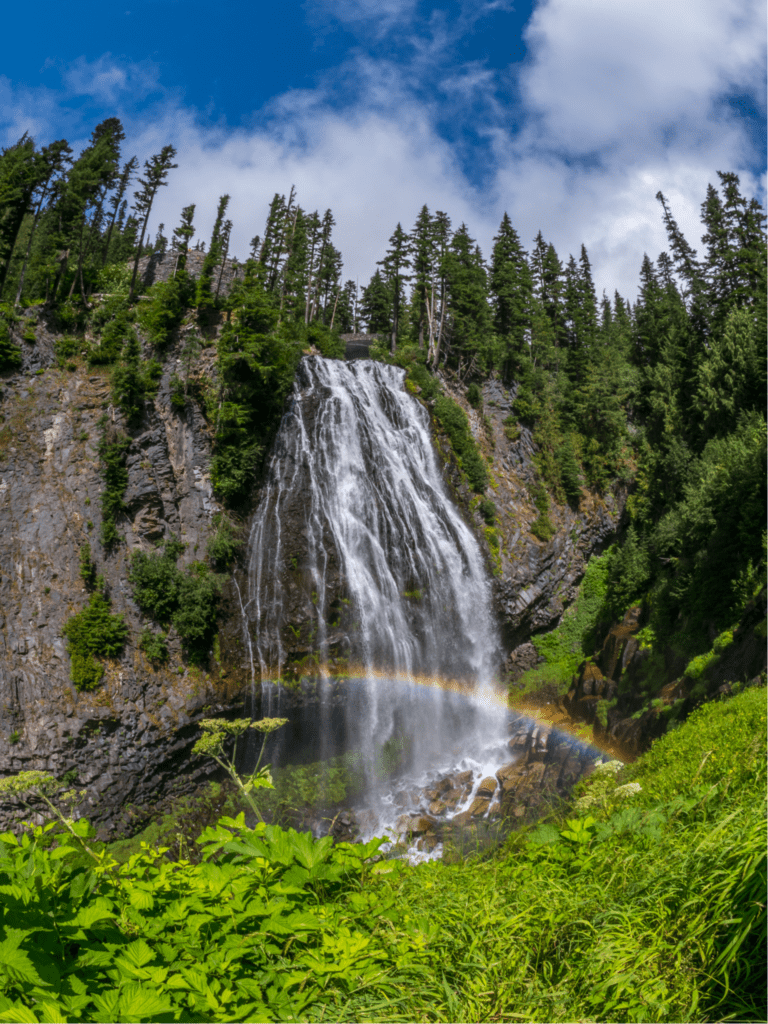 Next, if time permits and you want to keep exploring waterfalls, head to Comet Falls and Christine Falls, which are accessible from the same trail and a ten-minute drive from Narada.
From the parking lot for Comet Falls, set out on a trail that follows Van Trump Creek. As you cross the bridge, catch views of Christine Falls framed between trees. From here, you have the option to continue for about two miles and the trail will lead you to the churning, cascading waters of Comet Falls.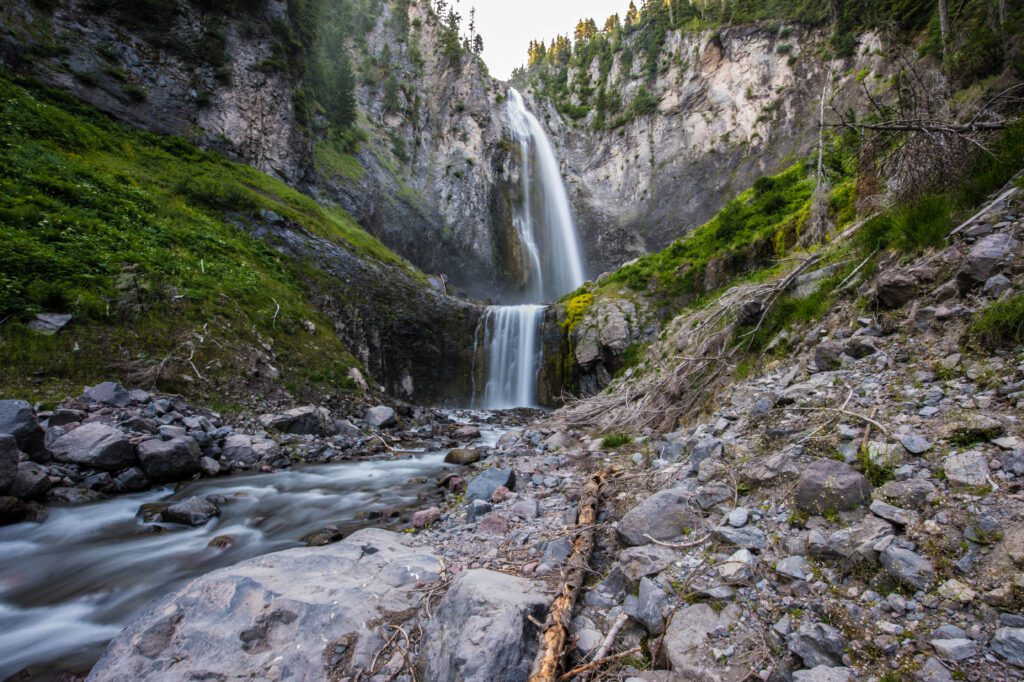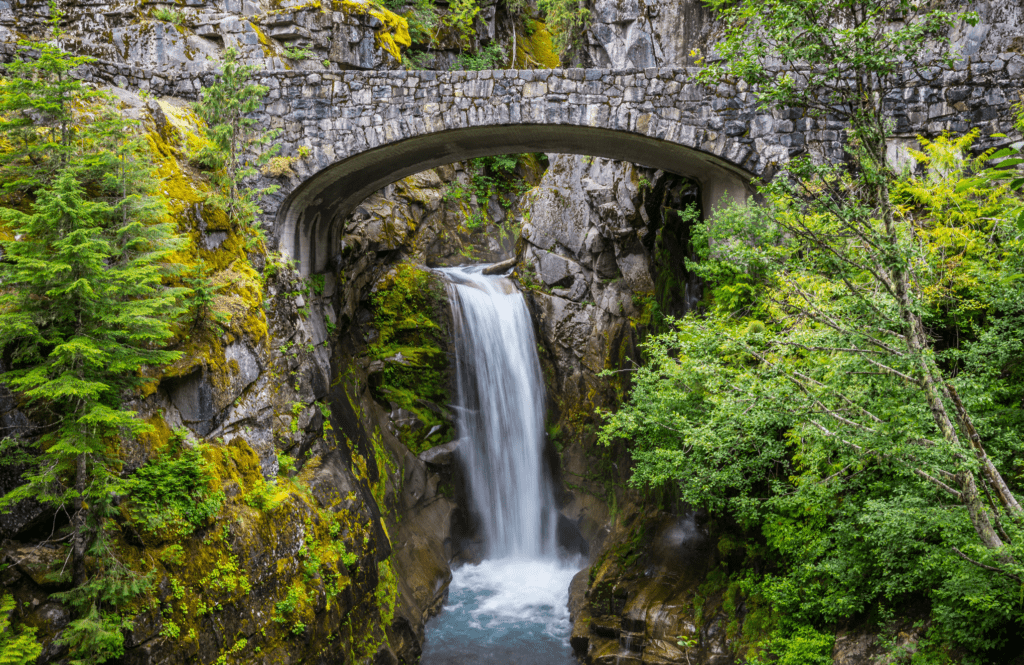 Admire the sun reflecting off the mist before heading back. Keep your eyes open for smaller falls along the way as well.
Reflection Lakes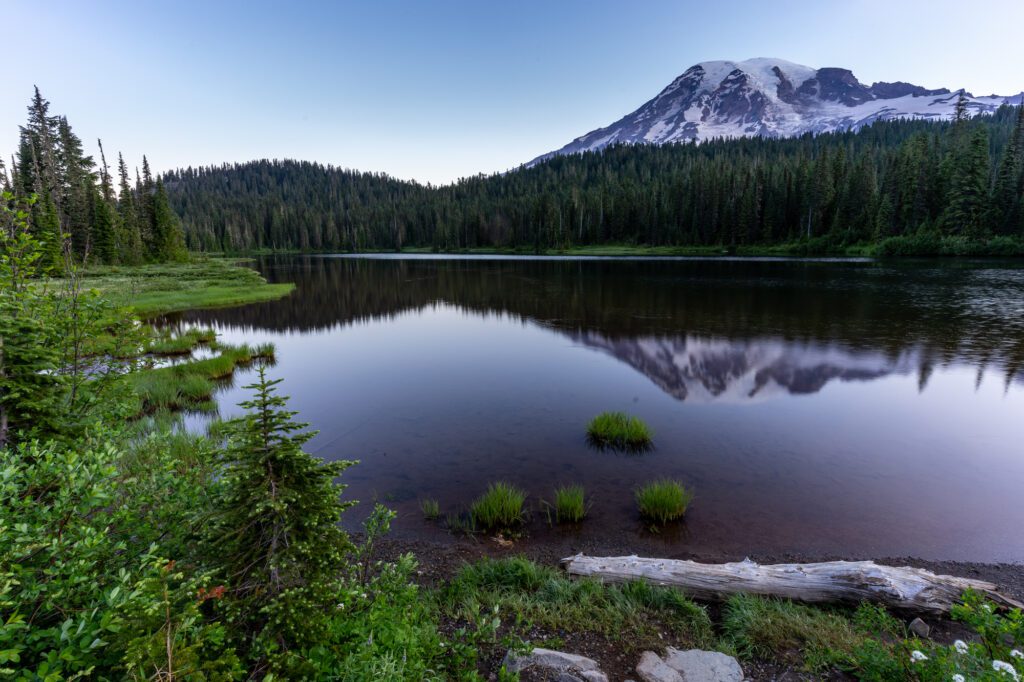 Once you've had your fill of waterfalls for the day, hop back on the road and drive another ten minutes to reach your final destination for the day: Reflection Lakes. A relatively short and easy hike that loops around a lake against the backdrop of alpine forests and Mount Rainier, Reflection Lakes encompasses all that is perfect in the Pacific Northwest.
Take a leisurely walk around the lake around sunset, stopping to admire the views and snapping a few photos of the glimmering reflection of Rainier in the lake. As one of the most photographed spots in the park, you'll be sharing the experience with a few other visitors, but the views are well worth it.
A Perfect Day Trip to Sunrise at Mount Rainier
Get an early start for your day at Sunrise to maximize the time you have in the park. Plan to leave between 6 :00and 7:00am. Sunrise is slightly closer to Seattle than Paradise, which gives you a bit more flexibility. How early you leave will depend on which hike you choose to start with, as they vary by driving time as well as distance. If you're doing a longer hike or one that is further away, leave a bit earlier.
The Sunrise Visitor Center, from which you can find a number of hikes, is just over two hours' drive from Seattle. Other hikes begin before reaching the Visitor Center and can take anywhere from one-and-a-half hours to one-hour-and-forty-five minutes to reach. In total, the day will take 13-15 hours, including driving time, depending on which hikes you choose.
There isn't an easily accessible place to stop for lunch in the vicinity of Sunrise, so bring a packed lunch and enjoy it among the glorious mountain meadows on one of your hikes. There is also a small café at the Sunrise Visitor Center if you need to refill on drinks or snacks.
Take a Morning Hike
Start your morning in the park with a hike in the Sunrise region. There are many fantastic hikes in the area, offering a variety of landscapes for varied skill levels. Here are a few of my favorite hikes in Sunrise.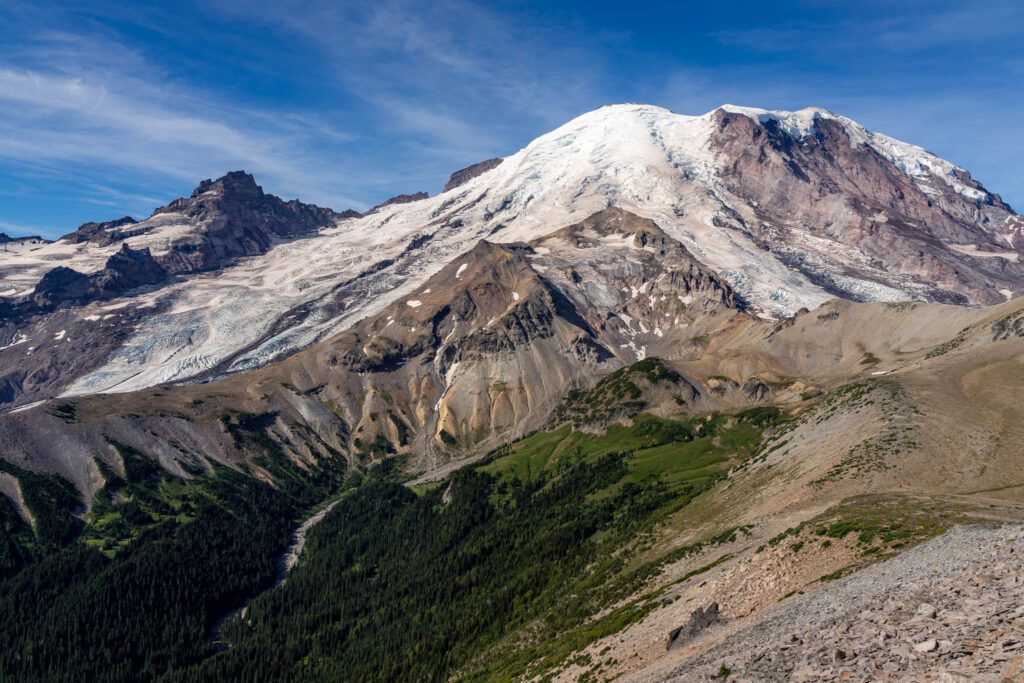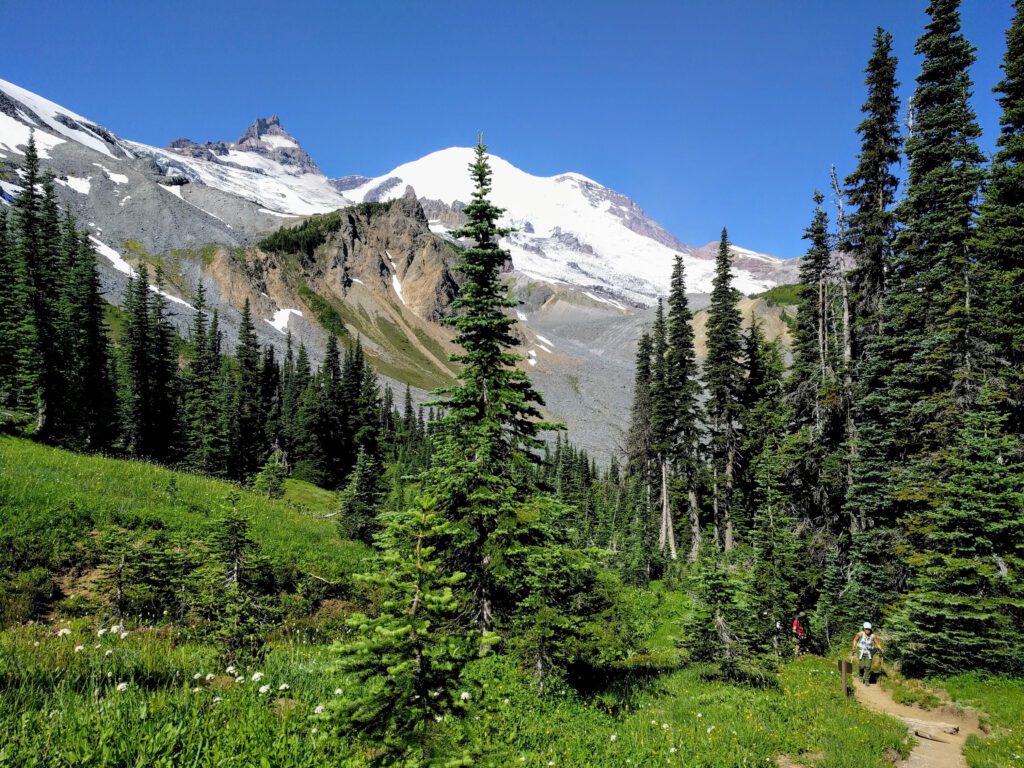 Grove of the Patriarchs & Ohanapecosh
After finishing a picnic lunch at Sunrise, it's time to take a walk beneath majestic old-growth trees that have withstood the test of time. These trees have been preserved due to their relative isolation on a small island. The Grove of the Patriarchs Trail, right across the Ohanapecosh River bridge, is just under a 20-minute drive from Packwood or about 45 minutes from Sunrise Visitor Center.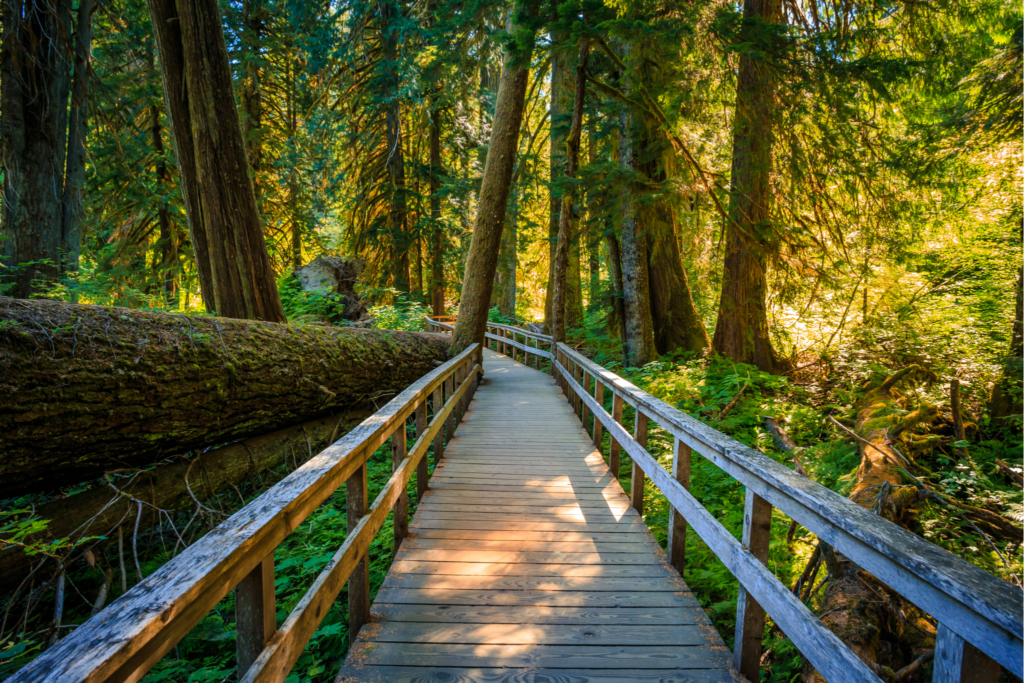 After you've taken your time completing the magical loop, consider extending your time in Ohanapecosh by going on another short loop past Silver Falls. Head out from Ohanapecosh Campground, approximately 2.5 miles from the Grove of the Patriarchs for a relatively level three-mile hike.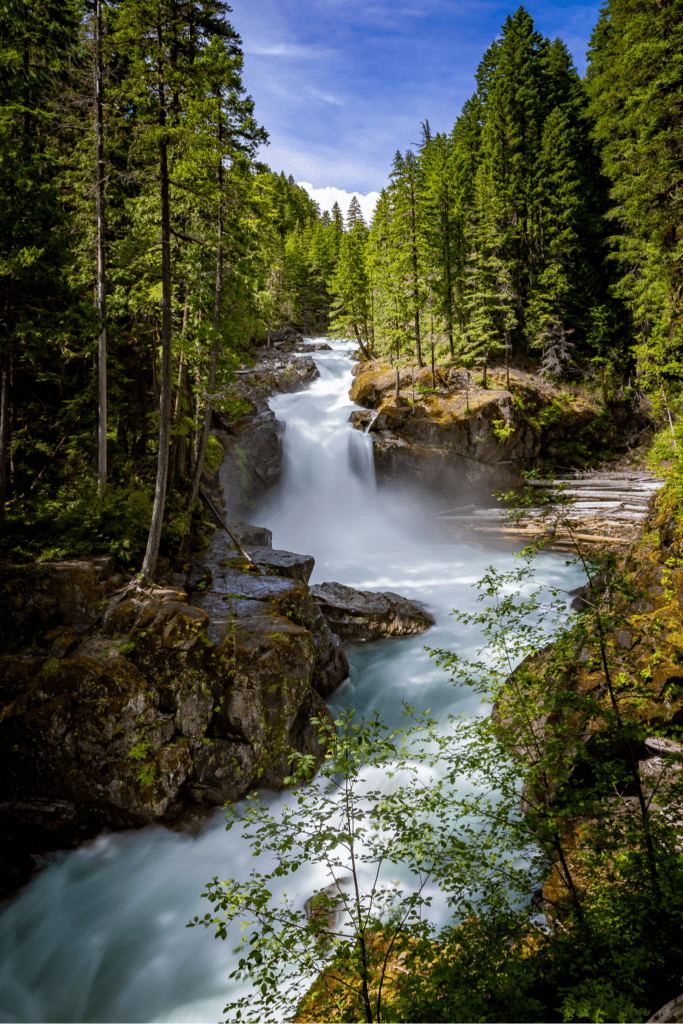 The trail passes through old growth forest and along the icy waters of Ohanapecosh River. After 1.5 miles, you'll come to the crashing glacial waters of Silver Falls. Enjoy the rushing falls and be careful of the slippery rocks before heading back.
Tipsoo Lake and the Naches Peak Loop
Distance: 3.2 miles/ Elevation Gain: 600 feet (for Naches Peak Loop)
To end your day in Sunrise, drive to Tipsoo Lake in time to catch the sunset. Tipsoo Lake is located just off of Chinook Pass, which is about a 25-minute drive from Ohanapecosh Campground. Depending on when you arrive, you can also take another short hike that continues from the grassy, wildflower-dotted meadows surrounding Tipsoo Lake where elk and deer can commonly be spotted.
The Naches Peak Loop begins at Tipsoo Lake and gently ascends into valleys blooming with blue lupine and magenta paintbrush wildflowers. Continue walking through alpine meadows with a view over Dewey Lake and clear views of Mt Rainier. Follow the loop back to Tipsoo Lake after about a 1.5-hour hike. The lake is a perfect, serene spot to watch the sun sink behind Rainier as the mountain reflects in the glistening lake.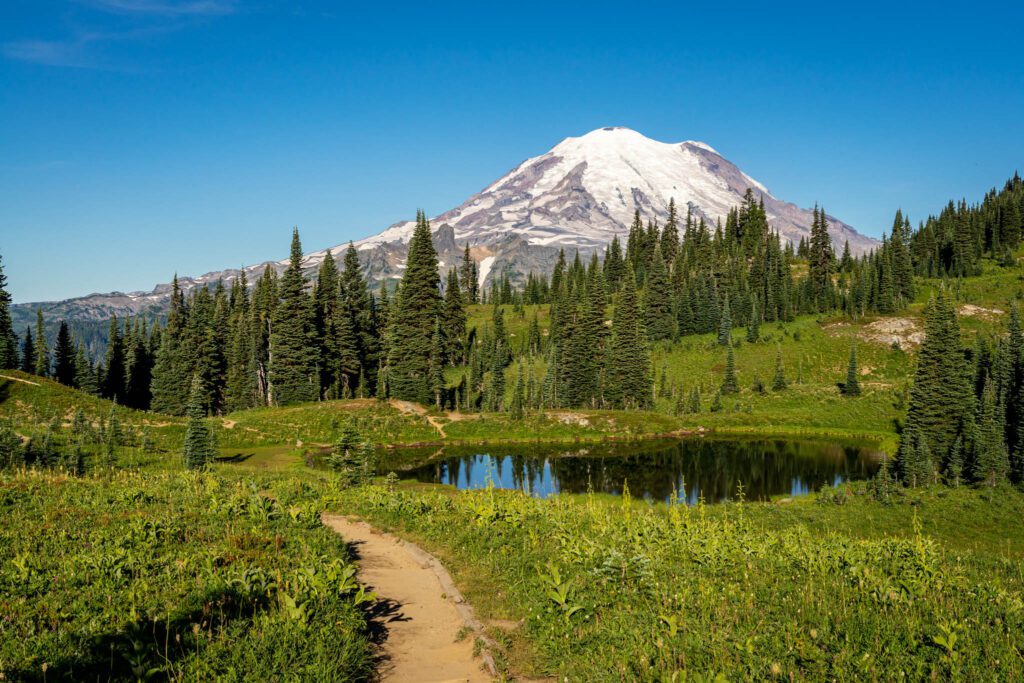 Can You do Both Sunrise and Paradise in One Day?
While it isn't impossible to visit both Sunrise and Paradise in one day, you'll be in for a very long day that might feel rushed. You can expect to start out from Seattle very early, maybe around 6:00am, and catch sunset in the park to maximize daylight. This itinerary will be more doable during July when there is the most daylight.
You can start the day at Paradise with the Skyline Trail. For a shorter option, still start from the Visitor Center but walk the Skyline Trail just a half mile to Myrtle Falls with views of Rainier before turning around.
The Nisqually Vista Trail is another short hike leaving from the Paradise parking lot. This 1.2-mile roundtrip hike has fantastic views of Mount Rainier and the Nisqually Glacier. On your way out from Paradise, stop by the viewpoint for Narada Falls and make a quick stop at the iconic Reflection Lakes.
Continue driving to Packwood where you can stop for lunch. Alternatively, you can also save time by bringing a packed lunch and having it somewhere along one of the trails.
After lunch, continue your adventure at the Grove of the Patriarchs. From the trail for the Grove of the Patriarchs, drive up to Sunrise to Mt. Fremont Lookout, which is a little less than an hour drive, and hike up to the historic fire cabin. Finally, on your way back to Seattle, stop by Tipsoo Lake—about a 40-minute drive from Mt. Fremont—to catch sunset.
Expect to spend a lot of the time in the car driving between spots without much leisure time to really slow down and enjoy the magic of Mount Rainier National Park. If you have the option and want to experience both Paradise and Sunrise, pitch a tent at one of the park's many campsites or book a cozy cabin in the vicinity of the park.
Guided Day Trips to Mount Rainier From Seattle
While having a car is optimal in order to have the freedom to explore Mount Rainier as you wish, there are guided day trips available that depart from Seattle. These guided tours give you the option to explore the park even if you don't have a car or don't feel comfortable renting a car and navigating the park yourself.
While there isn't quite the same freedom in taking a tour, it does give you the option to relax and enjoy the park with the expertise and knowledge of your local guide, who will handle all the logistics for you.
When to Visit Mount Rainier National Park
Summer: Unquestionably the most popular time to visit Mount Rainier (and the greater Seattle area for that matter), summer in Rainier offers long, sun-drenched days during which you can enjoy the park at its peak. Starting in late June and early July— depending on the year and the part of the park—snow has melted from the trails, making them accessible for hiking until the next snow comes in autumn. During these fleeting and glorious months, all trails and campsites are open, the skies are blue, and the sun sets late. Meadows are blooming with wildflowers, blackberries, and strawberries, and icy blue glacial lakes invite you in for a refreshing dip along your hike.


Fall: Early fall is a spectacular season in Mount Rainier and one of my personal favorites. From late September through October, sections of Mount Rainier are ablaze with shades of amber and scarlet as willows, aspen, and western larches are in transition. Even beyond the foliage, autumn is a phenomenal time of the year to visit Mount Rainier. The trails are quieter and less congested but remain open. The air is fresh and crisp with occasional rain showers and intermittently warm, sunny days. As rain dampens the forests, you can pick huckleberries and forage for mushrooms. By late October or early November, the trails are typically snow-covered, and many areas of the park are closed for the season.


Winter: Wintertime at Mount Rainier comes early and lasts for months. The arrival of the first snowfall varies by year but typically happens between late October and early November. Much of the park is shut down during this time but the small section that remains open allows you to experience the splendor of Mount Rainier in an entirely different light. The campgrounds and trails transform into cross-country skiing and snowshoe trails through thick forests of fir trees blanketed in snow. Nisqually, from which you can reach Paradise, is the only entrance that remains open. From Paradise, you can walk along hiking trails, sled in designated areas, go snowshoeing, and explore the backcountry on cross-country skis. Paradise Valley Road offers spectacular cross-country skiing through open alpine country and across a frozen, snow-covered meadow. Most hikes are not possible this time of the year, which does change typical itineraries for the park.


Spring: Spring is a transitional season in Mount Rainier, when much of nature is awakening. Flowers are slowly starting to bloom, and the waterfalls are roaring from fresh snow melt. Although the region experiences the occasional sunny day, spring is largely characterized by long stretches of drizzle. In Mount Rainier National Park, most trails are typically covered in snow through late June and thus many of the routes are still closed in the spring. Snow hiking on a sunny spring day can be rewarding but requires preparation. Read reports on trail conditions prior to leaving for your hike and pack seasonally appropriate gear. While most high country hikes are inaccessible at this time, there are a handful of lower elevation hikes that are accessible in spring. Come prepared with boots and a rain jacket as the trails are often wet and muddy. You can also explore lower elevation trails on a mountain bike in the vicinity of the White River entrance to Mount Rainier National Park.
---
Planning a Trip to Mount Rainier? We've got a few other guides to help you plan an amazing trip.
MORE TO EXPLORE IN THE PACIFIC NORTHWEST
If you're planning a trip to the Pacific Northwest, we've got you covered with all sorts of super detailed travel guides to our favorite places in Washington and Oregon.