The 11 Best Hikes at Mount Hood: A Complete Hiking Guide
Mt. Hood reigns over the Portland skyline standing at 11,250 feet tall. Sitting due east of the city, it serves as an outdoor adventurer's paradise all seasons of the year. Whether you're living in the Portland metro region or just visiting, you don't want to miss out on what Mt. Hood has to offer. I'll give you the rundown on the best hikes in Mt. Hood for exploring and enjoying this Pacific wonderland.
Throughout my years in Portland, I've visited all of these trails, often multiple times. And, like a good book or movie, each time I hike them they seem to offer something new.
The same trail in winter is almost unrecognizable compared with the summer, and an early morning hike bears a feeling of raw possibility while the late afternoon carries a languid calm.
Whatever time of the day or year you embark on your adventure, you're in for some of the best hiking that Oregon has to offer.
Want to discover more great hikes in Oregon? We've got a bunch of Oregon hiking guides for you.
Disclaimer: Some of the links below are affiliate links, which means that if you click on one and purchase something, we make a small portion of the sale at no additional cost to you. It goes without saying that we would never recommend something we wouldn't use or do ourselves.
When to Go Hiking in Mt. Hood
Because Mt. Hood is indeed a giant mountain, you'll see a lot of snow in the winter and well into spring. This can make many of these hikes inaccessible during this time, though some make great snowshoeing options. When in doubt, check the snow level before heading out, and if you can, look for recent trail reports as conditions can change rapidly. A batch of warm spring weather can clear up a trail that had been covered in snow in just a few days.
In general, these hikes are ideally done in the summer and early fall for clear trails, safer stream crossings, and little to no snow.
Tips for Hiking in Mt. Hood
Parking: Many Mt. Hood hikes will require a NW Forest Pass to park, and they don't all have an easy way to purchase one at the trailhead. If you can, buy one ahead of time at a retailer, ranger station, or online to save yourself some hassle. I've indicated which trailheads require a pass with a "NWFP" next to it.


Gear: Even in summer, it's important to wear sturdy footwear. For the longer and higher elevation trails, hiking poles are a good idea for stream crossings and loose scree. For your winter adventures, don't underestimate the power of the sun reflecting on the snow – bring sunglasses! Also, if you don't own a pair of snowshoes (and can't borrow them from a friend) don't fret! There are a number of outfitters that rent them. In Portland try Next Adventure or the Mountain Shop, or Otto's in Sandy.


Hiking Mt. Hood: The 11 Best Hikes at Mt. Hood
Now, onto the hikes! Here are 11 great hiking trails near Mt. Hood. Most are on the south side of Hood, which is easily accessible from Portland. There are a few that are on Mt. Hood's eastern side, which are a bit further from Portland. I added a note to call out those trails so you don't find yourself driving more than you thought you'd have to in order to get to the trailhead.
Ramona Falls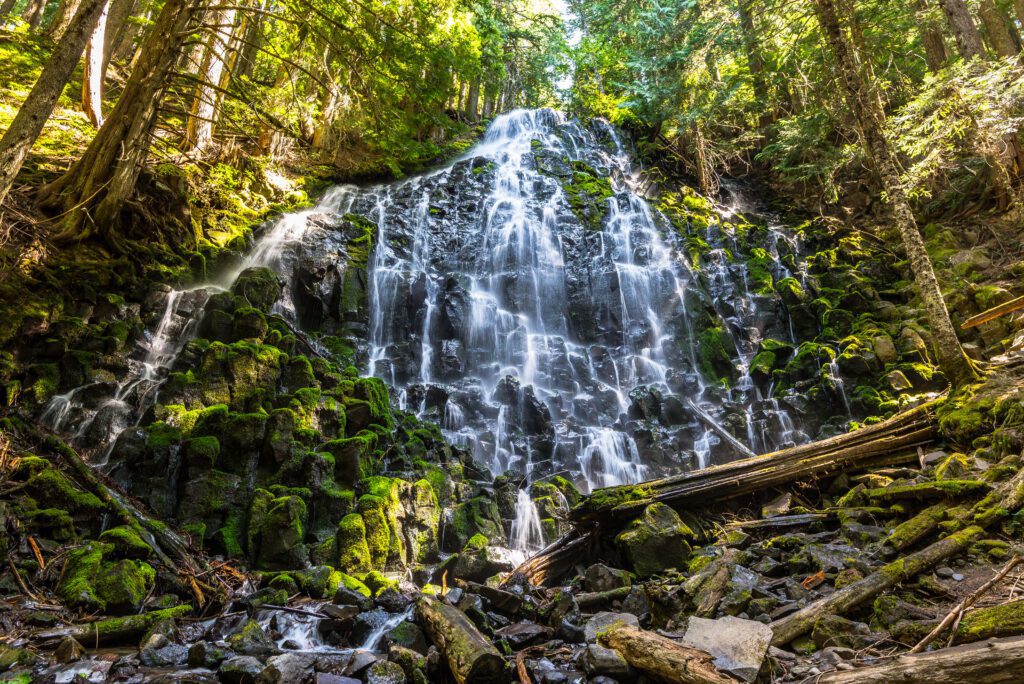 Length: 7.1 miles
Elevation Gain: 1,035 ft.
Trail Type: Loop
Difficulty: Moderate
Trailhead Location: Ramona Falls Trailhead (NWFP)
Ramona Falls is so darn picturesque you'll wonder if you've just stumbled onto a movie set for some fantasy fairy kingdom. It's easily one of the best waterfall hikes near Mt. Hood (and one of the best waterfalls in Oregon, we'd say) that offers views, wildflowers, and of course the grand finale of the 120 foot falls!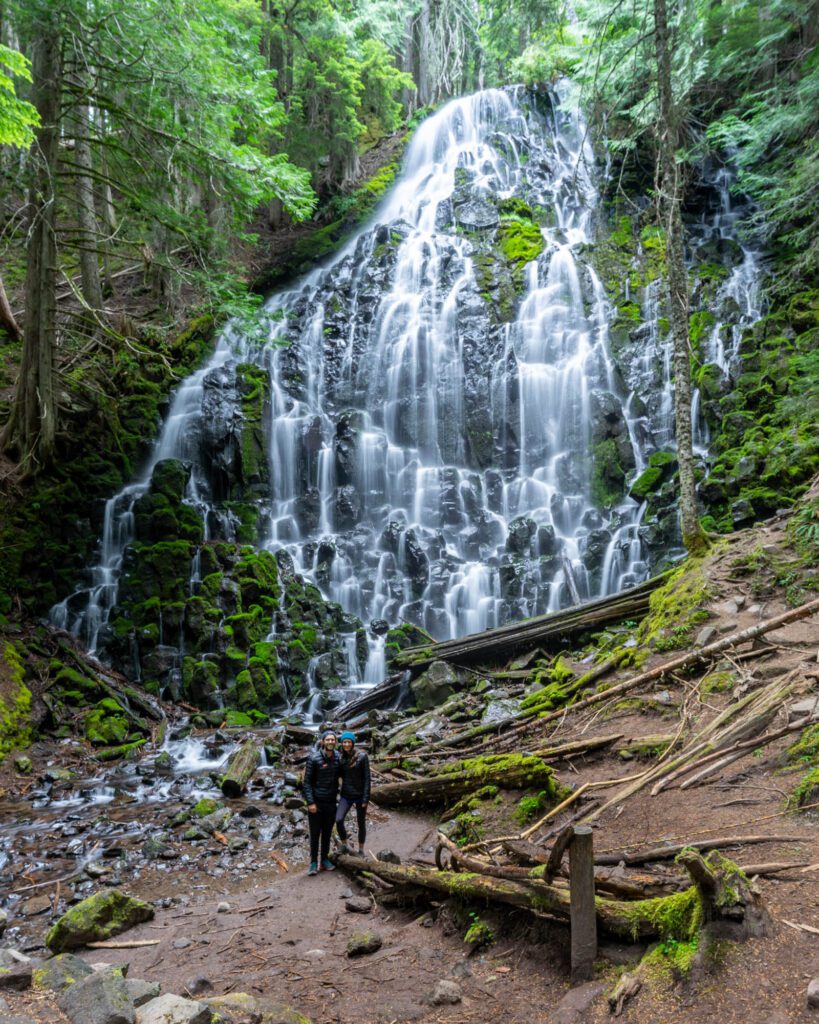 The highest elevation on this hike is just under 3,500 feet, so it opens up earlier in the spring than other trails higher up. That said, due to a potentially tricky river crossing, it's often safest to tackle this hike in late summer to early fall.
Re the river crossing: ever since the original bridge was washed out in 2014 and the forest service decided not to build a new one, the route to cross the Sandy River changes every year. There's often a log you can take across, but sometimes you have to ford the river on foot. It's usually doable and for the most part you'll be fine, especially during the summer, but it's probably not the best hike for small children. Bring hiking poles or grab a sturdy stick to help you get across without falling.
McNeil Point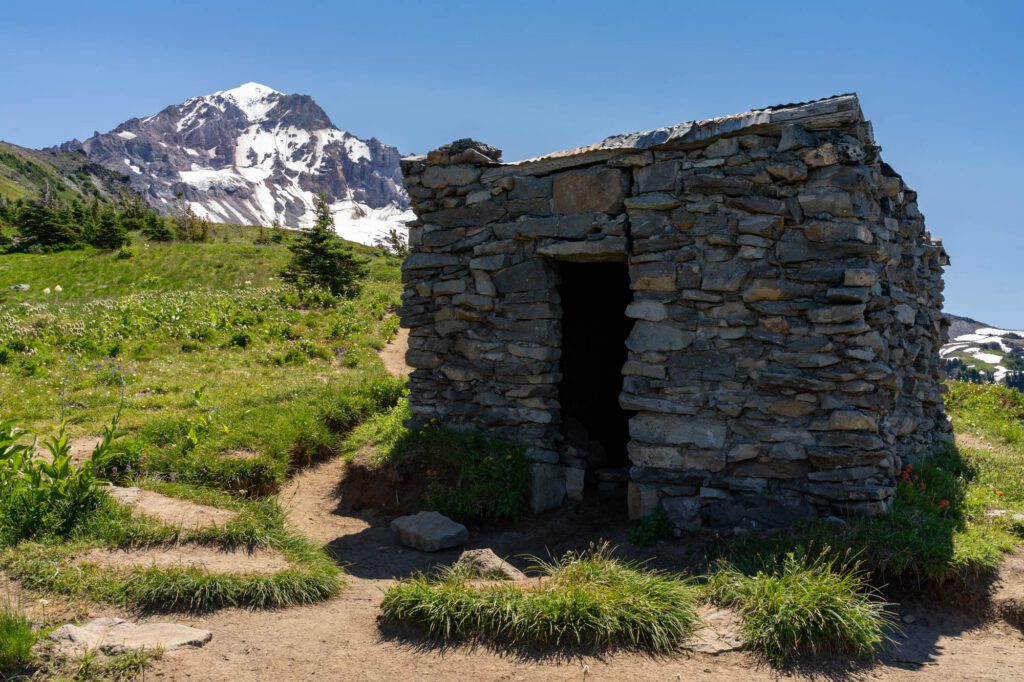 Length: 10.4 miles
Elevation Gain: 2,220 ft.
Trail Type: Out & Back
Difficulty: Difficult
Trailhead Location: Top Spur Trailhead (NWFP)
There are two routes to McNeil Point, but the one we'd recommend most is this 10 miler for the outstanding views and extra time on Bald Mountain. If you want to shave a couple miles off your trek, or if the Top Spur Trailhead is prohibitively busy, you can start at McGee Creek Trailhead instead. The McGee trailhead is (usually) far less crowded and will also take you along a beautiful route to McNeil Point.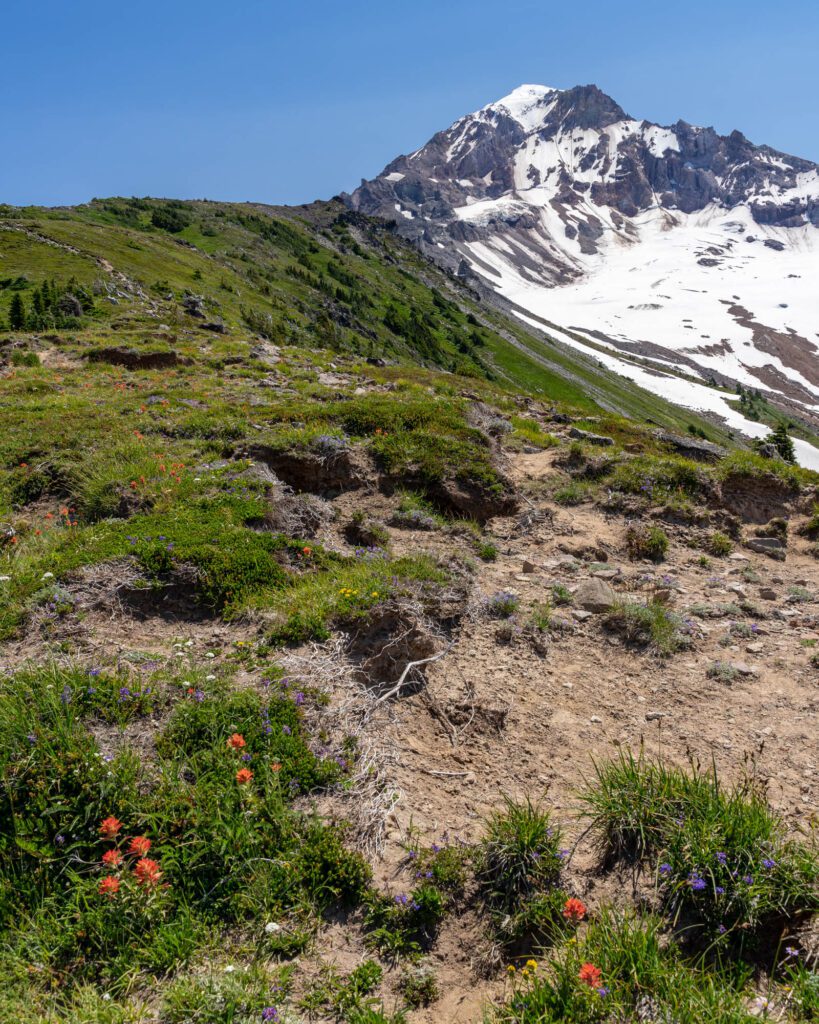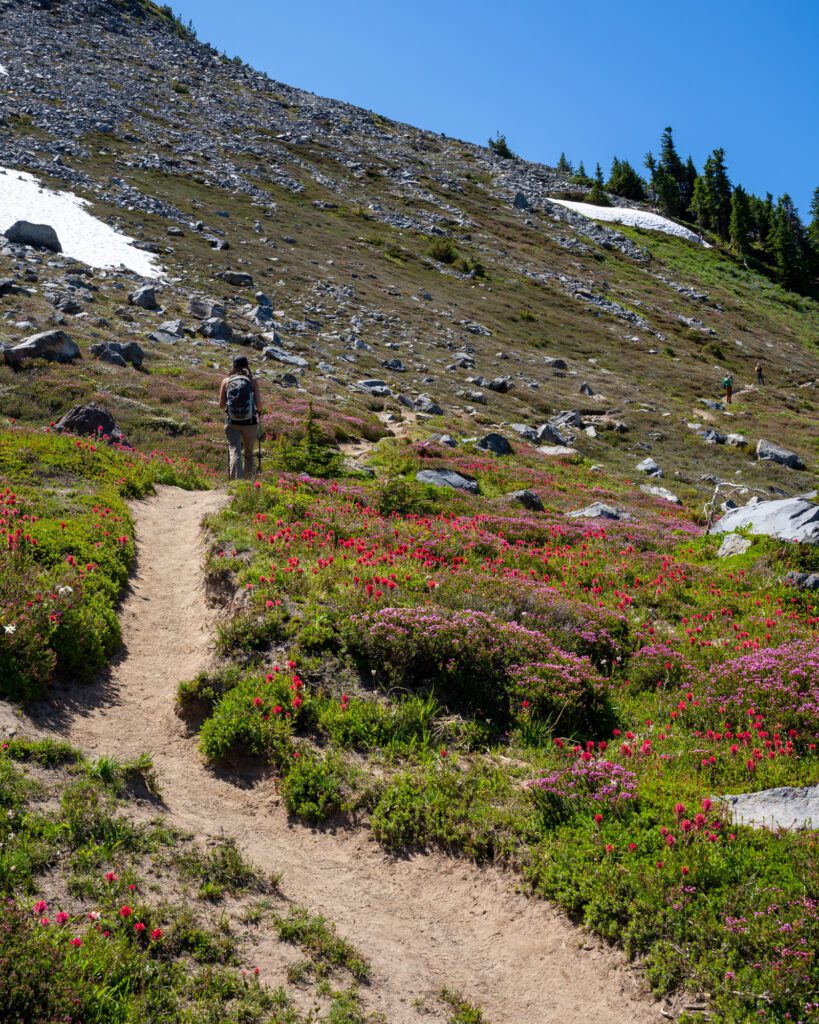 This is one of my go-to day hikes near Mt. Hood in late summer for its diverse terrain, alpine views, and the cool little stone shelter with the towering summit of Hood above you.
There's a short "climbers trail" at the shelter that will take you even higher for even better views, but only take it if there's no snow and you're confident with your footing. This trail does climb to over 6,000 feet and may still have snow on the talus slopes even in late summer. Wear proper footwear.
Bald Mountain via Lolo Pass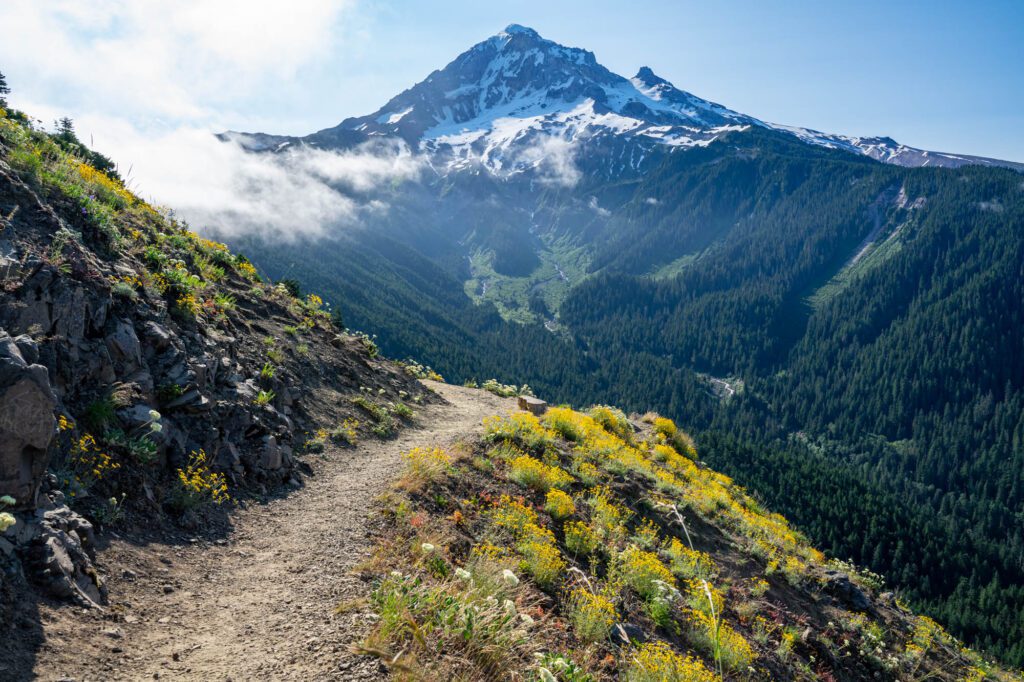 Length: 6.6 miles
Elevation Gain: 1,400 ft.
Trail Type: Out and Back
Difficulty: Moderate
Trailhead Location: Lolo Pass Trailhead
If you opted for the longer route on the McNeil hike, you'll have already done a portion of this hike as the routes overlap at the Bald Mountain Shelter. Bald Mountain stands at 4,591 feet and I'm always shocked at how not-busy this trail is and how awesome the summit is.
It's gorgeous and from the top you'll get a killer view of Mt. Hood that practically slaps you in the face it's so close. If you can time your trip to reach the summit for some late afternoon sun, you'll never want to leave.
The entire trail is well graded and maintained and there's an old fire lookout at the top (rather markers where the lookout used to stand). Once you get to the top you may feel initially bummed because there's so much tree cover, but don't lose heart – keep going a bit farther till you reach a rocky outcrop that's a perfect spot for lunch.
Gaze up at Mt. Hood while you enjoy your snacks before you make your way back down the way you came.
Tom, Dick, and Harry Mountain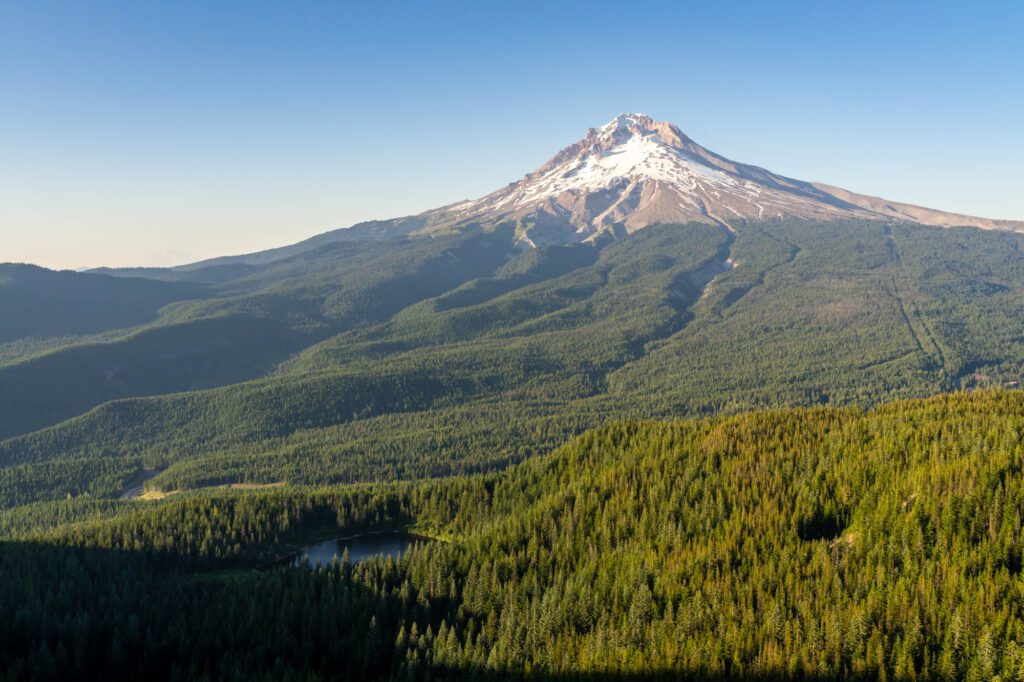 Length: 7.7 miles
Elevation Gain: 1,460 ft.
Trail Type: Out and Back
Difficulty: Moderate
Trailhead Location: Mirror Lake Trailhead
Tom, Dick, and Harry Mountain is actually a two-mile-long ridge with three prominent crags (dubbed Tom, Dick, and Harry), but this route only takes you to Harry. Tom is the highest at just over 5,000 feet and there is an unmarked loop option to cover them all, but I've yet to take it personally so I won't highlight it here.
This out and back hike first loops you around Mirror Lake and then you'll start ascending (and seeing less people) to get a bird's eye view of it from the summit.
One thing I love about this hike — in addition to its convenient location and bang-for-your buck workout — are the views. Yes, it's gorgeous to look out on the Cascade range and down onto Mirror Lake, but I also like tracing the winding route 26 as it makes its way around the mountain, and spotting towns like Government Camp and Timberline Lodge from the summit.
It's great to be removed from civilization and surrounded by wilderness, but it's also fascinating to see how we humans integrate our world into it all.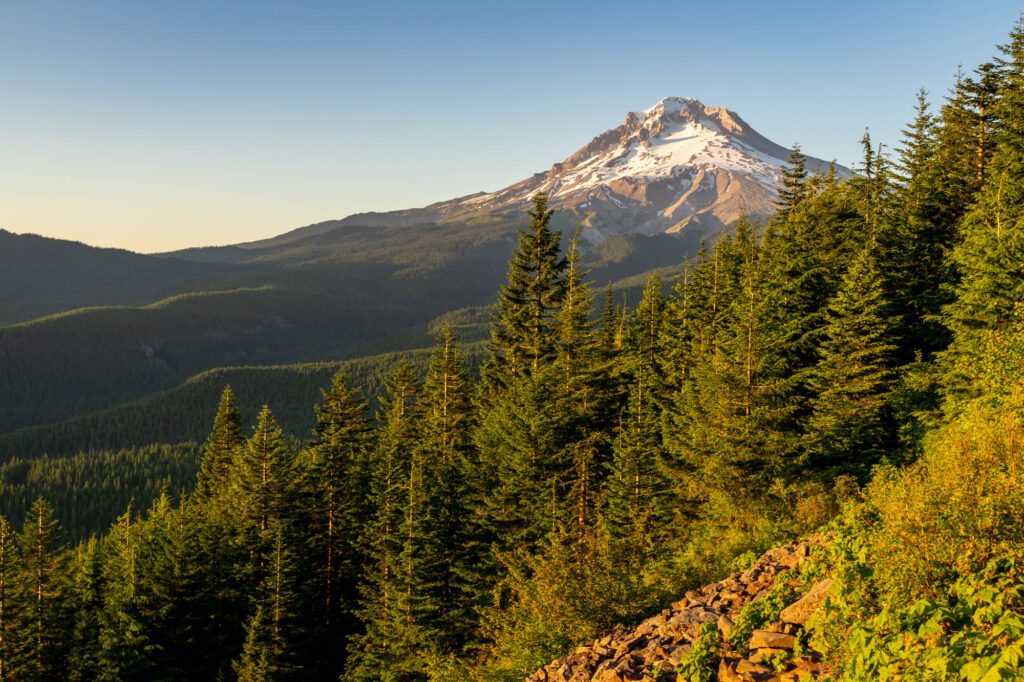 This is one of the best hikes near Mt. Hood and always sees a lot of traffic due to its relatively close and easily accessible trailhead from Portland.
You'll have to be mindful of this when planning your hike. Mirror Lake is only a couple miles in and parking can be difficult (if not impossible) on a sunny weekend with families clamoring to make their way to the lake.
Timberline Lodge to Zigzag Overlook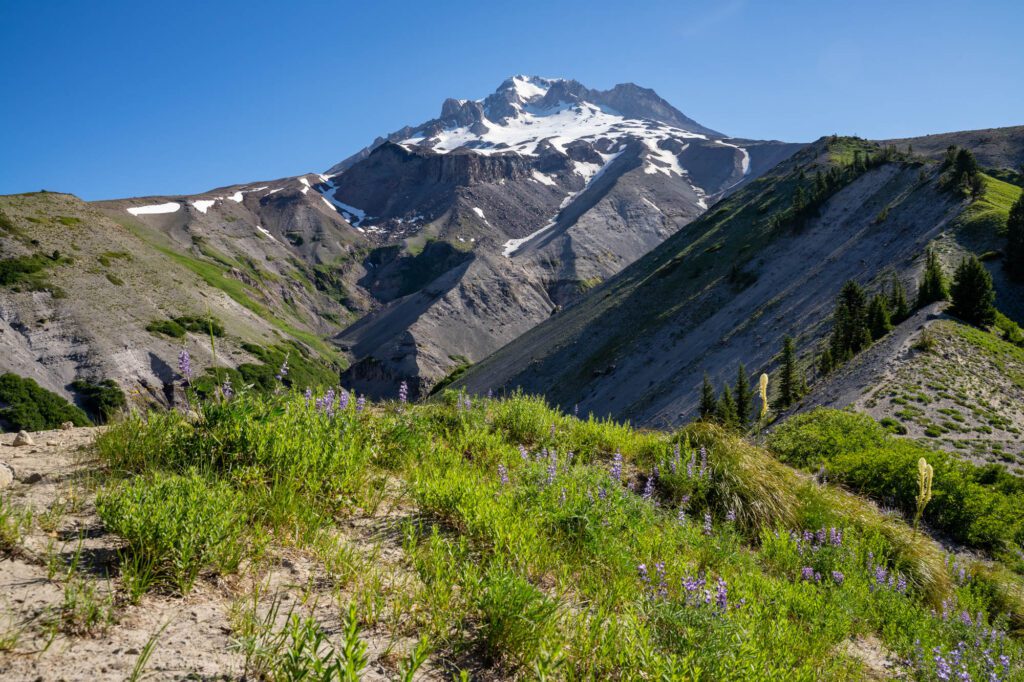 Length: 4.4 miles
Elevation Gain: 820 ft.
Trail Type: Out and Back
Difficulty: Moderate
Trailhead Location: Timberline Lodge Trailhead
Since this short hike begins at Timberline Lodge, you'll have nothing but incredible alpine views right from the start. The lodge sits at nearly 6,000 feet and this hike more or less stays at that level, skirting around the timberline to get to the massive Zig Zag Canyon.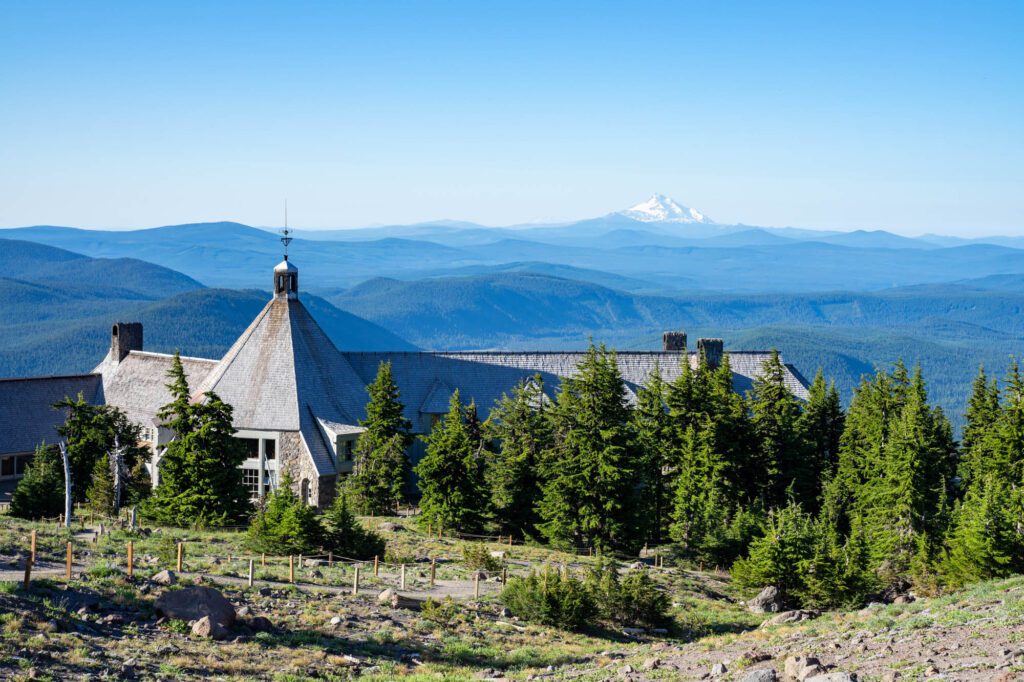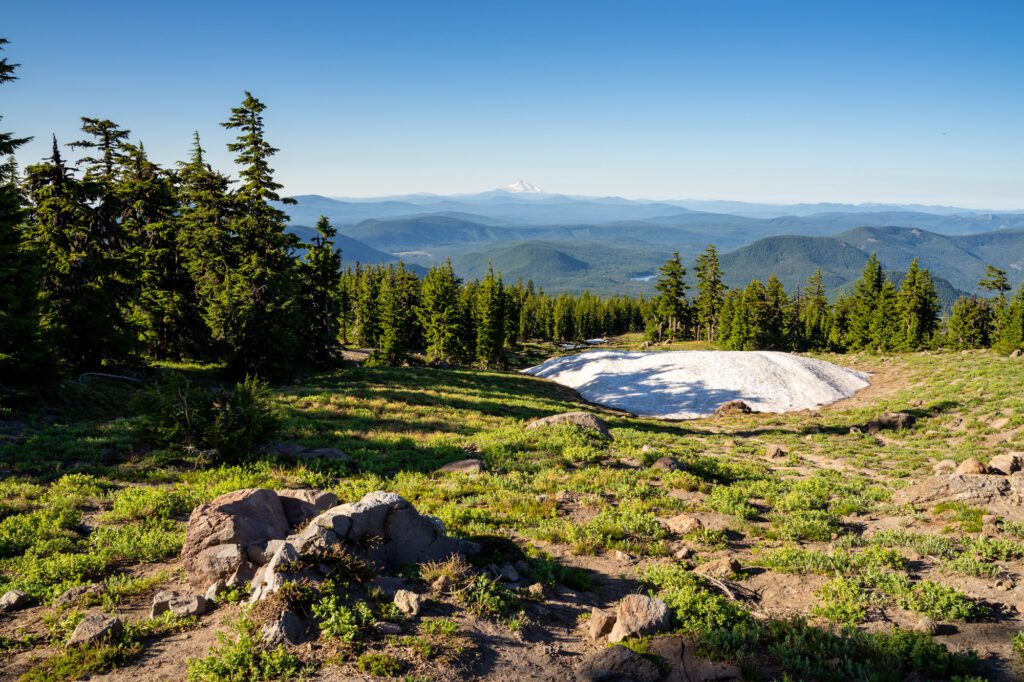 The Canyon is huge and looks right up to Mt. Hood and onto the Zig Zag Glacier. Since it's only a little over two miles to get to this point, it's a nice option for families to take in some spectacular views without a ton of work.
You'll be on the PCT for most of this hike, and if you feel the need to tack on more mileage you can always descend into Zig Zag Canyon for a different angle on the view up to the summit.
It's a fairly steep descent and you'll quickly lose about 500 feet only to gain another 1,000 to get up on the other side. If you keep going this way, you'll do the also popular (but much longer and harder) Paradise Park hike.
Laurance Lake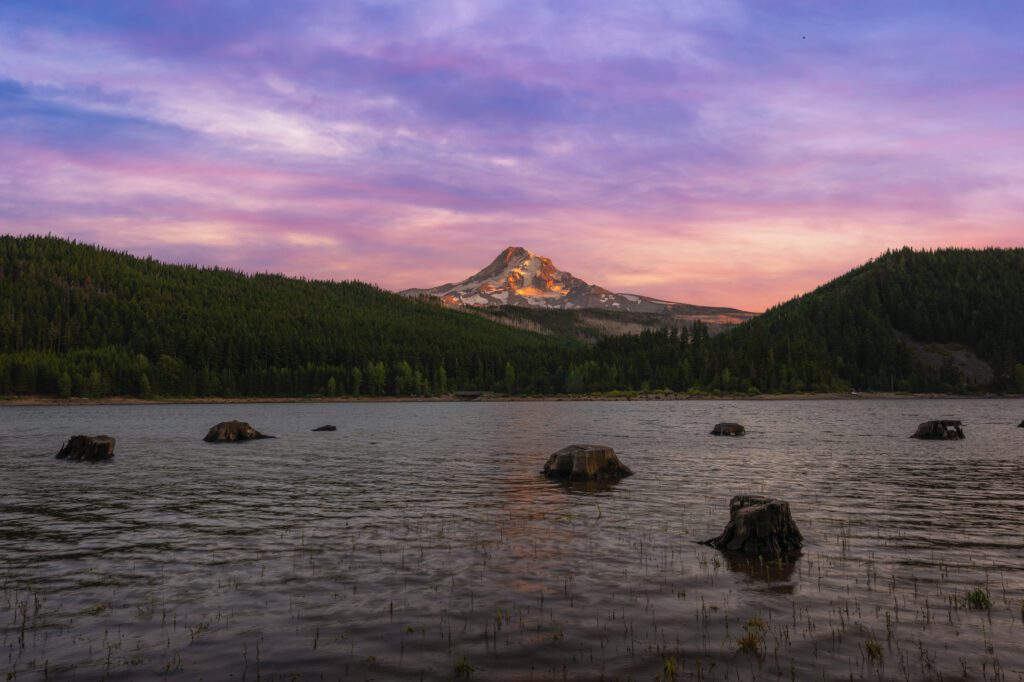 Length: 6.6 miles
Elevation Gain: 1,170 ft.
Trail Type: Out and Back
Difficulty: Moderate
Trailhead Location: Clear Branch Dam Trailhead
(Note: on the east side of Mt. Hood)
Laurance Lake is a bit further from Portland than some of the other hikes outlined here (about an 1 hr 45 min drive), but with that extra little bit of driving, you'll get to an incredible hike and fewer people than you'll find elsewhere.
This out and back hike will have you climbing up switchbacks and out along a ridge where you'll get a few stunning views of the north face of Mt. Hood and its surrounding glaciers. Once you reach the top, marvel down upon the picture-perfect Laurance Lake with Mt. Hood behind. Another perk about this area is that it always seems to be teeming with bald eagles, so keep your eyes peeled.
If you hit it up on a warm summer day, you can do the hike in the morning and spend the rest of the afternoon picnicking and swimming in the lake! Bonus that you have to drive through the town of Parkdale, so you might as well hit up Solara Brewing on your way home!
The Timberline Trail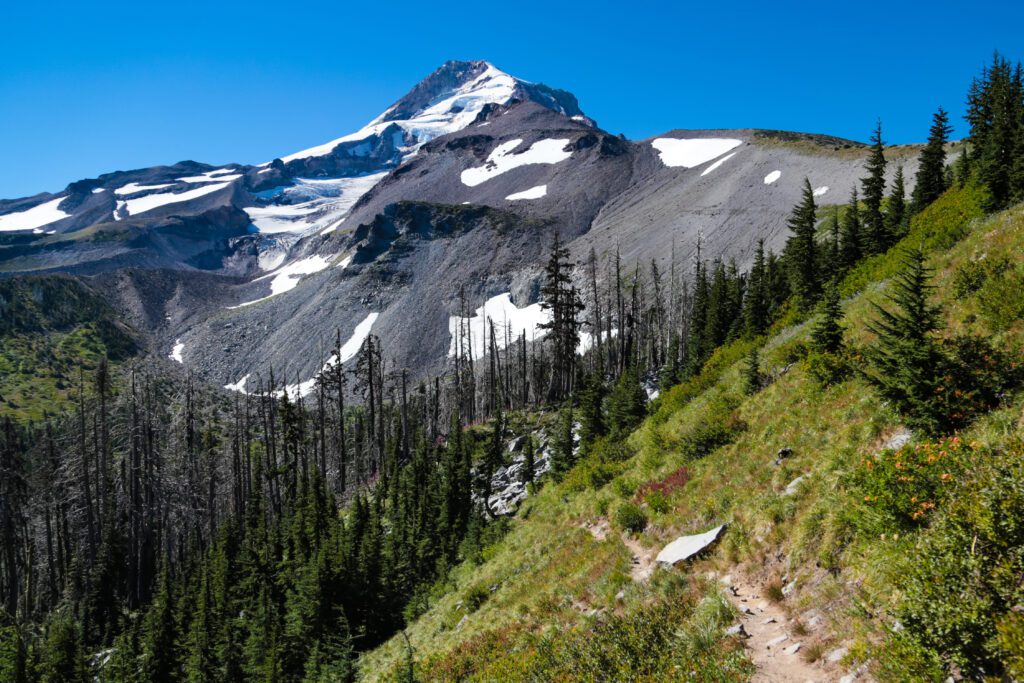 Length: Approx. 40 miles
Elevation Gain: 9,000 ft.
Trail Type: Loop
Difficulty: Very Hard
Trailhead Location: Timberline Lodge Trailhead
We couldn't do a post about Mt. Hood hikes without talking about the mother of all Mt. Hood hikes – the Timberline Trail. This is a multi-day backpacking trip that most people complete in four days / three nights, but if you're super ambitious you can knock it out in three (I even had a friend who did it in two!).
When I backpack, I like to keep my days under 12 miles so I can actually relax (nap) and enjoy the scenery after I set up camp, so four days sounds just right to me. If you're a serious hiker, put this baby on your bucket list to really experience the best of Mt. Hood hiking.
The Timberline Trail circumnavigates the mountain and lets you see everything – Zig Zag Canyon, Ramona Falls, Elk Cove, and the Cooper Spur Shelter to name a few.
You'll go up and down elevations from around 3,000 feet to the high point of 7,350. Most people choose to do the loop clockwise heading west from Timberline Lodge which makes for convenient stops – Ramona Falls at around 10 miles, Elk Cove at 20, then Gnarl Ridge at 30.
There's generally enough access to water that you won't have to worry about it unless it's been an especially dry year. There are also a number of stream crossings, and a few can be quite harrowing.
Though you should exercise caution at all of them, the one that can cause the most headache is the White River Crossing at around mile 36 (if you've gone west from the lodge). This crossing changes each year and hikers will usually put up flags or cairns to indicate the safest place to ford.
Easy Hikes at Mt. Hood
These hikes are a little bit easier than the ones above, with less elevation gain and fewer trail miles. These are a perfect choice for you if you're new to hiking or have kids in tow – don't worry, there are plenty of spectacular views to be had on these trails too!
Mirror Lake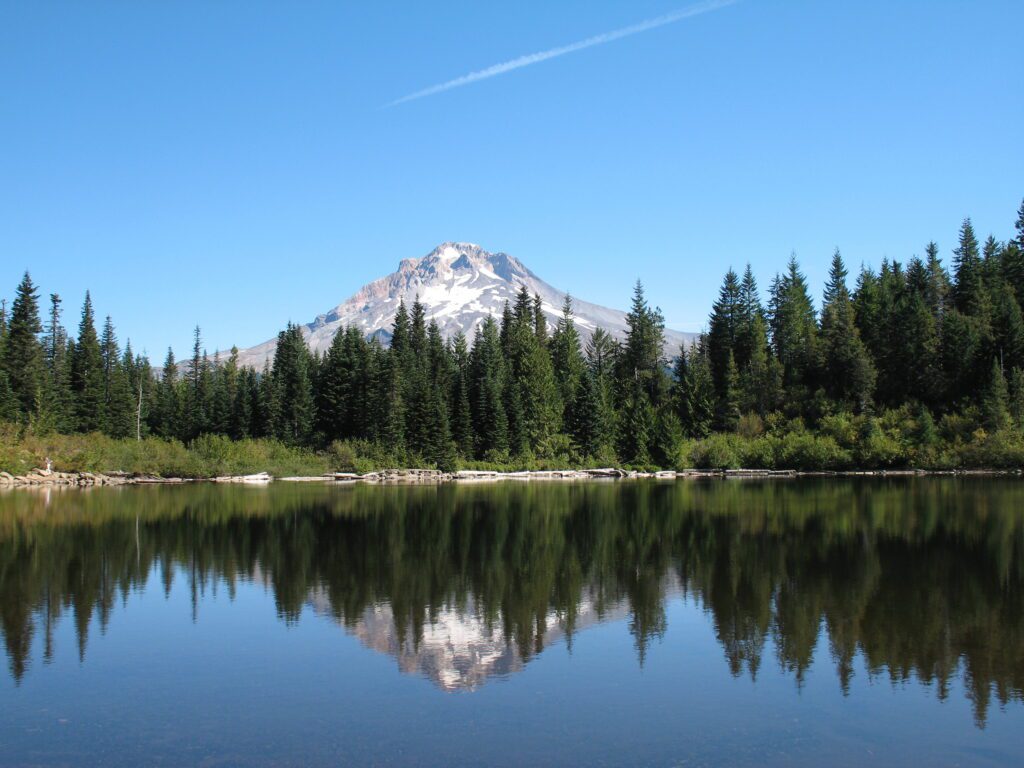 Length: 4.4 miles
Elevation Gain: 640 ft.
Trail Type: Out and Back
Difficulty: Easy
Trailhead Location: Mirror Lake Trailhead
Ideally you'll time your Mirror Lake hike on a weekday, but if the weekend is your only option, get there as early as possible. It's hard to beat Mirror Lake for its easy access, shorter length, and remarkable beauty. Because it's relatively flat and short, this is one of the best hikes in Mt. Hood for families.
Mirror Lake is known for attracting novice and experienced photographers alike to capture the perfect reflection of Mt. Hood. You'll often see tripods set up to catch the fleeting moment of magic hour when the sunset turns the mountain pink and the sky fills with color.
It's also a great option for snowshoeing in the winter. The trail sees a good amount of traffic all year round, making navigation easier for first time snowshoers. Although signage may be missing or obscured, you can usually find someone else's tracks to follow if you fall off course.
Tamanawas Falls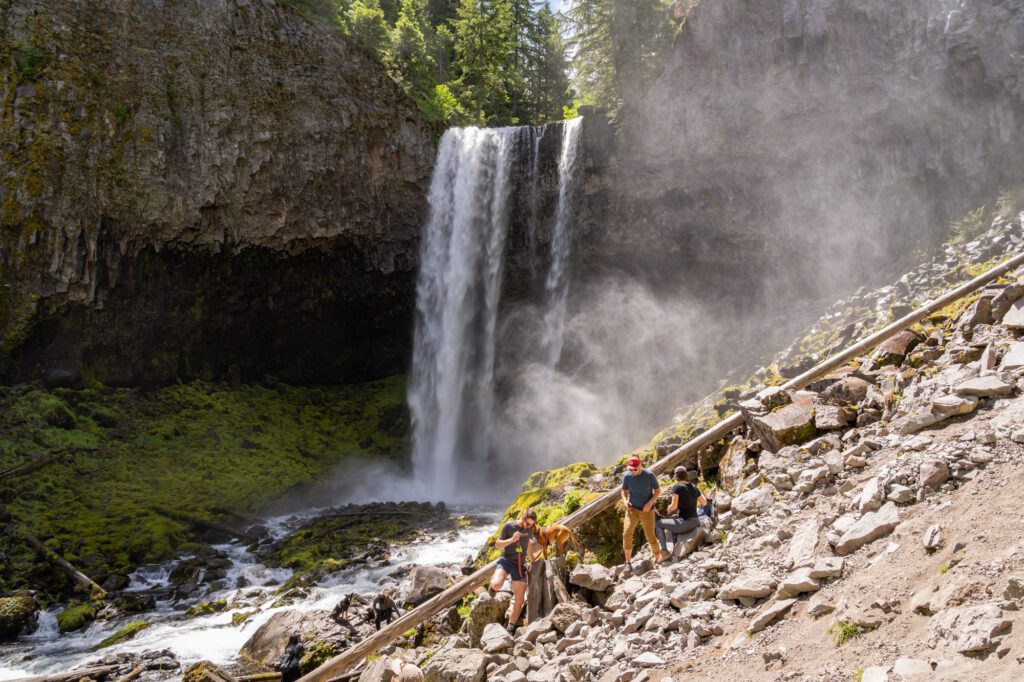 Length: 3.4 miles
Elevation Gain: 56 ft.
Trail Type: Out and Back
Difficulty: Easy
Trailhead Location: Tamanawas Falls Trailhead (NWFP)
(Note: on the east side of Mt. Hood)
If you're starting from Portland, you'll have to drive a little further to get to the Tamanawas Falls trailhead, but it'll put you closer to Hood River for good lunch or dinner options post-hike.
One great thing about this hike, aside from the spectacular 110 foot waterfall, is that there are options for shorter or longer modifications once you get here. The easiest comes in at just under 3.5 miles and is a great choice for families. The slightly longer loop hike gives you more elevation gain, but is still on the easy end of moderate.
If you want to see the falls but are itching for an even longer route, there's an alternative start point a couple miles down the road at Polallie Trailhead (NWFP) that gives you a lovely 10 mile lollipop loop paralleling the Hood River.
It's a nice hike that's often much less crowded than others in the area with similarly striking waterfalls. The only bummer is that the trail sticks fairly close to the 35 which means you'll occasionally hear traffic sounds that can pull you out of your wilderness buzz.
Trillium Lake Loop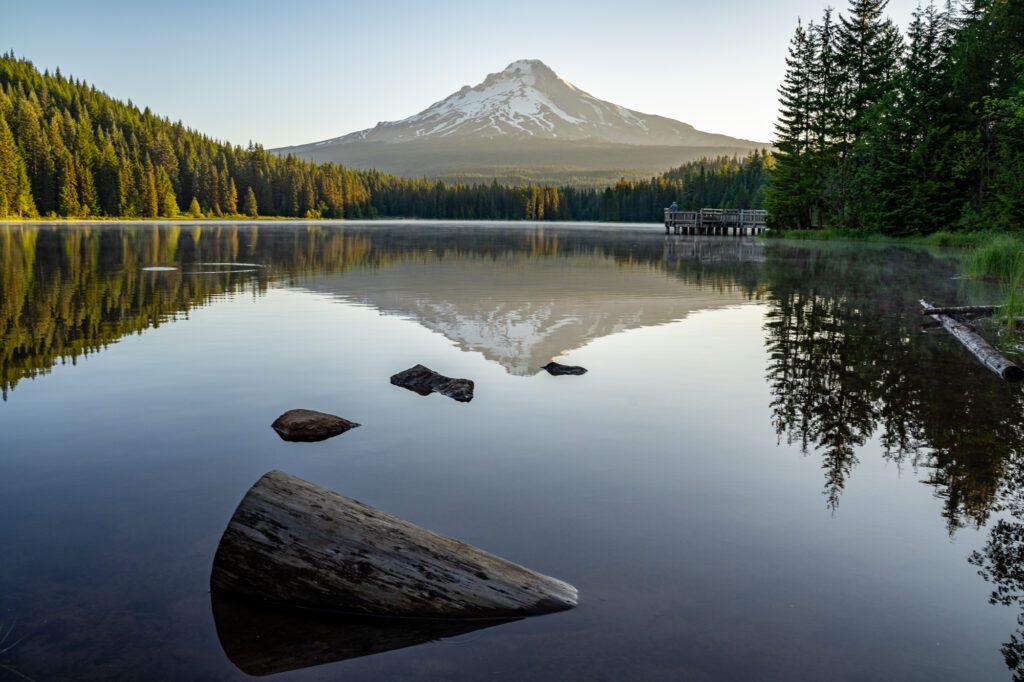 Length: 1.9 miles
Elevation Gain: 10 ft.
Trail Type: Loop
Difficulty: Easy
Trailhead Location: Trillium Lake Trailhead ($5 day-use pass – NWFP pass not accepted)
This hike is ideally paired with a couple days of camping at the lake. If you missed the window to reserve a spot, they do hold some campsites open for first-come, first-serve visitors. Though this relaxing hike is great any hour of the day, it's especially nice first thing in the morning or right at sunset. So, if you've managed to secure a camping spot, you should do yourself a favor and hike it twice!
Trillium Lake is also another good option for snowshoeing in the winter. Like Mirror Lake, it sees enough traffic that even the less experienced winter adventurers will be able to make their way through. Plus, the trail really just circles the lake so it's hard to get too lost!
Umbrella Falls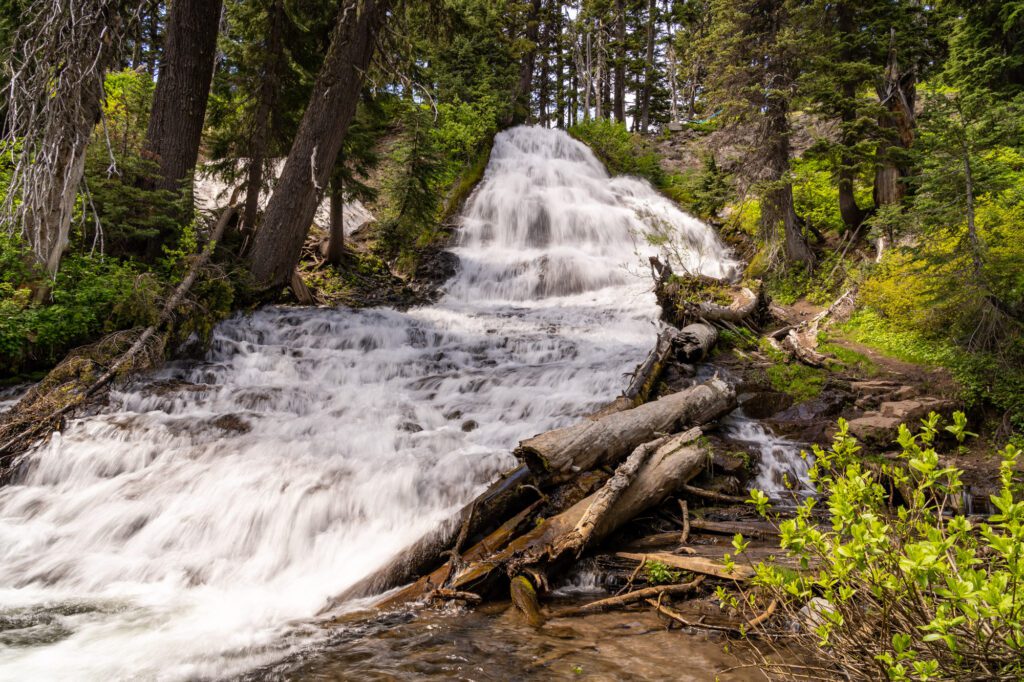 Length: 4.1 miles
Elevation Gain: 840 ft.
Trail Type: Lollipop Loop
Difficulty: Easy
Trailhead Location: Elk Meadows Trailhead (NWFP)
(Note: on the east side of Mt. Hood)
Another eastside hike, Umbrella Falls is a relatively easy trail leading to not one but two great waterfalls as you also get Sahale Falls (not to be confused with Sahalie Falls, much further south in the Willamette National Forest).
The first stop at Umbrella Falls has a nice footbridge for a rest and snack while kids safely explore the pools below. Continue on the loop and hit up Sahale Falls before making your way back to the trailhead.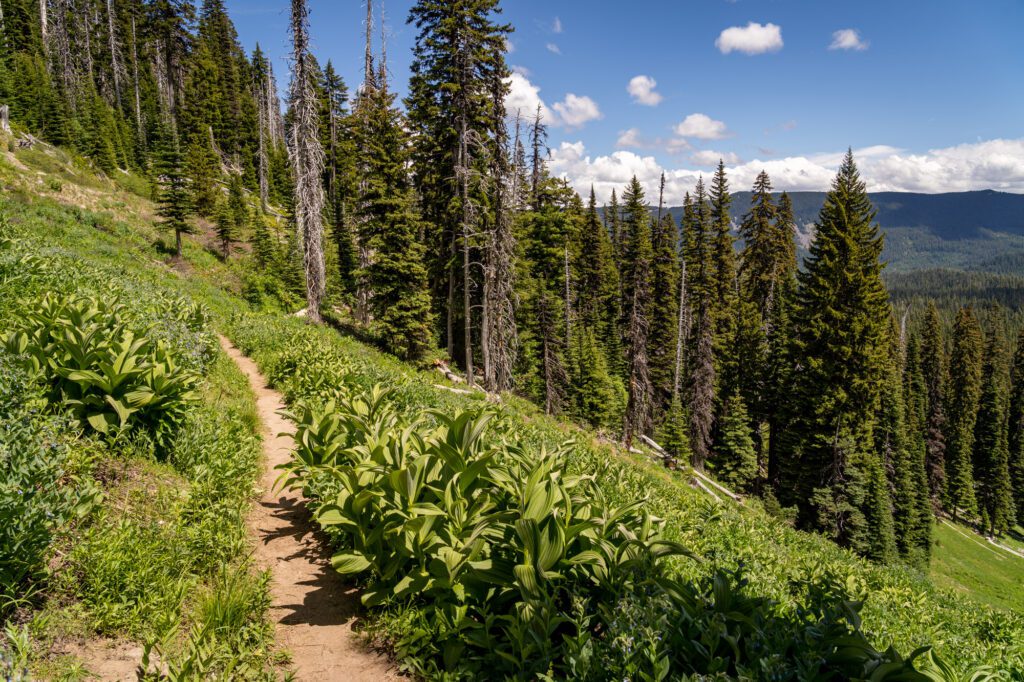 This is also a popular area in the winter for cross country skiers and snowshoers, though you'll want to have a little experience with winter trail navigating. It's pretty straightforward, but sometimes the trail marking can get lost.
Where to Stay Near Mt. Hood
Whether you choose to camp as part of your Mt. Hood adventures, or retain the luxuries of home with a vacation rental, there are some incredible accommodations all around the mountain. Check out a few options below for relaxing spots to unwind after you've attacked these hikes.
Campgrounds Near Mt. Hood
Trillium Lake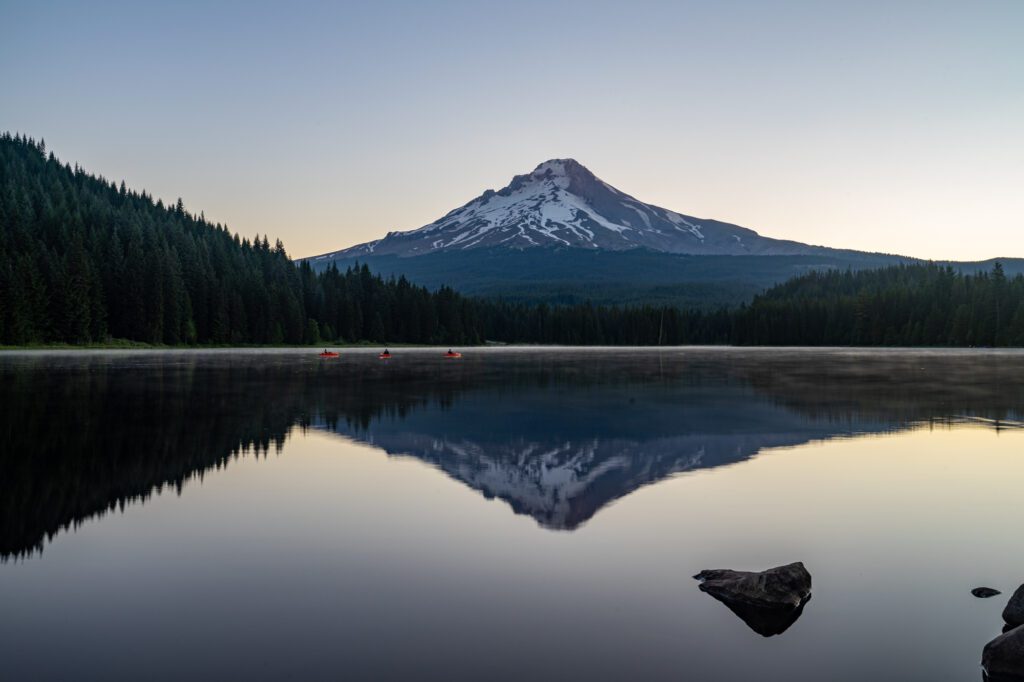 The Trillium Lake Campground is easily accessible from Portland, and its location right at the junction of the 26 and 35 make it a central location for exploring the mountain and nearby Hood River. For a developed campground, the individual sites are surprisingly spread out, so it feels quieter and more secluded than others can. And you've got gorgeous Trillium Lake right there!
Lost Lake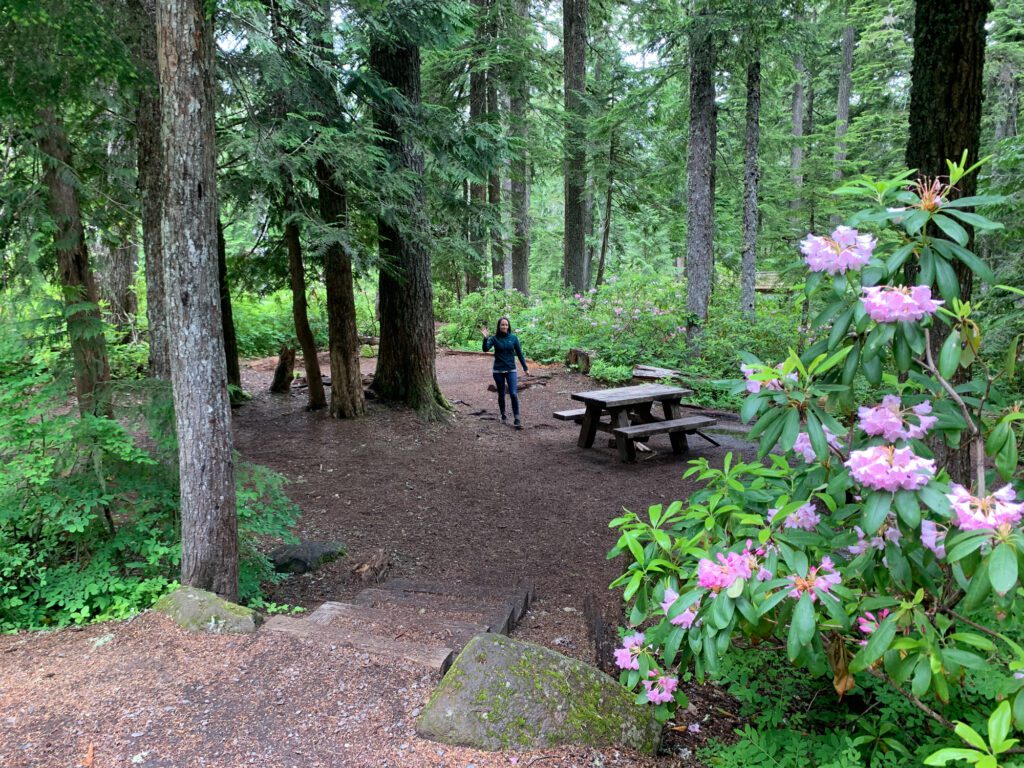 Lost Lake Campground is on the north side of Mt. Hood and is much more developed than Trillium. This location puts you closer to Hood River and to hikes like Laurance Lake. You can make reservations on the forest service site, or check out the resort on the lake that does kayak and boat rentals, cabin and yurt rentals, and has a cute general store.
Cabins Near Mt. Hood
Little House On The Mountain–ZigZag Mountain View: Adorable tiny home alert! This well thought out cabin nestled in the woods has a loft with a queen bed, a rustic front porch, and a spacious outdoor fire ring for late nights with friends.
Luxury Cabin in the Woods With Hot Tub near creek: This Japanese-inspired cabin in the woods sleeps 4 and features an outdoor deck for dining. You'll love the zen-like atmosphere of the property including a private covered hot tub for use any time of the year.
One of the Nicest Cabins on Mt Hood – Pristine Setting!: The name may seem superlative at first, but once you see this cabin you'll know it's true! This incredible cabin with custom woodwork sleeps 8, sits right next to a year-round stream, and is only 4 miles west of Government Camp.
Mt. Hood Cabin w/ Hot Tub – Close to Adventures: You'll love coming home to this cozy two-bedroom cabin after a day of adventuring. Enjoy a meal al fresco on your huge outdoor patio before taking a dip in the private hot tub!
---
More to Explore in Oregon
Enjoying this guide? We've got more Oregon travel guides to help you explore the best of Oregon and fall head-over-heels in love with it like we have.